Citrus Highland in Clermont FL: Homes, RV's, and More.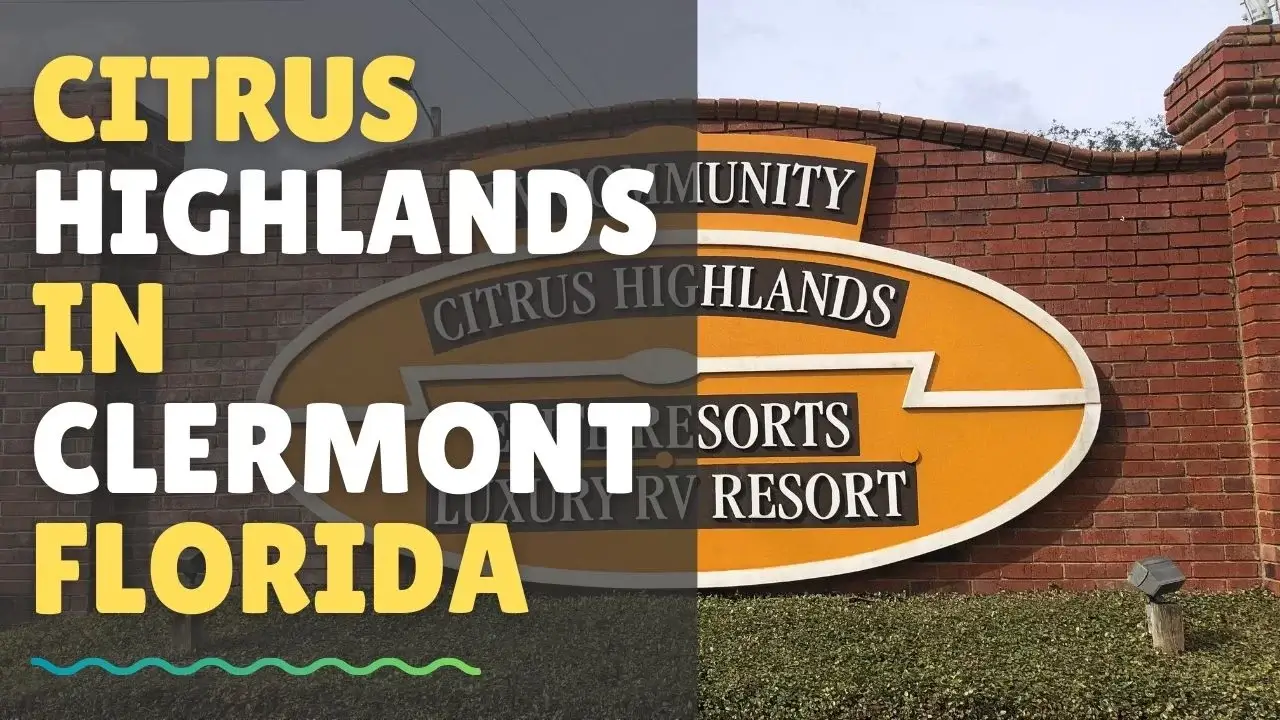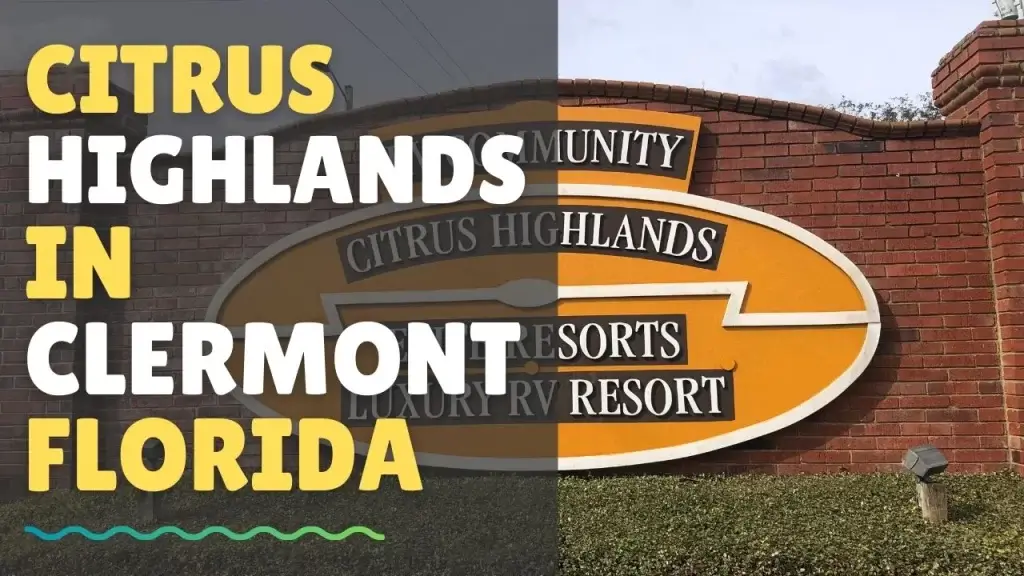 Welcome to Citrus Highlands, a remarkable neighborhood nestled in the heart of Clermont, FL. As relocation specialists and Realtors who proudly call Clermont home and we can confidently say that Citrus Highlands is a community worth considering.
This neighborhood is perfect for travel enthusiasts who want the convenience of having RV parking garages close to their homes.
From the moment you drive through, you'll be captivated by its charm and the stunning conservation areas and water features that surround the properties.
Citrus Highlands has prices that range from the mid $350,000s to the mid $400,000s. It offers convenience, natural beauty, and a welcoming community atmosphere.
Let's dive into everything this amazing community has to offer.
Where is Citrus Highland in Clermont, FL?
Citrus Highlands is located in Clermont, FL, a charming city in Lake County. To provide directions to this neighborhood, follow these bullet points:
From Orlando: Take FL-408 West and merge onto Florida's Turnpike North. Continue for approximately 21 miles.
Take exit 272 toward Clermont. Keep left at the fork and merge onto FL-50 West.
Continue on FL-50 West for about 4 miles, then turn right onto Citrus Tower Boulevard.
After about 1.5 miles, turn left onto Hunt Trace Boulevard.
Citrus Highlands will be on your left.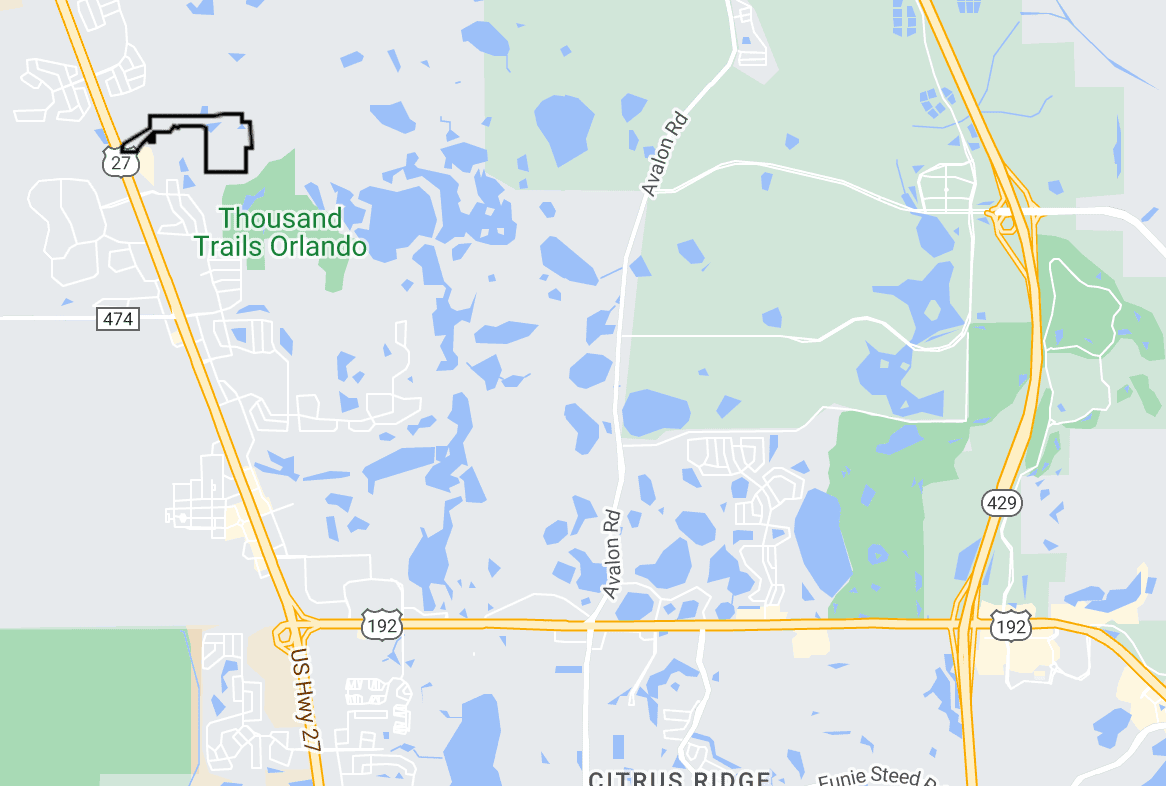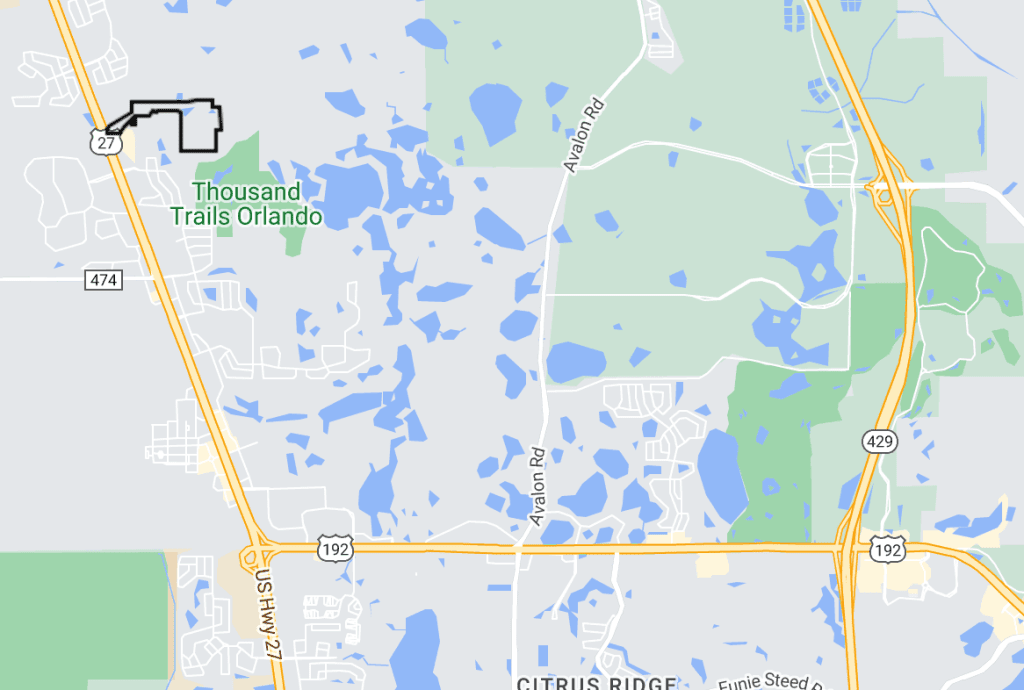 Citrus Highland Community Features
Situated in Clermont, Citrus Highlands benefits from its convenient location, offering easy access to major roads and nearby attractions.
Citrus Highlands is a unique and highly sought-after community located in Clermont, FL. It offers an exceptional living experience, especially for those who enjoy the RV lifestyle.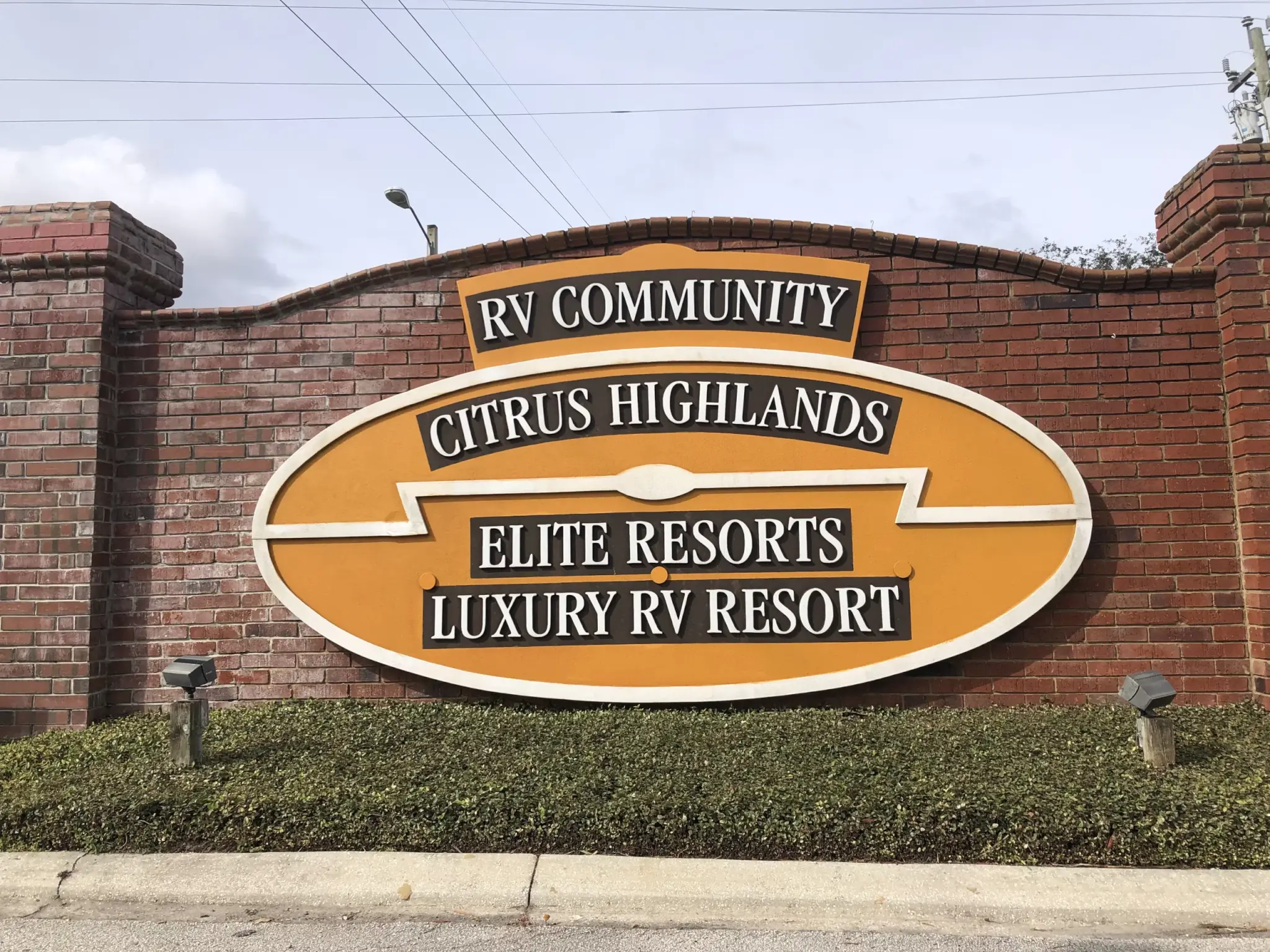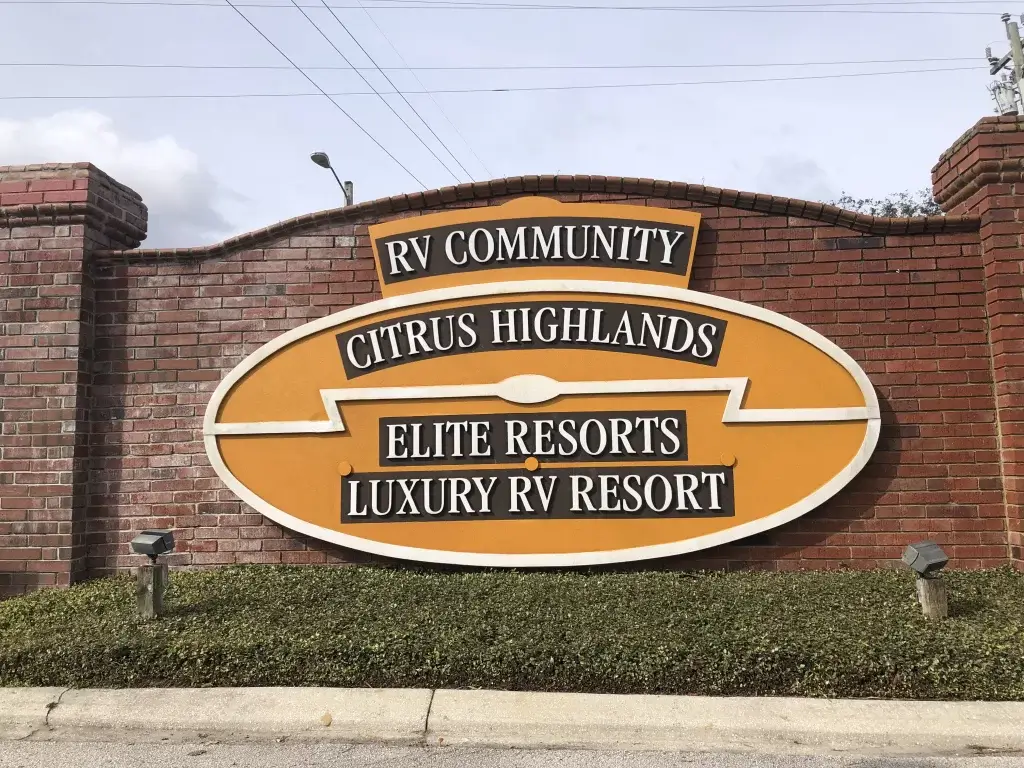 In fact, we frequently recommend this location to our clients as it is one of the rare neighborhoods in Clermont that caters specifically to the RV lifestyle.
The neighborhood features a concept that sets it apart from others—an RV parking garage right next to your home. As you drive through the community, you'll immediately notice its distinctiveness.
You see below how the homes have a larger RV parking space perfectly suited for large RV's. This could be a perfect year-round home or great second home for snowbirds.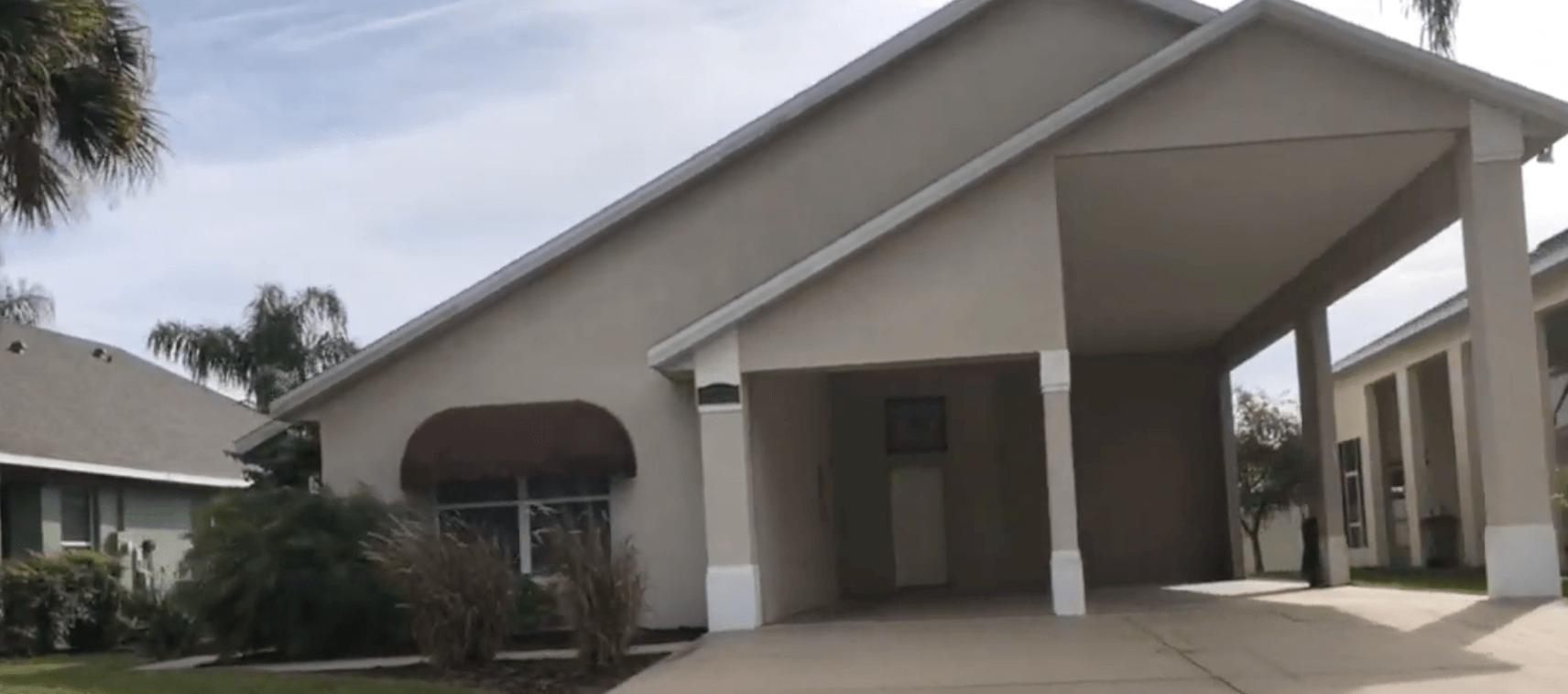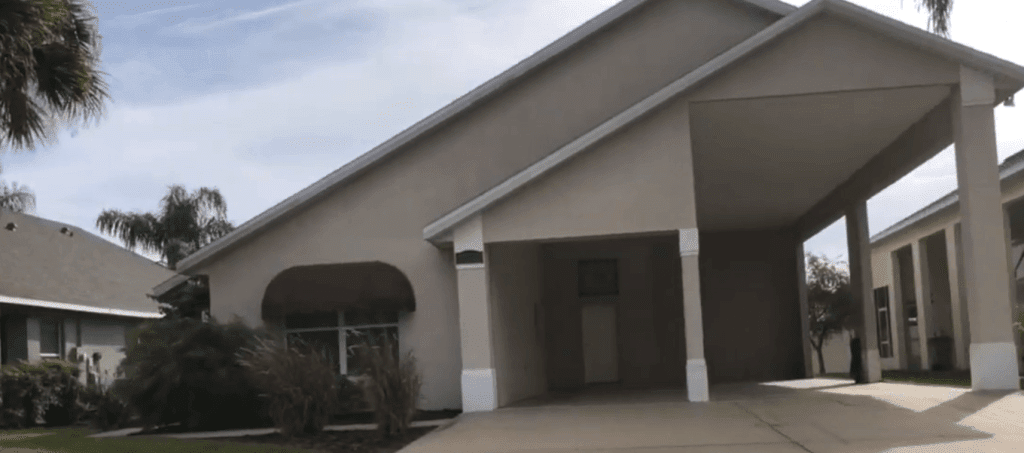 Properties in Citrus Highlands are priced in the mid $350,000s to the mid $400,000s range. The homes face beautiful conservation areas and water features, providing a serene and picturesque setting.
One of the standout features of this community is the 40 to 50-foot high ports designed specifically for RVs. These ports offer 50-30 amp hookups, water, and sewer connections.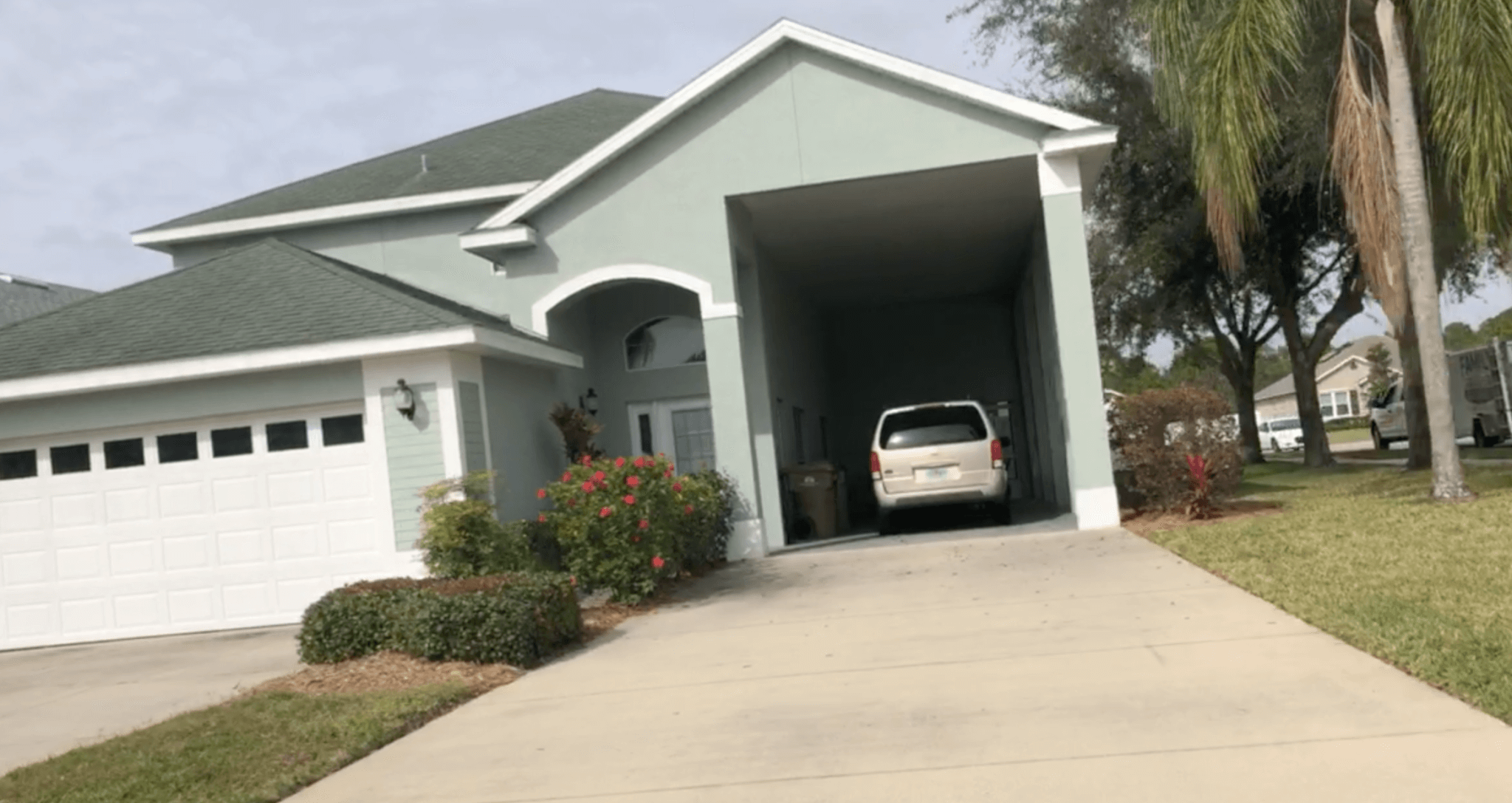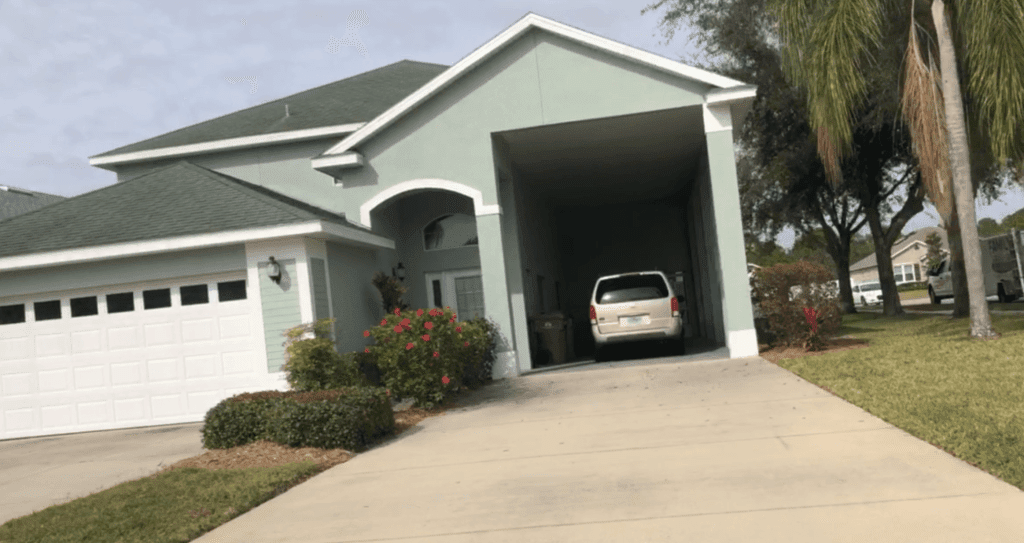 Some even come with screened areas, allowing residents to enjoy get-togethers and outdoor activities comfortably.
Homes in Citrus Highlands typically have two-car garages along with the RV garage, providing ample space for vehicles and storage.
The community has a nice pool for residents to enjoy. Many residents use golf carts to get around, making it a true Golf Cart Community.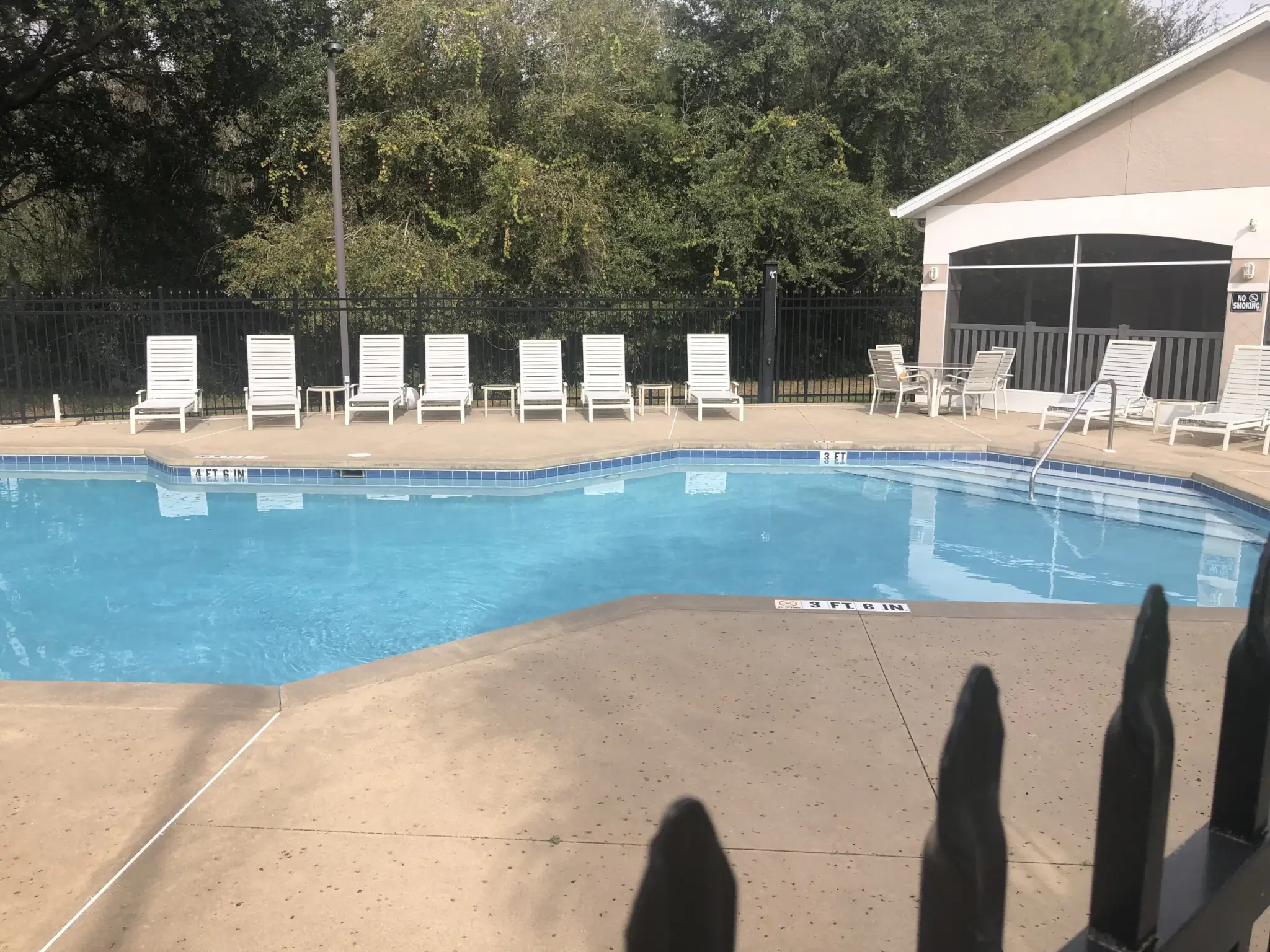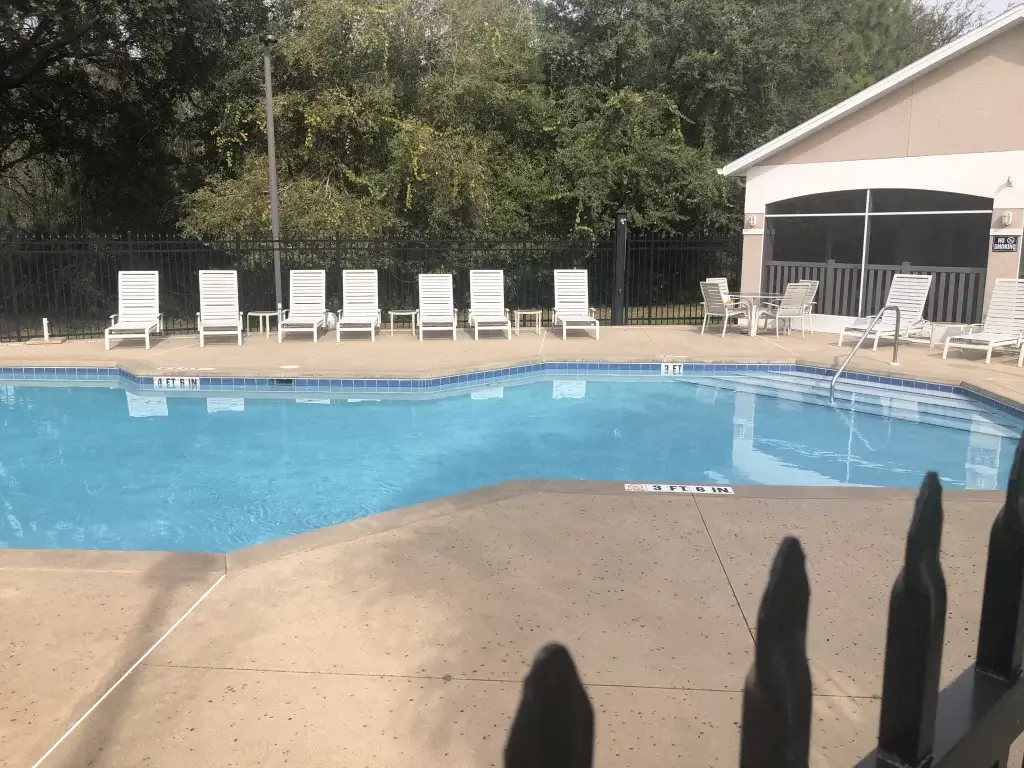 Citrus Highlands stands out for its diverse home options, catering to a range of needs with 2 to 5 bedrooms and 2 to 3 bathrooms.
Whether you have a growing family or require extra space for guests or hobbies, you can find a home that suits your lifestyle perfectly.
The homes in Citrus Highlands offer spacious square footage, ranging from 1,131 to 2,594 square feet, providing ample room for comfortable living.
With generous living areas, bedrooms, and flexible spaces, you'll have the freedom to arrange your home to suit your unique preferences and needs.
Citrus Highland Community Facts
| Neighborhood Details | Specifics |
| --- | --- |
| Closed Prices | $350,000 to $463,000 |
| Median Sale Price | $375,000 |
| Association Fee Ranges | Avg: $179/quarter (varies based on home and location) |
| Type | Single-Family Home |
| Built | 2002+ |
| Sq. Ft. | 1,131 to 2,594 Sq. Ft. |
| Bedrooms | 2 to 5 bedrooms |
| Bathrooms | 2 to 3 bathrooms |
Citrus Highland Details
**More info regarding HOA details for Citrus Highland can be found here.
Citrus Highland Location Advantages
One of the significant advantages of living in Citrus Highlands is its proximity to amazing amenities.
The community is conveniently located near the theme parks, and new access roads are being built to make transportation even easier.
Citrus Highland is in a great location. Check out all the attractions, restaurants, parks, popular lakes, and great shopping under 35 miles from the community.
Parks and recreation
| Major Attractions | Distance from Citrus Highlands |
| --- | --- |
| Clermont Landing | 2.3 miles |
| Lake Louisa State Park | 7.7 miles |
| Wekiwa Springs State Park | 10.3 miles |
| Hontoon Island State Park | 34.8 miles |
| Lake Minneola | 7.0 miles |
| Lake Louisa | 7.7 miles |
Water parks
| Major Attractions | Distance from Citrus Highlands |
| --- | --- |
| H2O Waterpark | 10.0 miles |
| Disney's Blizzard Beach | 14.0 miles |
| Aquatica Orlando | 21.1 miles |
| Volcano Bay | 25.2 miles |
Shopping
| Major Attractions | Distance from Citrus Highlands |
| --- | --- |
| Downtown Clermont | 2.8 miles |
| The Shoppes at Winter Garden Village | 8.9 miles |
| Clermont Fashion Square | 3.2 miles |
| West Oaks Mall | 13.1 miles |
| The Mall at Millenia | 26.1 miles |
| Florida Mall | 22.4 miles |
| Altamonte Mall | 17.5 miles |
Entertainment
| Major Attractions | Distance from Citrus Highlands |
| --- | --- |
| Amway Center | 20.1 miles |
| Exploria Stadium | 21.4 miles |
| Dr. Phillips Center for the Performing Arts | 22.1 miles |
| Old Town Kissimmee | 19.0 miles |
| Margaritaville Resort Orlando | 16.0 miles |
| Walt Disney World | 14.0 miles |
| SeaWorld Orlando | 21.1 miles |
Citrus Highlands Value Compared to Other Neighborhoods
Citrus Highlands can be considered a good value in comparison to the neighboring communities. With a median sale price of $375,000, it offers a more affordable option while still providing desirable features and amenities.
The neighborhood provides a balance between affordability and quality, making it an attractive choice for homebuyers looking for value in the Clermont area.
| Neighborhood | Median Sale Price |
| --- | --- |
| Citrus Highlands | $307,000 |
| Highlands Reserve | $320,000 |
| Hamlin | $641,800 |
| Tierra del Sol | $352,000 |
| Heritage Hills | $409,900 |
| Horizon West | $645,000 |
| Championsgate | $545,000 |
| Village of Bridgewater | $669,900 |
| Lakeside Village | $575,000 |
Citrus Highland Neighborhood Value
As you can see below, three homes recently sold in Citrus Highlands between 350k and 405k. We think in this market, that is a great value for Clermont.
Citrus Highland Social Activities
Citrus Highland is a lively community with tons of activities.
Future residents of Citrus Highlands can look forward to a vibrant and engaging community with a diverse calendar of activities.
From festive celebrations to educational classes, there is something for everyone to enjoy.
Couples can indulge in a delightful Strawberry Social on Valentine's Day, savoring strawberry shortcake, coffee, and tea. The Kentucky Derby Day event offers a chance to immerse in the excitement of the race while enjoying appetizers, desserts, and beverages.
St. Patrick's Day Dinner promises a festive ambiance with a delicious meal, games, and activities. For those interested in learning bridge, a beginner class is available on Tuesdays, providing a fun opportunity to acquire new skills.
The community 4th of July event is a highlight, featuring delicious food, engaging games, and activities for all ages. And, of course, a Halloween party at the pavilion invites residents to celebrate in style.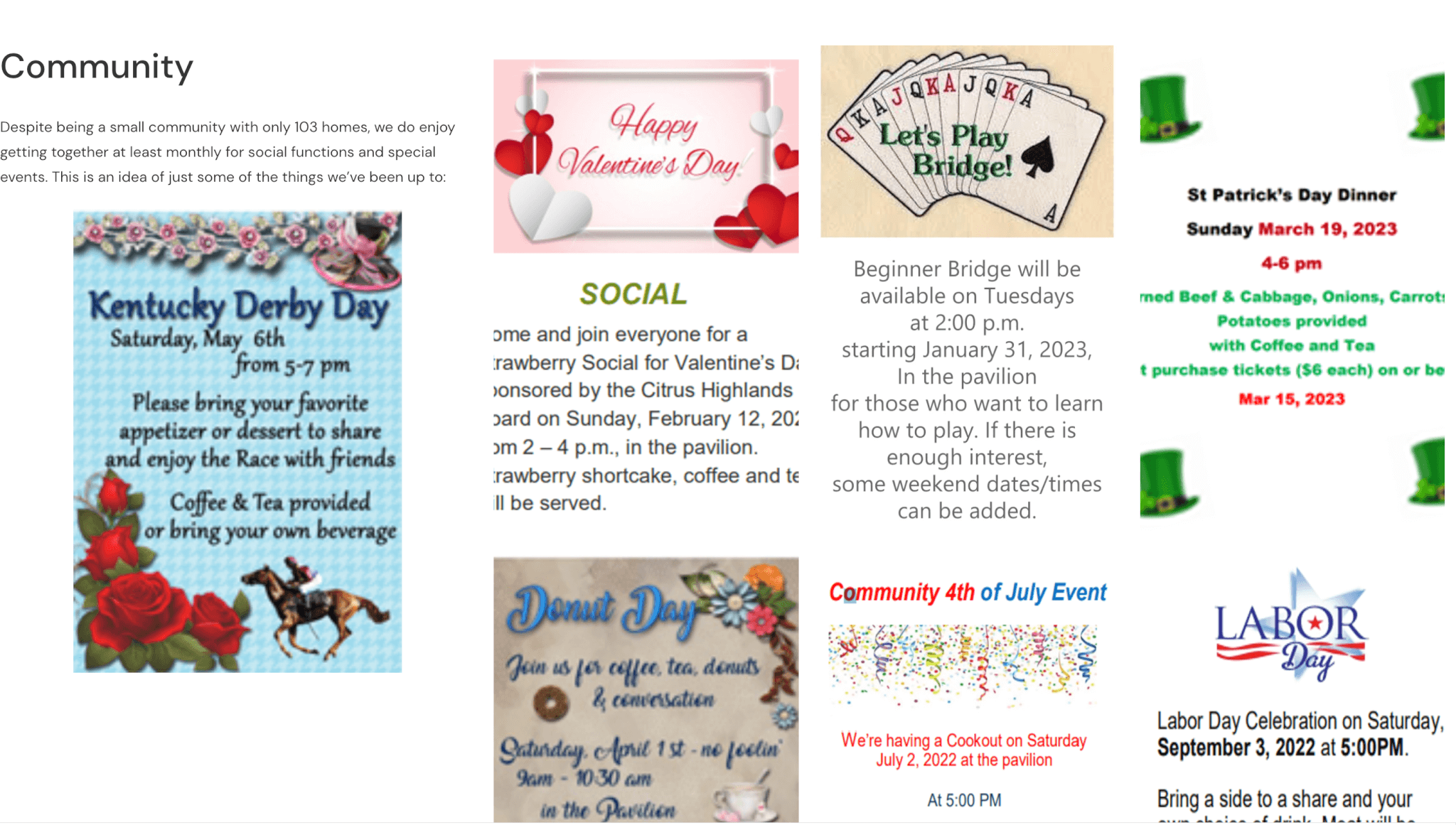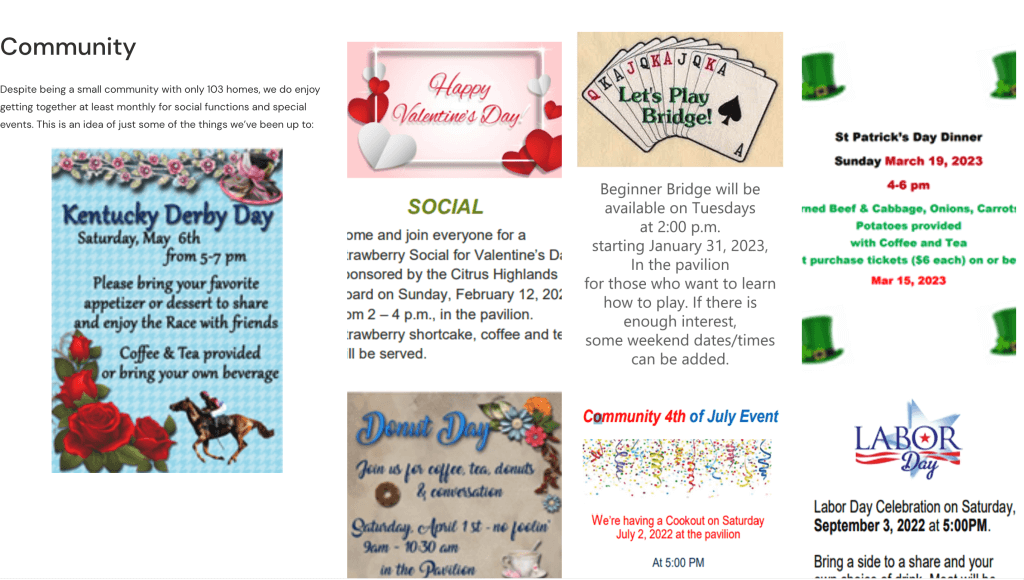 With such an exciting and inclusive activity calendar, future residents can expect a lively and engaging community life in Citrus Highlands.
Citrus Highlands Safety
Citrus Highlands is located in the safe Central Florida suburb of Clermont, FL. We love Clermont and always feel safe whether driving, walking, or biking.
Crime
Citrus Highlands is proud to maintain a safe and secure environment for its residents. Based on the FBI's Uniform Crime Reporting (UCR) Program, the Citrus Highland neighborhood a very safe environment and low crime rate.
In 2022, there were only 1,234 violent crimes and 1,723 property crimes reported, resulting in a crime rate of 3,957 per 100,000 residents. This is actually lower than the national average of 4,562 per 100,000 residents.
Keep in mind that the crimes reported were primarily non-violent offenses.
The most common types of incidents reported in Citrus Highlands are assault, robbery, burglary, larceny-theft, and motor vehicle theft.
It's important to note that these incidents are infrequent and the Clermont police work tirelessly for the community to maintain a safe and welcoming atmosphere.
In fact, we've written extensively about Clermont's robust safety record.
Flooding
Citrus Highlands is situated in FEMA Zone X, indicating a low risk of flooding in terms of environmental factors.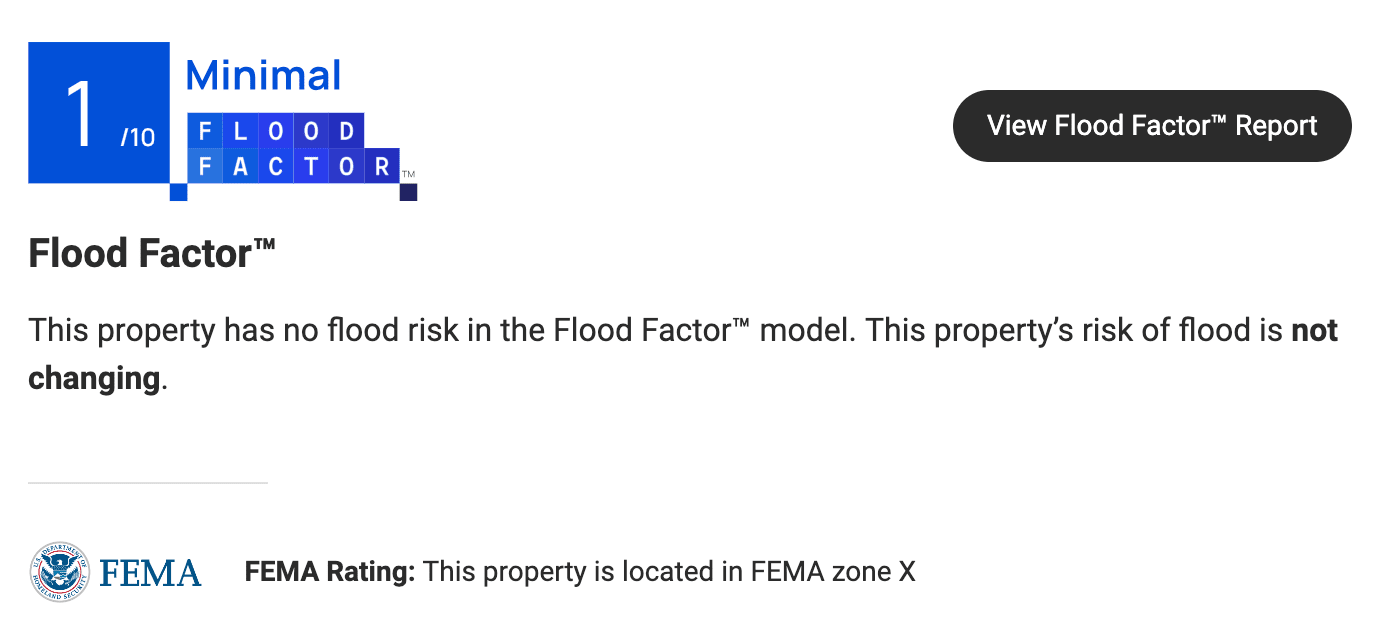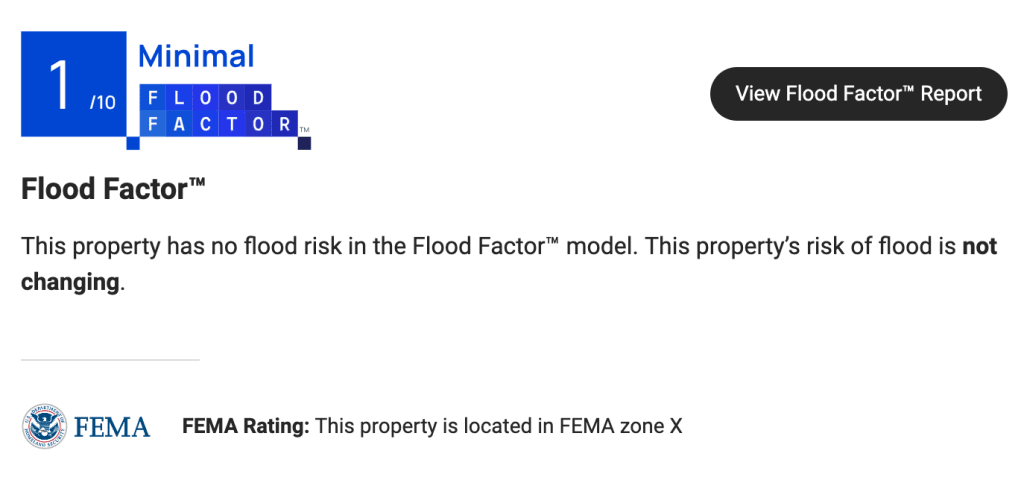 Although it is unlikely for the property to be flooded in a 100-year flood event, there is a slight chance of flooding during an exceptionally rare 500-year flood event.
Rest assured, proper precautions are in place to mitigate any potential risks and ensure the well-being of our residents.
Hurricane Risk
Future residents of Clermont, Florida can expect a relatively low risk of hurricanes. Clermont has a favorable track record with limited exposure to major hurricanes and has been mostly undisturbed by the threat of hurricanes over the years.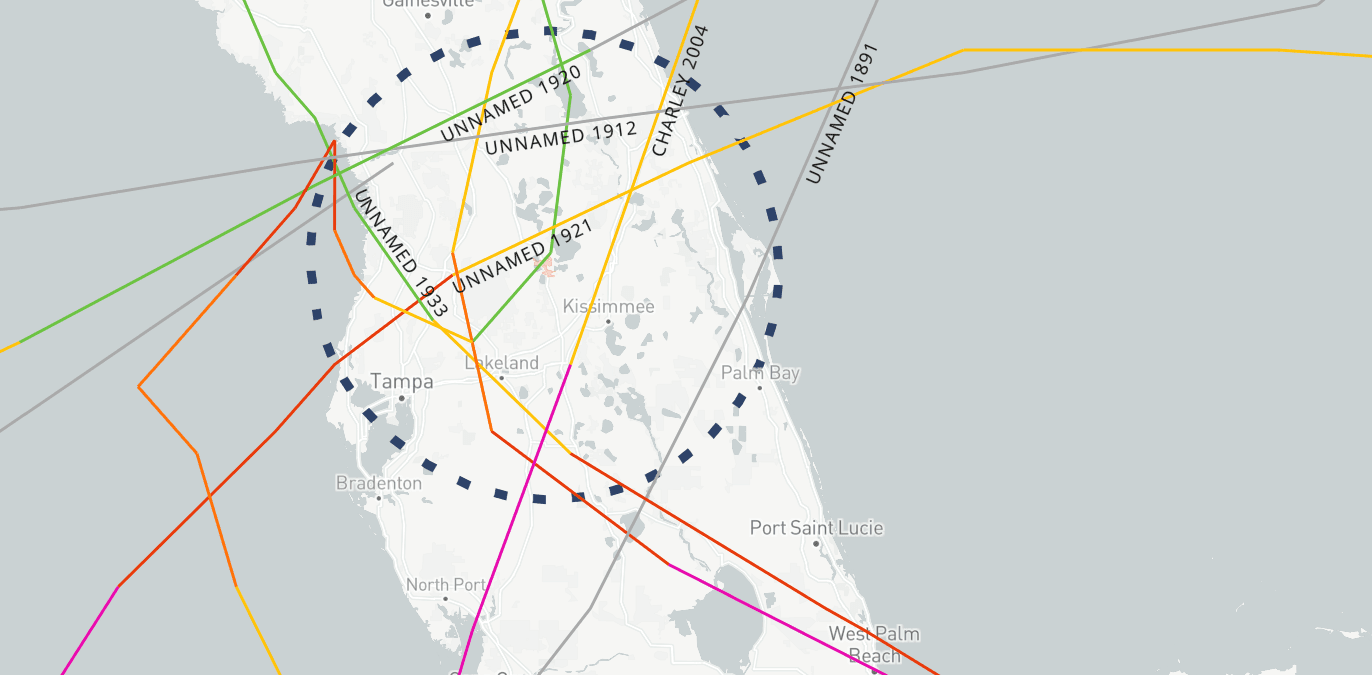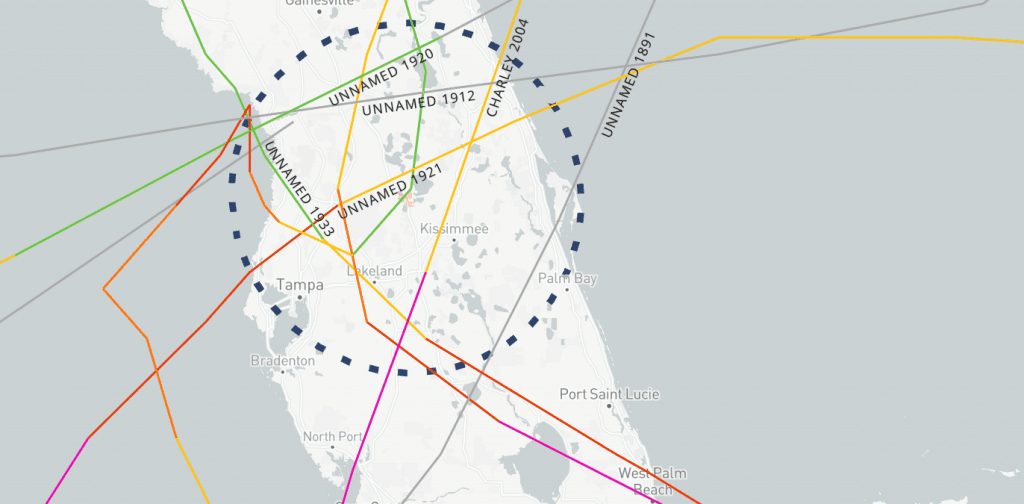 The city being located northwest of Orlando, its high elevation, distance from the ocean, and other factors make it one of the safest cities in Florida from hurricanes.
While hurricanes do occur in Clermont, they have been of less severity and have caused minimal damage compared to other cities in Florida. Overall, future residents can feel reassured about the relatively low risk of hurricanes in Clermont.
Clermont has experienced 37 known hurricanes over the years.
The majority of hurricanes that have affected Clermont are category 1 or tropical storms by the time they reach the city.
Clermont has had three direct hurricanes in the last 100 years: an unnamed hurricane in 1921 (Category 1), Hurricane Easy in 1950 (Tropical Storm), and Hurricane Charley in 2004 (Category 1).
Clermont is located at least 75 miles away from the ocean, which helps to reduce the strength of hurricanes as they get closer.
Clermont's elevation, ranging from 300 to 390 feet above sea level, offers protection from flooding compared to other coastal areas in Florida.
The presence of swamp areas, such as the Green Swamp, acts as a reservoir to collect excess water during storms, aiding in flood control.
Clermont's Emergency Operations Center (EOC) is well-prepared to handle emergency situations, including hurricanes, and coordinates essential functions during such events.
A New Road Coming Soon (Awesome Addition)
The future connector, estimated to be completed in 2026, is set to have a significant impact on Citrus Highland and the surrounding area. This new roadway will serve as a crucial link, drastically reducing travel time from Clermont to the Disney area.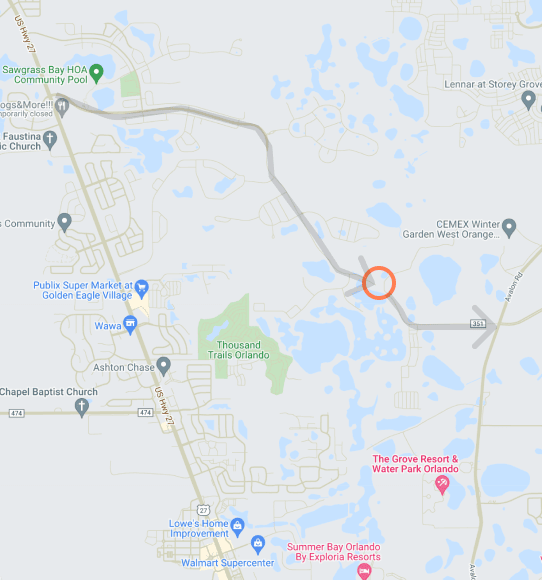 Currently, residents have to follow a longer route by traveling south on RT 27, east on HWY 192, and then north on Avalon Rd., which takes over 30 minutes to reach Disney from south Clermont.
The connector will reduce the commute time in half, making it easier for residents of Citrus Highland and the surrounding areas to reach Disney.
We are so excited about this road!!! No more long drives to Disney and all the "Magic".
The neighborhood is becoming more appealing for investment, as more people are interested in taking advantage of the improved accessibility and shorter travel times provided by the future connector.
About the area (Clermont FL)
Clermont, FL is an amazing place to move, and I'm here to tell you why.
As a couple who moved here to experience the charm and beauty of this vibrant city, we can confidently say that Clermont is one of the best cities in Central Florida.
Here are some reasons why Clermont should be on your radar:
City of Lakes and Hills: Clermont is nestled in the rolling hills of Central Florida and boasts eleven pristine lakes, offering breathtaking views and a plethora of outdoor activities. With over 20 parks and 20 miles of walking trails, you'll have plenty of opportunities to immerse yourself in nature.
Proximity to Orlando: Just a short 30-minute drive from Orlando, Clermont offers easy access to world-famous theme parks, an international airport, and beautiful beaches.
Robust real estate market: Clermont's real estate market is thriving, supported by a growing population and a strong job market.
Great schools and safety: Clermont is known for its excellent schools and commitment to safety, making it an ideal choice for families and retirees. You can rest assured that your children will receive a quality education while enjoying a safe and welcoming community.
Growing economy and innovation: The city's master plan includes over 30 projects aimed at improving infrastructure, parks, and recreational amenities, ensuring that Clermont continues to flourish and provide a high quality of life for its residents. Let's not forget the amazing Olympus facility being built.
Proximity to beaches and protection from storms: Living in Clermont means you're within a short drive of beautiful ocean beaches on both the Atlantic and Gulf coasts. Additionally, Clermont's inland location provides a safety net from powerful storms, making it a desirable place to live for those seeking a balance between coastal proximity and protection from hurricanes.
Favorable tax rates: Clermont is a highly appealing location for both individuals and businesses seeking to maximize their income and minimize their tax responsibilities, thanks to Florida's lack of state income tax. With relatively low property taxes and corporate income tax rates, you can enjoy tax savings while enjoying the benefits of a growing city.
Conclusion
Citrus Highlands, located in Clermont, Florida, offers a unique and attractive lifestyle for travel enthusiasts and those seeking convenience.
The neighborhood's charm, conservation areas, and water features further enhance the appeal of living in Citrus Highlands. Citrus Highlands offers a range of homes priced from the mid $350,000s to the mid $400,000s. The community provides a welcoming atmosphere, beautiful surroundings, and a convenient location for residents to enjoy a vibrant lifestyle.
The future connector road will be finished in 2026, which will make it faster for people in Citrus Highland to travel from Clermont to the Disney area.
The new connector will make it easier and quicker to reach the Disney attractions by cutting the commute in half.
This improved accessibility has made Citrus Highlands a sought-after investment site, as more people recognize the value of its proximity to major amenities and the convenience it offers.
Prepare to discover the joy of living in Citrus Highlands, where every day feels like a vacation.