Security and Peace of Mind: Is Clermont, Florida a safe place to live?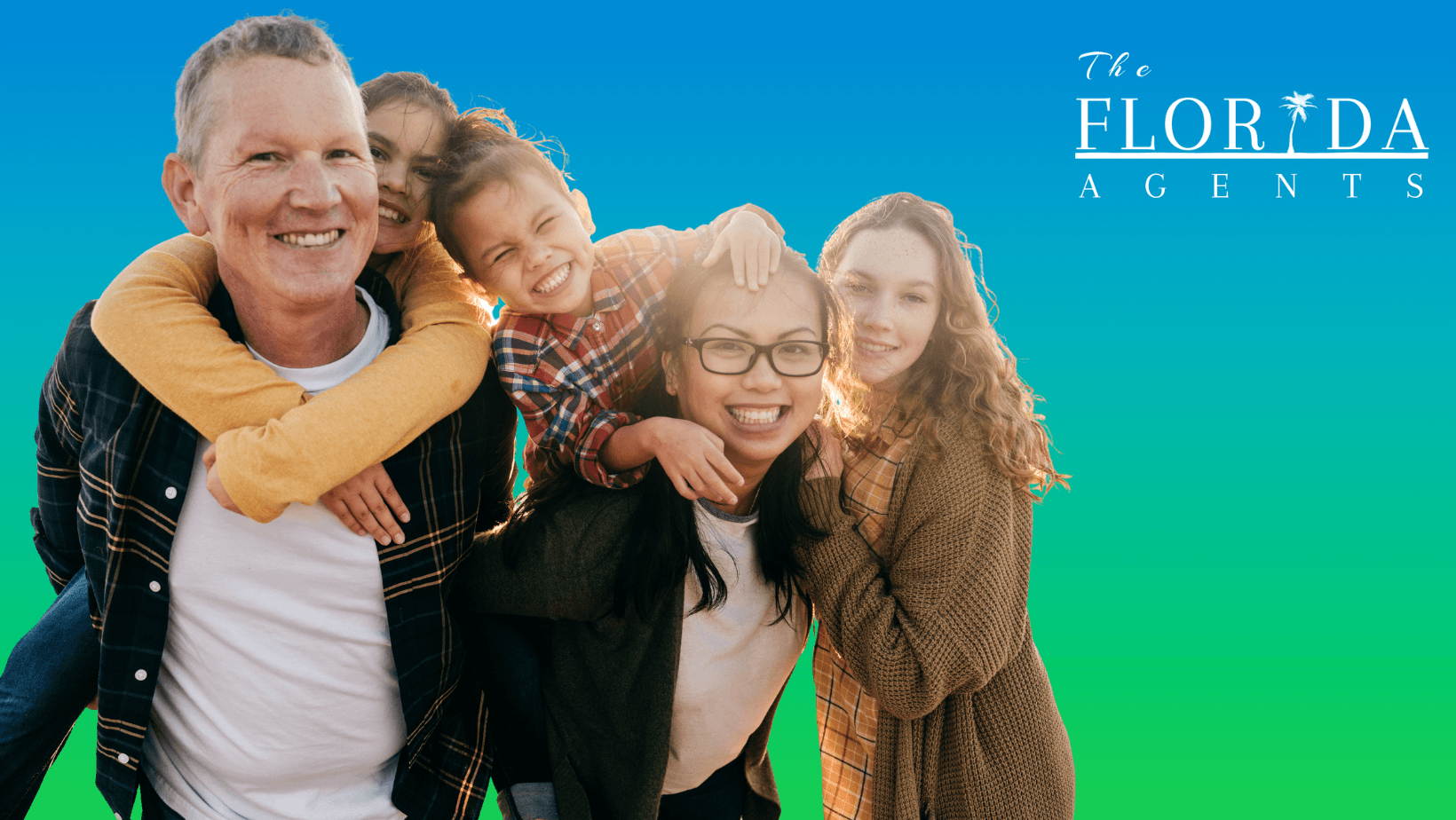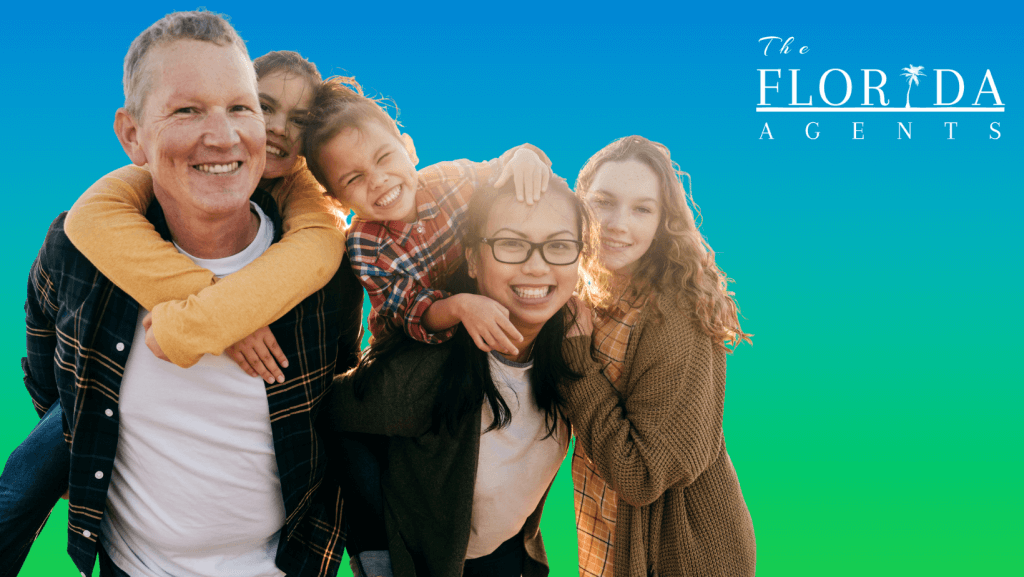 Clermont, Florida, is a popular city just west of Orlando, Florida for families in search of a safe and enjoyable place to live. We love living here and have always felt safe. Not only is Clermont an amazing city filled with lakes (12) and rolling hills (yes…Florida has hills), but Clermont is also a very safe place to raise your family.
While no city can guarantee absolute safety, it's important to consider the various elements that make a city safe. We've lived in Clermont, FL for years and can speak from personal experience that we feel very safe–whether walking, biking, or enjoying the area by car. Clermont is ranked very highly for safety as a result of its robust police force, low crime rates, and community support for safety investment.
What is the local police presence like in Clermont, FL?
Clermont, Florida is a city of about 30,000 people located in Lake County. The local police presence in Clermont is strong and highly visible, with over 80 officers employed by the Clermont Police Department. We have seen police officers in the city on horseback, bikes, motorcycles, SUV's, and cars.
In addition, we have found the police officers to be really friendly in our beautiful lake community. The police station is located on 8th Street (downtown Clermont) and provides services to all citizens of Clermont as well as visitors.
The high number of officers provide an increased sense of safety for locals and provide quick response times when called upon. In addition to regular patrols, they are also responsible for drug interdiction efforts that often result in immediate arrests being made throughout the community.
Furthermore, the Clermont Police Department works closely with other law enforcement agencies to ensure that criminals are brought to justice. We have found that when problems arise, police officers are able to coordinate with other agencies and respond quickly.
Tell us more about the Clermont, FL police chief Charles Broadway
Chief Charles Broadway is a 25-year law enforcement veteran who began his career with the Clermont Police Department in 2010 as a Police Captain. On July 31, 2012, he was appointed the Interim Chief of Police and then in December 2012 became Chief of the Clermont Police Department. Chief Charles Broadway was born in New York, and graduated from St. John's University.
He is a veteran of the US Army and served in the United States Army Reserve. He worked with the Clermont Police Department as a patrol officer, detective, and supervisor before becoming Chief. Chief Broadway is a family man and understands the importance of safety.
Chief Broadway is not only active in the city of Clermont, but he also serves on the executive board for the Florida Police Chiefs Association and was appointed to the Subcommittee on Accountability and Societal Change. Chief Broadway was recently appointed by Governor Ron DeSantis to serve on the Criminal and Juvenile Justice Information Systems Council. Chief Broadway is the current President of the West Central Florida Police Chiefs.
Chief Broadway has received numerous awards, including the Florida Department of Law Enforcement's "Officer of the Year" award in 2000 and he was named "Police Officer of the Year" by the Clermont Police Department in 2013. He is always a visible presence in the community which makes us feel like he's more than the police chief, he's our local hero and community family.
Are the crime rates high or low in Clermont, FL?
When looking at the overall crime rate in Clermont, data suggests that it falls lower than both national and state averages. That means that Clermont is not only one of the safer areas in Florida, but in all of the country.
According to Areavibes analysis of FBI reported crime data from 2021, Clermont had a total score of B+; this score indicates that Clermont is one of the safer cities in America when compared to other cities and towns across the nation. Furthermore, when compared to the national average, Clermont has 25% lower total crime, 40% lower violent crime, and 22% less property crime. This data was extracted from the FBI as of September 2021.


When looking at the specific crime breakdown, you can see that Clermont, FL receives 400 less incidents per year per 100k than the average city in Florida and 600 less incidents than the national average. Based on additional date supplied by city-data.com, Clermont, FL only experienced 8 homicides from 2006 to 2019–less that one per year!
What's more is it appears that Clermont, FL is actually getting safer. City-data.com aggregated crime statistics and found that in 2006 Clermont had 177 burglaries and by 2019 that number dropped to 80. Assaults also dropped in the same period from 96 to 56.
Is it safe to walk around Clermont, Florida?
With so much to offer, Clermont understands that it's important for its residents and visitors alike to feel safe and walkability of Clermont's streets is of prime importance. The city takes safety very seriously.
Clermont is generally considered a safe community with low crime rates throughout most areas. All public spaces are well lit and patrolled by law enforcement on a regular basis which makes people feel secure when walking around town. In addition, there are plenty of sidewalks available in all sections making it easy for pedestrians to navigate from point A to point B without having to worry about their safety.
While we believe Clermont can do a better job of creating more sidewalks to connect neighborhood to neighborhood and commerce centers to amenities, we understand that infrastructure takes time. One of our favorite things about Clermont is that we always feel safe walking around our neighborhood, Lake Louisa State Park, downtown Clermont, and local shopping areas. When we lived in Chicago and New Orleans, we didn't always feel safe walking and constantly looked over our shoulder.
If you look at the image below by Areavibes.com which aggregates FBI crime data, you'll see that Clermont experiences much less crime than the national average in every statistical category. Great job Clermont police!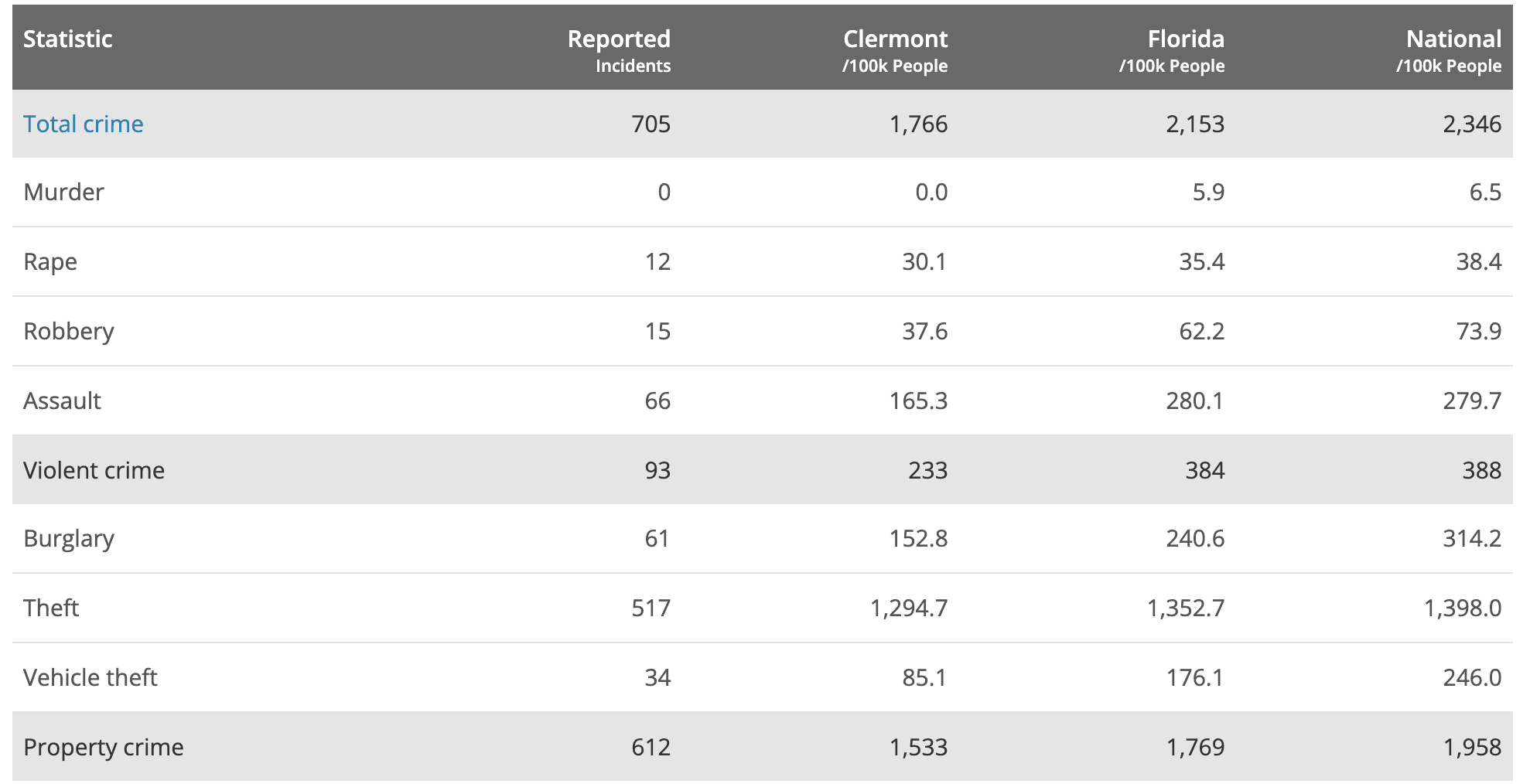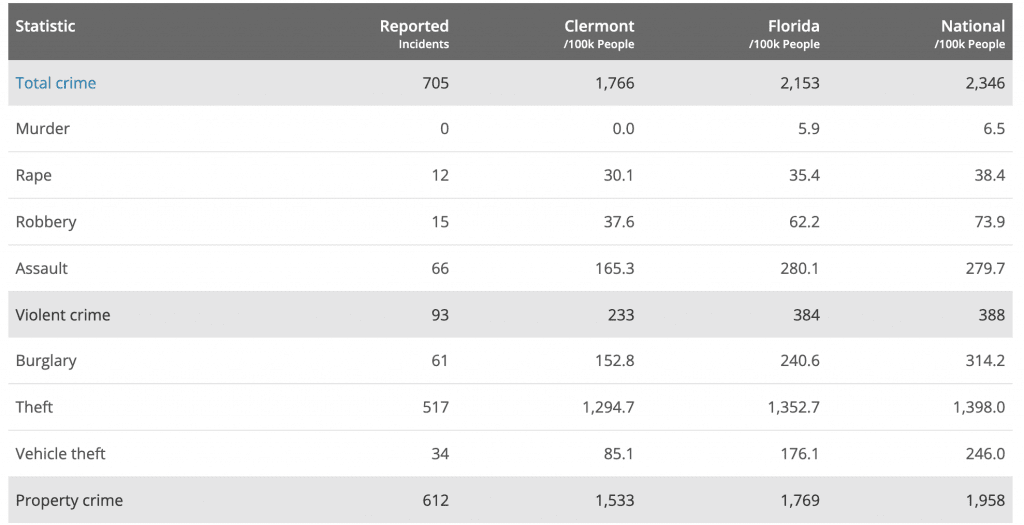 Are kids safe in Clermont FL?
This is a question that many parents are asking when they look to move to this North Central Florida city. With its small-town charm, excellent walkability and numerous nearby parks, Clermont offers a lot of potential for raising children. As mentioned above, Clermont crime rates are well below the national average.
One statistic that should make you feel good about Clermont is they take your children's safey seriously. How do we know this? Well, in 2006, Clermont had 41 fulltime police officers and by 2019 that number rose to 75 fulltime officers.
Remember that Clermont's crime has decreased over the last 15 years and while the number of officers have increased. We sleep well at night knowing that even though our crime is dropping, the city is still investing in our safety every year.
Is Clermont FL safe from hurricanes and bad weather?
Clermont, FL is a city located in the center of Florida. With its close proximity to the state's coastline, many people are concerned about the safety of Clermont from hurricanes. However, due to its location and elevated geography, Clermont experiences less frequent and less severe hurricane activity than other cities along the coast.
The city is surrounded on three sides by hills that form part of the Lake Wales ridge. Below is an image of the protective ridge. The Lake Wales ridge runs through the center of the state with Orlando being the only major metropolitan along its path.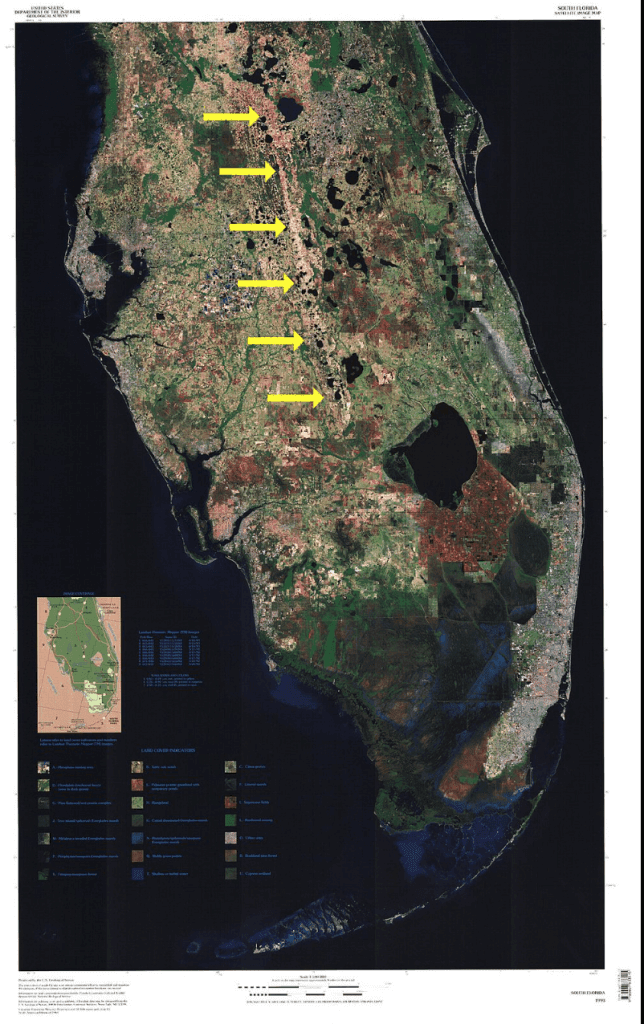 Clermont sits at the top of the highest point of the ridge, Sugar Loaf Mountain, which measures 312 feet. This also happens to the be the highest point in the peninsula of Florida. This provides an additional layer of protection from storms as it helps to block wind gusts that come with hurricanes and tropical storms.
Additionally, since Clermont is situated well inland from the Atlantic Coast – approximately 45 miles – it receives less direct impact from major hurricane systems than other places along the coast. Clermont, FL was recently tested by hurricane Ian in September of 2022. While hurricane Ian damaged the gulf coast and devastated southern coastal cities, Clermont was largely unaffected despite Ian passing over the area.
The hills of Clermont provide wind protection while our elevated community provides water barrier protection. In addition, the distance from the coastline generally weakens the hurricane bands as a result of the distance from the warm ocean.
As Hurricane Ian made landfall in Clermont, Florida in 2022, many residents were curious about their safety. Despite the hurricane's intensity, officials worked hard to make sure that the city was well-prepared for the storm.
The category 2 hurricane brought strong winds and large amounts of rainfall with it as it passed through Florida. In preparation for the storm, local authorities had put into place a variety of measures to protect citizens from harm.
For instance, they implemented an evacuation plan and reinforced structures around town with reinforcements like sandbags and tarps to keep out water damage. They also distributed emergency supplies such as food and medicine among locals before the storm hit.
If you'd like a more detailed article on Clermont's history of hurricanes, read our in-depth blog with a detailed history over the last 100 years.
Thanks to these safety precautions taken by Clermont's leaders, citizens remained safe during Hurricane Ian's passing despite its destructive power. Check out our entire journey of making it through hurricane Ian in Clermont.
Which areas in Clermont are the safest?
All of Clermont, FL would be considered safe by the national average. When people talk about the "areas" of Clermont, they are generally discussing the north side of Clermont (north of Lake Louisa State Park) and the south side of Clermont (south of Showcase of Citrus and North of highway 192).
If you are curious about the various areas of Clermont, we suggest you watch our video below as we drive from southern Clermont to northern Clermont, highlighting various areas to familiarize you with our community. We've sold homes all over Clermont and our clients have always safe in their respective communities.