Is Clermont FL an Expensive Place to Live?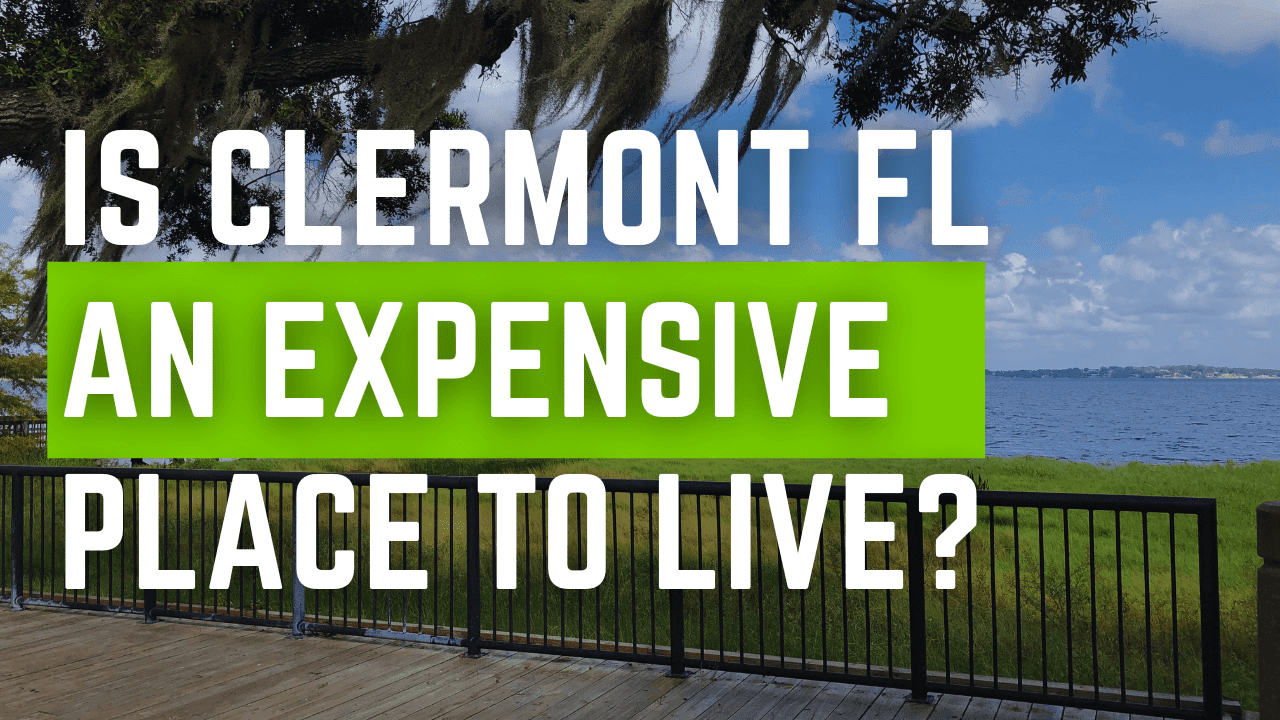 If you've been looking for a home in the sunshine state with rolling hills and scenic lakes, you might be thinking, "Is Clermont FL an expensive place to live?"
With the recent influx of new residents, Florida has been making the front page of newspapers and blogs all over the internet—and for good reason. Florida is an amazing place to call home—not only for its scenery—but also for its lower cost of living.
In this article we will discuss the cost of living in Clermont, Florida and whether it's a good long-term fit for your household.
Is Clermont FL an Expensive Place to Live?
Clermont is an affordable Florida city with access to big city amenities.
Clermont has slightly below average home prices is ($417k) compared to the national average of ($436k) and slightly lower rental rates. In addition, Clermont has marginally higher transportation costs from the lack of public transportation options and higher insurance rates for automobiles and homes.
The robust nature-oriented topography of Clermont makes outdoor access a true cost-saver. With an inexpensive state park (Lake Louisa State Park), miles of walking and biking paths, 11 natural lakes connected by waterways, and a robust community engagement initiative—it's easy to have fun in Clermont on a minimal budget.
Lastly, if you are relocating from a different state, Florida can potentially save you money from its zero state-income tax policy and pro-business environment.
Cost of Living in Clermont, FL
Like any city, there are elements that are more or less expensive when compared to other cities. When you live in Clermont, you'll realize that the daily cost of living is quite affordable compared to many areas around the country.
We will utilize the data from BestPlaces.net to analyze the cost of living in Clermont and then compare it to the national average.
The ratings for each category are calculated based on the average cost of living in the US, with a score above 100 indicating a higher cost of living, and a score below 100 indicating a lower cost of living.
Compared to the rest of the U.S., Clermont, FL is an affordable place to live. Once we moved from Illinois to Florida, we instantly saw that it was a great financial move.
And, the more expensive of an area you move from—such as moving from California to Florida—the more affordable it becomes.
The cost of living in Clermont is marginally higher than the national average in most categories. Keep in mind that the average American doesn't live in a huge metropolitan city—73% of Americans either live in a suburban or rural area.
The cost of living in Clermont is rated at 106.9, which means it's slightly more expensive than the US average of 100.
It's hard to get a clear picture of what a score of 100 looks like, so we compiled data from BestPlaces.net to determine the average cost of living, and we cross analyzed the data with the most popular relocation cities in the United States as of 2023.
| Rank | City | State | Cost of Living |
| --- | --- | --- | --- |
| 1 | San Antonio | TX | 86.8 |
| 2 | Houston | TX | 95.5 |
| 3 | Dallas-Fort Worth | TX | 100.2 |
| 4 | Nashville | TN | 103.1 |
| 5 | Clermont | FL | 106.9 |
| 6 | Austin | TX | 107.5 |
| 7 | Greenville-Spartanburg | SC | 107.7 |
| 8 | Atlanta | GA | 107.8 |
| 9 | Sarasota | FL | 109.2 |
| 10 | Charlotte | NC | 110.8 |
| 11 | Tampa Bay | FL | 111.6 |
| 12 | Jacksonville | FL | 113.3 |
| 13 | Ocala | FL | 113.9 |
| 14 | Myrtle Beach/Wilmington | SC/NC | 115.7 |
| 15 | Orlando | FL | 116.7 |
| 16 | Knoxville | TN | 117.1 |
| 17 | Melbourne | FL | 118.8 |
| 18 | Boise | ID | 121.8 |
| 19 | Portland | ME | 124.6 |
Comparing Clermont Cost of Living to 18 Desirable Areas in the U.S.
If you compared Clermont, FL with the 18 most popular places to move in the country (table above), Clermont would rank fifth most affordable.
In fact, taking a closer look you would notice Clermont would rank first if we didn't compare it to much larger metropolitan areas.
If we compare Clermont to similar suburbs near cities in the above table such as the Dallas suburb of Rowlett, TX (cost of living 107.1) or the Nashville suburb of Franklin, TN (cost of living 138.5)—it's easy to see how affordable Clermont, FL is.
Similarly, the ratings for groceries and healthcare in Clermont are 102.4 and 101.2 respectively, which are only slightly higher than the national averages. We won't dissect these factors into cents and dollars because they can vary wildly depending on your spending habits and preferences.
Instead, we will point out that there are inexpensive grocery stores such as Aldi, Winn-Dixie, and BJ's Wholesale in Clermont which can bring the cost of food down.
Alternatively, there are more expensive options with robust selections such as Publix which can increase the price of food.
Healthcare options are diverse with options such as Orlando Health South Lake (big hospital), Clermont VA Community Health, and dozens upon dozens of specialists (e.g., dentists, family practices, laboratories, etc).
We have found many inexpensive healthcare options at Walmart, Community Health Centers of Clermont, Advent Primary Care, and Four Corners Community Health Center.
Are houses affordable in Clermont FL?
Clermont FL is not a cheap place to buy a house. The average cost of a home is more expensive in Clermont FL than many homes around the country.
We won't sugarcoat the fact that you will need a healthy budget if you plan on buying a home in Clermont.
This is often the most surprising conversation we have with new clients moving to Florida. People are typically under the impression that Orlando is a cheap place to move in general.
However, we have to remind people that they are moving to one of the prettiest towns in Florida with rolling hills and lakes, located 30 mins from Orlando and its attractions, within 40 minutes of an international airport, and less than 90 minutes to pristine ocean beaches.
Sure, some cities in Florida are inexpensive, but Clermont's geography makes it especially desirable.
Are houses expensive in Clermont FL?
The median home cost in Clermont, FL is $417,100, which is lower than the national average of $436,100. While $417k is quite a bit higher than many areas of the U.S., it would still be considered affordable compared to other desirable cities in the US.
Now, we have to make it clear that $417k is an average of 1 bedroom homes all the way up to 6 bedroom mansions, and so the average home sale of our clients is typically above $500k. We simply want to make sure you have a realistic expectation of cost.
Let's run the numbers of similarly sized big city suburbs:
To give you a clearer picture, we took suburban areas around the same population size and characteristics as Clermont in popular relocated metropolitan cities and found the average cost of a home as of 2023.
As you can see below, Clermont would be the fifth most expensive place to buy a house on the list.
Are you spending a lot more money to buy in Clermont? No. But, the difference could be enough for home loan qualifications to change.
| City, State | Average Cost of a Home |
| --- | --- |
| Clemson, SC | $355,324 |
| Acworth, GA | $389,461 |
| Schertz, TX | $325,872 |
| Rowlett, TX | $381,627 |
| Venice, FL | $454,190 |
| Huntersville, NC | $517,500 |
| Brunswick, ME | $442,414 |
| Georgetown, TX | $463,818 |
| Farragut, TN | $686,532 |
| Safety Harbor, FL | $485,564 |
| CLERMONT, FL | $417,191 |
| Nampa, ID | $424,900 |
| Gainesville, VA | $628,313 |
Cost of Housing in Clermont FL vs National Average
While the average home in Clermont is expensive, depending on your needs, you may not need to spend quite as much.
Rocket Mortgage recently broke down how different home sizes and room configurations in Clermont cost different amounts.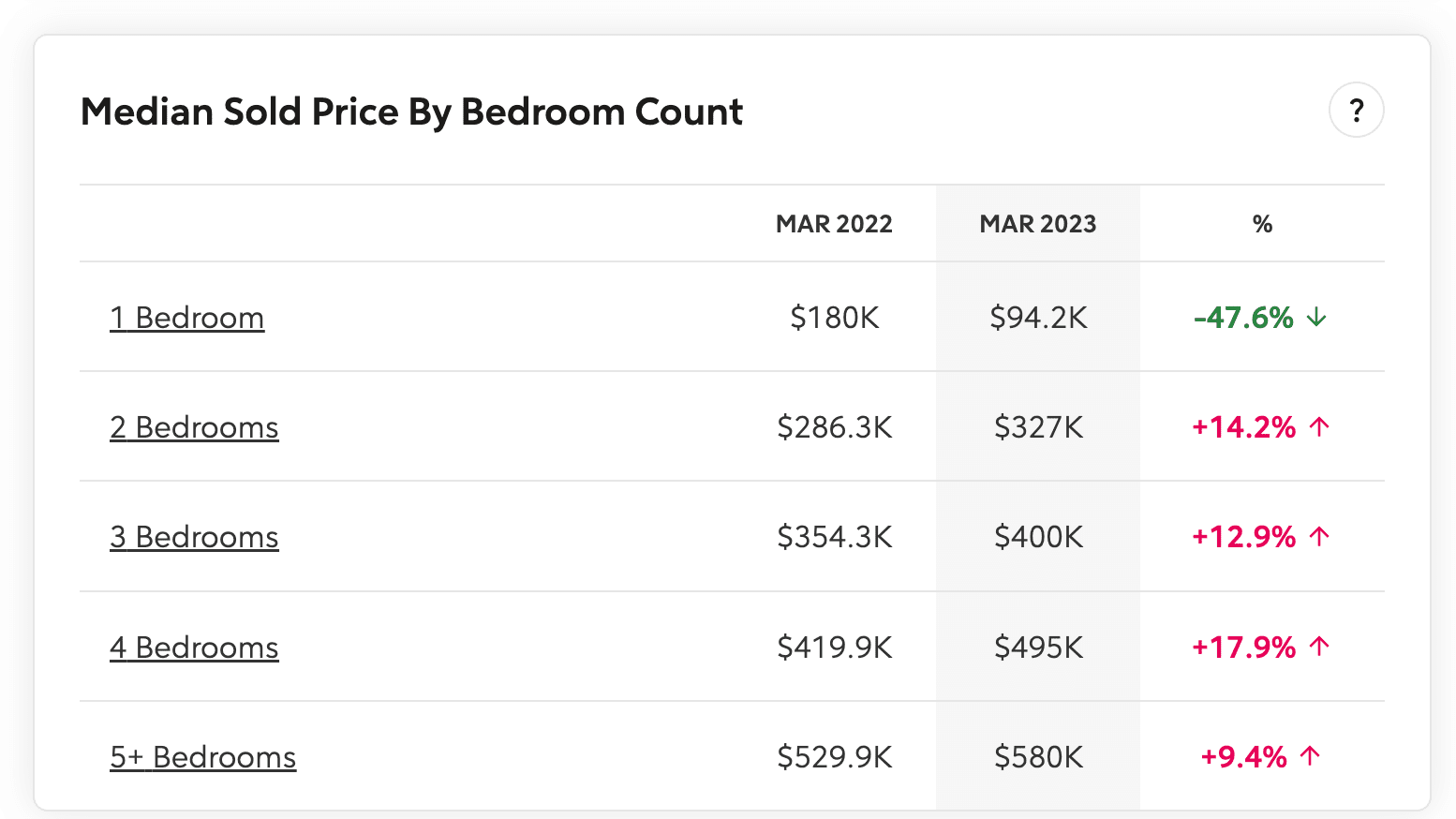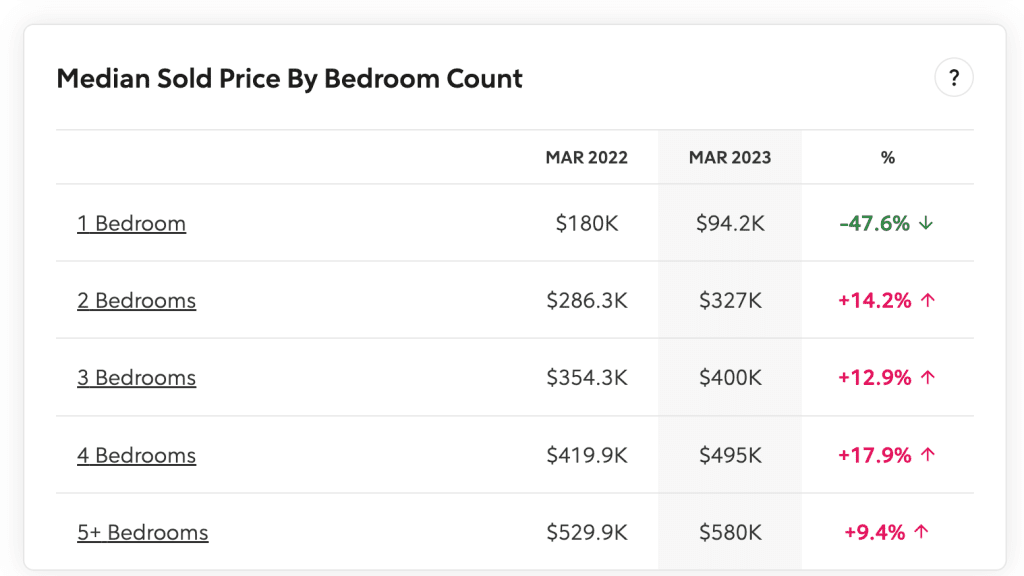 As you can see above, a two bedroom might only cost $327k whereas a 5+ bedroom will cost $580k.
Keep in mind we regularly see new construction homes over $600k, but again, it all depends on your needs and budget.
Recently, we are seeing fewer and fewer homes under $400k, and like we tell our clients, $300k homes in Clermont are not only hard to find, but often require extensive renovations.
Below is our tour of three different neighborhoods in Clermont to give you a feel for the area with prices.
Are apartments and renting expensive in Clermont FL?
Using RentCafe data, we can see that 50% of people in Clermont pay between $1500-$2000 per month on rent. The average rent across all households is $1,761 for approximately $1000 sqft of space or exactly $1.70 per square foot.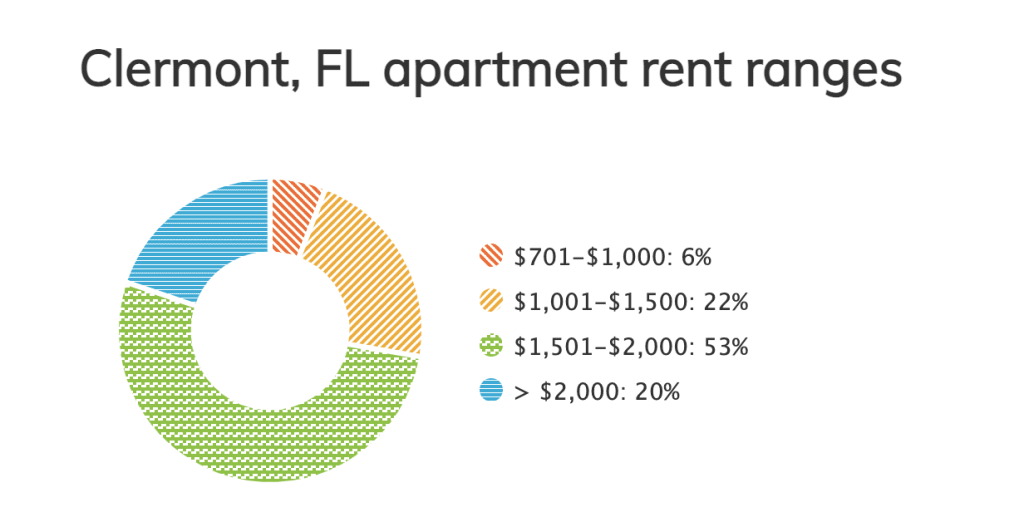 How does Clermont FL compare to the national average for average rent?
Again, let's use RentCafe data to analyze national rent trends. The average renter in America pays $1700 per month for nearly $900 square feet, which is exactly $1.80 per square foot.
That would make the average rent in Clermont about 10 cents cheaper per square foot than the national average.
Keep in mind that rents vary wildly depending on the region. Clermont might look expensive to the average Arkansas and Oklahoma rental at $980 per month.
On the other hand, comparing Clermont to California or New York at $2500 per month seems like a steal.
Is transportation in Clermont expensive?
One category where Clermont differs significantly from the national average is transportation. The rating for transportation in Clermont is 117, which means it's more expensive than the national average.
Why does Clermont have more expensive transportation costs you ask?
The simple answer is that there is a huge lack of public transportation in the Orlando region in general.
3 primary factors for Clermont's expensive transportation issues:
First, Clermont does not have access to a train system. Trains and subways tend to be cheaper to travel on and while Orlando does have the SunRail system, it does not travel east-west to Clermont.
Second, Florida is known for its high car insurance costs. Blame it on the rampant insurance fraud in the state for having to fork over 37% more than the national average.
When living in Florida, you'll see news headlines like this one from WESH2 fairly consistently.


Third, Clermont is a commuter city which means you'll likely need a car with added maintenance and fuel or electric costs.
It should be noted that Clermont does have bus service via the LakeXpress system. Depending on your location near a bus route, this could be cost-effective.
The downside to the LakeXpress which serves Lake County is that it only provides 8 bus stops in Clermont FL which creates a huge issue for anyone not living near State Route 50 or U.S. Highway 27.
Does Clermont have affordable entertainment?
Clermont, FL offers plenty of affordable entertainment options that are sure to appeal to all ages and interests. One aspect of Clermont we most love are the free and nature-based amenities.
Free Activities in Clermont FL
The South Lake Trail is a beautiful 13-mile paved trail that winds through scenic landscapes, connecting several parks along the way. Visitors can hike, bike, or jog while taking in stunning views of Lake Minneola and the surrounding area.
Waterfront Park is another fantastic free option, offering a sandy beach area, playground, and picnic tables.
Lake Hiawatha Preserve is also an amazing place to hang out with 220 acres of dog parks, walking trails, Frisbee golf, and scenic lake views.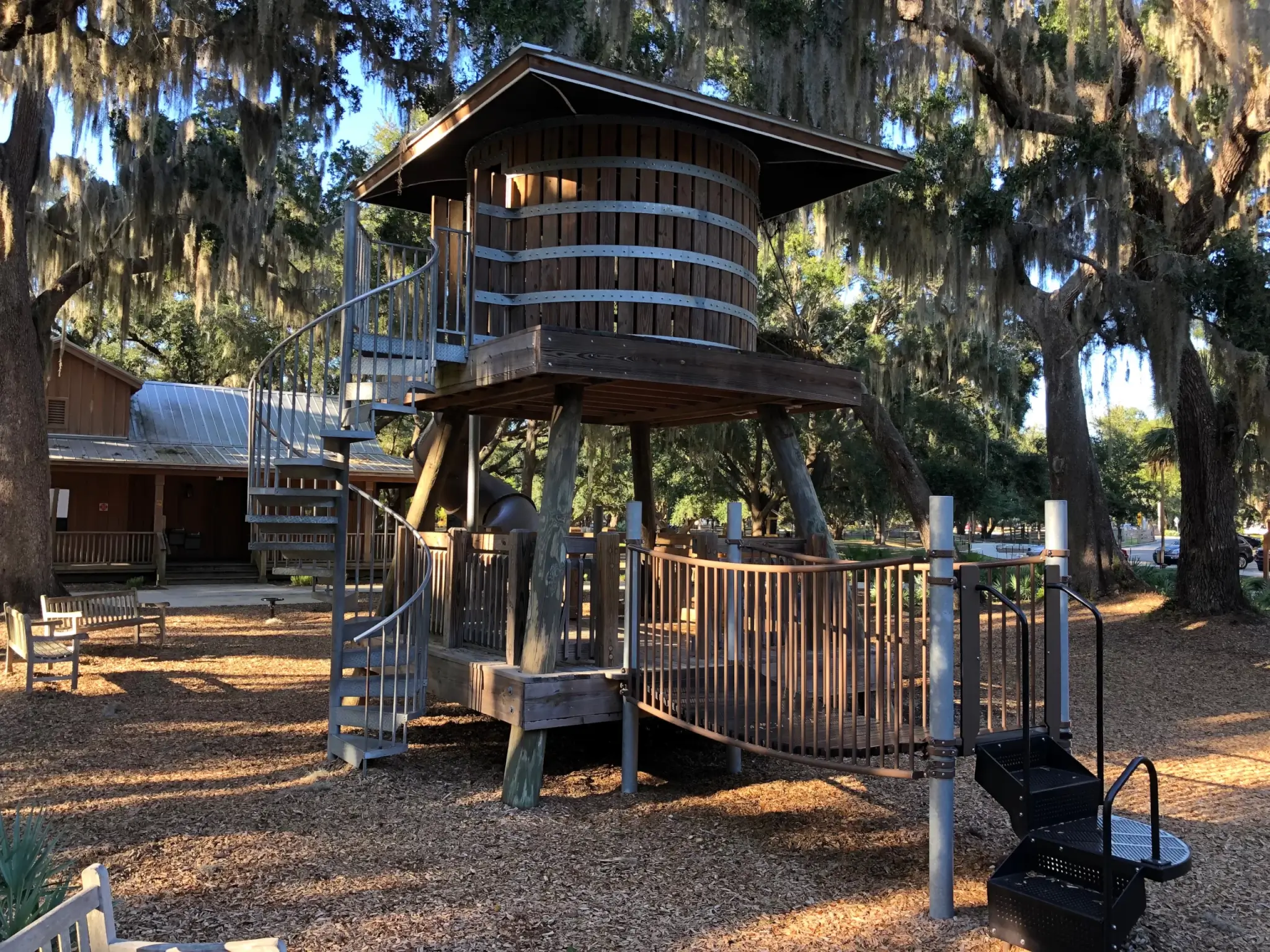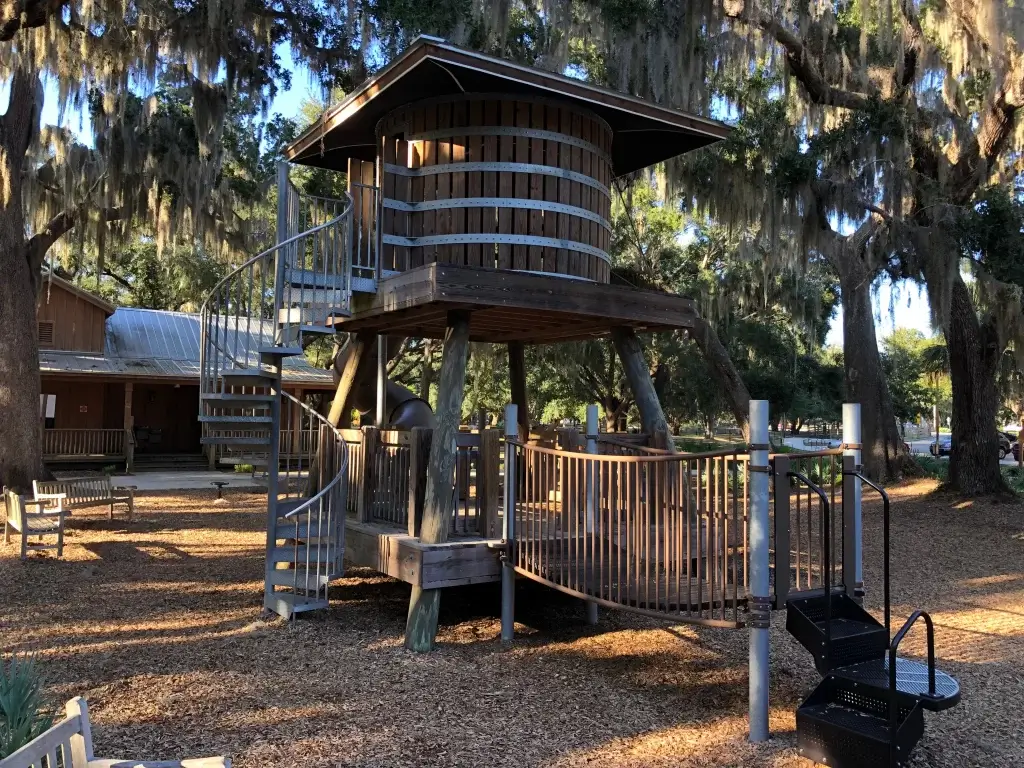 Low Cost Activities in Clermont FL
Lake Louisa State Park is an excellent choice for outdoor recreation. The park offers hiking, biking, fishing, swimming, and camping opportunities, all at a reasonable cost. Admission to the park is just $5 per vehicle, and campsites can be reserved for as little as $20 per night.
Waterfront Champions Splash park is an awesome place to spend a sunny day. For only $2, kids can play in the amazing splash pad.
If they get bored, Waterfront Park and beach area is within 100 feet of the splash pad.
Check out Waterfront Park and Champions Splash Park in our video below:
Clermont also has plenty of affordable dining options. The cost of eating out in the area is generally lower than the national average, with many casual restaurants offering meals for under $10.
Affordable Clermont Restaurants Under $15
Troy's Cuban Deli
El Cerro Restaurant
Clermont Fish House
Bruster's Real Ice Cream
Over the Top Pita
Sarah's Greek & Mediterranean Deli
Bamboo Garden Chinese Food
Suncreek Brewery
Delicious But Pricier Clermont Restaurants Over $15
Root & Branch Bistro
Lakeridge Winery & Vineyards
Los Reyes Mexican Grill
Guru Indian Restaurant
Keke's Breakfast Cafe
The Southern on 8th
Akina Sushi
The Crooked Spoon
The places mentioned above are by no means an exhaustive list of food selections in Clermont. You'll find more than 60 restaurants all over Clermont—from fine dining to quick and snappy.
Let's not forget that Clermont is home to Sky Zone, Presidents Hall of Fame, the Performing Arts Center, Clermont Bowling Alley, K1 Speed, Central Florida Dreamplex, the Citrus Tower, Clermont Historic Village, the future home of Olympus, and so much more.
Overall, Clermont, FL offers plenty of affordable entertainment options, from free outdoor recreation to low-cost state parks and dining. Whether you're looking for a day trip or a longer stay, there are plenty of things to do and see in this beautiful area of Florida.
How is the Job Market in Clermont, FL?
Clermont is first a commuter city. Most people who work in a corporate or hospitality setting commute outside of Clermont for work.
How do we know? Well, the U.S. Census Bureau has determined that the average Clermont commute time for a resident in Clermont is 33.5 minutes—which is about the commute to Orlando and surrounding areas.
The good news is that Clermont has a low unemployment rate (4.5%), a higher than average median household income ($69,000), and low poverty rate (8%).
There are approximately 1100 employers in Clermont, many of which are small local businesses.
Can I live in Clermont and work in Orlando?
Yes, in fact most people do. With a huge percentage of Clermont residents commuting to the Orlando area for work, we can look at the Orlando market for quality job prospects.
The good news about moving to the Orlando area for job opportunities is that it added over 75,000 new jobs in the past year! That's a huge increase of 6.2 percent from 2022.
The Orlando market is growing leaps and bounds with new opportunities.
Even better, the unemployment rate went down to 2.6 percent in January 2023, which is much lower than it was in January 2022.
The number of people working in the area also went up by over 50,000, which is great news for jobseekers.
If you are in the hospitality industry, Orlando is the right place to be. More than 31,000 new jobs were added in this area last year!
A big difference in Orlando within the last 10 years is that it has grown from a hospitality dominant marketplace to a well-rounded city with new jobs in tech, healthcare, government, and human services.
Need proof? Indeed's job board currently has 26,863 open jobs for positions paying over $50,000 per year within 35 miles of Orlando central.
So, if you're looking for work in Orlando, things are definitely looking up.
Frequently Asked Questions:
Is Clermont, FL a good place to retire?
Clermont is a wonderful place to retire. Not only are there many free or low-cost activities, but there are also many retirees moving to the area for sunshine and community.
In short, the year-round warm weather is amazing for your positive mental state while the zero state-income taxes and lower property taxes are good for your wallet.
In addition, robust retirement communities are great for your friendships and the natural paradise that Clermont has become is wonderful for your health.
In fact, our recent blogs have highlighted why Clermont is a great investment, the five amazing 55+ communities in Clermont, why we believe Clermont is an amazing place to live, the beauty of Clermont's downtown, and the safety and security you'll feel living in Clermont.
Are there any cost-saving tips for living in Clermont, FL?
It's easy to live affordably in Clermont, FL. The following are a few tips to help you stretch your budget in our beautiful city.
First, hang out in Clermont's free natural settings such as Waterfront Park, the South Lake Trail, and the more than 11 beautiful chain of lakes.
Second, Clermont's parks are amazing and most are free. From the sprawling Hiawatha to the kid-friendly Pilaklakaha Recreation park—there is something for everyone here.
Third, if you are U.S. Veteran, you'll be happy to know that Clermont has one of the few VA healthcare facilities to help you maximize your healthcare budget. We've written about why we think the Orlando area is the place to be U.S. Veterans.
Fourth, take advantage of local deals like Epic Theatre's $1 Wednesday movie tickets or Friday Food Truck night in downtown Clermont.
Last, take advantage of the dozens of privately owned food venues that are easy on the wallet and big on taste such as the Over The Top Pita, Castello's Pizza, Clermont Fish House, and Corelli's Pantry.
Conclusion
Clermont is a vibrant, growing, and nature-centric community with tons to explore. While you may spend slightly more than average on a house, rent, and insurance than in other cities, in return you'll receive community safety, 11 gorgeous lakes, 300 foot rolling hills, a close commute world-class beaches, no state-income tax, and big city amenities within a 30 minute drive to Orlando.