Kings Ridge Clermont, Florida: Everything You Ever Wanted to Know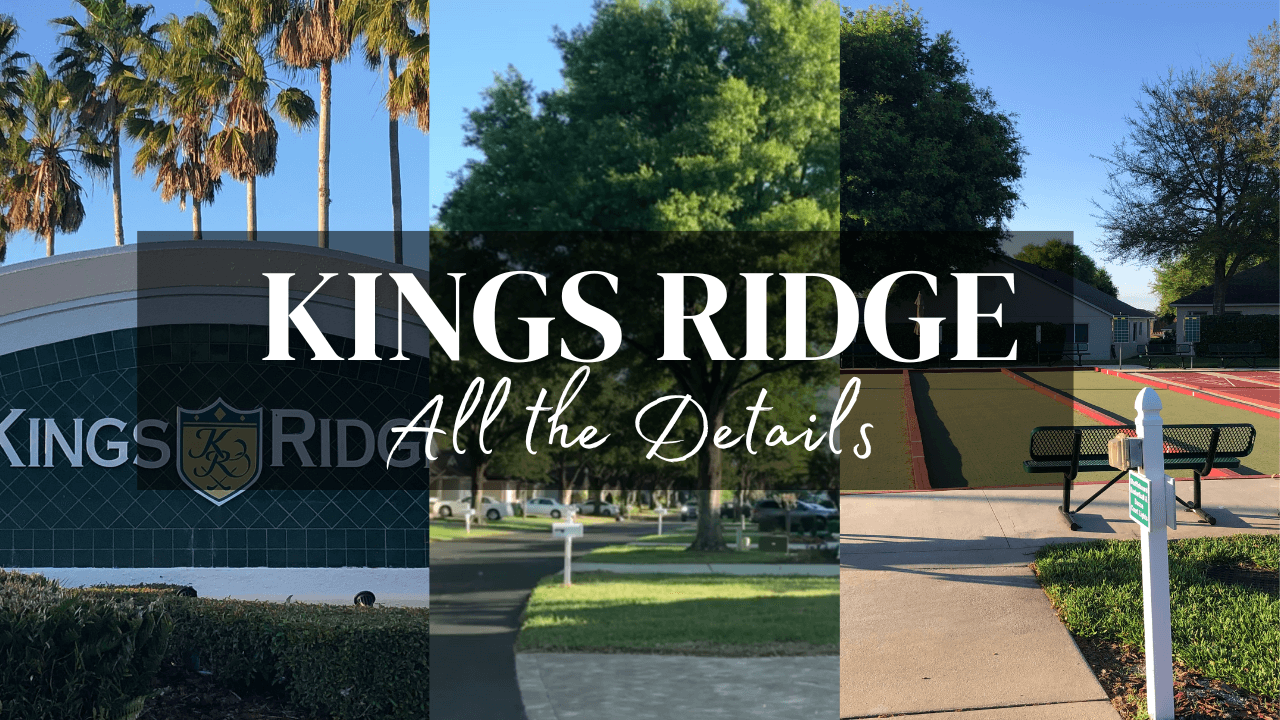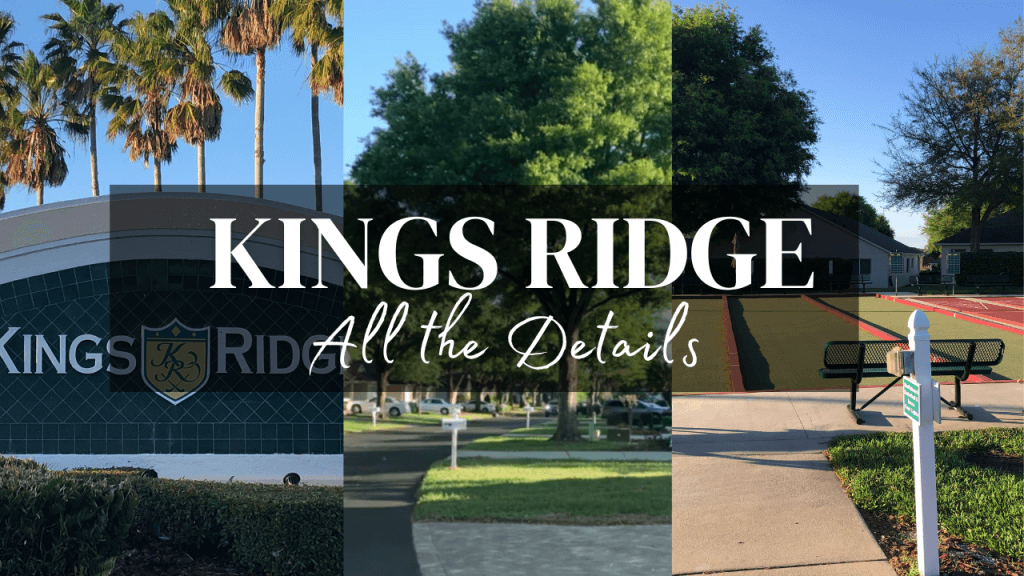 Kings Ridge is an amazing neighborhood located in Clermont, FL. People who purchase a home in Kings Ridge want a community with amazing amenities such as golf, clubhouse, and a robust community engagement program.
Kings Ridge is located in Clermont, Florida, a town 30 minutes west of Orlando. Clermont is known for its picturesque rolling hills, 11 beautiful of lakes forming a chain of connected waterways, and incredible outdoor activities such as the beautiful state park: Lake Louisa State Park.
Let's take a closer look a Kings Ridge and explore everything this grand neighborhood has to offer.
Where is Kings Ridge Located?
Kings Ridge is situated on US Highway 27 (North/South) between Johns Lake Rd (East/West) and Hartwood Marsh Rd (East/West).
Kings Ridge Address:
1900 Kings Ridge Blvd, Clermont FL
Kings Ridge Neighborhood Overview
Kings Ridge is a gorgeous 55+ community surrounded by lush, scenic hills. Kings Ridge is comprised of 15 separate communities, allowing you to choose the area you like the most.
Kings Ridge is truly a vibrant and energetic community for those over the age of 55.
Kings Ridge is one of the most sought-after locations in town. Situated on a sprawling golf course and surrounded by lush landscaping, Kings Ridge offers residents a tranquil oasis.
Its winding streets offer sweeping views of the golf course and gently rolling hills, making it an ideal spot for relaxing walks with family or friends.
The neighborhood includes a club house with swimming pool, tennis courts, and other recreational amenities that make it the perfect place to call home.
Check out this amazing entrance to Kings Ridge. Isn't it beautiful?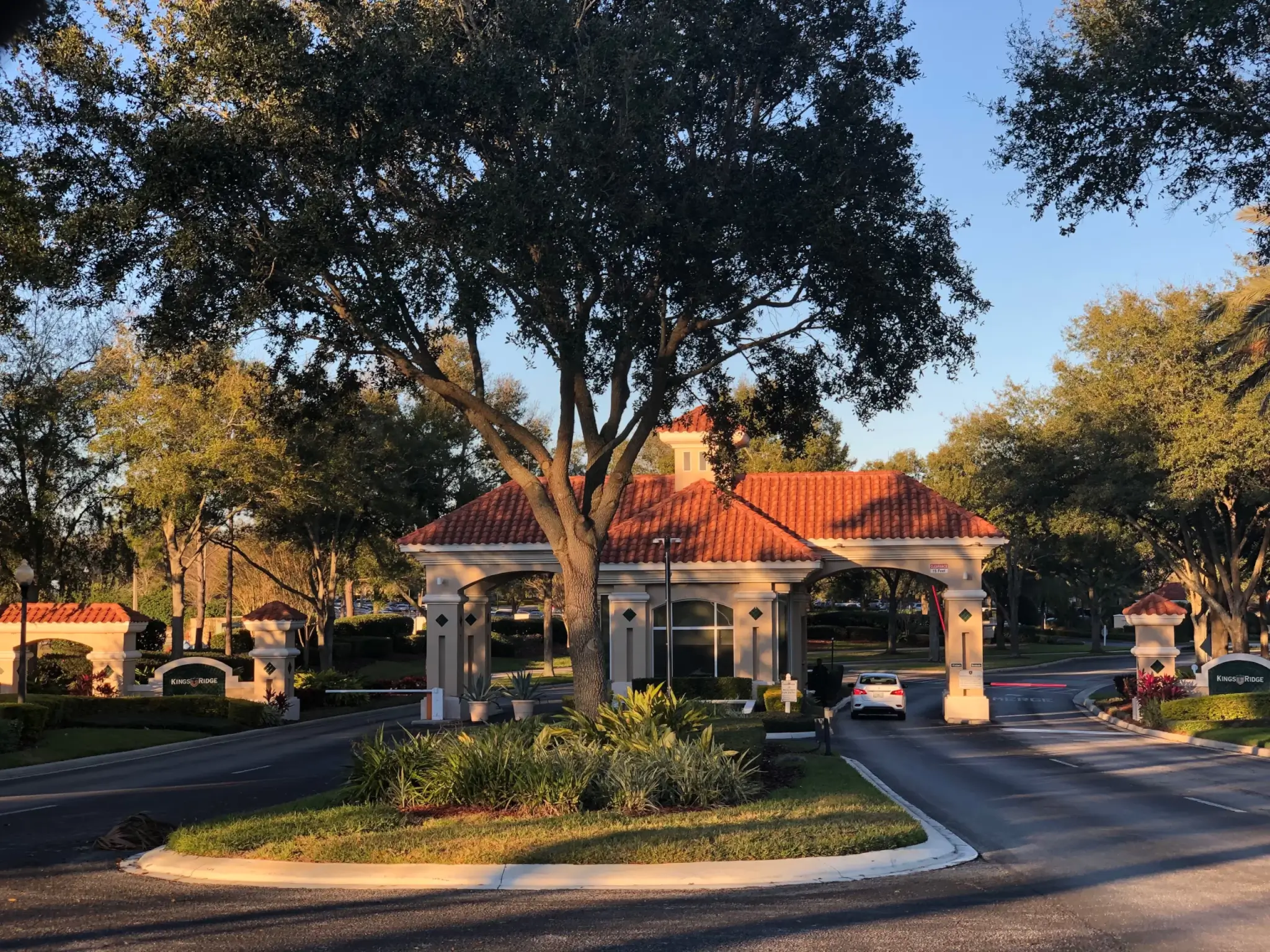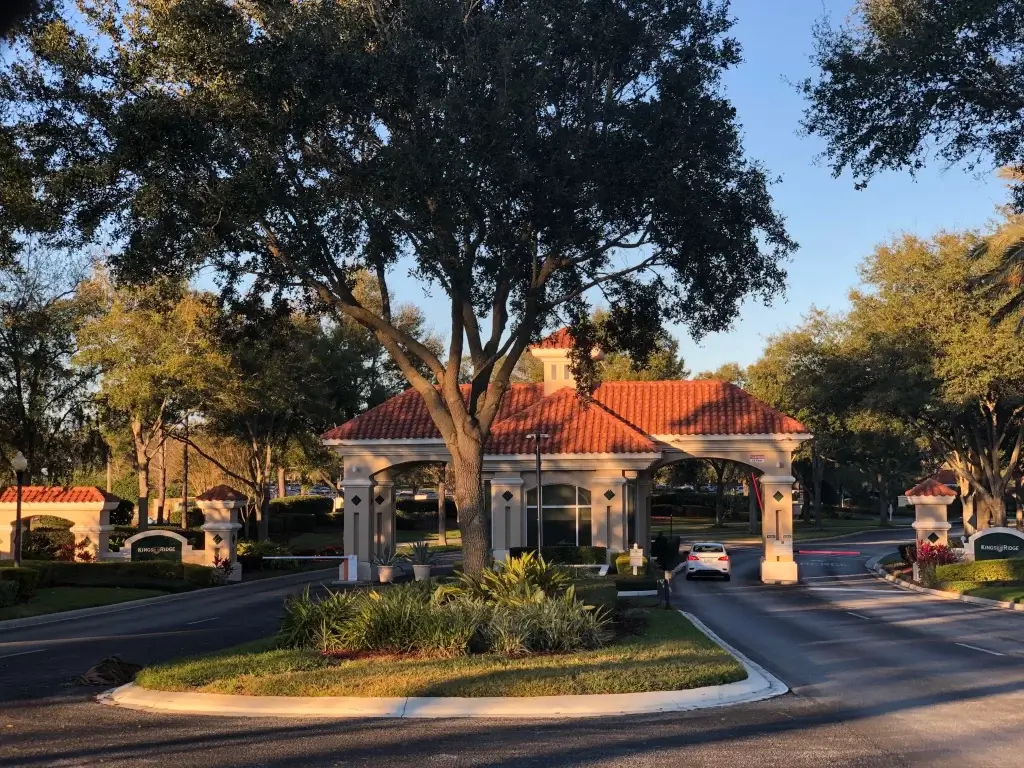 The community spirit within Kings Ridge is strong; its residents often host social events like block parties and group outings to enjoy time together on weekends.
Additionally, there are many volunteer opportunities available through local organizations that have made their way into the neighborhood due to its inviting atmosphere.
Kings Ridge Community Features
Kings Ridge was built with incredible thought and no stone was left unturned. Let's dive into the unique community feature.
Kings Ridge Clubhouse
Kings Ridge has an amazing clubhouse with more than 24,000 square feet of resident space. The clubhouse is the heart of the community.
When you walk into the clubhouse, you'd think you were in a grand hotel lobby.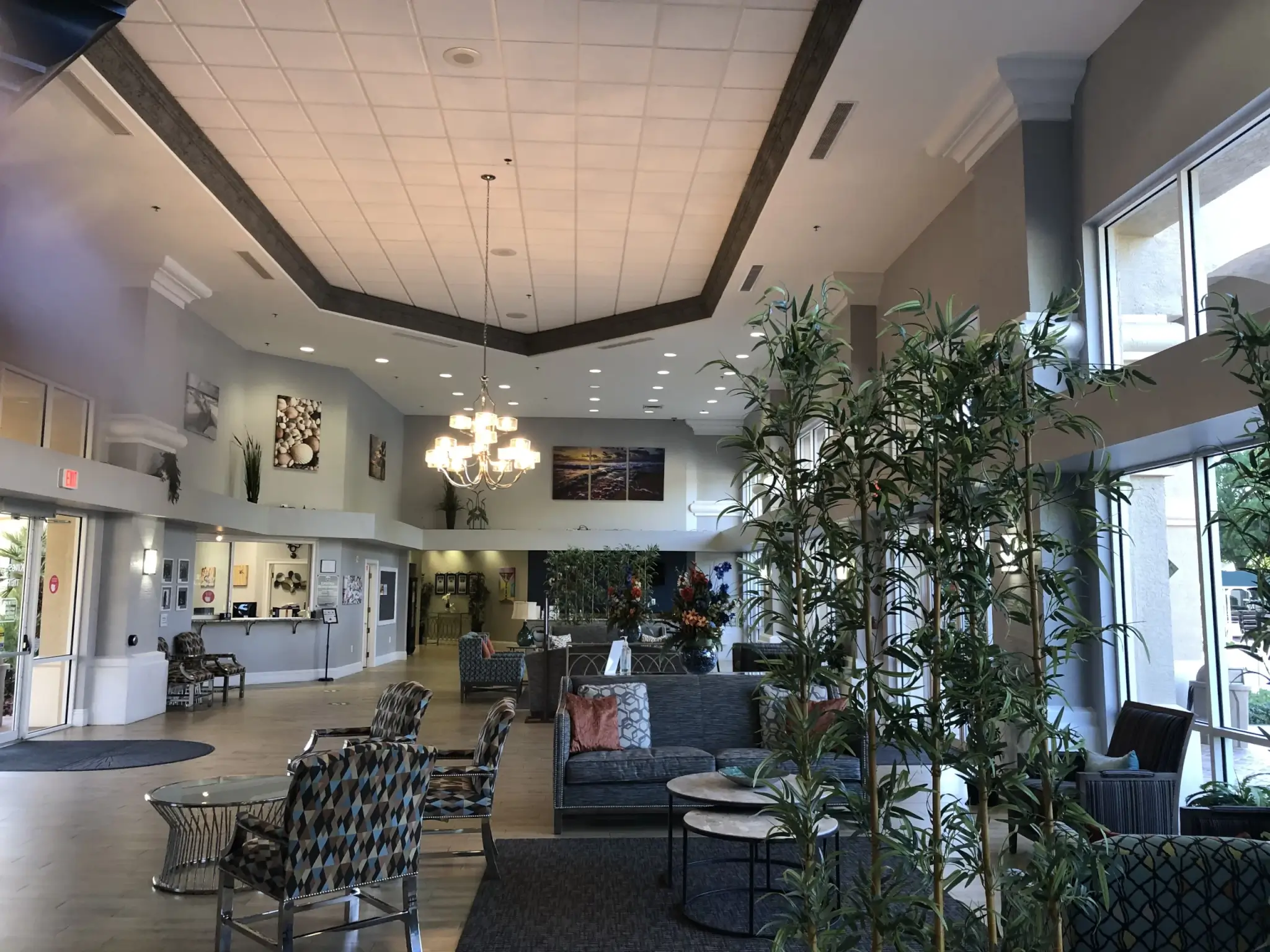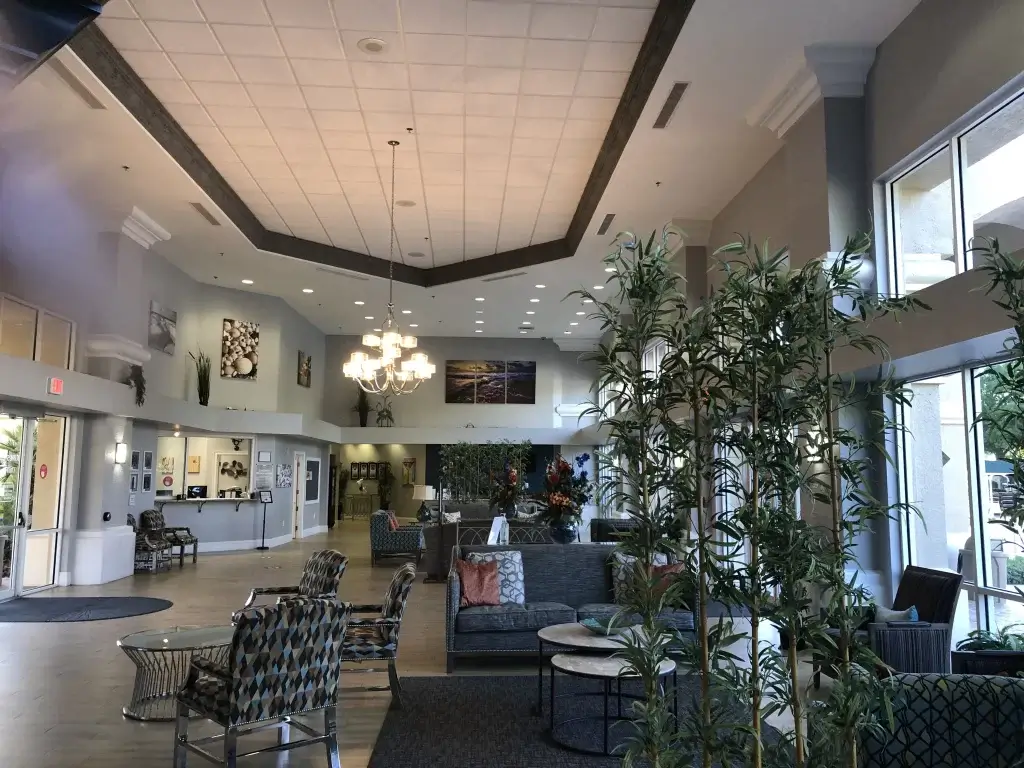 Residents use the clubhouse for hosting parties, meetings, attending activities, classes, watch movies, and attend special events.
The clubhouse also offers rooms for ballroom dancing, areas for bingo nights, a billiards room, a beautiful library, and multiple areas for TV's and movie nights.
One of our favorite areas is the Life Style Headquarters in the clubhouse. Here you will find a world class gym, aerobics room, showers, and saunas. There is even a hobby room to bring your crafts in!
Let's not forget about the crown-jewel of the clubhouse: A 100,000 gallon olympic pool with multiple lap lanes and perfectly heated water.
We can definitely get into our best physical shape here. It's a wellness water haven.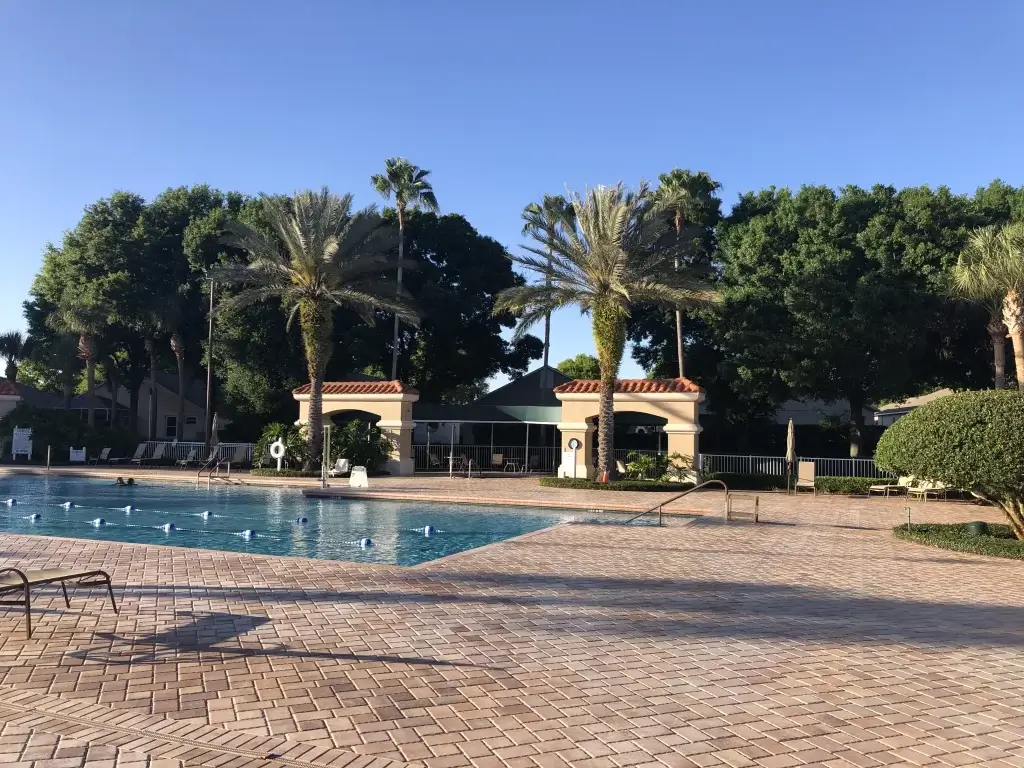 Kings Ridge North Spa
Every now and then a community goes over the top for its residents and spares no expense. You have not ONE great pool area, but TWO.
Enter the North Spa.
The North Spa has two more incredible pool areas that are adult-only. Need a break from other people, their grandkids, or families from out of town? This is your spot to read a book and catch some much needed "me time".
Both pools are generously sized (80,000 and 10,000 gallons) and come with lap lanes, cabanas, fitness rooms, jacuzzis, steam rooms, and pro shops for when you need to work on that golf game.
Kings Ridge has a lot of Clubs & Groups
Kings Ridge has one of the largest club membership offering of any 55+ community in the Orlando area. In fact, we have seen very few with diversity, breadth, and participation of Kings Ridge.
Currently, there are 82 clubs and counting. There are clubs for dozens of types of art, sport, activity, language, culture, game, and interest.
Have you ever wanted a bridge club? Come on in. Golf club? There's a great one here. Photography, mahjong, painting, bingo, line-dancing? You bet.
Types of Clubs (A-L)
Types of Clubs (M-Z)
Advanced Couples Bridge
African American Book Club of Clermont
African American Club
Artists of Kings Ridge
Bible Study
Billiards Club
Bingo Club
Bunco Group
Kar Klub
Cards – 3-13
Catholic Neighborhood Association of KR
Ceramics
Computer Club of Kings Ridge
Couples Golf
Cribbage Club
Double Siamese
Duplicate Bridge
Duplicate Bridge – Croud
Euchre
Farkle Group
Friday Bible Study
Friends of Messiah Social Club
Friends of Mike Conley Hospice House
HACKeR's Club ( Hackers Athletic Club of Kings Ridge)
Hand & Foot Club
Hand & Foot Club – Mary Jo
H.E.L.P (Healthy Eating for Life Plan)
Irish-American Club
The Italian-American Club
Jewish Friends of Kings Ridge
Jewish Roots of Messiah Club
KR Animal Support Group
KR Entertainers (Kings Ridge Karaoke Club)
KR Players
KR Singers
Ladies Bridge Club
Ladies Games
Ladies Golf Association
Ladies Marathon Bridge
Latin American Group
Line Dancing
Mah Jongg Club
Mah Jongg Club – Mary Jo
Mah Jongg- Gloria Balaj
Margie's Mah Jong
Mah Jongg for Fun
Masonic Club of Kings Ridge
Men's Club
Men's Golf Association
Men's Poker Club
Mexican Train Dominoes Club
Midwesterner's Club
MJ Merrymakers
Monday Morning Party Bridge
Monday Duplicate Bridge
Needlecrafters Group
Nickels
Oxford Library – East Wing
Party Rubber Bridge
Perform!
Photography Club
Pickle Ball
Ping Pong Club
Pinochle Club
PO-KE-NO – Saturdays
Poker Eight
Poker Tournament Club
Quilting and Creative Sewing Club
Red Hat Ladies
Royalettes
Rubber Stamping Group
Rummikub Club
Samba/Cards
Samba/Marbles
Single Deck Pinochle Club
Singles Group
Spanish American club
Tennis Club
Travel Group (Kings Ridge Travel Group)
Women's Club
Working with Clay
Types of Clubs at Kings Ridge Table
Kings Ridge has Daily Activities
Nearly every 30 minutes there is something happening in Kings Ridge. The community management has done an amazing job at curating unique and exciting activities around the clock.
Each week an event schedule is posted with a calendar, location, times, and flyers to explain the offerings. You will find regular schedules for bingo, nickels, tai chi, Samba, Bible studies, and more.
Below is an example 30 minute frequency schedule at Kings Ridge: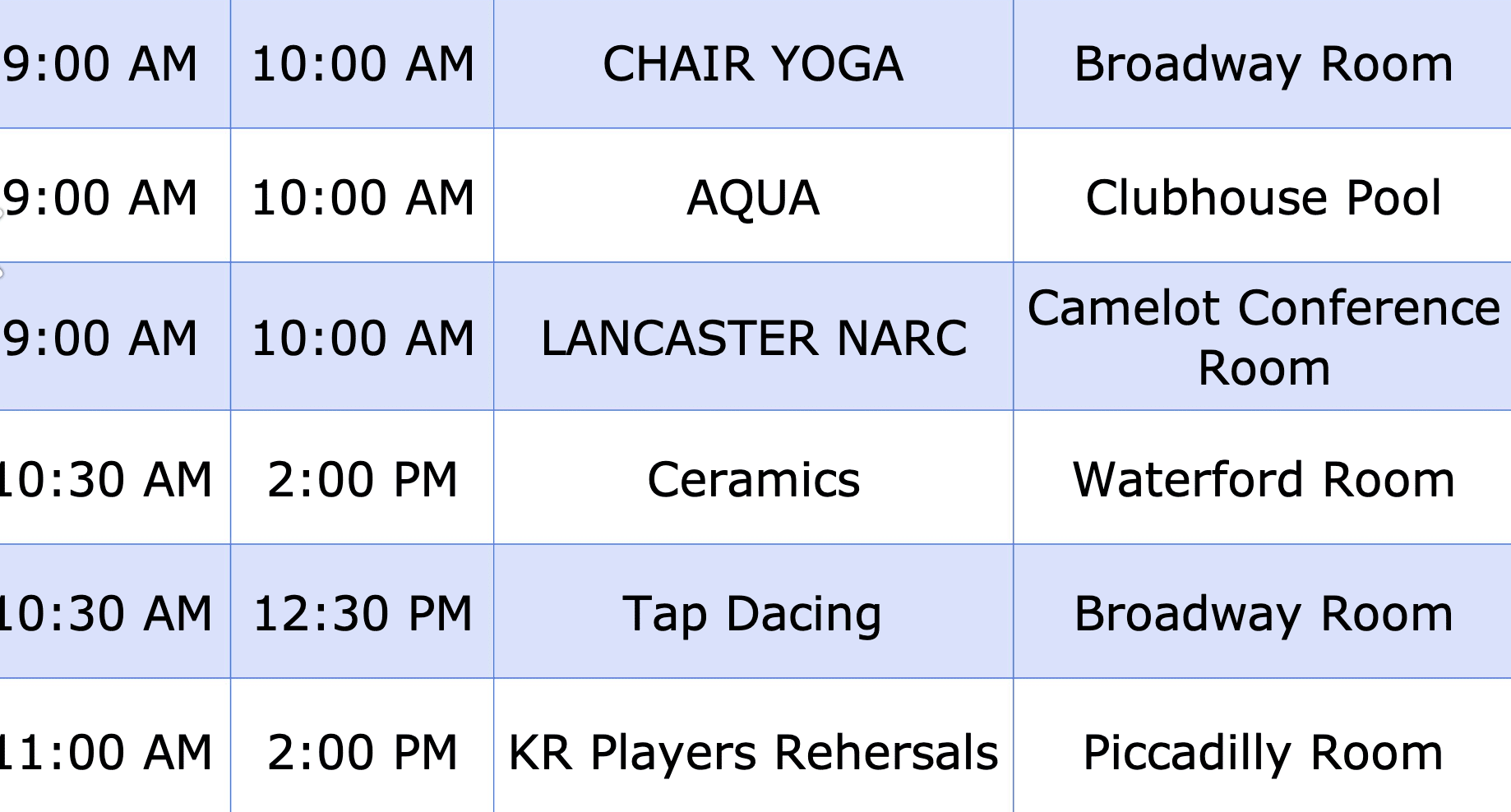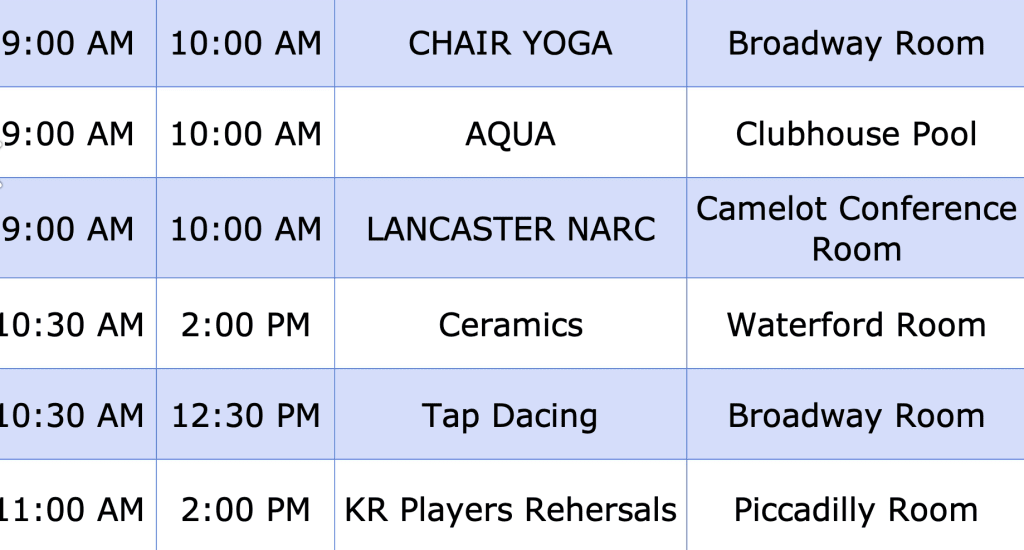 Kings Ridge has a lot of Sport Courts
Are you athletic and love being active outside? Well, Kings Ridge has you covered.
You will find six pickle ball courts, bocci ball courts, shuffleboard areas, two half-court basketball courts, and four tennis courts.
If you are an outdoor and activity enthusiast, this is your spot.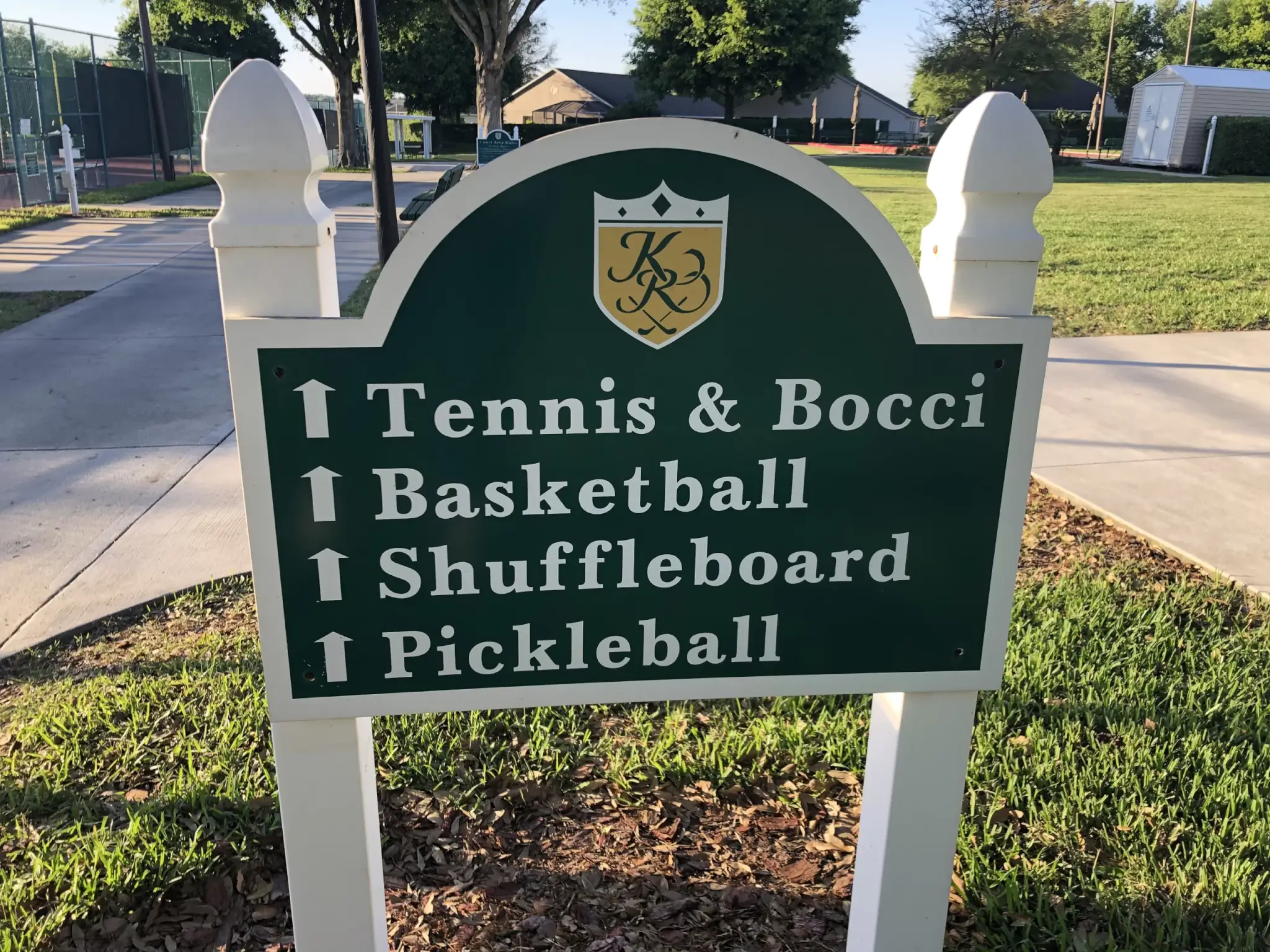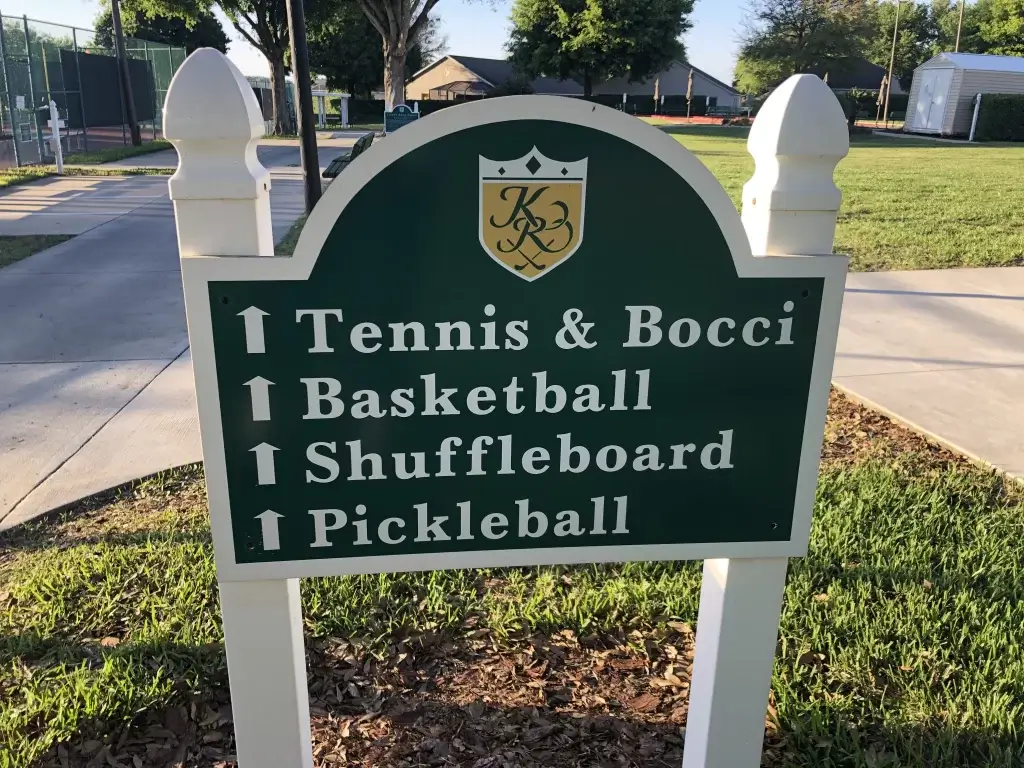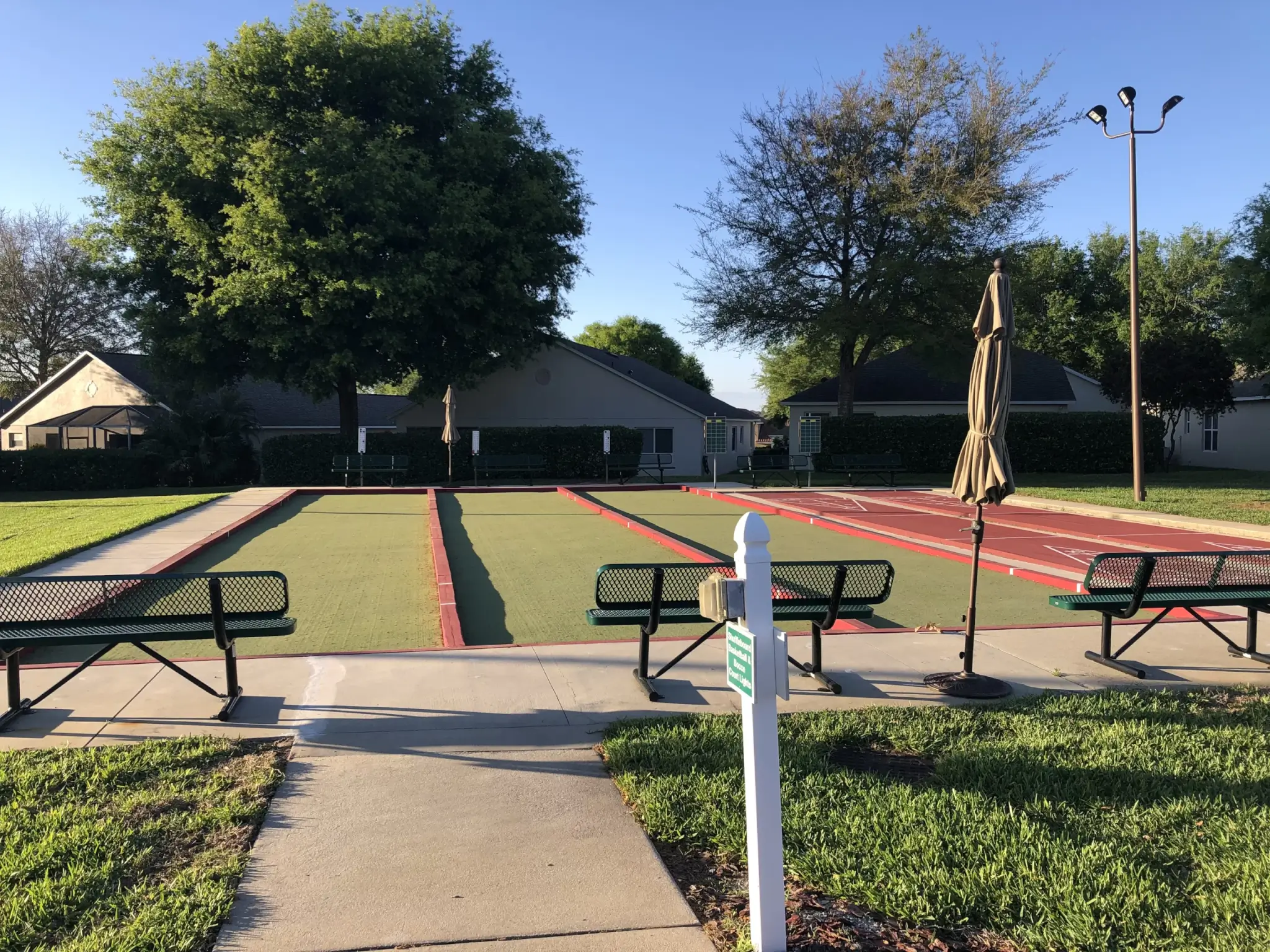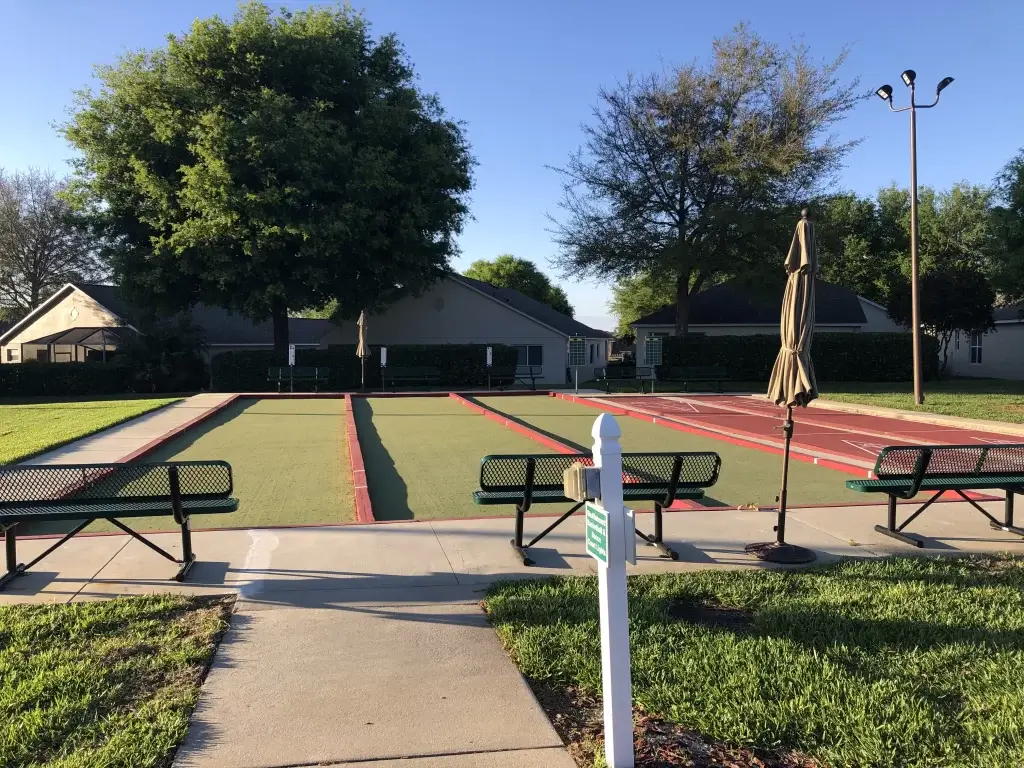 And don't forget when it's raining or the weather isn't cooperating, you'll have access to an amazing indoor gym to keep your fitness top-notch.
Kings Ridge has an Amazing Golf Course
Many people who choose to live in Kings Ridge first fall in love with the golf course. Very few communities in Orlando can rival the quality of golf with the addition of the clubhouse amenities.
Kings Ridge Golf Course in Clermont, FL spans over 200 acres of lush, rolling hills and fairways located in the heart of Florida's picturesque countryside.
The well-manicured grounds offer an unparalleled golf experience with a challenge for every skill level. Even the most experienced golfer will find something to enjoy here!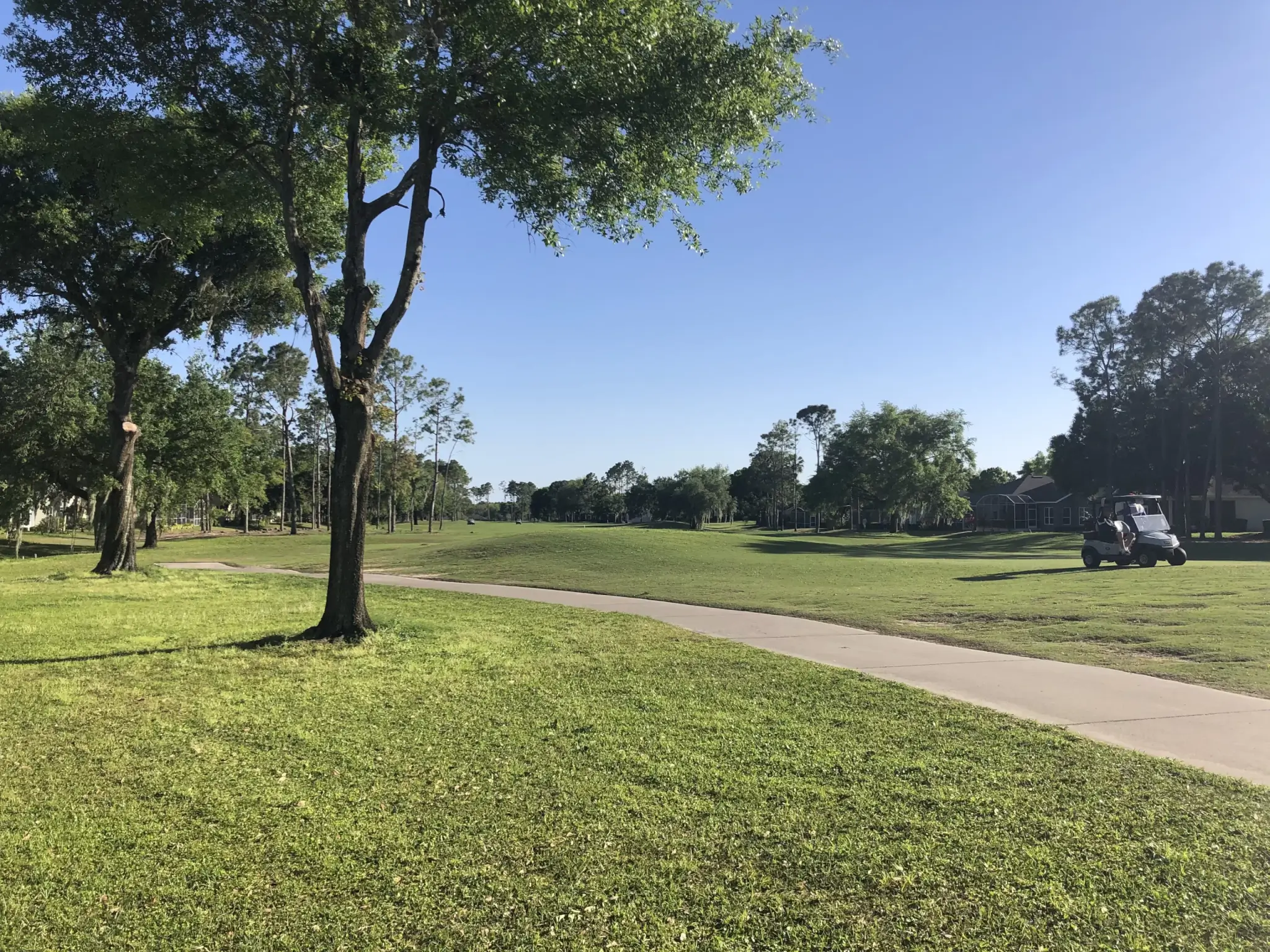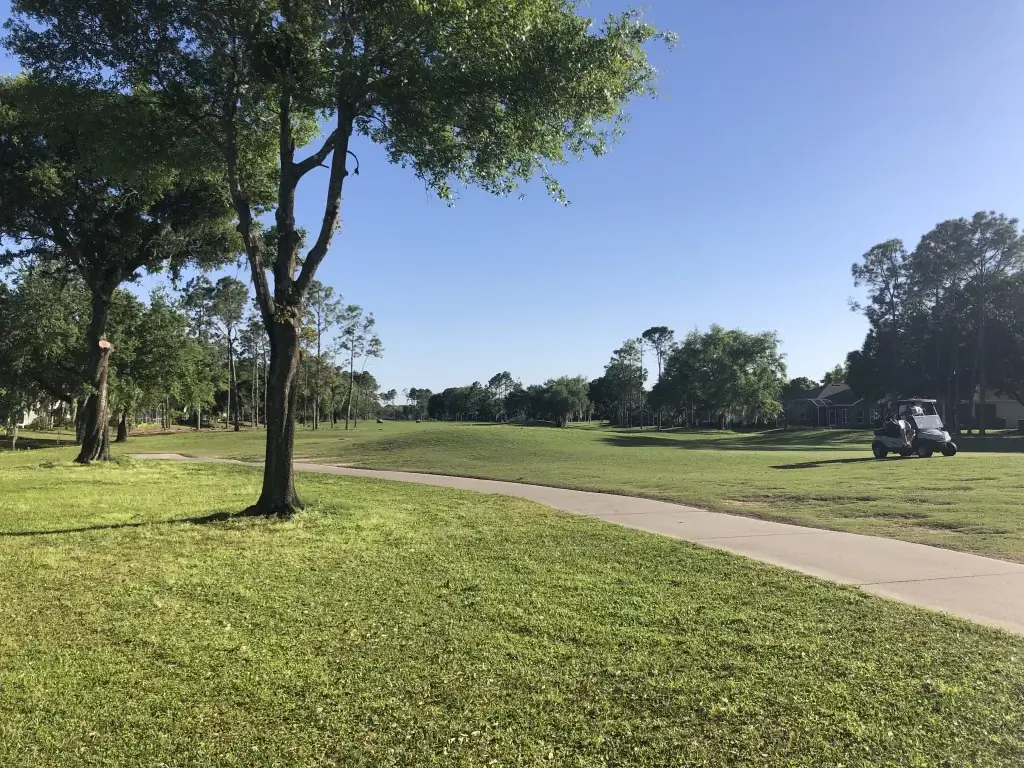 The design of Kings Ridge takes advantage of the natural terrain to create a course that can be played by all calibers of players. From its championship tees, it offers generous landing areas on many holes while still providing plenty of strategic challenges to keep things interesting.
Water hazards come into play throughout the course, adding another layer of complexity and excitement to each round.
Kings Ridge Golf Course Facts
The South Course
18 Holes
Par 71
Designed by Lloyd Clifton
6269 total yards
The Ridge Course
18 Holes
Par 57
Designed by Ron Garl
3660 total yards
Kings Ridge Golf Course Amenities
Private lessons
Golf clinics
Couple's & group lessons
Junior & college tournament prep
Pro shop
Kings Ridge Homes are Amazing
All Kings Ridge homes are resale at this point. Lennar built all the homes in Kings Ridge starting in 1995 and finished by 2000.
The benefit of the community having been completed 20 years ago is that the streets are lined with enormous trees that create a whimsical affect.
The homes are new enough to feel modern and current while the tree-lined streets feel like they've been here for 100 years. It is a remarkable neighborhood drive.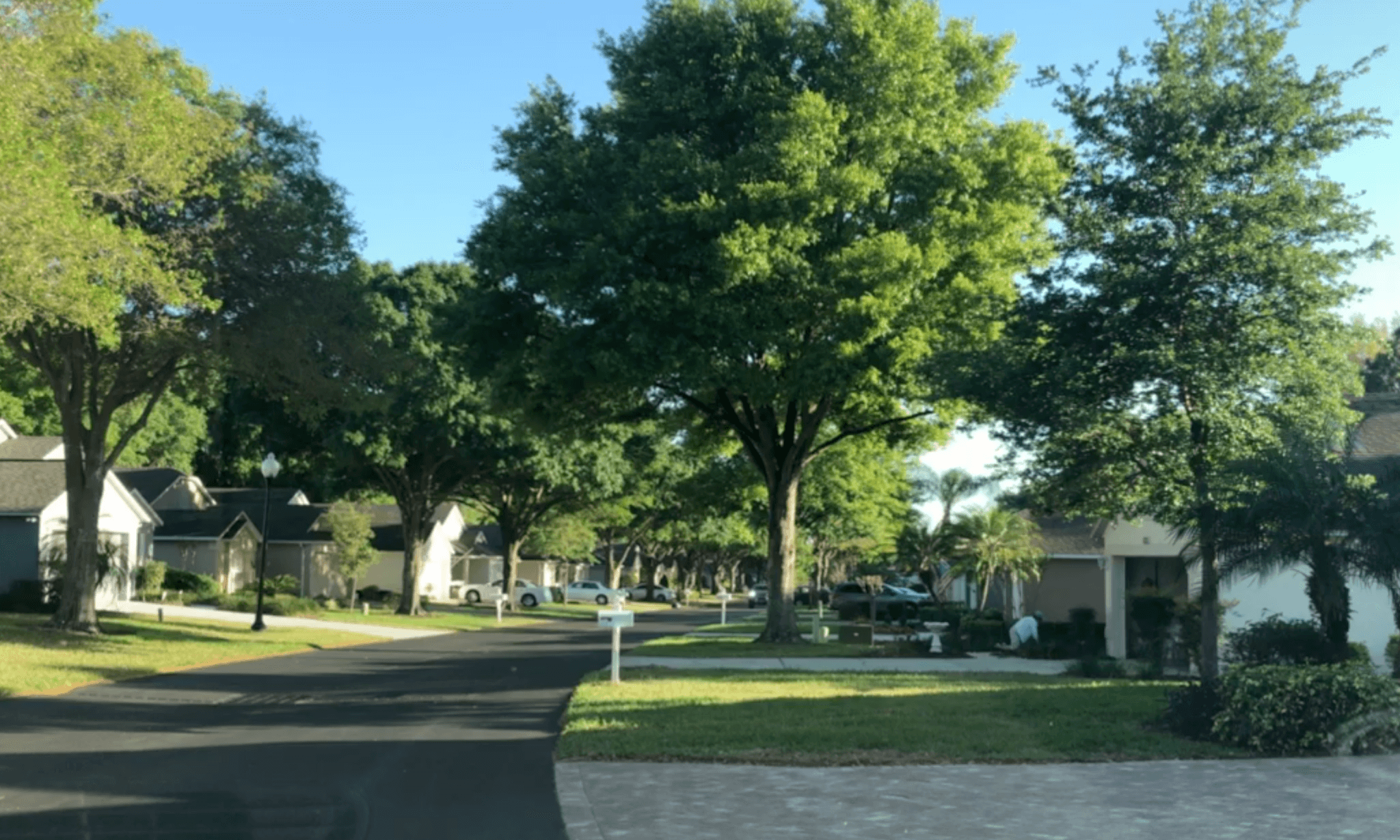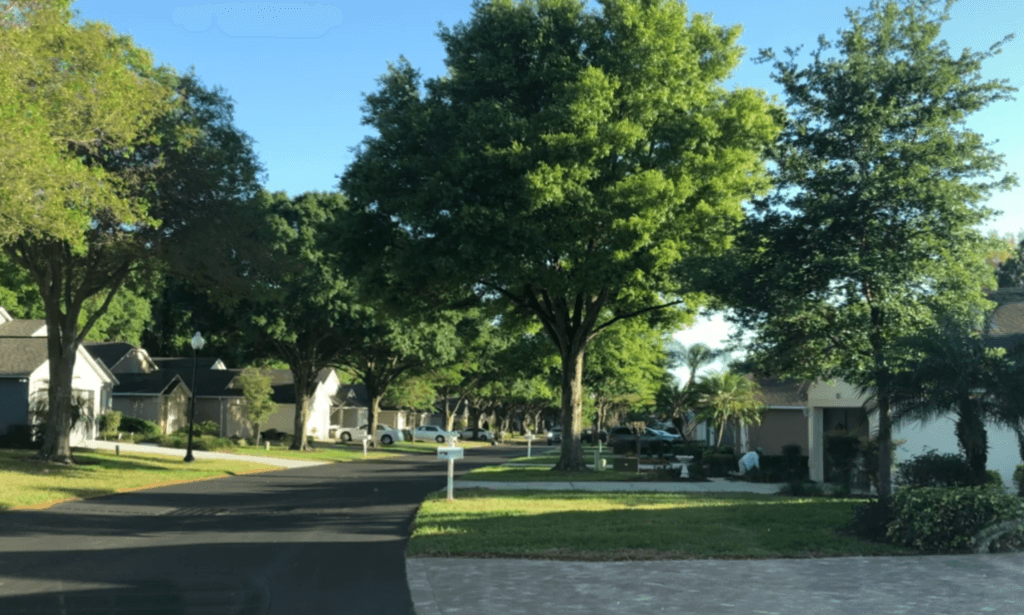 The quality and variety of the housing in Kings Ridge is amazing. We love that many of the homes either have golf course views or they are situated on huge lots.
In fact, Kings Ridge has some of the largest lots available.
Kings Ridge Housing Facts
Houses range from 980 to 2,560 square feet
2-3 bedrooms
2 baths (typically)
2-3 car garage available
55+ community
Guarded & gated community (24 hour security)
Home Owners Association
What's near Kings Ridge (Amenities)
Kings Ridge is in an excellent location in north Clermont. In fact, it's a prime location within close proximity to amazing shopping, healthcare, and restaurants.
Kings Ridge Distance to Local Amenities
Publix Grocery – 1 minute
Aldi Grocery – 6 minutes
BJ's Wholesale – 7 minutes
South Lake Hospital – 11 minutes
Epic Theatre and Clermont Landing Complex (restaurants/shopping)- 8 minutes
Downtown Clermont (restaurants)- 14 minutes
Lake Louisa State Park – 7 minutes
Turnpike Tollway – 17 minutes
Downtown Orlando – 37 minutes
Disney World – 33 minutes
Orlando International Airport – 47 minutes
Olympus (coming soon) – 11 minutes
Clearwater Beach – 2 hrs 8 min
Cocoa Beach – 1 hr 27 min
Check out our video below of amazing amenities coming to Clermont.
Our Thoughts on Kings Ridge
Having experience with real estate transactions in Kings Ridge and being residents of Clermont, we have a few honest and personal thoughts on Kings Ridge.
Here are 7 points we think you should consider when looking at Kings Ridge.
Kings Ridge is a beautiful neighborhood. It's aesthetically gorgeous with huge, mature trees everywhere you look. In addition, the golf course was tastefully planned as the neighborhood winds around the course and nearly every turn is a glimpse of the beautiful course.
Lennar did a great job on the outside of the homes. They are timeless and beautiful. The architectural style is diverse and all of the homes are very well maintained. Kings Ridge has a classic look that few neighborhoods in Clermont can rival.
The interior of many homes are outdated. We have to be honest about this. Because many of the homes were built in the late 1990's for a 55+ community of people entering retirement phases of their lives, so very few homes have been updated to current and modern trends. Fixed incomes don't always translate to interior renovations.
Kings Ridge has a spectacular entrance and it feels luxurious and grand. We would love to come home everyday to an entrance like this with a 24 hour, guarded gate.
There are medical offices right outside the main gates which is really terrific and convenient; residents drive their golf cart to the primary care physician. It's more than one or two offices, it's more like a medical corridor.
There is a special entrance to the Publix grocery store from the neighborhood. This is both convenient and golf-cart accessible. Publix even has golf-cart parking spots which is fantastic.
Kings Ridge is only 1 of 2 55+ golf course communities in Clermont and Kings Ridge is the only active one (Summit Greens hasn't been functional for years).
Frequently Asked Questions
If you are thinking about moving to Kings Ridge in Clermont, you may have more questions. Here are the most common FAQ's we are asked by our clients:
Is Lennar a good developer?
Lennar has a well-deserved reputation of being one of the best home builders in the country. Since 1954, Lennar has been providing customers with homes that are both economical and reliable. We have great experiences selling Lennar homes, both existing and new construction.
One of the main reasons why Lennar is such a good home builder is because they focus on quality. Their homes are constructed from high-end materials and built to last for many years.
Lennar is known for its Next-Gen building and has been awarded prestigious honors over the years such as 10 Synergy awards (2018), Best New Home Developer (2019 & 2020), Best Places to Work (2022), Innovation Award (2022), HomeAid Builder of the year (2021), and more.
Is Kings Ridge Golf Course free to Residents?
No, Kings Ridge is a public course built in the middle of a private 55+ residents.
Are the new construction homes in Kings Ridge Clermont?
No. Construction on the existing 2000+ homes were completed in 2000 by Lennar across 15 different internal neighborhoods. Due the enormous size of the community, there are often resale homes available on a consistent basis.
Does Kings Ridge Clermont have an HOA or CDD?
Kings Ridge has an HOA that ranges between $380 and $420. The HOA is a dual fee: a master HOA fee and a neighborhood specific HOA. Keep in mind that HOA's fees are subject to change year to year. Kings Ridge does not have CDD (Community Development District) fee.