Living In Orlando Vs Tampa: Which One Is Better?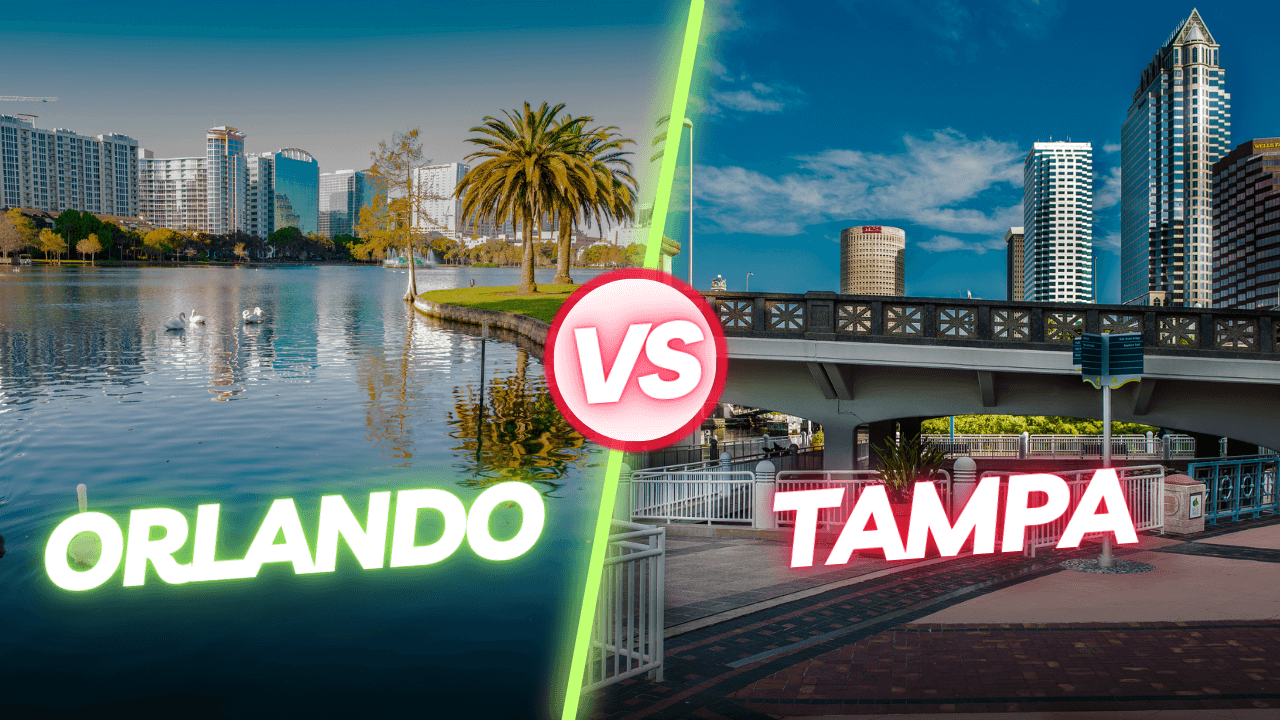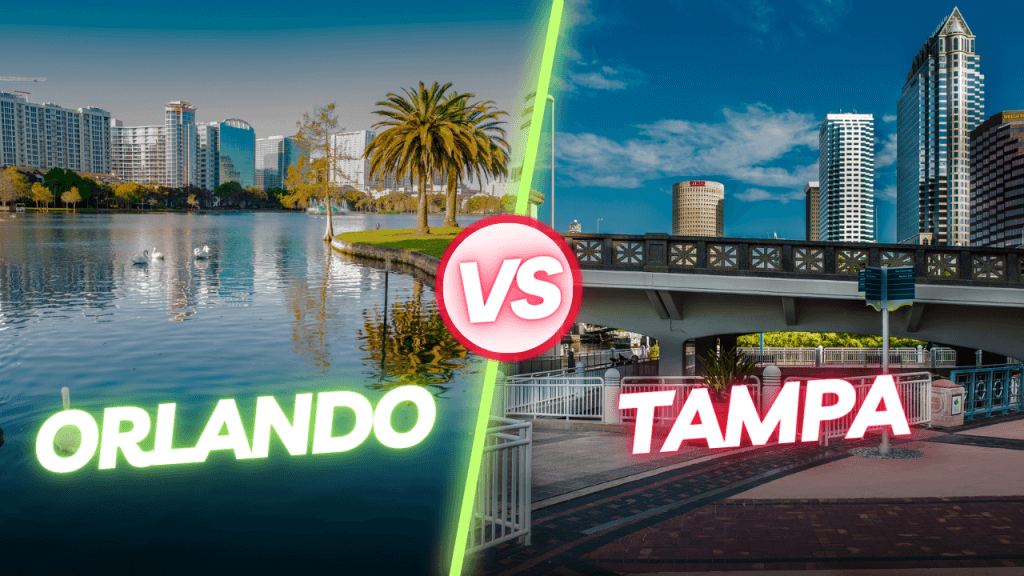 Deciding whether to live in Orlando or Tampa is a tough decision. With our clients, the debate between Orlando vs. Tampa can create a lot of confusion and worry about making the right decision.
Both cities have their unique advantages and disadvantages that should be carefully considered. For instance, Orlando is home to amazing family suburbs, Walt Disney World Resort, Universal Orlando Resort, and SeaWorld Orlando, and a nearly limitless supply of restaurants and shopping.
On the other hand, Tampa is known for its excellent beaches, incredible sunsets, museums, a terrific sports culture (Lightning, Rays, Buccaneers), and major attractions like Busch Gardens Tampa Bay.
While both cities have a warm climate and offer plenty of opportunities for outdoor activities, the cost of living, job market, and quality of life in these areas may differ. Ultimately, the decision on where to live will depend on individual preferences, lifestyle, and priorities.
It's hard to narrow down the best city, but we've got you covered with all the details.
Hang on to the end…we talk about our decision and ultimately which city we chose.
What is the better city to move to: Orlando or Tampa (Short Answer)
Depending on your needs, Orland and Tampa are great cities. Orlando is a better city if you work in hospitality, tech, and government contracting while Tampa is better suited for professionals who work in business/financial, education, and healthcare.
Orlando has lower cost of homes and insurance while Tampa has benefited from a faster drop in total crime. If you want the best beaches in your backyard, Tampa is the spot. If you crave world-class dining, shopping, and amusement parks—Orlando is the place to be.
For those who seek a sport-centric city filled with fans and excitement, Tampa is far better than Orlando. On other hand, if you need a city with better public transportation, Orlando has an edge over Tampa with its SunRail network and robust highway system.
The weather is about equal in terms of sunshine, humidity, rain, and temperature. However, Orlando is a far safer city from hurricanes and tropical storms while Tampa is better city for consistent ocean breezes and absolute comfort.
Let's dive into all the details.
Job Market: Orlando vs Tampa
Both Orlando and Tampa are some of the fastest growing cities in America when it comes to availability of jobs and job creation.
In fact, both cities often hit the top spots for fastest growing cities in the county for job seekers. Check out Moneygeeks recent rating in 2023.
Tampa is #5 and Orlando is #14 in the entire United States. Florida is looking good with 8 out of the top 15 spots.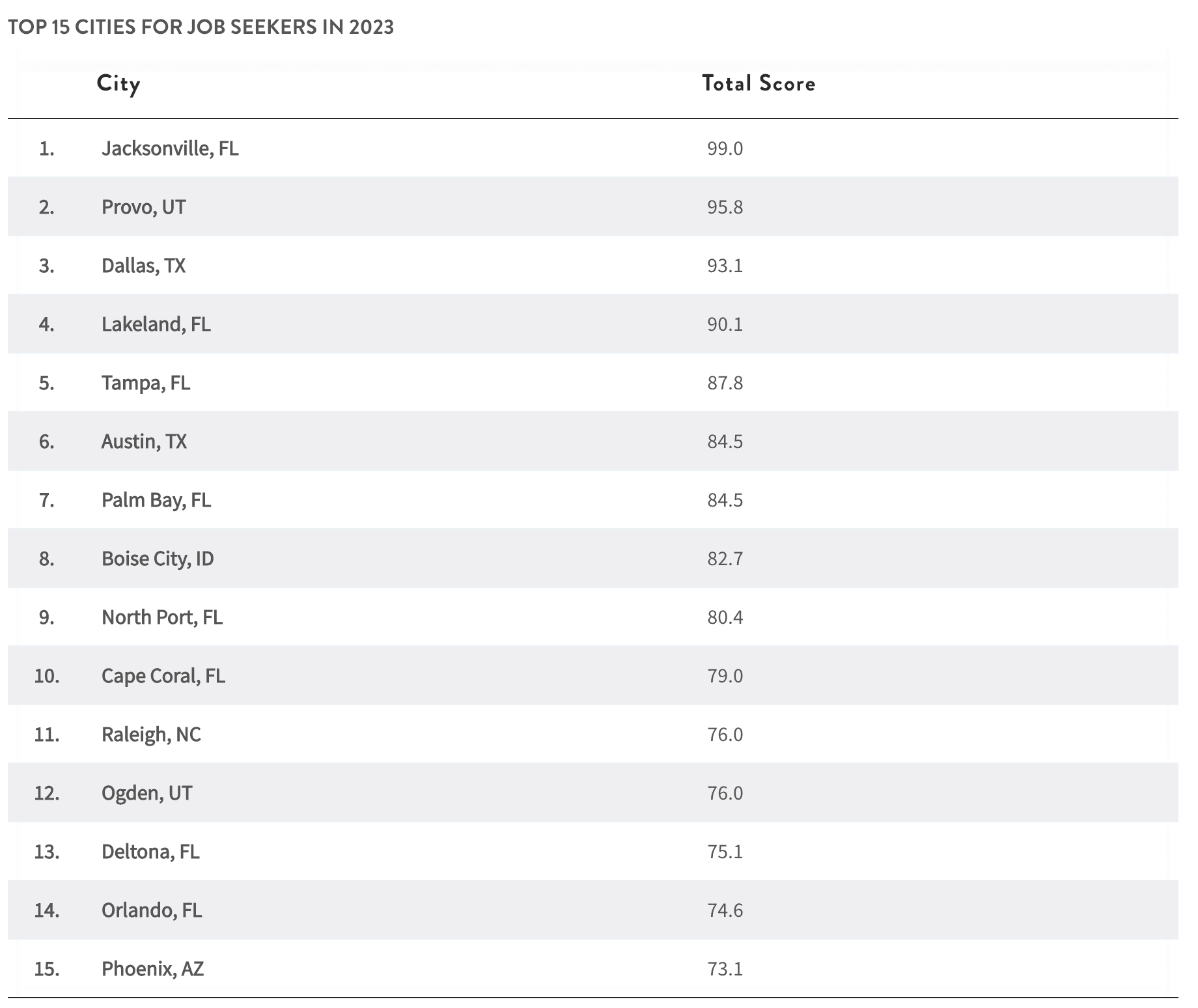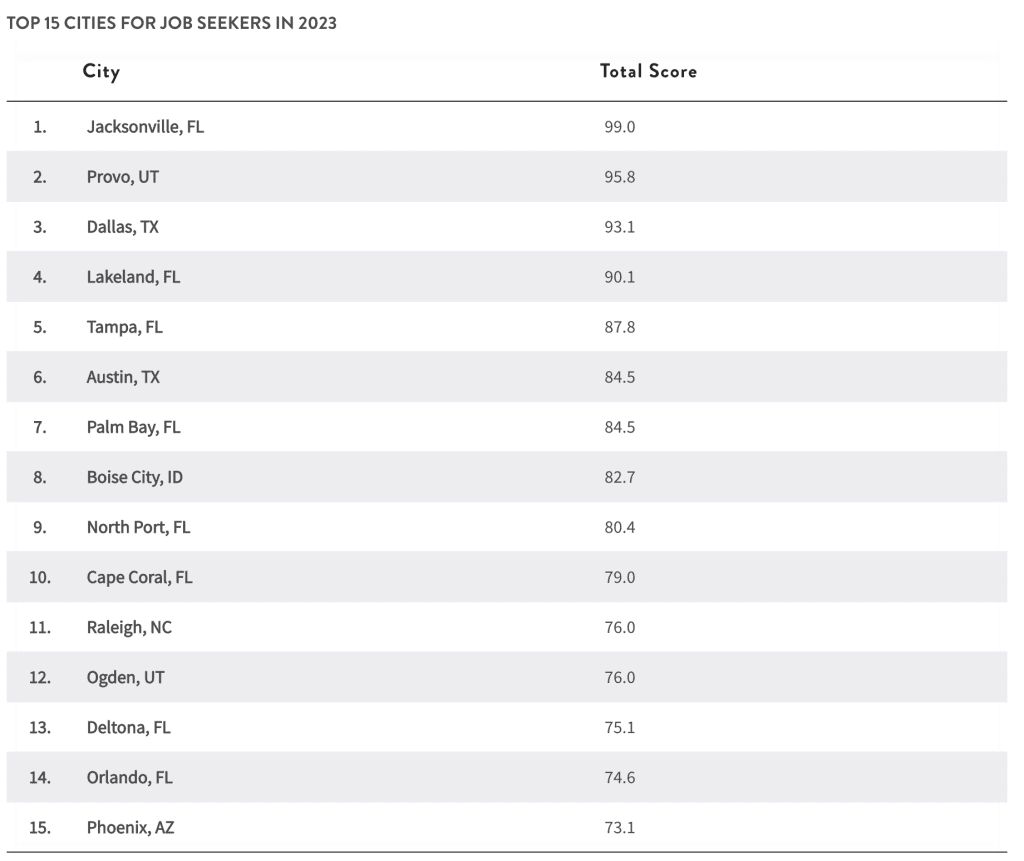 Orlando's Job Market
Orlando is one of the cities in Florida with the highest job opportunities. The city has a strong job market that is driven by its thriving tourism industry, which employs a significant portion of the city's workforce.
However, Orlando's economy is also diversified, with significant contributions from healthcare, technology, and aerospace industries. In fact, Orlando's tech scene has been growing by leaps and bounds.
Let's look at the U.S. Bureau of Labor's Data for Orlando below:
| Employment | Mean hourly wage | Annual mean wage |
| --- | --- | --- |
| 1,173,560 | $24.41 | $50,770 |
According to U.S. Bureau of Labor, there are over 1 million people employed in Orlando with a mean hourly wage of $24.41 or nearly $50k per year.
Consider that the unemployment rate in Orlando as of March 2023 is 2.6% according to YCharts.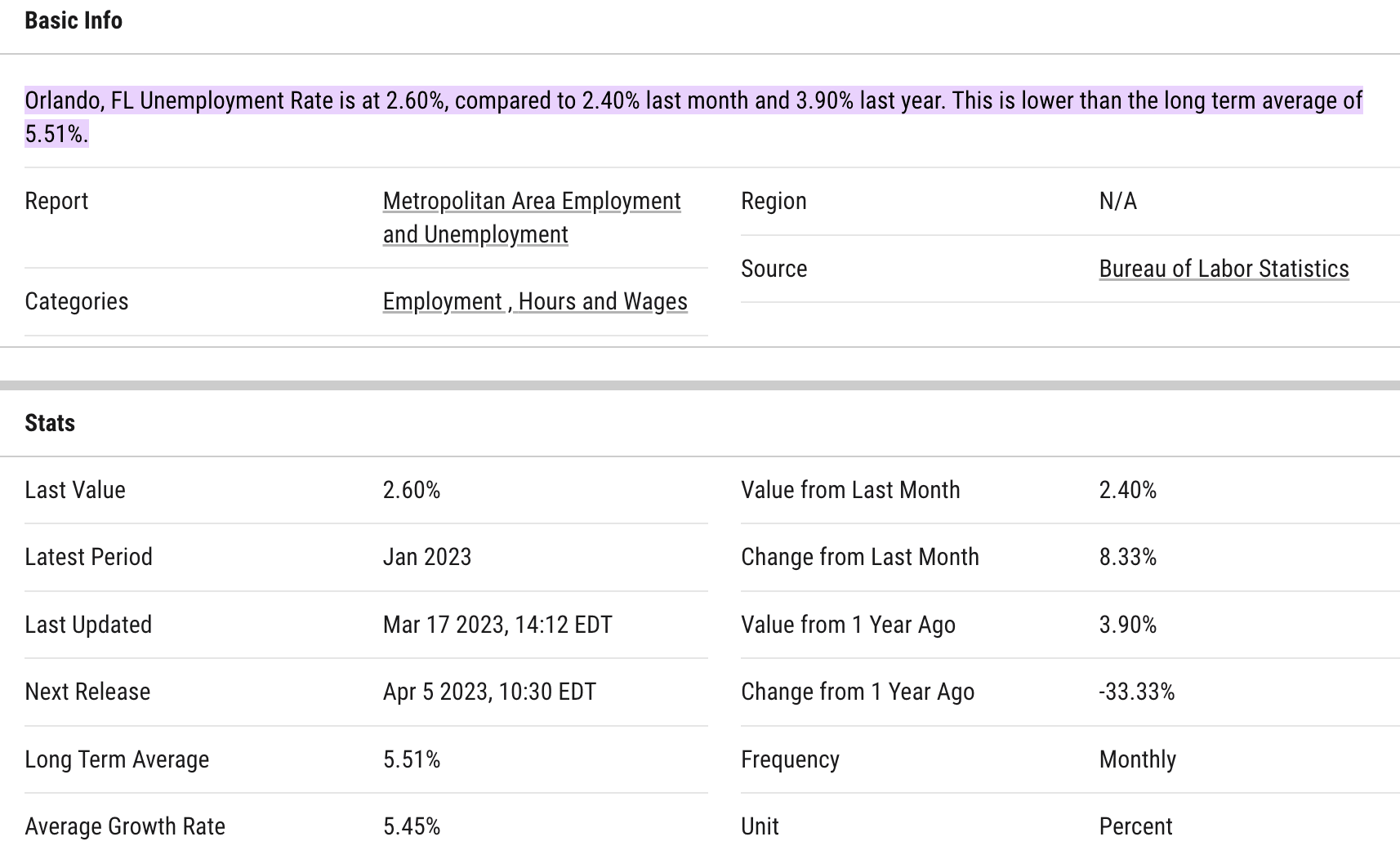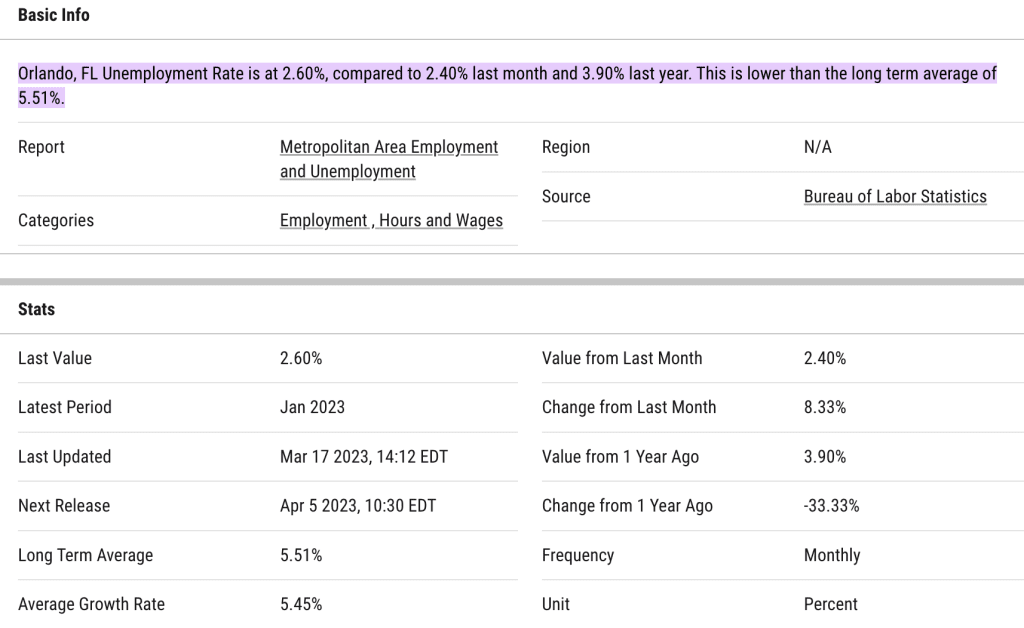 In recent years, Orlando has been experiencing job growth, and baseline.com reports that Orlando has a projected job growth rate of 10% over the next ten years.
The top employers in Orlando include Walt Disney World Resort, AdventHealth, and Lockheed Martin. Many people choose Orlando because of its lower cost of living than many other major cities in the country, which makes it an attractive option for job seekers.
Tampa's Job Market
Tampa, Florida is a vibrant city with a diverse and thriving job market. Here you will find the major industries for job seekers are healthcare, finance, technology, and tourism—thought tourism isn't to the same degree as Orlando.
The bedrock of Tampa's professional sector is healthcare. The city is home to a number of major hospitals and healthcare organizations, such as Tampa General Hospital, BayCare Health System, and AdventHealth Tampa.
Accordingly the U.S. Labor Bureau, Tampa has over 90,150 healthcare practitioner and technical healthcare jobs available.
With an aging population and increasing demand for healthcare services, the healthcare industry in Tampa is expected to continue to grow in the coming years.
The total job data across all occupations for Tampa is below:
| Employment | Mean hourly wage | Annual mean wage |
| --- | --- | --- |
| 1,289,900 | $25.61 | $53,270 |
Another important industry in Tampa is finance as it employs nearly 100,000 people. The city is home of some of the biggest names in the financial space including Raymond James Financial, JPMorgan Chase, and Bank of America. Tampa is fast becoming "the place" to attract local startups and innovative entrepreneurs seeking capital ventures.
Tampa, much like Orlando, has a very low unemployment rate (2.6%) according to YChart. Though much of the country has a low unemployment rate as of March 2023, the infrastructure of Tampa is diversified enough to continue creating new jobs.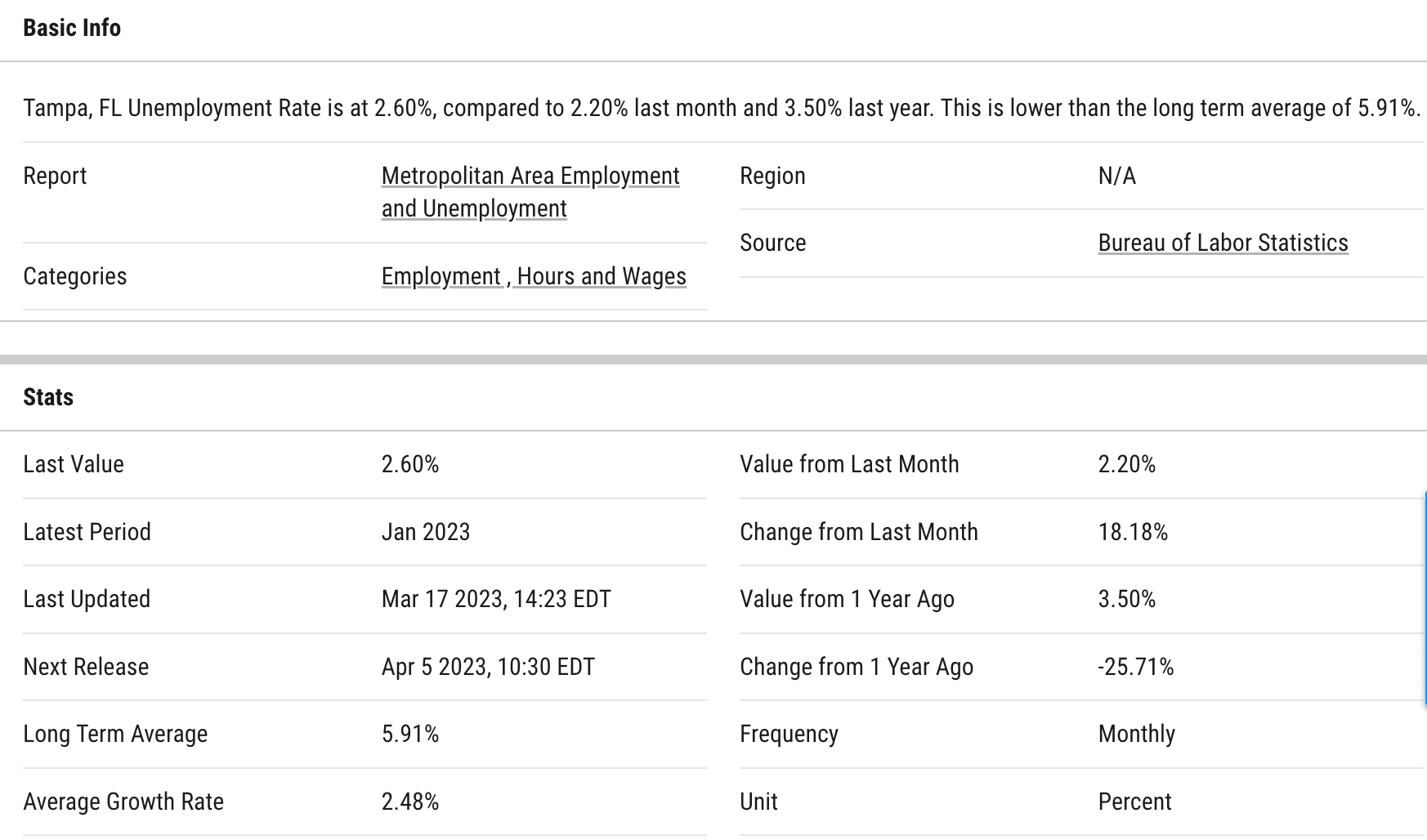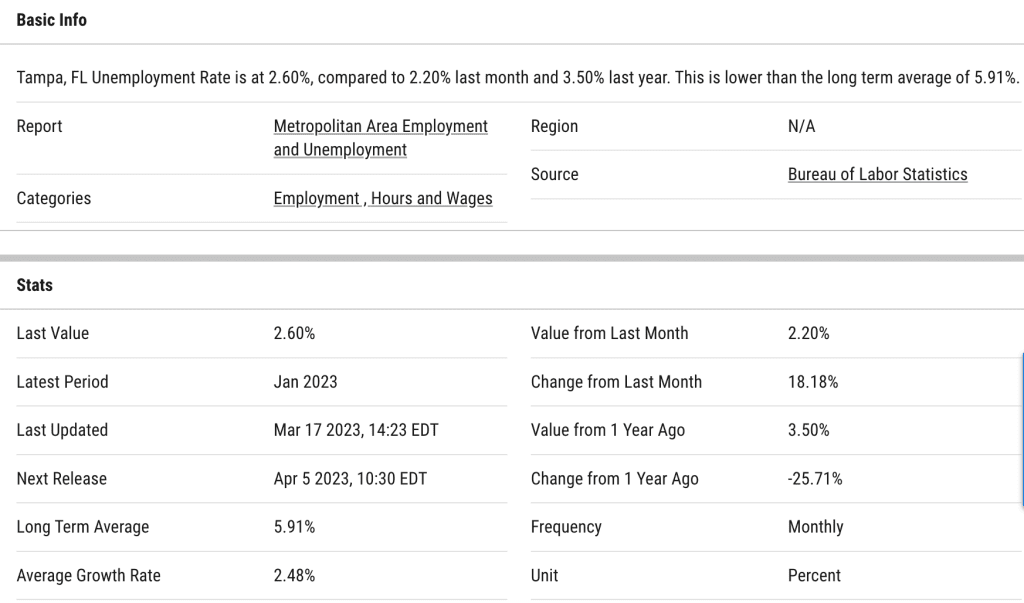 Finally, tourism is a major industry in Tampa, with the city attracting millions of visitors each year. The tourism industry employs thousands of workers in areas such as hospitality, entertainment, and transportation, and contributes significantly to the local economy.
With its warm weather, beautiful beaches, and attractions such as Busch Gardens and the Florida Aquarium, Tampa is a popular destination for tourists from around the world.
So should you choose Orlando or Tampa as a job seeker?
The answer is nuanced, however the data tells a story.
Keep in mind that the cities do not have the same amount of people as Tampa has 20% more residents.
Orlando Metropolitan Area: 2.6 million
Tampa Metropolitan Area: 3.1 million
| Orlando | Orlando | Tampa |
| --- | --- | --- |
| Total Employment | 1,173,560 | 1,289,900 |
| Business/Financial Occupations | 81,440 | 100,740 |
| Computer/Tech Occupations | 43,780 | 35,450 |
| Education Occupations | 55,600 | 58,110 |
| Healthcare Occupations | 65,310 | 90,150 |
| Food Services | 122,900 | 115,870 |
Comparing Orlando and Tampa in Various Job Categories
As you can see above, the cities are very close in occupation totals. While Tampa has more total jobs for business/financial, education, and healthcare—you have to keep in mind that Orlando is 20% smaller.
So in the example above, even though Tampa has more total educational jobs, Orlando has more educational jobs per capita.
You should feel confident that either city has robust options for future and current employment. If you are looking for hospitality, tech, or government contracting jobs, Orlando will probably edge out Tampa for opportunities. If you are looking for financial or healthcare opportunities, Tampa may provide more options than Orlando
Housing Market: Orlando vs Tampa
Both Orland and Tampa have a scorching hot housing market. As a large portion of the country has seen home prices increase precipitously after 2021, Orlando and Tampa have taken off more than most.
There are currently over 2,000 homes for sale in each city with inventories rising slightly in both cities. This is good news for buyers and sellers because buyers will have more opportunities to find homes and sellers will have more inventory to pick from for their next home.
Both cities have similar sales profiles with 50% of homes in both regions selling under 30 days. In other words, houses don't stay on the market very long in these cities.
Home Prices in Orlando
According to Rockethomes, Orlando has an average home sale price of $329k as of March 2023. That number is an increase of $34k over the last year.
Depending on where you are moving from, Orlando could represent a bargain (e.g., Los Angeles, Seattle, Denver) or it may look more expensive than you were expecting (e.g., Huntsville, Oklahoma City, Buffalo).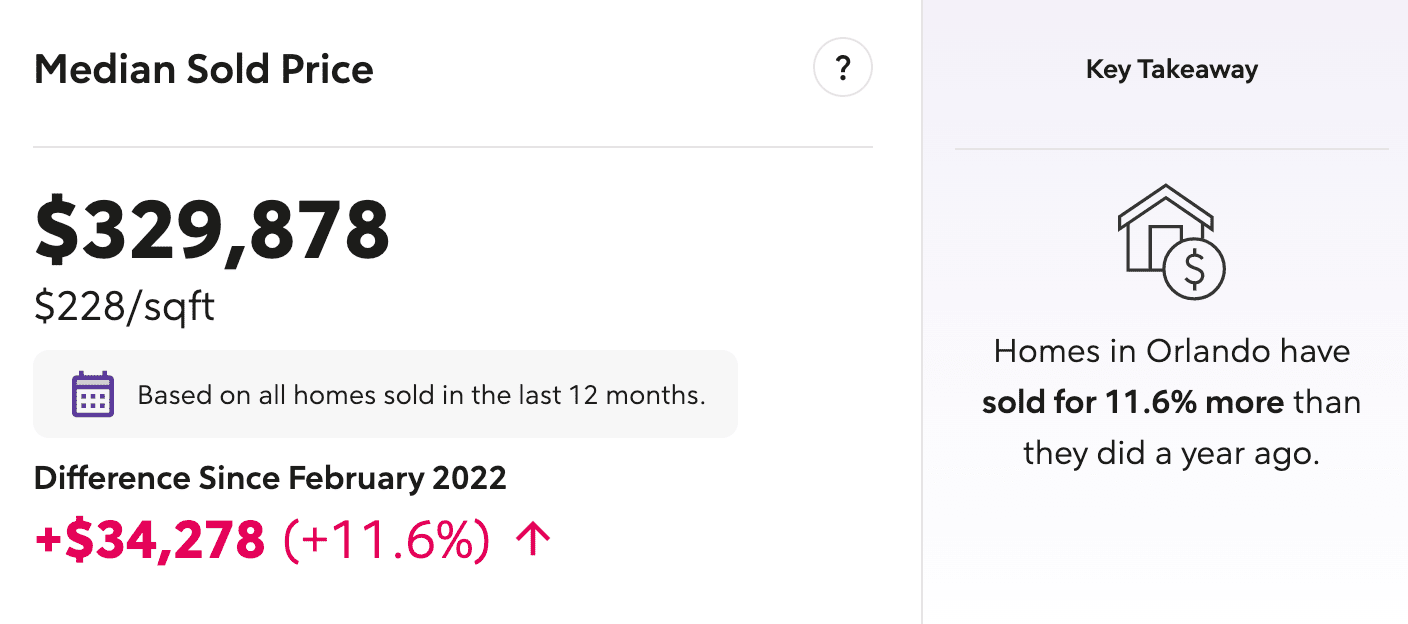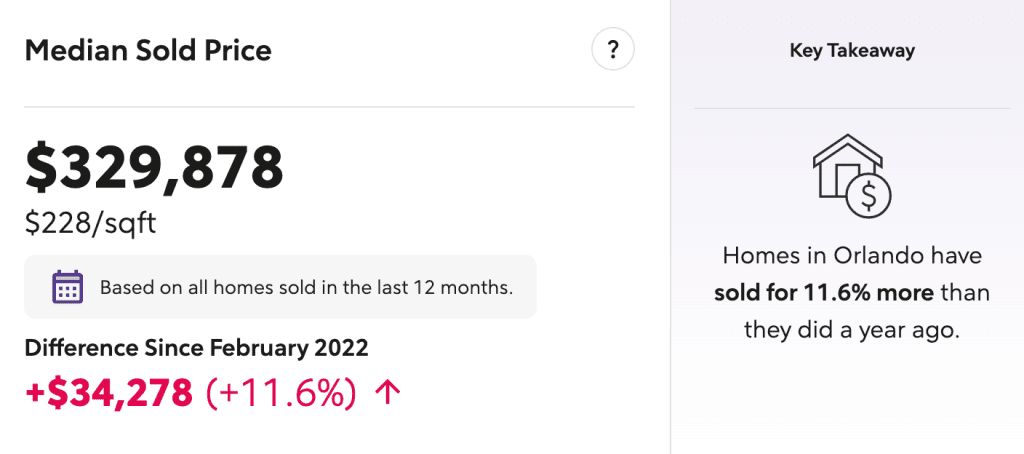 Either way you look at it, Orlando is growing quickly year over year and we feel that there are still bargains to be had. The average home price in 2022 was nearly $430k in the United States which makes Orlando look like steal.
Home Prices in Tampa
Tampa, much like Orlando, has seen its home prices soar over the last two years. As of March 2023, the average home price in Tampa was $409k according to Rockethomes.
This figure is still below the national average of $430k, but it's closer to the average than Orlando and may present less of a bargain.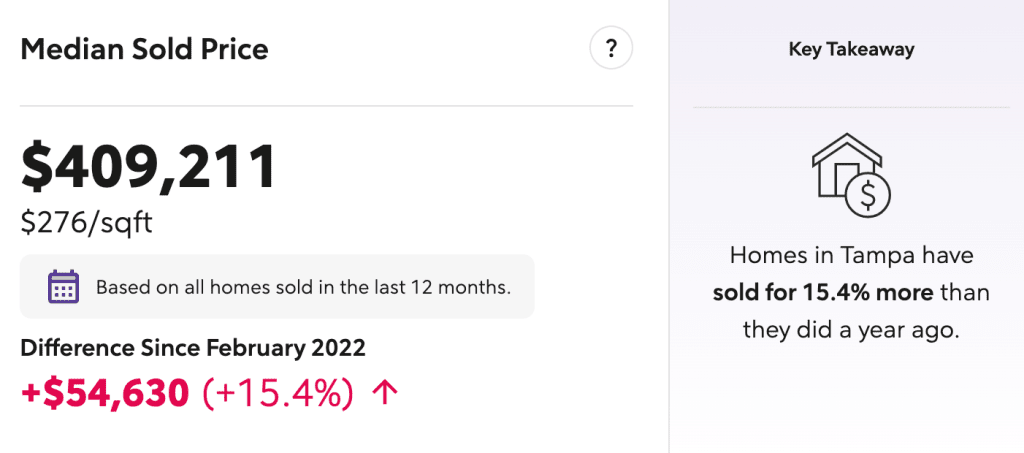 So should you choose Orlando or Tampa for your next house?
Orlando and Tampa both offer great homes and fairly affordable prices. Both cities have an average home sale price under the national average with Orlando being about $80k more affordable.
Both Orlando and Tampa have the same number of homes available (2700+) which doesn't provide enough of a difference either way.
You could make a case that Orlando may represent the better buying opportunity because it has more to choose from because the city is about 20% smaller in population—so less people are bidding for the same home in addition to Orlando's lower average home sale price ($329k vs $409k).
Safety: Orlando vs Tampa
Both Orlando and Tampa are quite safe cities when compared to other large metropolitan areas.
Orlando Crime Rate
Orlando's crime rate is dropping rapidly over the last decade which is great news for people moving into the area.
Look at the data below from the Federal Bureau of Investigations's Uniform Crime Reports. You can see that Orlando in 2006 had crime almost double the national average and then in 2018 Orlando's crime rate dipped below the national average and has continued to drop since.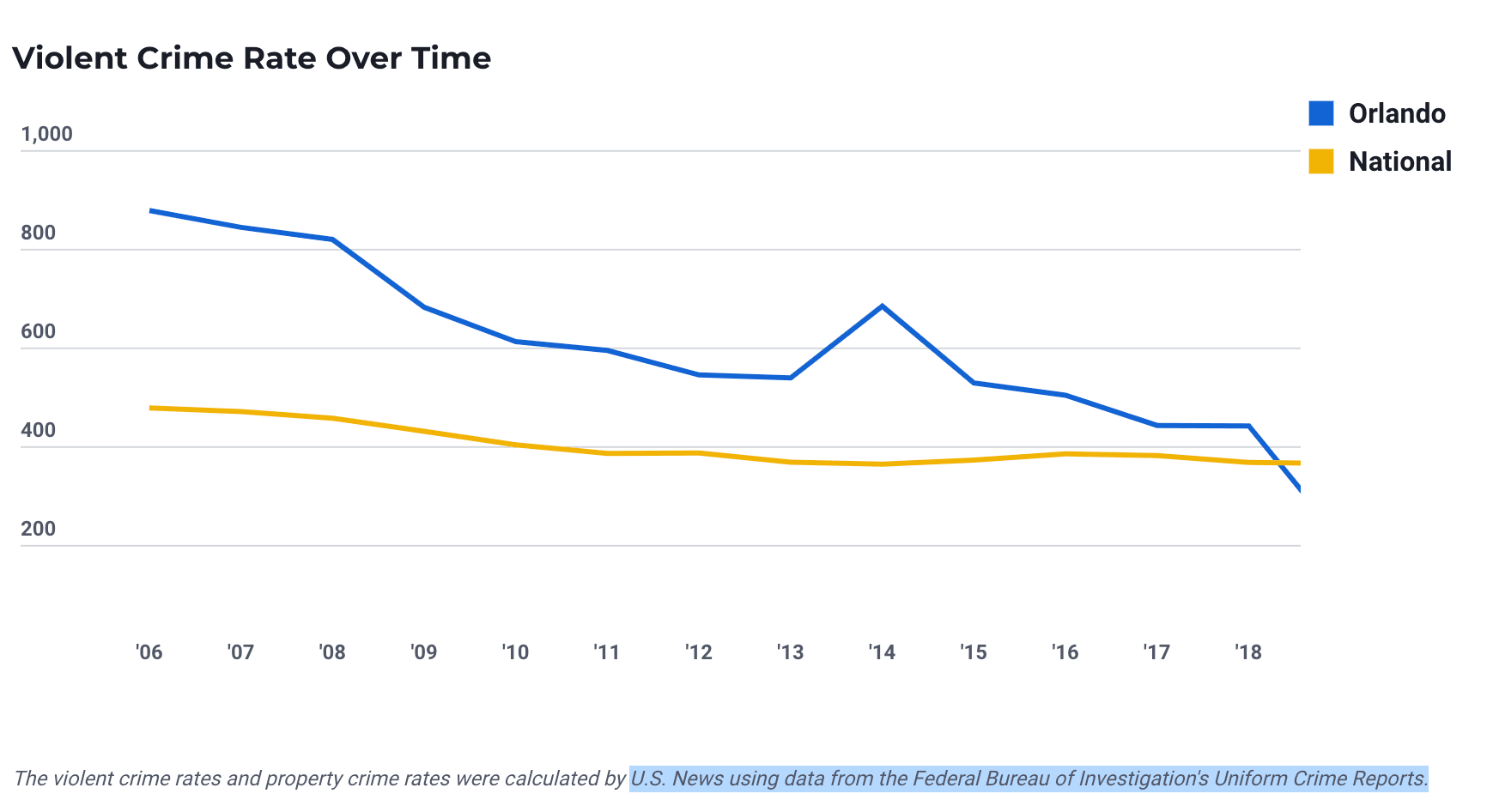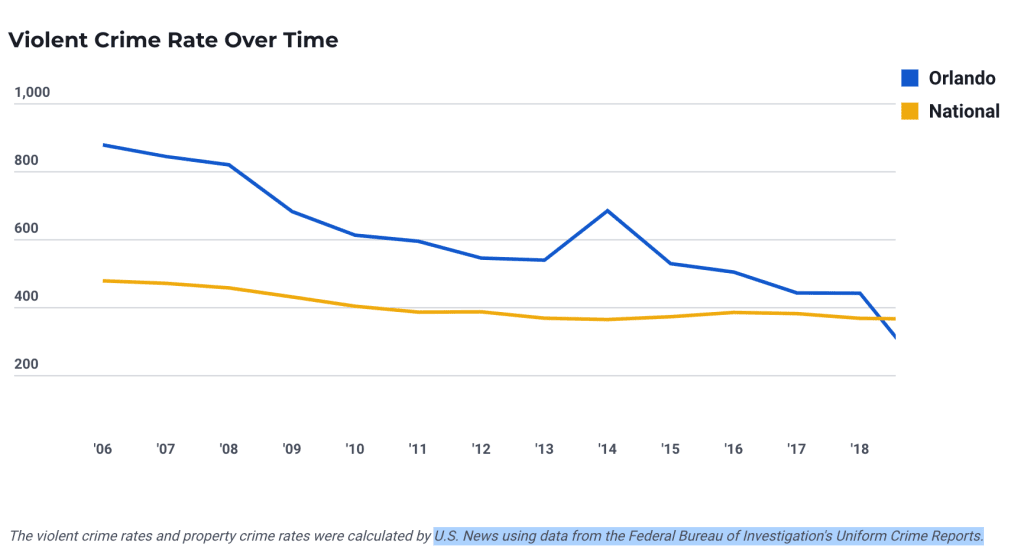 Tampa Crime Rate
Tampa, like Orlando, has also experienced a drop in crime rate over the last 15 years. Year over year, Tampa has become a safer and safer city to live in.
As you can see below, the data from the Federal Bureau of Investigations's Uniform Crime Reports shows that Tampa dipped below the national crime average in 2016 and has continued to drop since.
Also like Orlando, Tampa in 2006 had almost double the crime rate as the national average. Through local infrastructure investment, Tampa has made its streets and citizens much safer.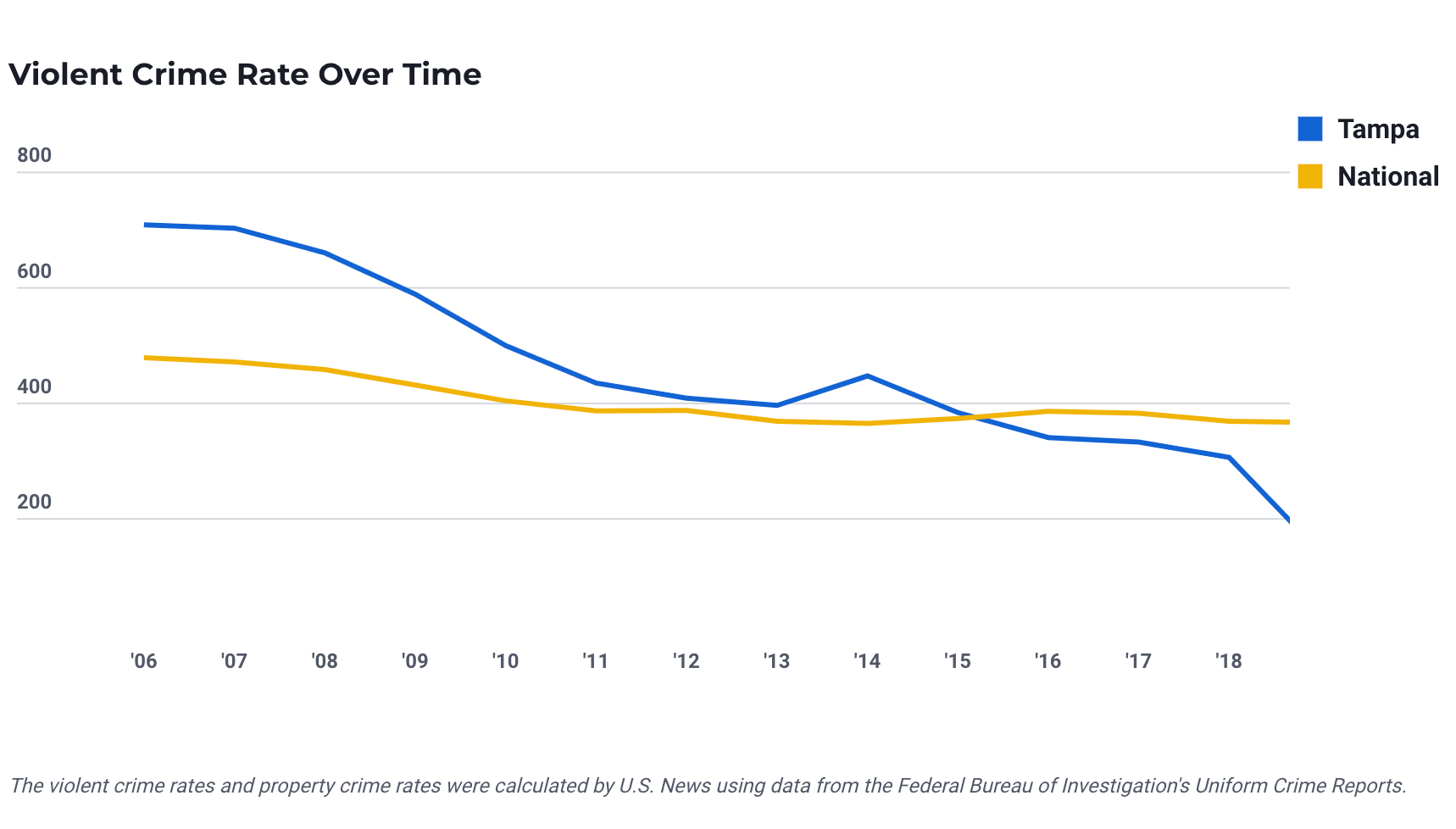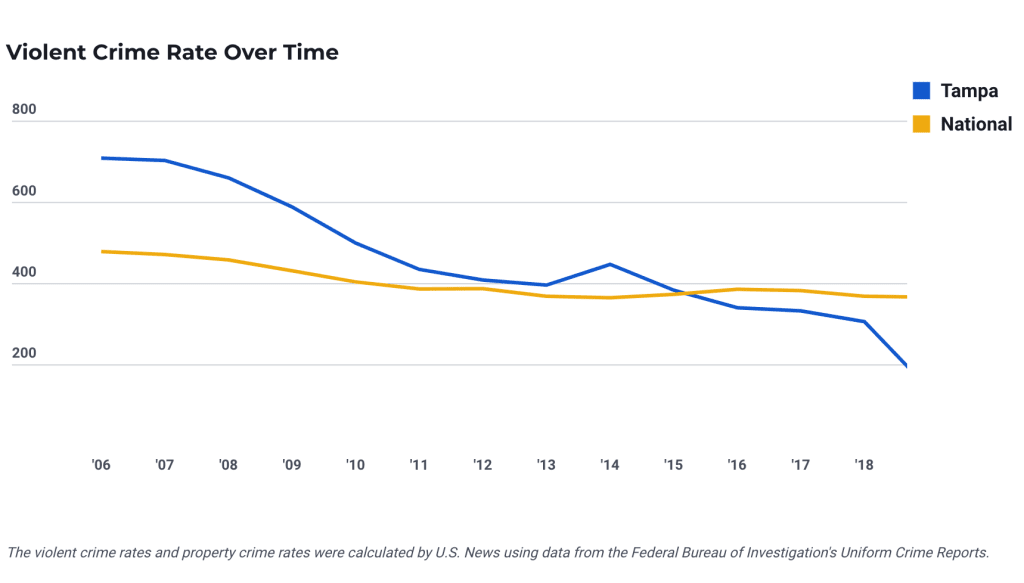 Weather Safety: Orlando vs Tampa
One thing that can frighten people when they move to Florida is the thought of weather safety—specifically—the danger of tropical storms and hurricanes.
We get it and you'd be wise to take storm damage into consideration.
Below is the top 5 U.S. states for hurricane landings based on data from the National Hurricane Center (NHC) from 1851 to 2020:
| Rank | State | Number of Hurricane Landfalls |
| --- | --- | --- |
| 1 | Florida | 120 |
| 2 | Texas | 64 |
| 3 | Louisiana | 58 |
| 4 | North Carolina | 37 |
| 5 | South Carolina | 30 |
Top 5 Hurricane Landings
As you can see, Florida has double the Hurricane landfalls as any other state with Texas coming second and Louisiana third.
But, is Orlando or Tampa safer?
Tampa has a history of being vulnerable to hurricanes, as it is located on the Gulf of Mexico coast. Tampa is hit or brushed with a major storm ever 2.01 years, however it is rarely accompanied by significant damage.
In fact, Tampa has been the lucky golden child of the coastal Florida cities by narrowly escaping hurricane after hurricane—almost comically.
But, Tampa has been hit by hurricanes and doesn't always escape completely such as when Hurricane Ian struck in 2021 resulting in billions of dollars worth of damage.
Here is a list of major Tampa hurricane landfalls. Know that hurricane names weren't established until 1953.
| Date | MPH | Tampa Hurricane Name |
| --- | --- | --- |
| Sept 10th, 1878 | 105 | Unnamed |
| July 18th, 1886 | 80 | Unnamed |
| Sept 29th, 1896 | 125 | Unnamed |
| Oct 25th, 1921 | 105 | Unnamed |
| Sept 17th, 1928 | 115 | Unnamed |
| Sept 4th, 1935 | 105 | Unnamed |
| Oct 6th, 1941 | 105 | Unnamed |
| Oct 19th, 1944 | 75 | Unnamed |
| Sept 16th, 1945 | 95 | Unnamed |
| Oct 8th, 1946 | 85 | Unnamed |
| Sept 5th, 1950 | 125 | Unnamed |
| Sept 10th, 1960 | 115 | Donna |
| Oct 18th, 1968 | 80 | Gladys |
| Sept 10th, 2017 | 90 | Irma |
| Sept 28th, 2022 | 60 | Ian |
Tampa Hurricanes by Year
Orlando, on the other hand, is located further inland, which makes it much less vulnerable to hurricanes but still susceptible to the effects of tropical storms and hurricanes. It should be noted that Orlando has NEVER been directly hit by a hurricane.
We recenlty experienced hurricane Ian living in the Orlando area and documented our experience below.
While Orlando does have a record of hurricane-based damage, the large majority of incidents are a result of rain and winds outside of the direct landfall zone. Hurricanes weaken precipitously as they approach Orlando because of it being so far inland.
So is Orlando or Tampa safer?
If you are worried about crime, both cities are safer than the national average with Tampa edging out Orlando just slightly by the percentage of year over year crime drop since 2016.
Both cities are large and both cities have incredibly safe suburbs with very little crime. You can't go wrong with either city based on the trend data from the last 15 years.
However, Orlando does edge out Tampa if you are worried about safety from mother nature. Orlando has never been hit by a major hurricane directly while Tampa has experienced significant storm damage from more than a dozen hurricanes with the last being Ian in 2022.
Tampa's location may also present financial challenges when pricing out home and flood insurance
Public Transportation: Orlando vs Tampa
Both Orland and Tampa have public transportation in their respective metropolitan city centers. However, neither have robust transportation outside of their urban area.
If you are looking to replace the transportation likes of New York City or Chicago, you'll be sorely disappointed. But, as we like to say, you can't see the sunshine in the subway—no one moves to Florida for the public transportation offering.
Let's make one thing clear: Orlando and Tampa are both commuter cities. You need a car here to live your best life.
However, according to AllTransit, a public transportation data aggregation company, out of 100 metropolitan areas greater than 250,00, Orlando ranks 36th and Tampa ranks 42nd. Not terrible, not great—buy a car.
Orlando Public Transportation
Orlando has three primary options for public transportation. Let's walk through each one.
Bus Routes: LYNX has over 70 bus routes and provides service to various locations including downtown Orlando, theme parks, shopping centers, and residential areas. LYNX provides bus services to Orange, Osceola, and Seminole counties..
SunRail: SunRail is a commuter rail service that connects the Orlando area with surrounding counties, including Volusia and Seminole. The rail service has 16 stations and operates Monday through Friday.
LYMMO: LYMMO is a fare-free bus rapid transit system in downtown Orlando that provides service to popular destinations such as the Amway Center, City Hall, and the Dr. Phillips Center for the Performing Arts.
The biggest limitation to the Orlando public transportation system is the SunRail system. This is most likely why on 5% of commuters in Orlando use public transportation.
Oddly, Orlando only built train routes going north to south. So, you have to live within a straight-line north or south of the center of Orlando. Check the map below to see what we are talking about.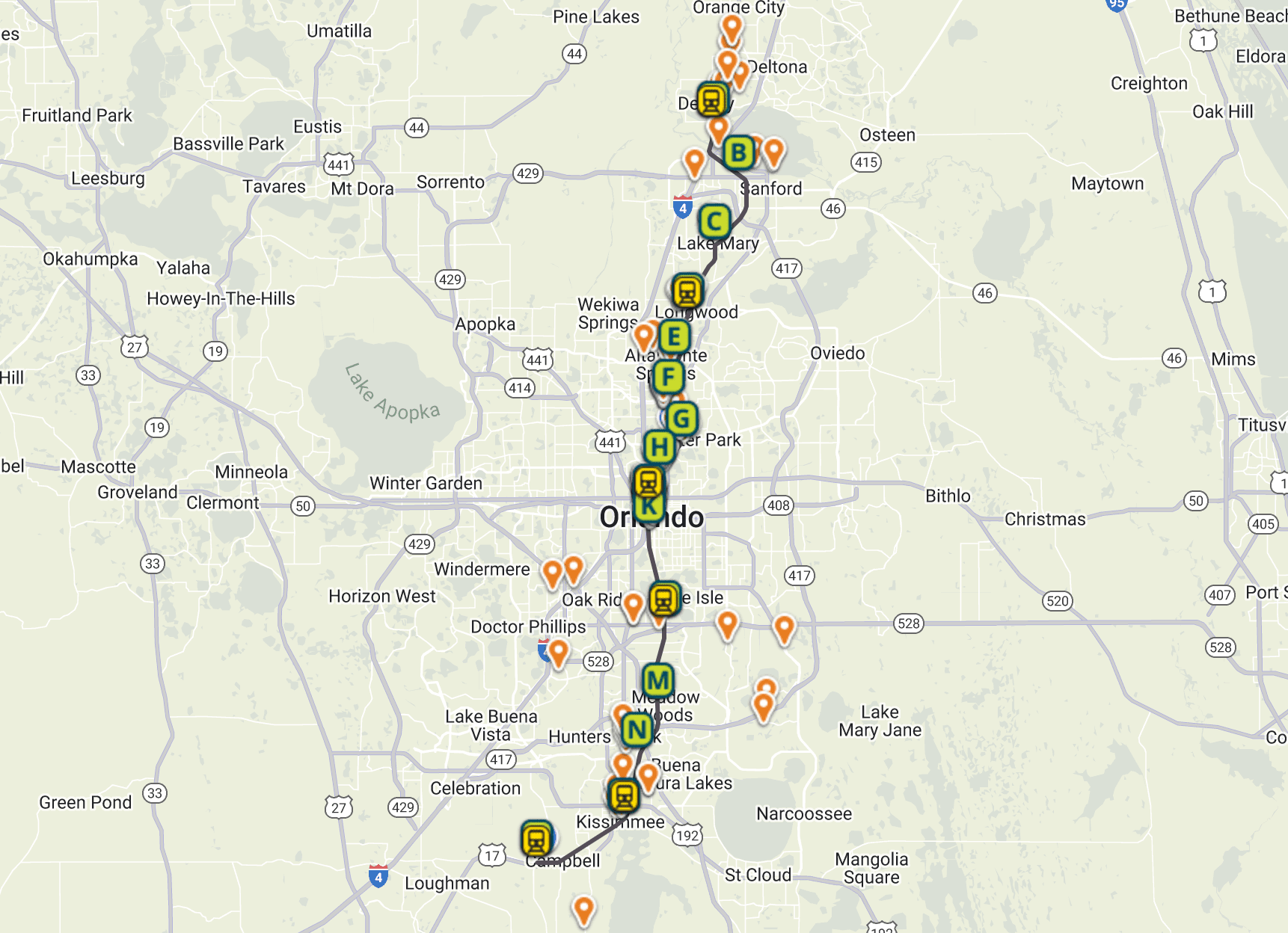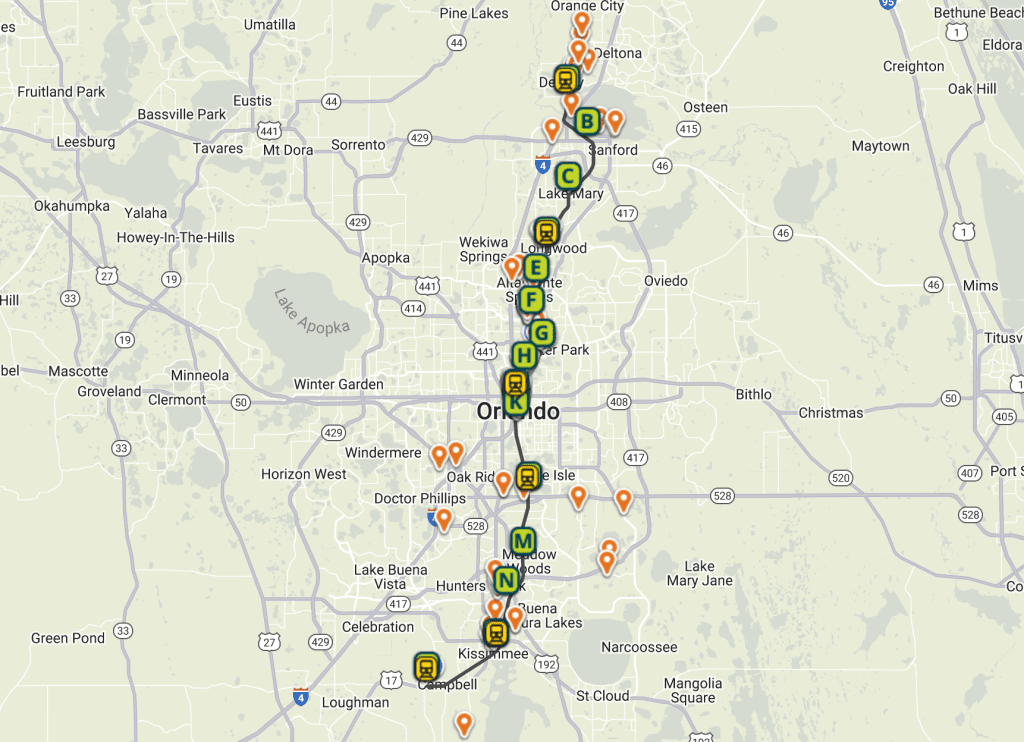 Tampa Public Transportation
Tampa, like Orlando, has three primary forms of public transportation for its residents.
Hillsborough Area Regional Transit Authority (HART) bus system, which serves Tampa and surrounding areas with a network of over 30 routes.
The TECO Line Streetcar System, which operates a 2.7-mile historic streetcar route between downtown Tampa and the historic Ybor City neighborhood.
In-Town Trolley, a free shuttle service that operates in downtown Tampa, and the Downtowner, a free on-demand shuttle service.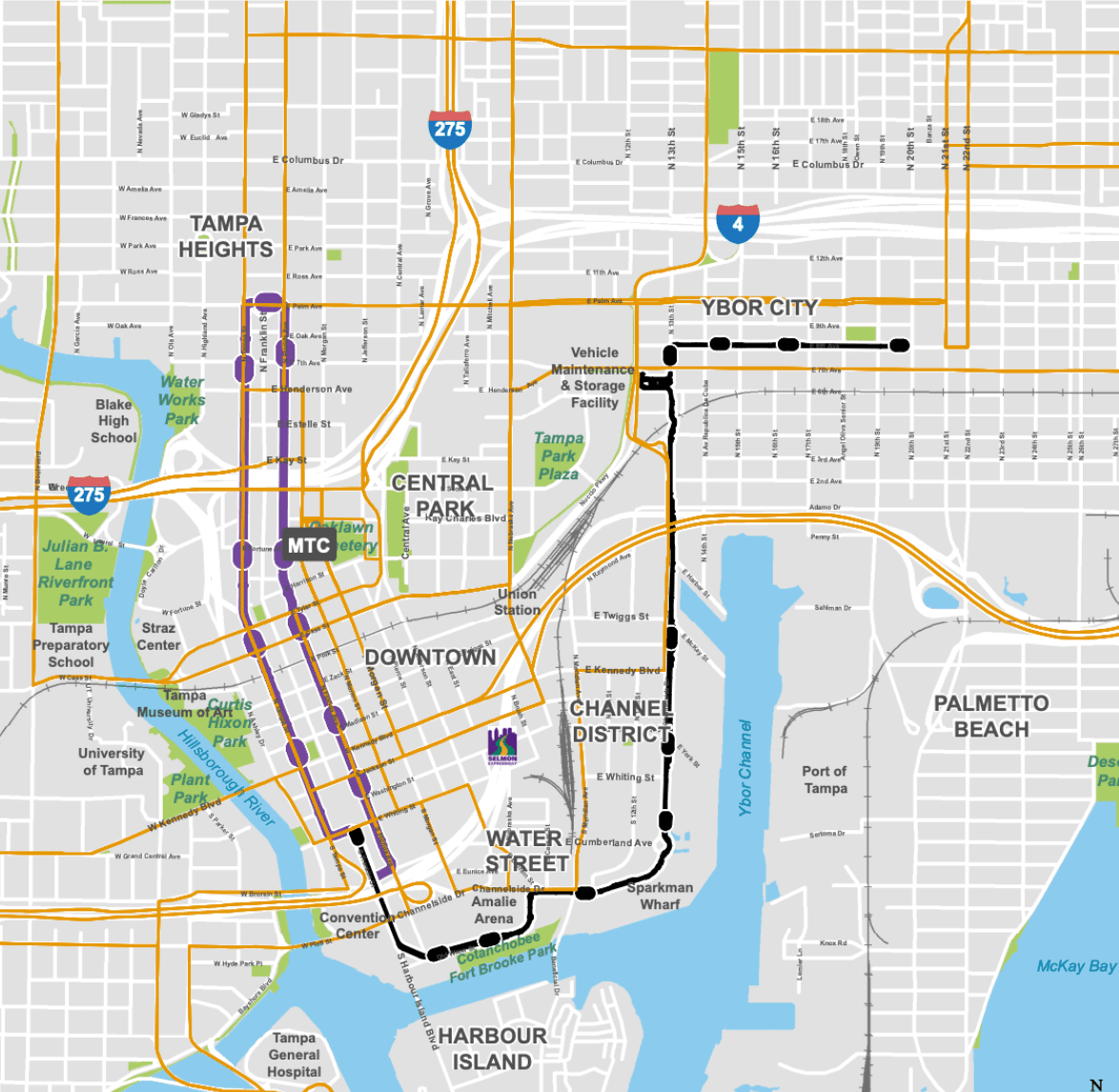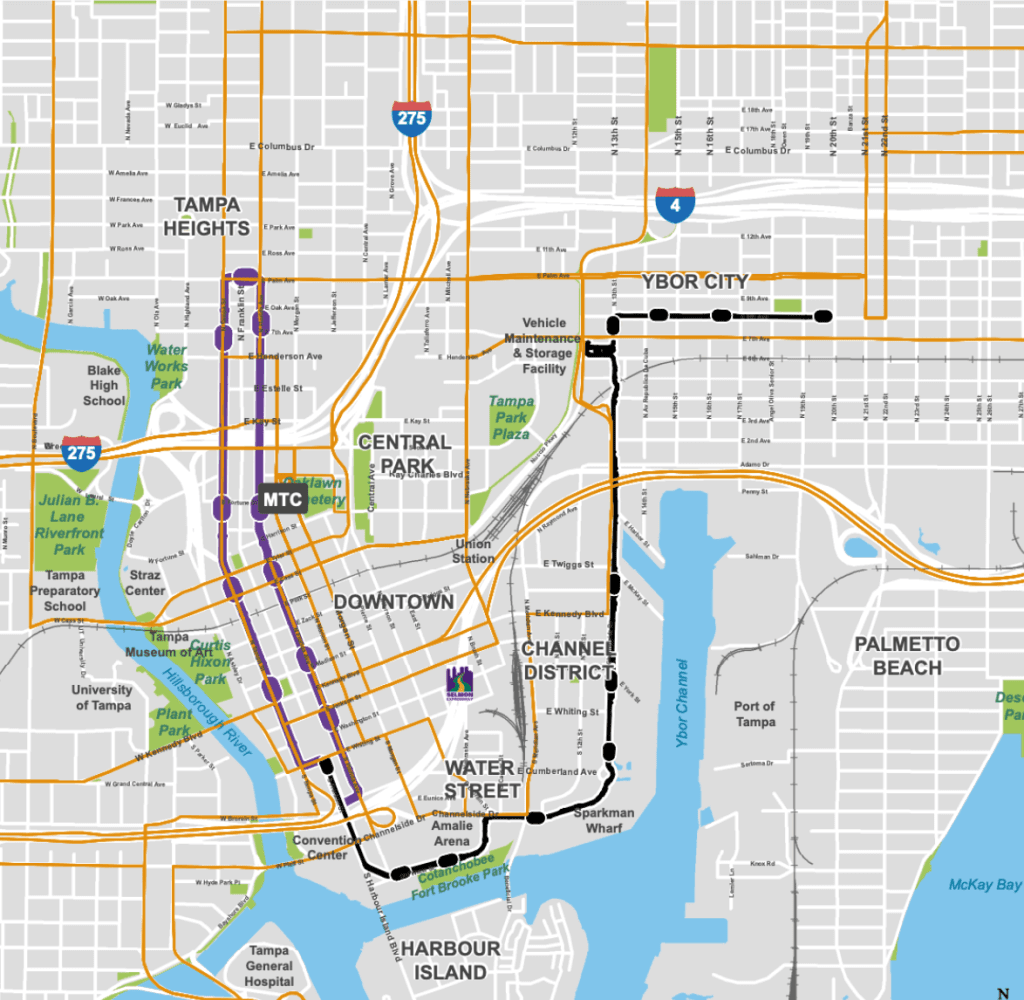 Like Orlando, Tampa is not a great public transit city. You will notice that both Tampa and Orlando have fairly robust bus systems managed by large regional transit authorities, however unlike Orlando, Tampa doesn't have a train system outside of its Street Car System which only spans a few miles.
Based on the lack of public transportation, only 2% of residents in Tampa use public transportation—nearly 50% less than Orlando.
Is Orlando or Tampa a better commuter city?
Based on the data, we believe Orlando is a better commuter city. While both Tampa and Orlando provide great bus transit options, Orlando has far more track coverage through SunRail (49 miles) than Tampa does with the TECO line (2.7 miles).
Sport Culture: Orlando vs Tampa
Not everyone needs a great sports culture, but when you have one, it can make a city come alive. Whether you like sports or not, successful sports franchise can bring restaurants, shopping, and tons of events to a major city.
While both Orlando and Tampa have professional sports teams, Tampa has more. Below is a list of professional sports teams by city.
| Sport | Team | Championships | Years Won | Average Stadium Attendance |
| --- | --- | --- | --- | --- |
| Basketball | Orlando Magic (NBA) | 0 | – | 17,372 |
| Soccer | Orlando City SC (MLS) | 0 | – | 24,940 |
| Football | Tampa Bay Buccaneers (NFL) | 2 | 2002, 2021 | 62,352 |
| Hockey | Tampa Bay Lightning (NHL) | 3 | 2004, 2020, 2021 | 19,092 |
| Baseball | Tampa Bay Rays (MLB) | 0 | – | 9,932 |
As you can see above, Tampa not only has more teams, but it has championships to celebrate as well (5). Orlando has never won a professional championship in any sport.
Orlando has not seen an exciting sports culture since Shaquille O'Neal and Anfernee Hardaway took Orlando to the 1995 NBA Finals. Orlando has never had this feeling…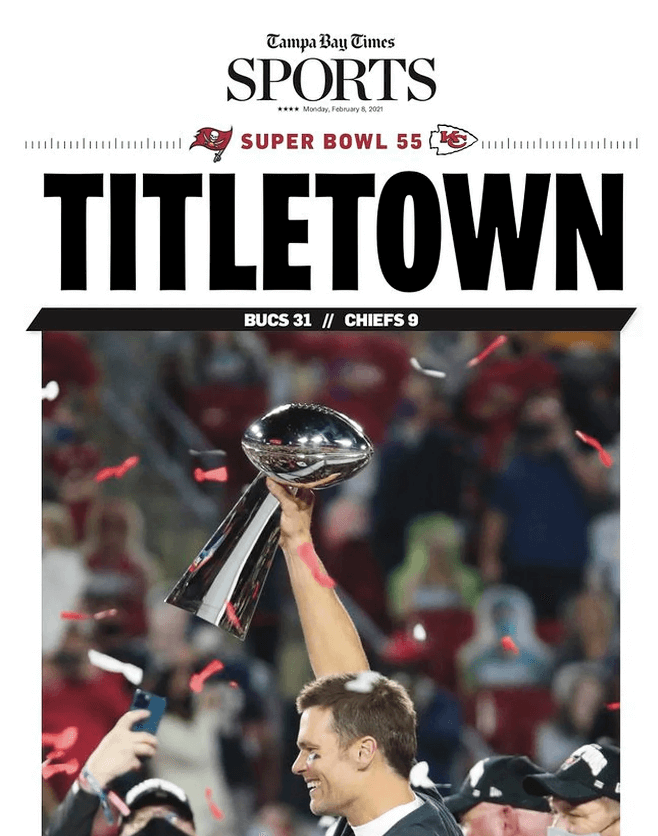 Is Orlando or Tampa a better sports city?
Without question, Tampa is the better sports city. It has a team (Buccaneers) in the biggest league in the world (NFL) with multiple championships and second great team (Lightening) with two championships in the NHL.
The Tampa Bay Rays aren't slouches either with two American League (AL) Pennants in 2008 and 2020 and seven playoff appearances in total.
If you want to move to a city for sports excitement, Tampa is the better city than Orlando.
Weather: Orlando vs Tampa
Both Orlando and Tampa both have unbelievable weather. However, they have some slight differences in their weather depending on what your preferences are.
Tampa is situated on the Gulf of Mexico, while Orlando is inland. Both locations make for very slight changes in weather. Check out our table below on weather in both areas.
| Weather Metric | Tampa | Orlando |
| --- | --- | --- |
| Average High Temperature | 75°F in January to 90°F August | 71°F in January to 92°F in August |
| Average Low Temperature | 52°F January to 77°F in August | 50°F in January to 74°F in August |
| Humidity | 70% to 80% | 70% to 80% |
| Rainy Days | 116 rainy days per year | 117 rainy days per year |
| Sunny Days | 246 sunny days per year | 233 sunny days per year |
Tampa VS Orlando Weather
As you can see above, Tampa has a slightly warmer climate compared to Orlando with more sunny days.
Both Tampa and Orlando have high levels of humidity throughout the year and you won't feel much of a difference except for the evening in Tampa with an ocean breeze. Both Tampa and Orlando have similar amounts of rainfall.
Being situated on the Gulf of Mexico, Tampa experiences ocean breezes that help to moderate temperatures and create a pleasant climate, especially in the winter months.
On the other hand, Orlando does not benefit from ocean breezes since it is inland, but still enjoys pleasant temperatures in the winter months.
We feel the biggest difference between Tampa and Orlando weather is the stronger ocean breezes you will feel in Tampa, though inland Tampa will experience less than beachfront property.
Why We Chose Orlando over Tampa
Well, if you area asking which area we chose, we moved to ORLANDO. And, we haven't regretted our decision since. We love Tampa, visit all the time, but our final decision came down to a few things.
Amenities over Beach
We drove all over Tampa: inland, by the bay, north of the city, and all the way from St. Pete's to north of Tarpon Springs. We loved everything we saw.
However, we had to ask ourself a big question, "What's more important down the street: world-class beaches or world-class amenities?"
We couldn't decide and we flipped and flopped, over and over. We love beaches. We love Disney. We love the ocean. We love Orlando restaurants and shopping. Argh!!!
And then our son asked us the million dollar question one evening heading back from Tampa, "Mom…Dad…when you get off work in the evening, what do you see yourself doing the most—getting all your beach stuff together and heading off to the sand or ocean OR are you more likely find a great restaurant, lake front trail for walking, or Disney Springs for a quick night out?"
We realized that while we LOVE the beach and Tom LOVES the ocean, we didn't need it in our backyard. We were happy driving an hour in either direction and finding a great beach.
In fact, we love being in the middle of both coasts. Sometimes we head east with friends to Cape Canaveral and watch the rockets launch and other times we pack our lunch and head west to Siesta Key Beach for a Saturday morning drive. What a life right?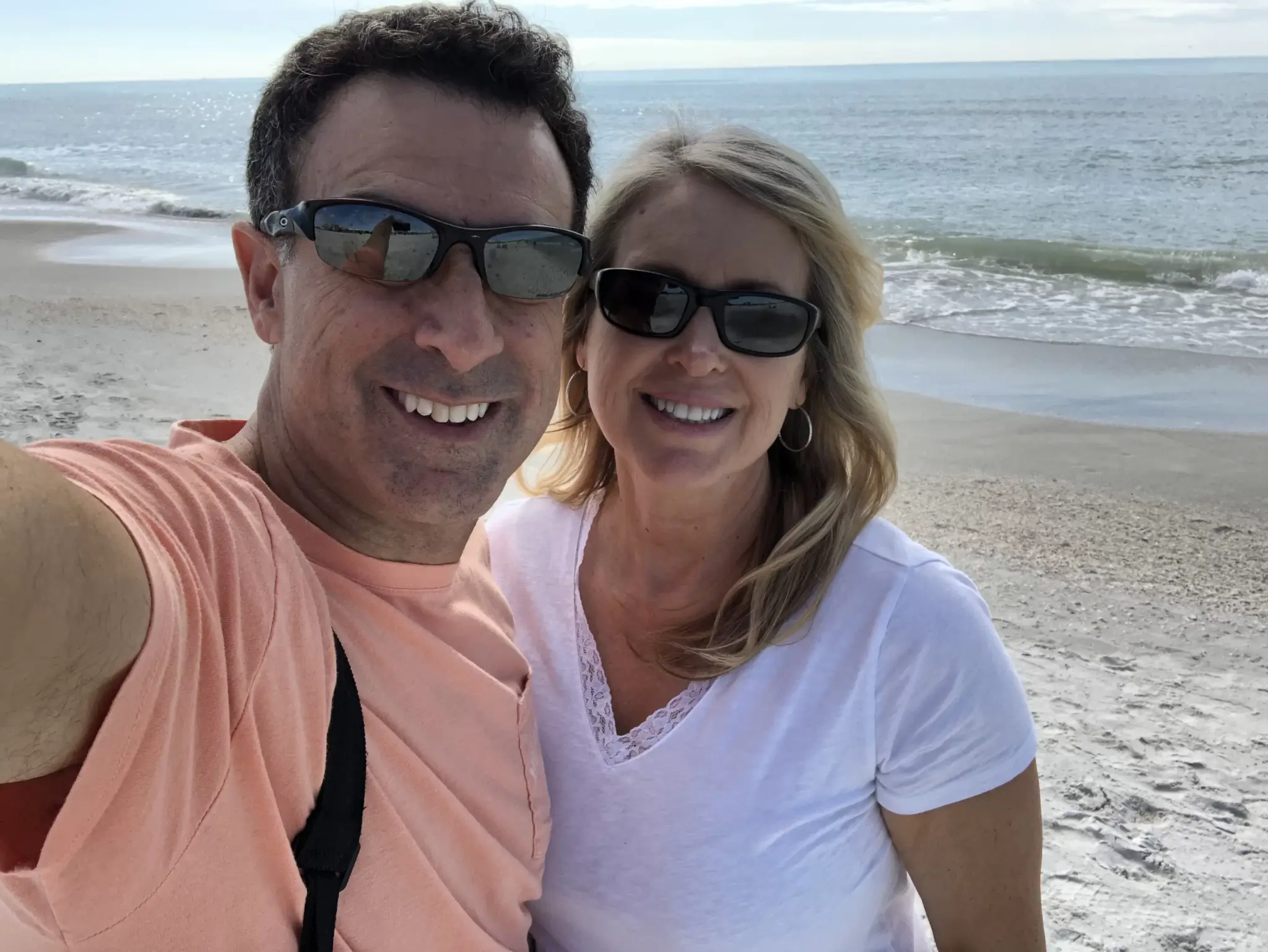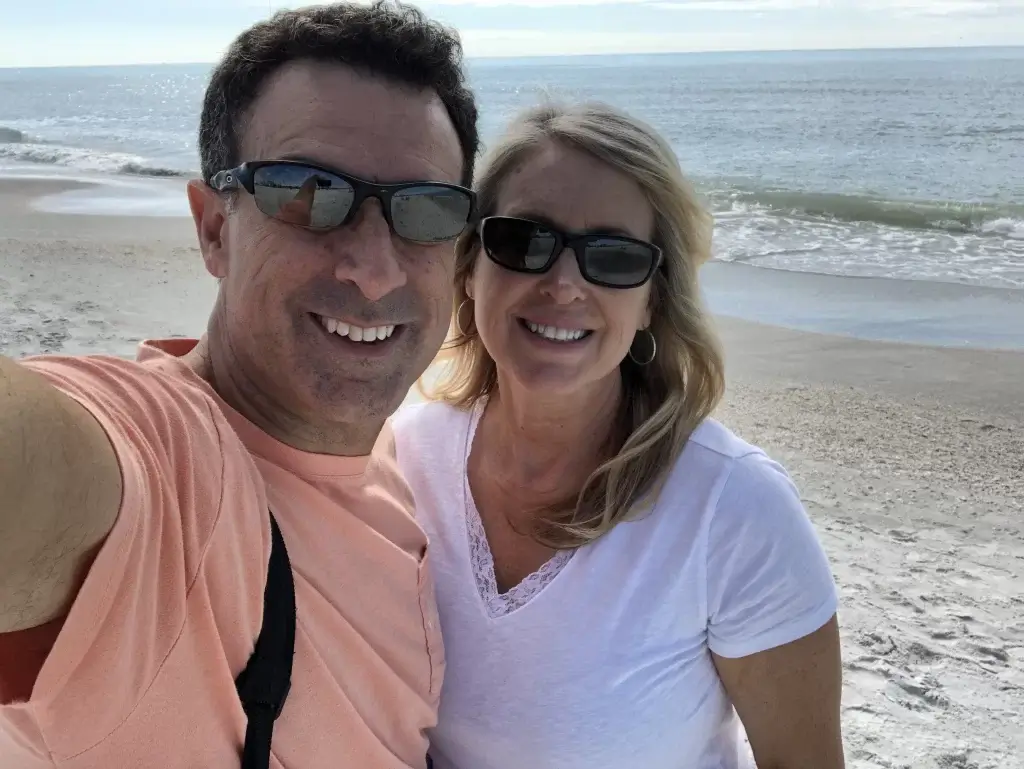 Now, we know Tampa has great restaurants and amenities. We aren't debating that. But our favorite places just so happened to be in Orlando, where we frequent the most.
And lastly, people visit Orlando much more often than they visit Tampa—at least people in our lives. You'd be surprised how many people will contact you when they arrive in Orlando. Sometimes it's an old college roommate in for a work convention and sometimes its a distant friend with kids going to Disney.
Keep in mind, Florida is the most visited state in the country and Orlando is the most visited city inside Florida. Get your guest room ready.
So where do we live in Orlando? Check out our great city of Clermont below.
Frequently Asked Questions
Is Tampa or Orlando a Bigger City?
Tampa is the bigger city. When we compare the two metropolitan areas, we see that Orlando has a larger land area (4012 vs 2554 square miles), but Tampa has a larger population (3.1 million vs 2.6 million). Both metropolitan areas have a significant number of businesses and offer unique cultural, entertainment, and economic opportunities for residents and visitors.
When we speak of Tampa, we are considering Tampa, St. Petersburg, and Clearwater and when we consider Orlando, we speaking about Orlando, Kissimmee, and Sanford.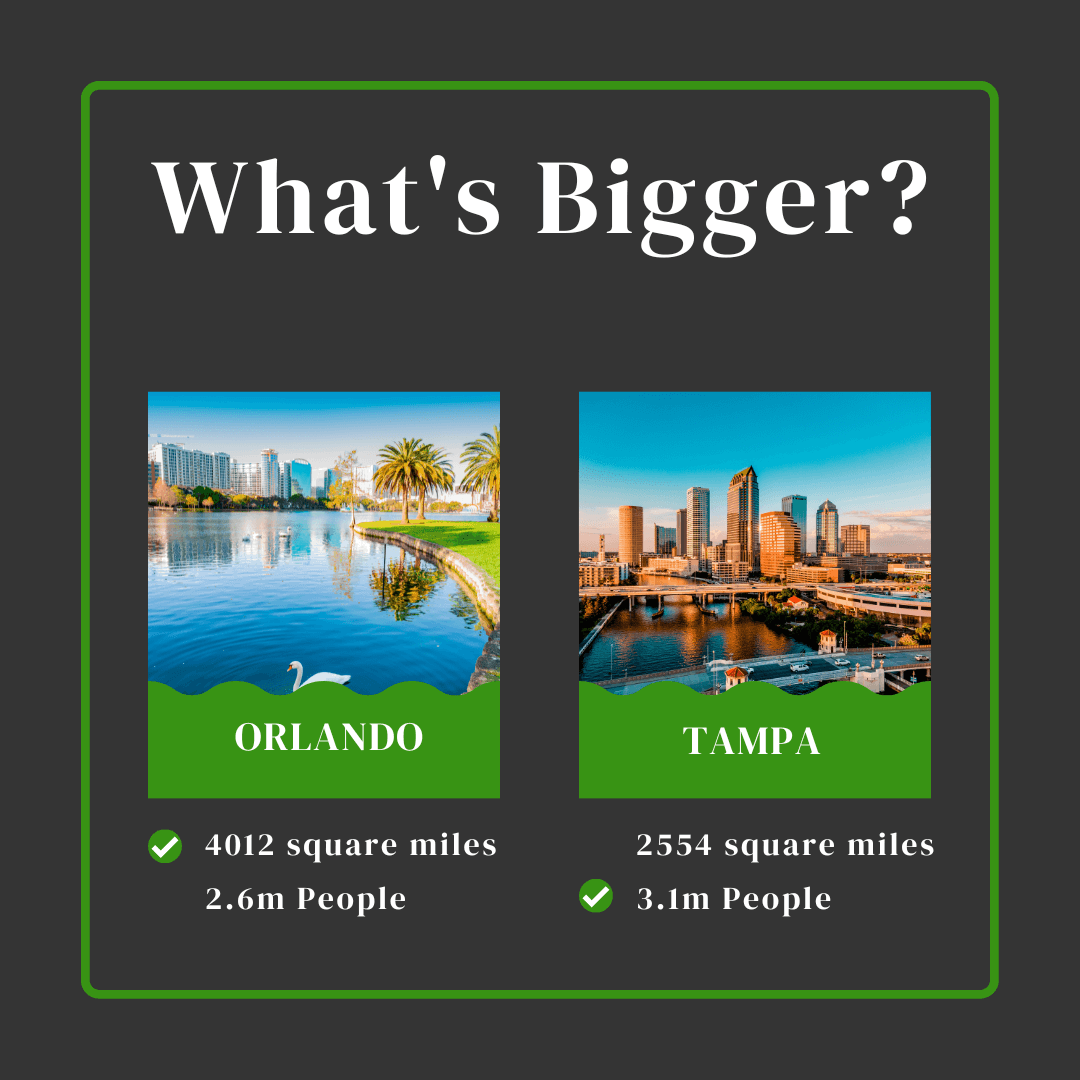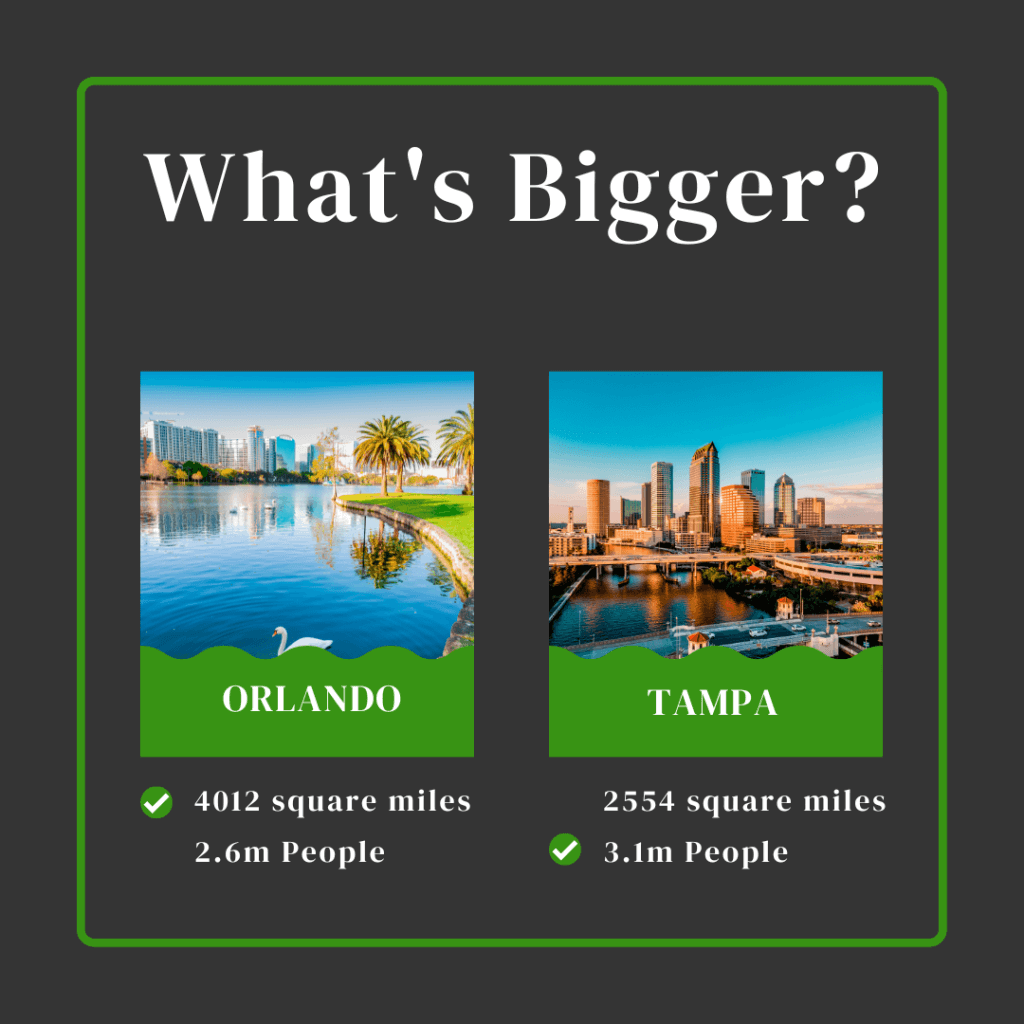 Is Tampa or Orlando better for young professionals?
Orlando is the slightly younger city, but by much. According to the US Census Bureau, as of the 2020 US Census, the estimated median age of the population in Tampa was 39.5 years old, while the estimated median age of the population in Orlando was 36.3 years old. It's important to note that this median age includes all age groups, not just working professionals.
More than age, there is also higher education to consider. More college students means more opportunities to network and move into professional roles through alumni support.
| Major Universities in Tampa | Major Universities in Orlando |
| --- | --- |
| University of South Florida (USF) | University of Central Florida (UCF) |
| University of Tampa (UT) | Rollins College |
| Hillsborough Community College (HCC) | Valencia College |
| Saint Leo University | Seminole State College of Florida |
| Florida College | Full Sail University |
According to the National Center for Education Statistics, there were approximately 157,000 college students enrolled in degree-granting institutions in the Tampa-St. Petersburg-Clearwater metropolitan area during the fall of 2019 compared to 213,000 college students enrolled in degree-granting institutions in the Orlando-Kissimmee-Sanford metropolitan area.
Tampa is a bigger city and may provide slightly more occupational opportunities while Orlando is a great city for higher education and has a younger population.
Is Orlando or Tampa overpriced?
We've heard from quite a few people moving into the area that they feel Florida cities like Orlando and Tampa are overpriced. We disagree for a number of reasons.
First, Florida has been underpriced for decades and was able to sustain its "bargain status" as a result of fixed income seniors being the primary transplants to Florida. However, that has changed as Florida is the number one state in the country for relocations as of 2023 and its young population of working populations are moving in droves. Bloomberg magazine recently wrote an article on this phenomenon.
When a state becomes more popular, it grows with amenities and beautiful neighborhoods, and the real estate increases along with goods and services. But, we feel Florida is still the best "sunshine" deal in the country.


Second, no one has ever questioned the value of southern California or Hawaii real estate—well maybe they have—but anyway, Florida has comparable weather, better beaches than California, easier travel than Hawaii, lower cost of living than both states (e.g., no state income taxes), and property taxes that don't require an act of legislative wizardry (e.g., Proposition 13). Most Hawaii residents don't even own the land their home sits on—"leasehold".
Third, Florida is a spectacular place to live. It's the most visited state for vacation in America and it's the most liked U.S. State in the country. That's why people are moving here in droves: they want a better life.