Los Angeles to Florida: Should you make the move? (Pros and Cons)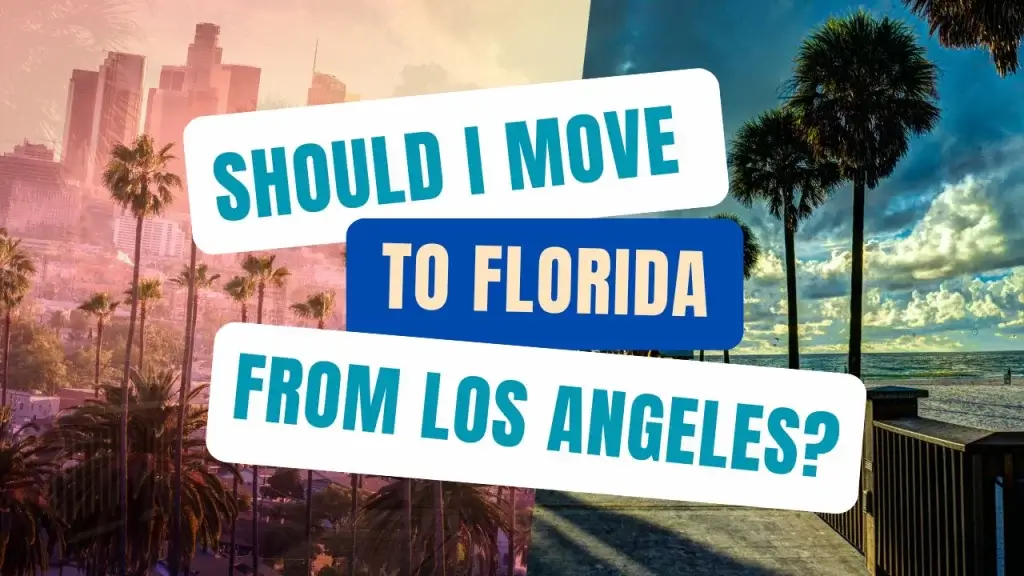 Los Angeles captivates with its year-round sunshine, vibrant nightlife, and an amazing restaurant scene. But should you make the move from Los Angeles to Florida in hopes of a better life?
In a previous blog post, we made a comparison between California and Florida as potential destinations for a move. We went a step further and wrote about the benefits of moving from San Diego to Florida.
Today, we will focus only on comparing Los Angeles with potential relocation cities in Florida such as Miami, Orlando, Jacksonville, and Tampa.
We will look at weather, housing, job opportunities, natural disaster risk, safety, and recreation.
Having lived in both the West Coast and in the Southeast, we, as relocation specialists, have gained valuable insights on the unique aspects of living in these two regions of the United States.
You should have a better idea if Florida is a good place to move from Los Angeles after reading this article.
LOS ANGELES VS FLORIDA: SHOULD YOU SWITCH THE CITY OF ANGELS FOR THE SUNSHINE STATE?
Moving from Los Angeles, California to Florida offers numerous advantages for a better quality of life, although it may not be completely without drawbacks.
Why you should move from Los Angeles to Florida
In contrast to Los Angeles, the major cities of Florida offer housing that is more affordable, exemption from state income tax, and boast some of the nation's fastest growing economies with lower overall costs of living.
In addition, Florida provides the same warm, pleasant weather throughout the year as Los Angeles, but with better beaches, warmer waters, and far lower risk for wildfires and earthquakes.
Why you shouldn't move from Los Angeles to Florida
Los Angeles has better weather than any city in Florida because it has lower average temperature and humidity levels makes it far more comfortable. LA also has a significantly lower risk of ocean storm damage, such as hurricanes and storm surges—especially for coastal homes.
Additionally, Los Angeles residents who have owned their homes for a long time benefit from an overall lower property tax rate because property assessments occur much less frequently in LA county than counties in Florida.
Furthermore, due to its immense size (15 million people), Los Angeles offers an unmatched quantity of options for dining, public spaces, and entertainment that surpass any other city in Florida.
DOES LOS ANGELES OR FLORIDA HAVE BETTER WEATHER?
This is a tough question that may change depending on who you ask. Let's stick to the data to let you decide.
If you are someone who loves mild summer-like vibes all year round, Los Angeles has better weather.
But make no mistake: you will pay more for the excellent weather conditions of Southern California.
And yet, there's a reason you're considering Florida—both places are renowned for their warm weather. Let's delve into the weather differences a little more.
A weather comparison of Los Angeles with the Florida cities of Miami, Orlando, Tampa, and Jacksonville based on data from weatherspark.com is presented below.
Temperature: Los Angeles boasts near-perfect weather with yearly highs between 68°F to 80°F. Florida on the other hand, is much warmer. Expect highs ranging from 65°F to 90°F in Miami, Orlando, Tampa, and Jacksonville.
Average High Temperature (°F)
| Cities | Jan | Feb | Mar | Apr | May | Jun | Jul | Aug | Sep | Oct | Nov | Dec |
| --- | --- | --- | --- | --- | --- | --- | --- | --- | --- | --- | --- | --- |
| Los Angeles | 68 | 68 | 70 | 72 | 74 | 78 | 83 | 84 | 83 | 78 | 72 | 67 |
| Orlando | 71 | 73 | 77 | 82 | 87 | 89 | 90 | 90 | 88 | 83 | 77 | 73 |
| Miami | 76 | 77 | 79 | 82 | 85 | 88 | 89 | 89 | 88 | 85 | 80 | 77 |
| Jacksonville | 65 | 68 | 73 | 79 | 84 | 88 | 90 | 89 | 86 | 80 | 73 | 67 |
| Tampa | 71 | 73 | 77 | 82 | 88 | 90 | 90 | 90 | 89 | 84 | 78 | 73 |
Average Low Temperature (°F)
| Cities | Jan | Feb | Mar | Apr | May | Jun | Jul | Aug | Sep | Oct | Nov | Dec |
| --- | --- | --- | --- | --- | --- | --- | --- | --- | --- | --- | --- | --- |
| Los Angeles | 49 | 50 | 52 | 55 | 59 | 62 | 65 | 66 | 64 | 60 | 53 | 48 |
| Orlando | 52 | 54 | 59 | 63 | 69 | 74 | 75 | 76 | 74 | 68 | 61 | 55 |
| Miami | 63 | 64 | 67 | 70 | 74 | 77 | 78 | 78 | 77 | 74 | 70 | 65 |
| Jacksonville | 46 | 49 | 54 | 59 | 66 | 72 | 74 | 75 | 72 | 64 | 55 | 49 |
| Tampa | 52 | 54 | 59 | 64 | 70 | 75 | 76 | 76 | 74 | 67 | 60 | 55 |
Seasonal Variation: In LA, enjoy steady temperatures varying only about 12 degrees throughout the year. Florida, on the other hand, revels in summer-like conditions nearly all year round. Expect daily temperatures from 82°F to a tropical 90°F. There will be a few weeks here and there in Northern Florida cities that will feel like fall at 55°F to 60°F.
Winter: LA's winters are mild, with temperatures between 68°F to 72°F, perfect for beach outings. Florida's winters are slightly warmer. Miami typically has the warmest winters in Florida, reaching up to 77°F, while other Florida cities like Jacksonville and Tampa dip below 70°F.
Summer: LA's summers are some of the best in the U.S, ranging from 73°F to 80°F—perfect for the beach. Florida's summers are hotter and humid, ranging from 82°F to 90°F; it's hot all the time.
Rainfall: LA has a Mediterranean climate with dry summers and rainy winters, experiencing less overall rainfall than Florida. And in recent years, very little rain. Florida's cities receive most of their rainfall in summer, typically adding up to 45 to 55 inches annually. Expect a rain shower nearly every afternoon in the Florida summer monsoon season.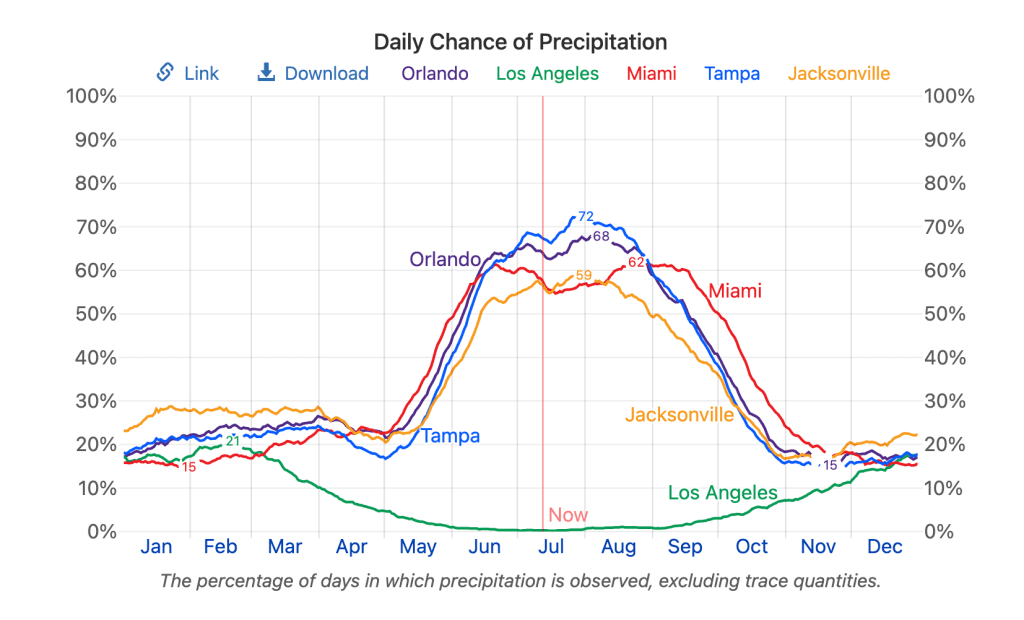 Humidity: LA enjoys lower humidity levels, thanks to its coastal desert climate. Florida's cities have elevated humidity levels, particularly in the summer, because of their tropical location. This can intensify the heat, making summer days feel even hotter and reducing the comfort levels in shaded areas compared to Los Angeles.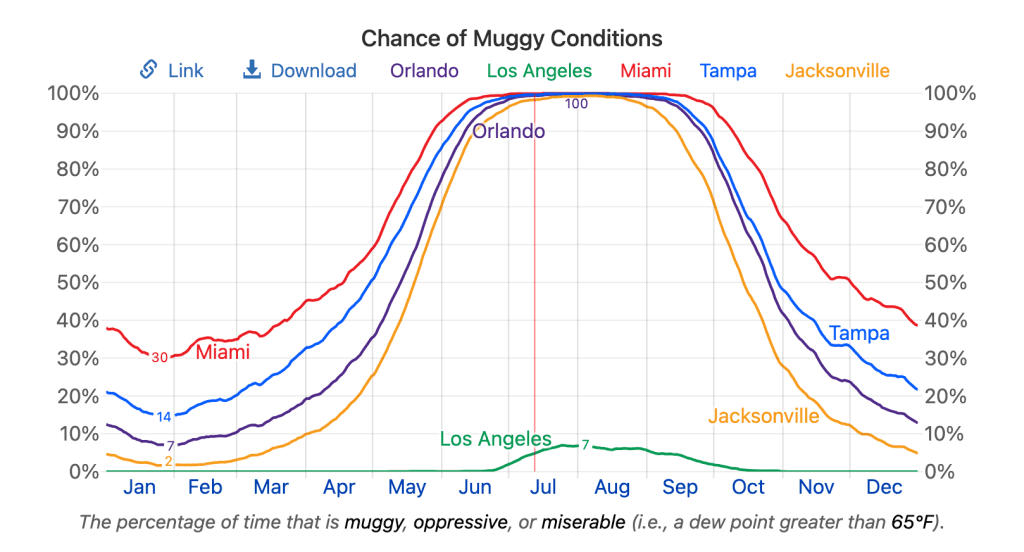 DOES LOS ANGELES HAVE BETTER WEATHER THAN FLORIDA?
If you ask most people their weather preference, Los Angeles is far more comfortable in the summer months with its near perfect temperatures, allowing for shorts and t-shirts almost every day.
In fact, when we visit Southern California, it's the first thing we notice—the temperatures.
While Los Angeles and comparable Florida cities like Orlando, Miami, Tampa, and Jacksonville all have warm weather, the type of warm weather you'll encounter is very different.
Los Angeles offers a breathtaking experience with its crystal clear skies, refreshing ocean breezes, low humidity, and delightful mornings and evenings. The period from November to February is particularly enchanting, as it brings a touch of autumn, especially during the evenings.
Los Angeles will have about 20 days over 90 degrees where Miami will have 130 days over 90 degrees—big difference in heat.
If you love variety in weather, LA is the place to be. If you are someone who likes to have a lot of clothing options—from sweaters to flip flops—it's hard to beat Los Angeles.
Florida, on the other hand, is best for people who love hot, humid, and tropical climates. The hot and humid environment also makes for a dramatic landscape change from Los Angeles with greenery as far as the eye can see.
We have had many clients who will gladly take the extra humidity, additional rainfall, and warmer winters in Florida.
IS LOS ANGELES MORE EXPENSIVE THAN FLORIDA?
Los Angeles is significantly more expensive than Florida in many aspects. But you should know that Florida isn't the cheapest state around either.
Let's compare Los Angeles to Miami, given that Miami is the most expensive large city in Florida and the cultural hub of Florida.
Real Estate Costs
Los Angeles is among the priciest cities to live in nationwide, and its real estate sector is no different. In fact, Los Angeles' real estate is famous for all the wrong reasons: cha-ching.
According to Rocket Mortgage, the average home sale price in 2023 in Los Angeles, CA has been $958,401.
It's hard to afford a home when the average price is nearly seven figures.


In contrast, to LA, Miami, FL, would provide you considerable savings. Again using Rocket Mortgages average home sale data, Miami is FAR CHEAPER than Los Angeles.


The average home sale in Miami in 2023 has been $511,054. That's close to a $440k savings when moving to south Florida.
Moving from LA to Miami is like winning the geographic lottery!
Not to mention, if you moved to a city like Tampa or Orlando, you'd save even more money.
State Taxes
Florida doesn't have any state income taxes, while California does. It's just that simple.
Living in Florida means keeping more of your paycheck or retirement income.
There is a reason we are seeing headlines like this one lately.


California's state income tax rate ranges between 1% and 12.3%, depending on your income. In other words, the more money you earn in California, the higher the proportion of your income will go to taxes.
We don't know about you, but we don't want to be penalized for success.
In contrast, Florida doesn't penalize success as California does. If you earn more in Florida, you will keep more—at least from state income taxes.
Check out the difference of what you'll be taxed on income in both California and Florida.
| Income Level | California Tax Owed | Florida Tax Owed |
| --- | --- | --- |
| $35,000 | $352.00 | $0 |
| $50,000 | $661.98 | $0 |
| $70,000 | $1,389.42 | $0 |
| $80,000 | $2,155.70 | $0 |
| $100,000 | $3,623.38 | $0 |
| $125,000 | $5,989.42 | $0 |
| $165,000 | $11,830.82 | $0 |
| $225,000 | $18,580.82 | $0 |
| $300,000 | $27,830.82 | $0 |
| $500,000 | $46,330.82 | $0 |
Married Filing Jointly State Income Tax (CA vs FL)
If you are fortunate enough to make $500,000+ per year, imagine what you could buy or invest in with an extra $46k per year?
Heck, even if you are at the Los Angeles median household income of $80k, you'd still keep an extra $2,155 per year.
When we moved to Florida, we saw immediate tax savings. This is much the same story for our clients.
Check out a Florida home and what you can expect for your money below.
Property Taxes
Okay, here is where things get interesting. You are probably thinking Florida is much cheaper when it comes to property taxes—but you'd be wrong.
Interestingly, Florida has a higher average property tax rate than California.
This might seem surprising considering California's notoriously high tax rates.
Florida has an average property tax rate of .86%, while Los Angeles has an average property tax rate of .82%.
We know, we were surprised to. However, the devil is in the details as they say.
There are a few reasons why California property taxes rates are lower than Florida:
In 1978, Californians voted for Proposition 13. This law capped property taxes at 1% of the property's worth, and they could only increase slightly each year, a maximum of 2%.
This law protected homeowners from runaway property taxes. People were retiring in California and couldn't afford to stay in their homes with fixed incomes.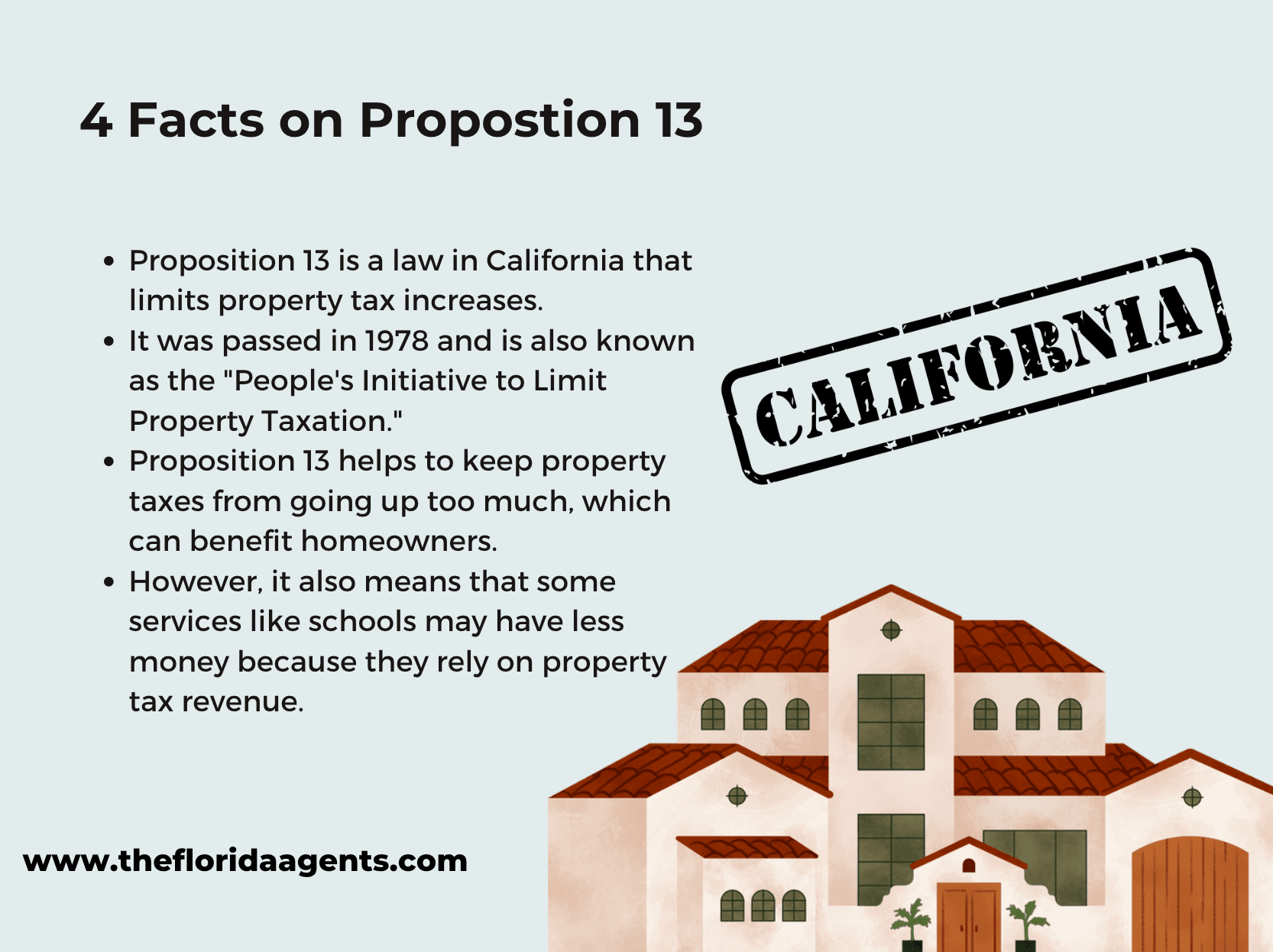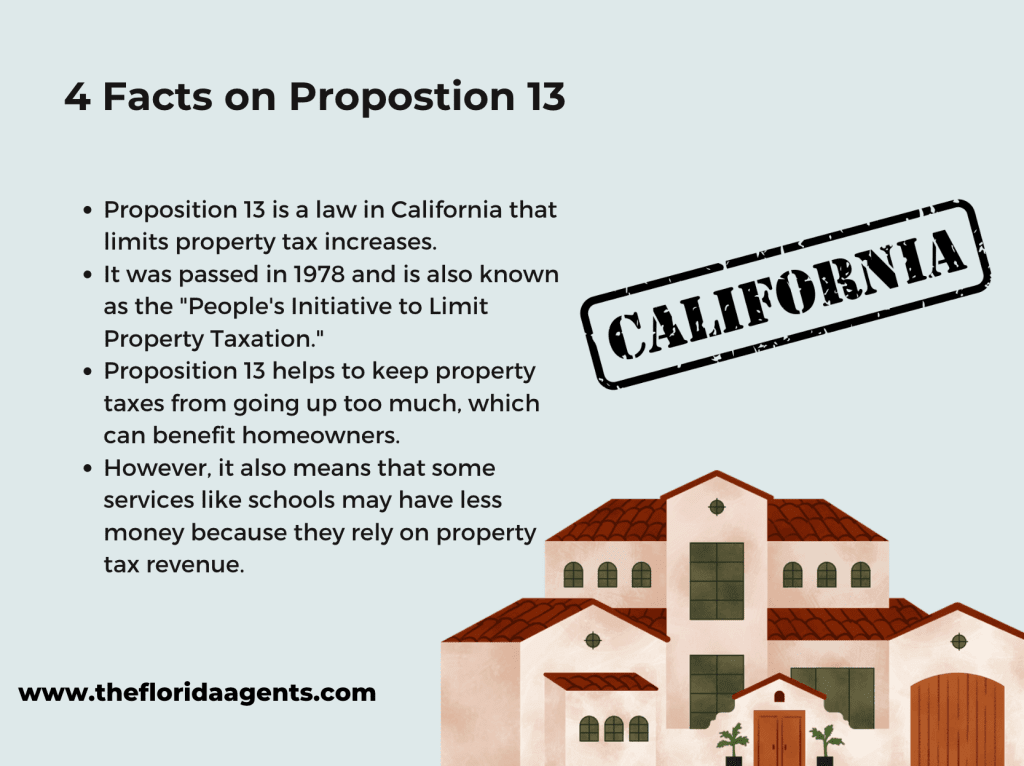 To combat this issue, California property reassessment happens infrequently—only when you buy a new property or construct something new on your land.
So if you've owned your house for a long time, the assessed value might be much lower than the current market value—helping people remain in their homes regardless of market inflation.
So, if I leave Los Angeles for a Florida city, will I save money on property taxes?
If you bought a home decades ago in Los Angeles, the answer is most likely no.
But, if you've purchased a home in the last 10 years in Los Angeles, there is a good chance property taxes will be more affordable in Florida.
Let's dig into the specifics.
You bought a home in LA decades ago
Proposition 13 in California could be a saving grace if you've been a long-term homeowner there. Why? Because it shields you from constant property reassessments.
While you may have the privilege of owning a magnificent million-dollar residence, the advantage your tax assessment has received is a result of your extended residency, which began with a significantly lower initial assessment.
You bought a home in LA decades ago
For new homeowners in LA (10 years or less), the scales tilt differently. With the soaring value of homes, you might find yourself paying higher property taxes than in Florida because your home is worth significantly more.
To get the complete picture, let's do a little head-to-head: Miami vs. Los Angeles.
Buy a $500,000 home in LA today and your property taxes would be about $4,350, thanks to a .87% tax rate. However, the same-priced home in Miami would result in a slightly higher property tax of $5,050 due to Florida's 1.01% tax rate—about $700 more than in LA.
Yet, finding a suitable home in LA for $500,000 could be like searching for a needle in a haystack given the housing market in 2023.
Instead, your home is likely to average $900k, which would result in a $9,000 property tax bill.
Miami, on the other hand, provides far more options, with quadruple the number of homes available at $500k. So, the real saving might not be in taxes, but in the home prices themselves!
| City | Average Home Sale Value | Property Tax Rate | Property Tax Owed (Approximate) |
| --- | --- | --- | --- |
| Los Angeles | $985,000 | 0.82% | $8,077 |
| Naples-Immokalee-Marco Island | $810,000 | 0.86% (FL Avg) | $6,966 |
| Miami-Fort Lauderdale-West Palm Beach | $610,000 | 0.86% (FL Avg) | $5,266 |
| North Port-Sarasota-Bradenton | $513,000 | 0.86% (FL Avg) | $4,412 |
| Cape Coral-Fort Myers | $445,000 | 0.86% (FL Avg) | $3,827 |
| Crestview-Fort Walton Beach-Destin | $441,500 | 0.86% (FL Avg) | $3,795 |
| Orlando-Kissimmee-Sanford | $435,000 | 0.86% (FL Avg) | $3,741 |
| Port St. Lucie | $415,000 | 0.86% (FL Avg) | $3,571 |
| Sebastian-Vero Beach | $412,000 | 0.86% (FL Avg) | $3,543 |
| Tampa-St. Petersburg-Clearwater | $406,730 | 0.86% (FL Avg) | $3,497 |
| Jacksonville | $393,015 | 0.86% (FL Avg) | $3,382 |
Average Property Taxes (LA vs Florida Cities)
**Some areas of Los Angeles can see rates as high as 1.25%.
Cost of Living: Los Angeles vs Florida
According to the yearly ranking by U.S. News, Florida ranked #36, while California ranked #49 in terms of cost of living.
On average, Florida has a MUCH lower cost of living than Los Angeles according to Salary.com's cost of living analysis.
For this example, let's compare the cost of living in Tampa to Los Angeles.
| Category | Los Angeles, CA | Tampa, FL | Percentage Difference |
| --- | --- | --- | --- |
| Housing | $3,982 | $2,678 | -32.7% |
| Groceries | $432 | $412 | -4.6% |
| Utilities | $143 | $162 | +13.3% |
| Transportation | $353 | $304 | -13.9% |
| Healthcare | $311 | $304 | -2.3% |
| Miscellaneous | $221 | $209 | -5.4% |
| Total Cost of Living | $5,442 | $4,069 | -25.2% |
| Salary (Net Change) | $60,000 | $50,867 | -15.2% |
| Net Change in Disposable Income | $54,558 | $46,799 | -14.2% |
Cost of Living (LA vs Tampa)
In terms of cost of living and purchasing power, Tampa, FL stands out as the more affordable choice in comparison to Los Angeles, CA.
In terms of housing, Tampa stands out with an average cost of $2,678, which is significantly lower than Los Angeles' $3,982. Groceries are also more affordable in Tampa, with a 4.6% lower cost compared to Los Angeles.
While utility costs are slightly higher in Tampa by 13.3%, transportation expenses see a noticeable reduction of 13.9% in Tampa.
Healthcare costs exhibit a minor difference of -2.3%, and miscellaneous expenses are 5.4% lower in Tampa.
All these factors combined contribute to a total cost of living that is 25.2% less in Tampa compared to Los Angeles—accounting for differences in salary.
Although the net change in disposable income is also lower in Tampa (-14.2%), it's important to consider the overall impact on one's lifestyle and financial well-being.
Tampa offers a more affordable living experience without compromising on entertainment and the expereicnes that make life fun.
Cost of Doing Business
It's well known that California imposes some of the highest taxes on businesses in the country, and these taxes are passed down to consumers.
TaxFoundation.com's analysis of the state income tax rate climate shows that Florida ranks #32, and California ranks #7 for the highest corporate taxes.
Using the same index, Florida has dropped from 5th lowest business taxes to 4th while California has remained the 48th most expensive place to do business for 10 straight years.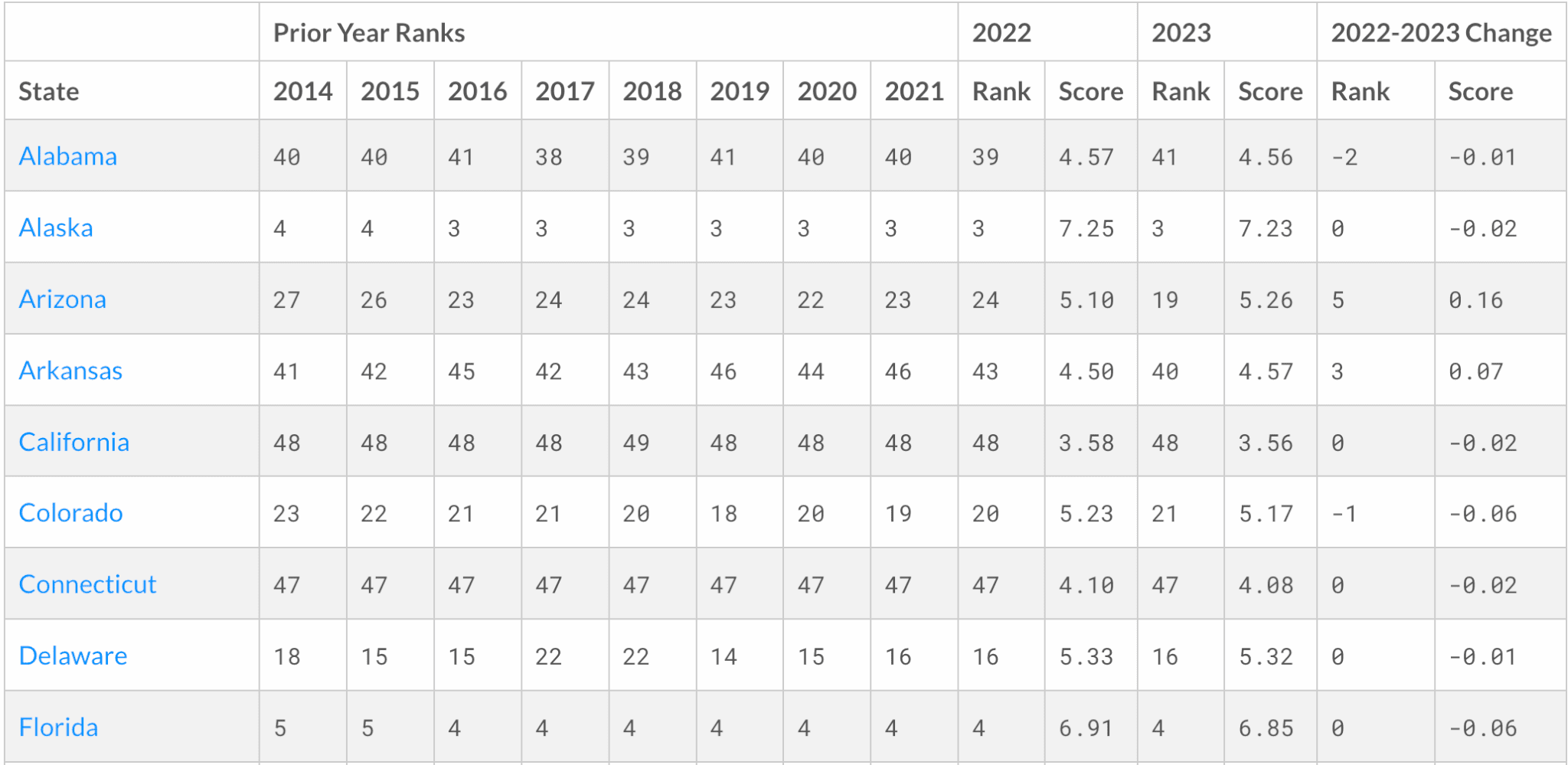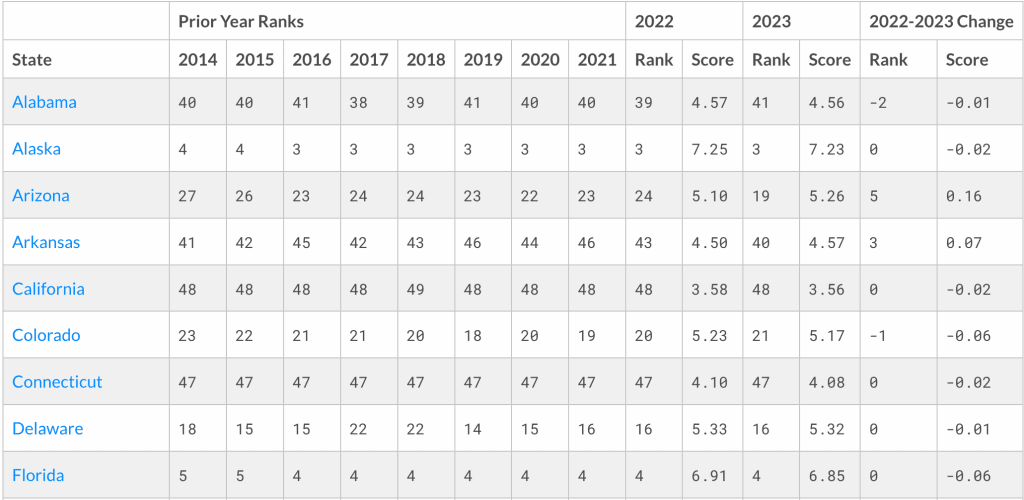 This can potentially translate into cost savings for businesses and, in turn, benefit consumers by offering more competitive prices.
And, let's not forget the number of businesses leaving California. As of 2019, 2,083 business entered California while 4,018 left. California lost nearly 1,935 businesses in 2019.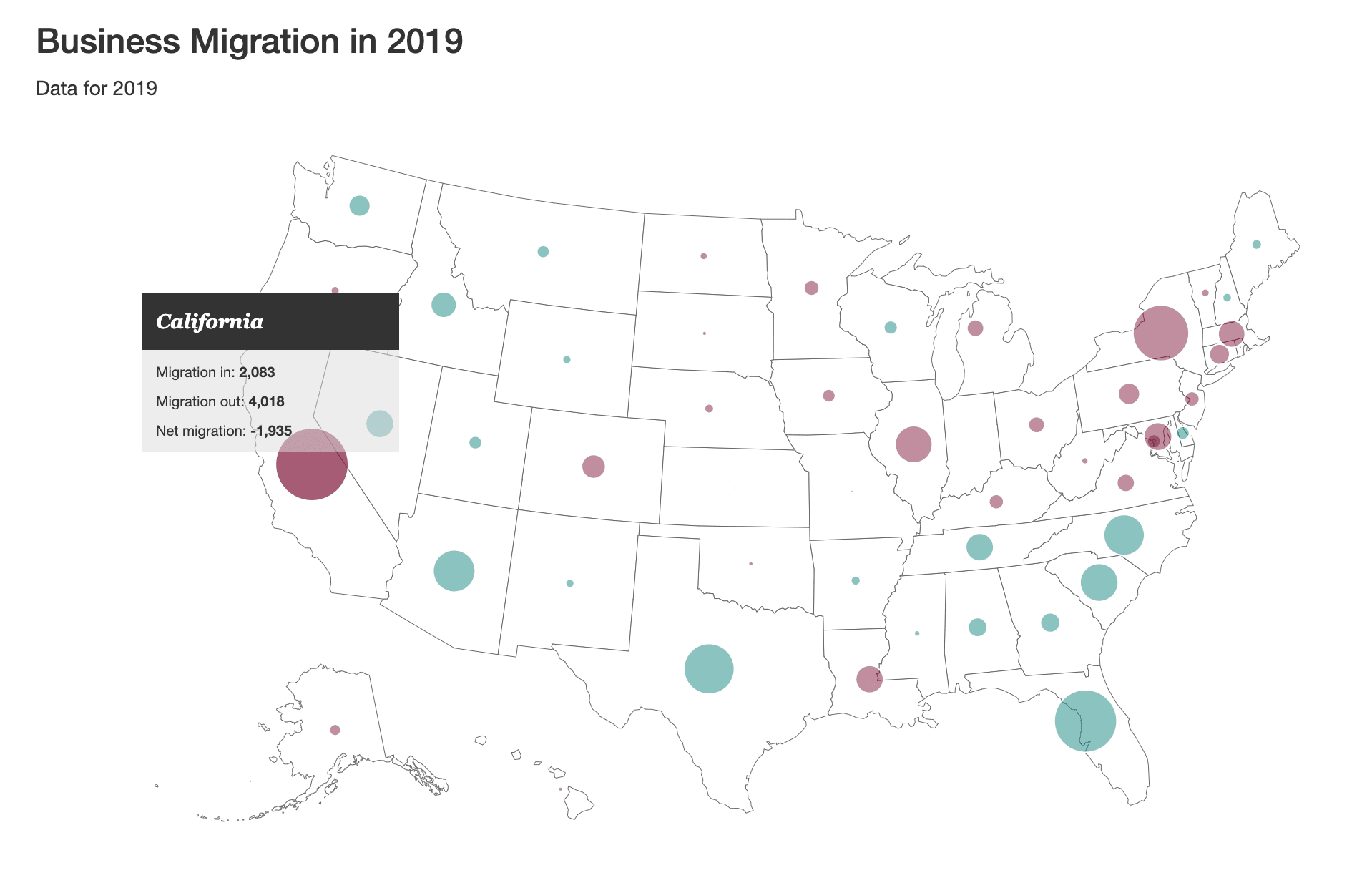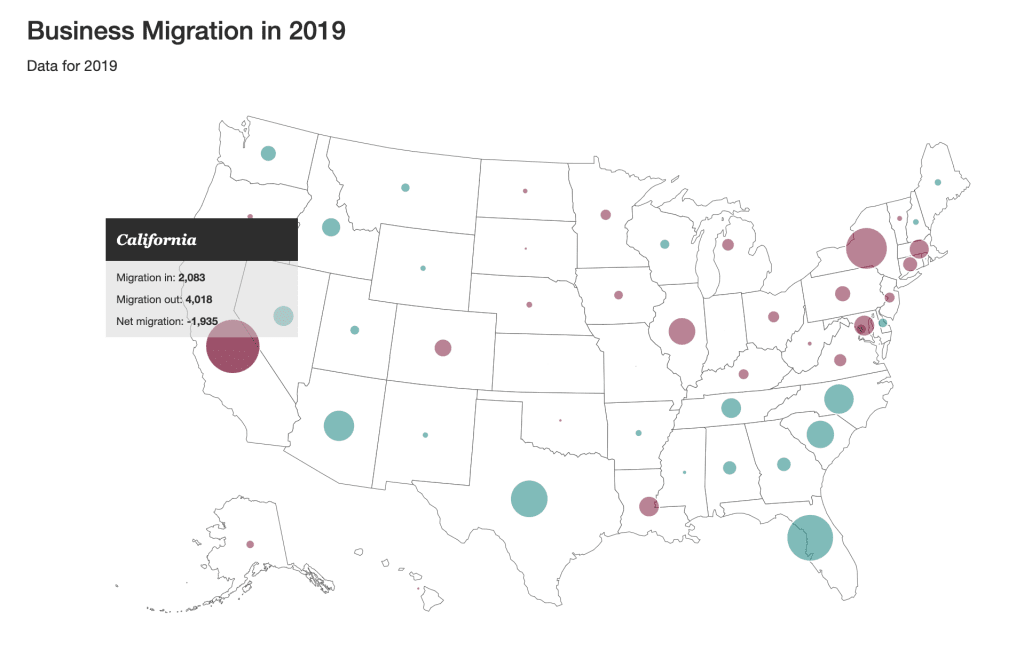 And what about Florida? Well, it's a completely different story. Florida had a net business migration of 1,42 in 2019.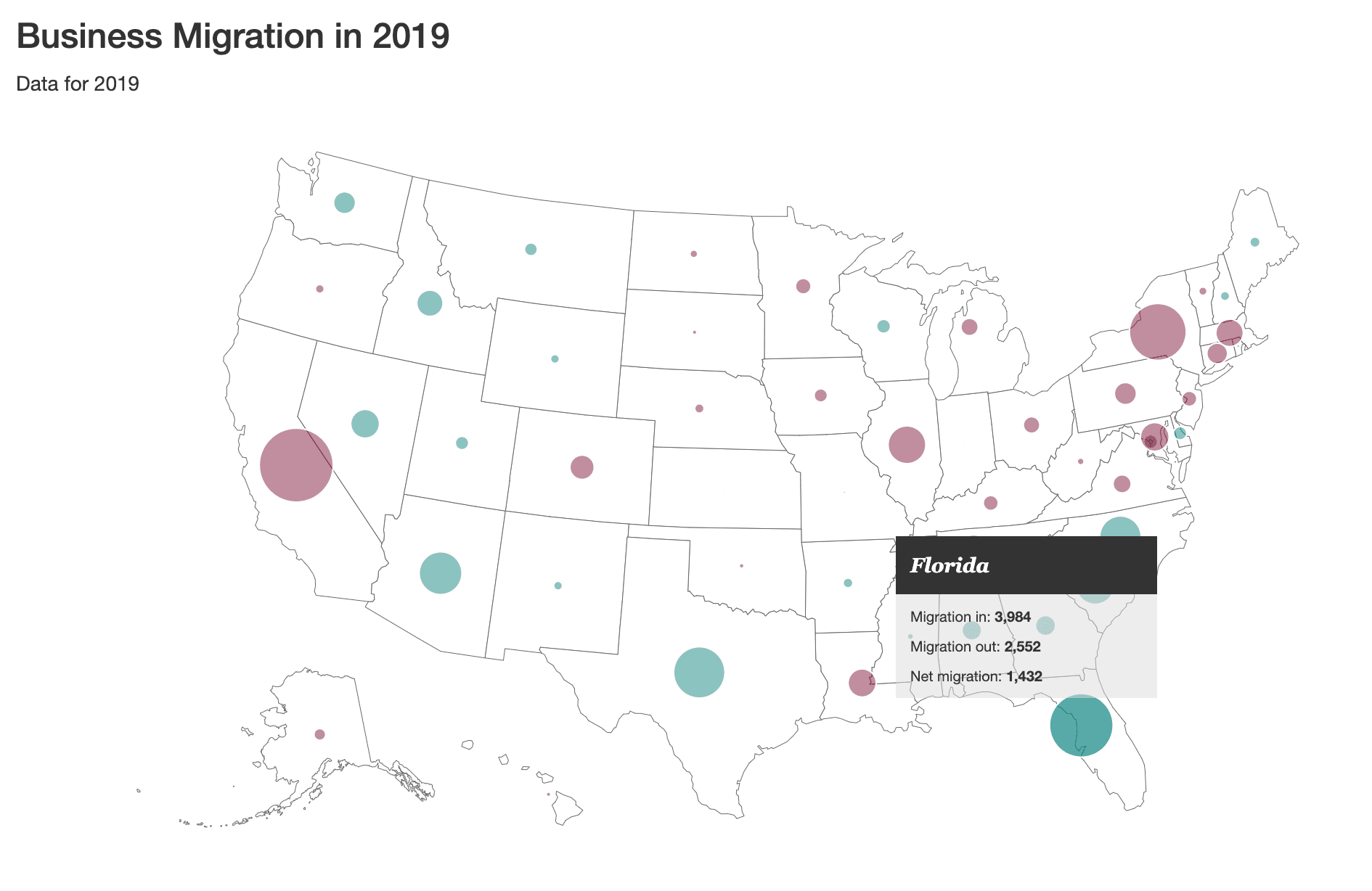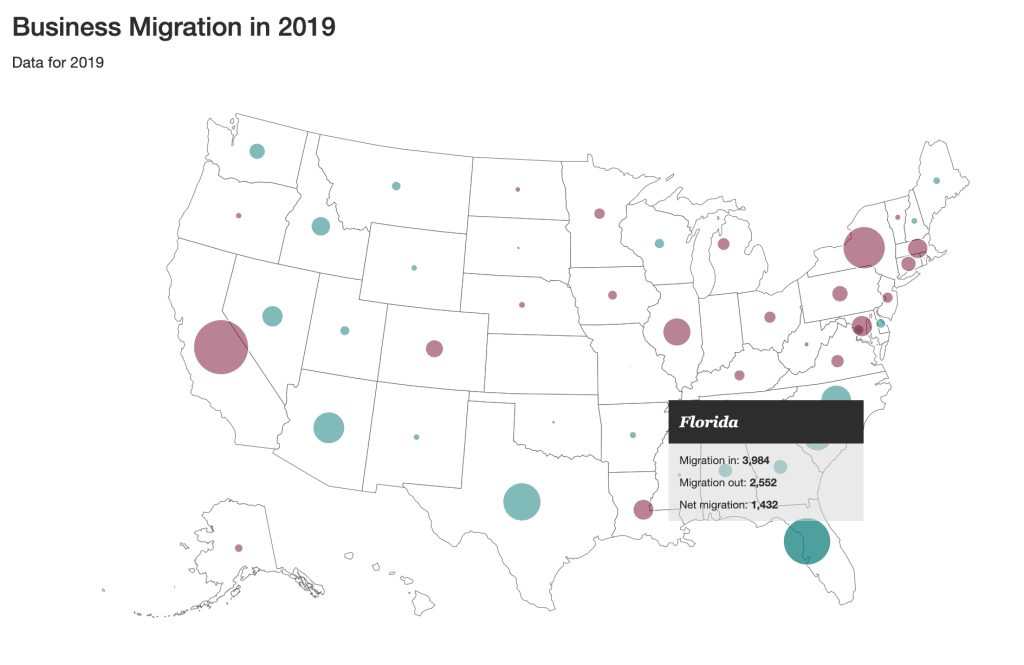 Final Verdict: Will moving to Florida from Los Angeles save you money?
Moving to Florida from California will leave more money in your pocket when it comes to cost of living.
Savings are bigger if you pick an inexpensive city in Florida such as Orlando, Tampa, or Jacksonville. That's because the homes are affordable and the entertainment costs less.
But money isn't everything. Before deciding on a move, you should also consider factors like lifestyle, job opportunities, natural disaster risks, safety, and recreation.
For some, the cultural opportunities, lifestyle, and weather in Los Angeles might be worth the higher cost.
Each person's situation and preferences are unique, so it's crucial to weigh all factors before making a decision.
Job Market: Los Angeles vs Florida
Florida and California are indeed both prime states for job opportunities, but from your data, it appears that Florida is leading in terms of job growth.
When you take into consideration the year-over-year percentage increase and the job growth per capita, Florida has seen a higher rate of growth.
However, it's important to remember that the types of jobs and industries may differ between the two states, so depending on your career path, one might still be preferable over the other.
Let's compare Orlando and Los Angeles—two growing job markets.
LA vs Orlando Job Market
In Orlando, which is known for its exciting theme parks and sunny weather, the job market has been doing pretty well. From December 2022 to May 2023, the total nonfarm employment in Orlando increased from 1,436.6 to 1,434.4, with a 12-month percentage change of 3.6%.
That means more people are finding jobs and contributing to the local economy while enjoying the fun attractions!
Now, let's take a trip to Los Angeles, the city of stars and movie magic. In the same period, the total nonfarm employment in Los Angeles went from 4,546.3 to 4,645.0, with a 12-month percentage change of 2.2%.
That's pretty impressive too, considering the big population and diverse industries in L.A.
So, both Orlando and Los Angeles have seen job growth, but Orlando had a slightly higher employment growth rate at 3.6% compared to Los Angeles' 2.2%.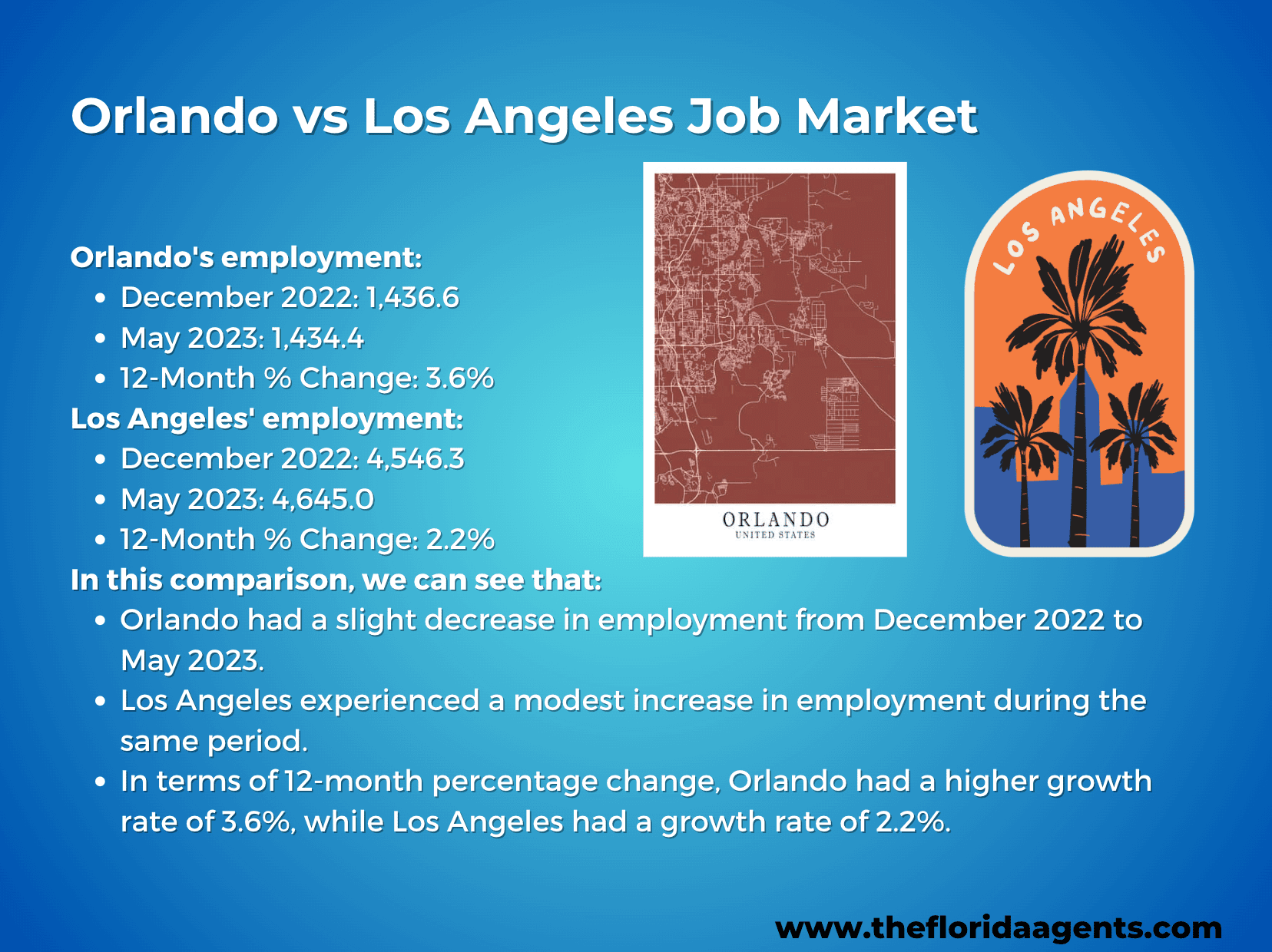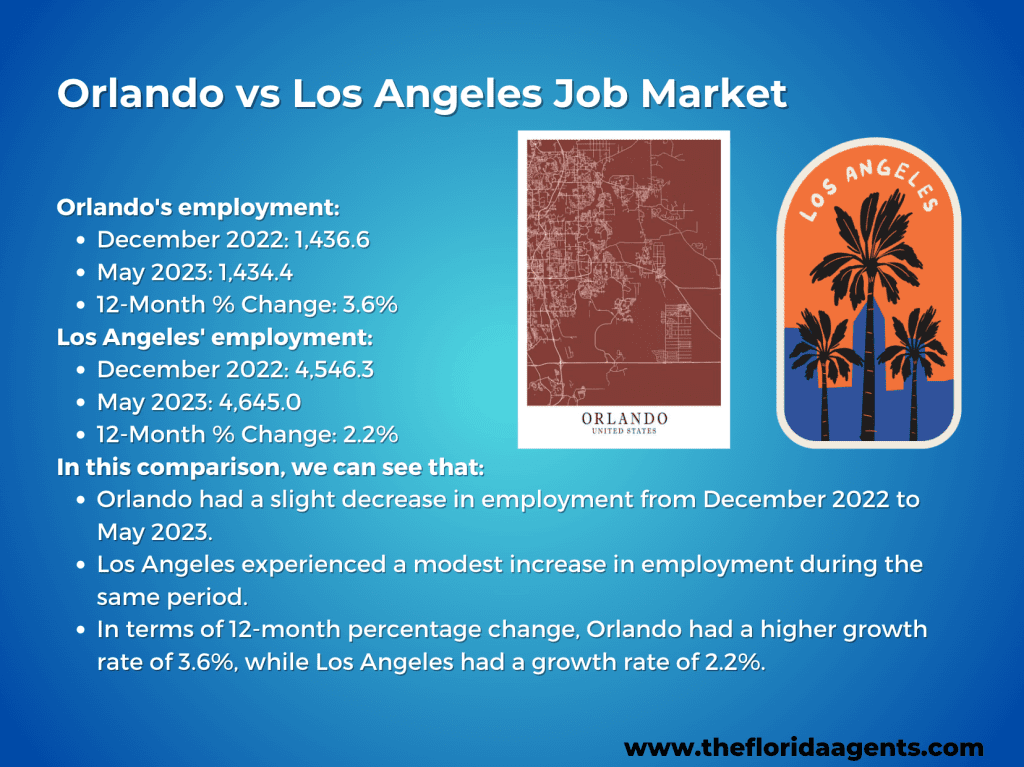 Orlando is riding a roller coaster of job opportunities, going up a little faster than L.A.'s fast moving city life.
Whether you prefer the enchantment of Orlando's theme parks or the glitz and glamour of Los Angeles, both cities are providing opportunities for people to work and be a part of their unique communities.
Outdoor Activities: Los Angeles vs Florida
We love Florida and there is so much do to, but while Florida wins when it comes to the outdoor beach experience, Los Angeles' breadth of outdoor experiences are rivaled by few cities.
Los Angeles boasts a diverse landscape that includes beaches, mountains, and expansive parks. It offers opportunities for hiking, biking, and exploring nature in the Santa Monica Mountains, Griffith Park, and Topanga State Park.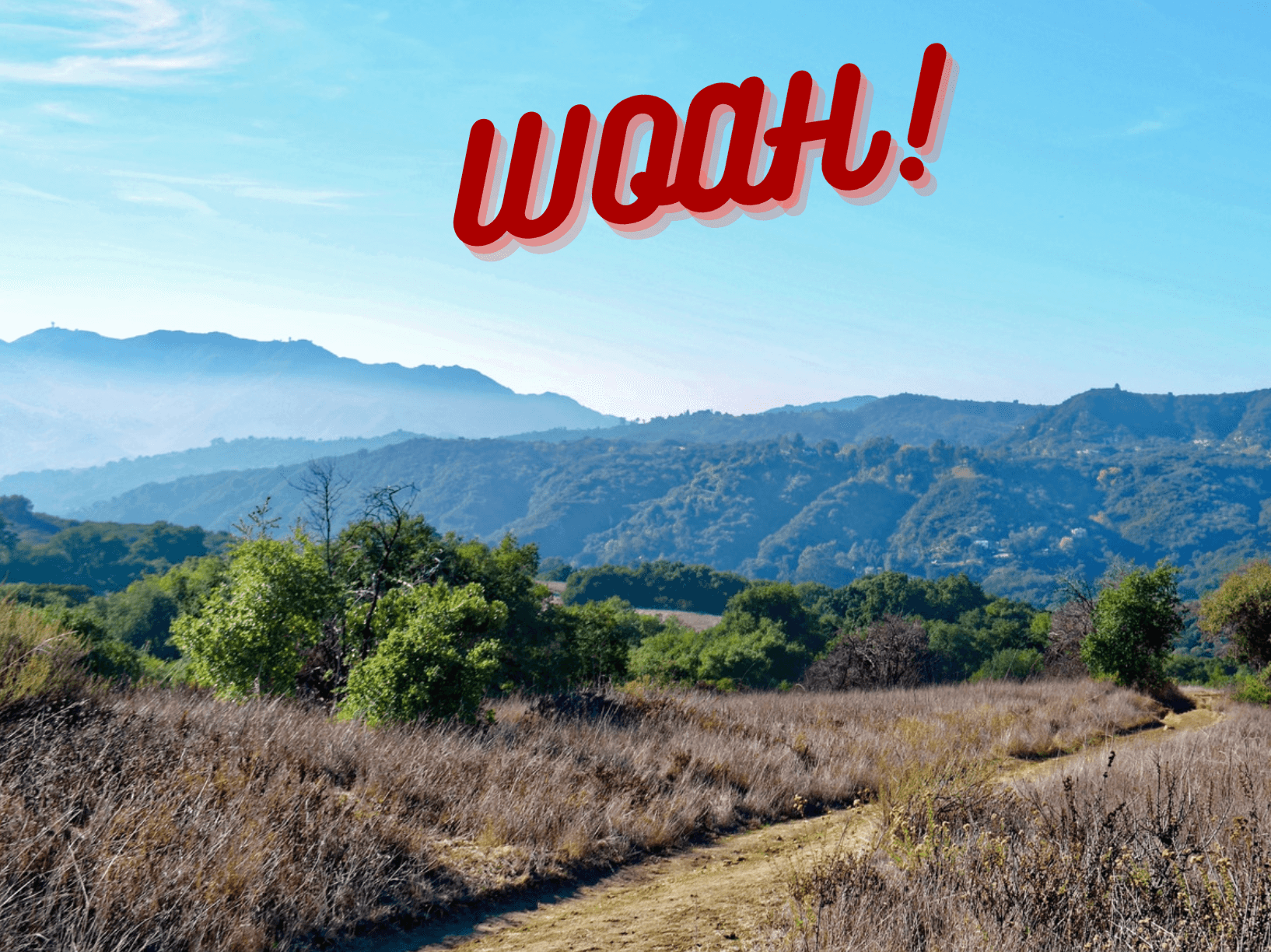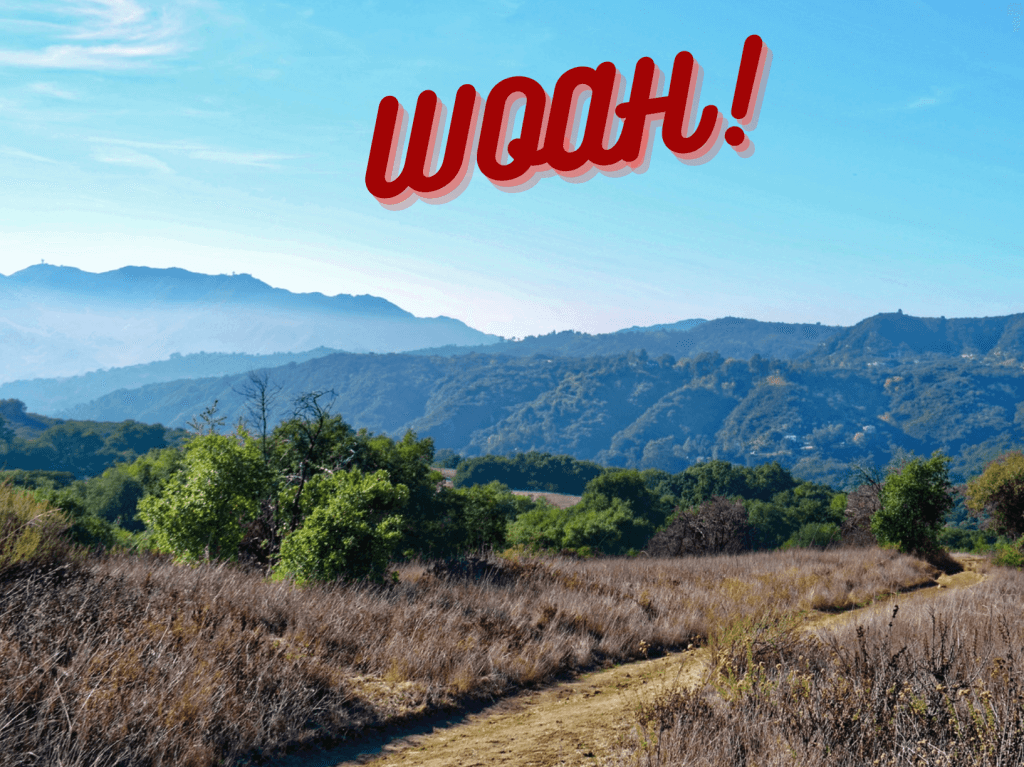 Additionally, Los Angeles is home to iconic coastal areas like Venice Beach and Santa Monica Beach, providing ample opportunities for outdoor recreation and water activities.
Los Angeles has both beach AND elevation, surfing AND skiing. In fact, Los Angeles is only a short drive from great winter skiing.
Ski Resorts Near Los Angeles
Mountain High Resort:

Distance: 75 miles, 1.5-2 hours

Big Bear Mountain Resort (Bear Mountain and Snow Summit):

Distance: 100 miles, 2-2.5 hours

Mt. Baldy Ski Area:

Distance: 40 miles, 1-1.5 hours

Snow Valley Mountain Resort:

Distance: 90 miles, 1.5-2 hours

Mountain High North Resort (formerly known as Wrightwood):

Distance: 80 miles, 1.5-2 hours
There isn't a direct comparison between the outdoor experience of Los Angeles and a similar Florida city. Miami would be the closest because it closest to the national parks.
The outdoor experiences in Miami tend to be beach, reef, and forest related.
National Parks Near Miami
Everglades National Park: Rich biodiversity, wetland ecosystem (1-hour drive)
Biscayne National Park: Marine environment, coral reefs, islands (close proximity)
Big Cypress National Preserve: Vast swamplands, cypress forests, wildlife (adjacent to Everglades)
Dry Tortugas National Park: Remote and pristine, crystal-clear waters, historic fort (70 miles west of Key West)
Both Los Angeles and Miami/Florida offer a wide range of outdoor experiences. In Los Angeles, you can enjoy mountain skiing at resorts located within a few hours' drive.
The city is also surrounded by numerous hiking trails, providing opportunities to explore nature. .
On the other hand, Miami and its vicinity boast national parks and preserves like the Everglades, Biscayne, Big Cypress, and Dry Tortugas. These parks showcase diverse ecosystems, including wetlands, marine environments, coral reefs, and pristine islands.
While Florida has an abundance of hiking, walking, and tropical water activities, it's no match for Los Angeles' opportunities for outdoor enthusiasts.
And if you are up for a drive in California, the sheer amount of outdoor activities available to you compared to Florida is virtually limitless.
| Outdoor Features | California | Florida |
| --- | --- | --- |
| National Parks | 9 | 3 |
| State Parks | 280 | 175 |
| Acres of Protected Forests | 20 million | 3 million |
| Acres of Coastline | 840 miles | 1,350 miles |
| Estimated Trail Systems | 30,000 miles | 8,426 miles |
| Highest Elevation | Mount Whitney (14,505 ft) | Britton Hill (345 ft) |
California vs Florida Outdoor Experiences
Am I safer in Florida than Los Angeles?
There are two things we consider when discussing safety: crime and natural disasters.
We will focus on natural disasters as crime statistics very tremendously based on the Florida city chosen and the metrics used.
Florida does have a higher risk of hurricanes and tropical storms, California is more prone to wildfires and droughts.
Comparing the damages incurred by these natural disasters, it appears that Florida experiences a higher cost of damage annually, primarily due to tropical cyclones.
According to the National Centers for Environmental Information, Florida is a safer place overall with much less destruction—despite hurricane occurrences.
The reason is because hurricanes do far less damage is the east than wildfires and droughts do in the west.
Take a look at Florida below, when selecting for all natural events (drought, flooding, freezes, severe storms, cyclones, wildfires, and winter storms), Florida only surpasses 100 billion once (2022) and most years the total amount of damage is far below.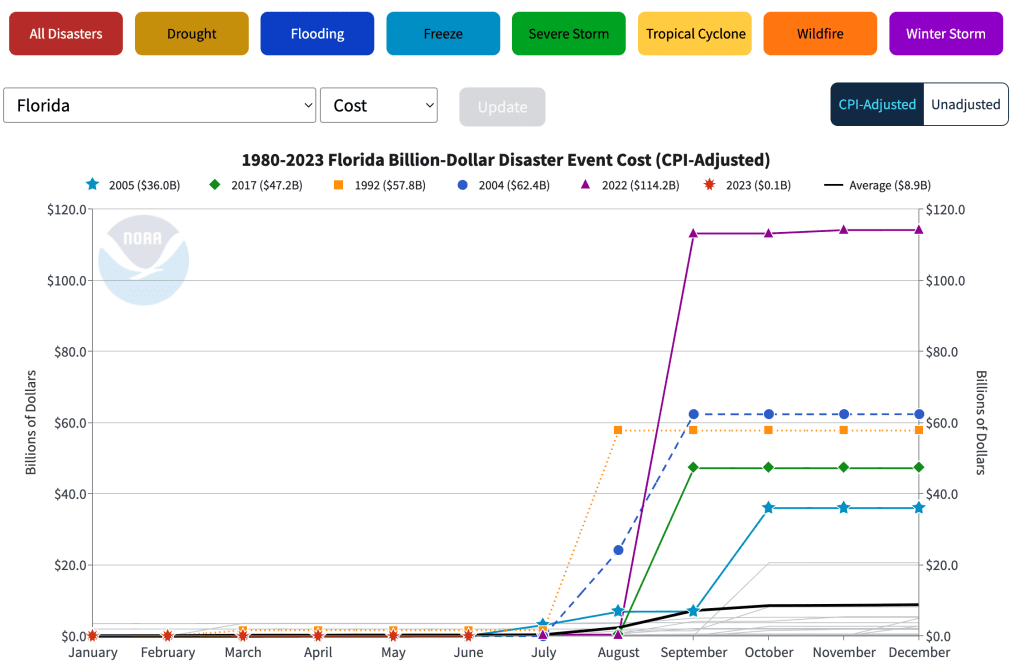 On the other hand, California is quite an expensive and dangerous place when it comes to natural disasters. Most of the damage is done in the form of wildfires—typically coinciding with intense droughts.
California accumulated estimated damages of 176 billion (2022), 158 billion (2021), 380 billion (2017), and 152 billion (2012).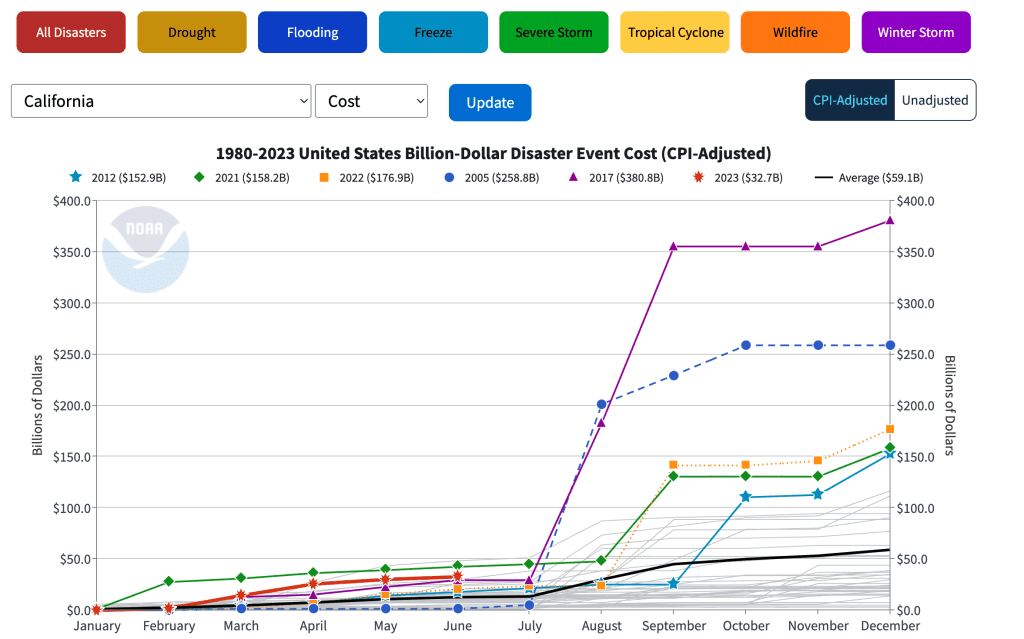 Los Angeles County has experienced its share of devastating wildfires over the years, leaving a mark on the landscape and communities. From the massive Station Fire in 2009, which burned 160,577 acres and claimed two brave firefighters' lives, to the destructive Bobcat Fire in 2020, scorching 115,796 acres and destroying 170 structures, the region has witnessed the destructive power of these infernos.
The Woolsey Fire of 2018 stands out, consuming 96,949 acres and ravaging 1,643 structures, including 1,121 in Los Angeles County, while claiming three lives.
While these wildfires demonstrate the importance of wildfire preparedness and resilience, those seeking a different outdoor experience might find solace in the lush landscapes and natural wonders of Florida, where the threat of wildfires is comparatively lower.
When comparing safety, Florida has a higher risk of hurricanes while California is prone to wildfires and droughts.
Florida experiences higher annual damages primarily from tropical cyclones, but it is still considered safer overall.
Los Angeles County has faced devastating wildfires like the Station Fire and Bobcat Fire, highlighting the importance of wildfire preparedness. For those seeking an outdoor experience with lower wildfire risks, Florida offers lush landscapes and natural wonders.
If you are looking for the safety of Florida without the high hurricane risk, check our cities in like Orlando and Clermont in Central Florida which have historically low hurricane risk.
What's better for entertainment: Los Angeles or Florida?
Let's keep this section short because it's an absurd question.
When it comes to entertainment, Los Angeles and Florida offer VERY different experiences in both scale and options.
Los Angeles, known as the entertainment capital of the world, boasts a vibrant entertainment industry, Hollywood fame, and a plethora of cultural events. There are more restaurants per square mile than any city in Florida could hope to compete with.
It's a hub for movies, music, and artistic expression. World famous museums, incredible gardens, and opulent architecture paint the city with culture and excitement.
On the other hand, Florida offers its own unique entertainment options, with beautiful beaches, theme parks, and a laid-back lifestyle.
But, let's be honest, there aren't nearly as many options or cities that compete with Los Angeles in Florida.
| Entertainment Type | Los Angeles | Miami | Orlando | Tampa |
| --- | --- | --- | --- | --- |
| Entertainment Industry | Home to Hollywood and major film studios | Emerging film and TV production | Theme park capital of the world | Growing film and TV production |
| Cultural Events | Sundance Film Festival, Grammy Awards | Art Basel, Miami Fashion Week | International Drive festivals | Gasparilla Pirate Festival |
| Music Scene | Live music venues, iconic Hollywood Bowl | Vibrant nightlife, Latin music | Concerts at Amway Center | Live music venues, Tampa Bay Blues Festival |
| Sports | Home to major sports teams (Lakers, Dodgers) | Miami Heat, Miami Dolphins | Orlando Magic, Orlando City SC | Tampa Bay Buccaneers, Tampa Bay Lightning |
| Beaches | Santa Monica, Venice Beach | South Beach, Key Biscayne | Cocoa Beach, Daytona Beach | Clearwater Beach, St. Pete Beach |
| Museums | Getty Center, LACMA | Perez Art Museum, Frost Science Museum | Orlando Museum of Art | Tampa Museum of Art, Henry B. Plant Museum |
| Theme Parks | Universal Studios, Disneyland | Notable amusement parks (e.g., Zoo Miami) | Walt Disney World, Universal Orlando | Busch Gardens Tampa Bay |
Types of Entertainment: LA vs Florida Cities
However, size isn't everything. If you are someone who loves latin food, great live music, and close jumping point to beautiful national parks, then Miami is your place.
If you are more of the museum and beach lounging type, Tampa has you covered.
Or maybe you love theme parks and hundreds of amenities to pick from? Orlando is the spot to be with more than 20 million visitors per year.
Whether you prefer the glitz and glamour of Los Angeles or the sunshine-filled fun of Florida, both destinations have something to offer in terms of entertainment.
It really depends on what your idea of a "perfect home" is and what kind of experiences and amenities you're seeking.
Conclusion: Should you move from Los Angeles to Florida?
We think moving to Florida is a great move and wonderful investment in your happiness.
Florida can offer a significant upgrade in living compared to Los Angeles in terms of affordability, lower taxes, and a growing economy. You'll keep more of your hard-earned money which leaves resources to explore the world (local and distant).
The warm weather, superior beaches, and lower risk of natural disasters like wildfires and earthquakes make Florida an attractive option.
However, Los Angeles boasts better weather overall, with mild temperatures and lower humidity. It also offers a diverse range of outdoor activities, including beach and incredible mountain experiences.
In addition, Los Angeles has a thriving entertainment industry, renowned cultural events, and a vast array of dining and entertainment options that surpass most cities in Florida.
However, Florida's laidback lifestyle with world-class beaches is sure to charm your heart and fill your wallet.
Remember, even LA movie stars and retired athletes make the move to Florida—and they can afford to live anywhere (Dwayne "The Rock" Johnson, Tom Cruise, John Travolta, Gloria Estefan, and Shaquille O'Neal).
Ultimately, the decision to move from Los Angeles to Florida depends on individual preferences and priorities. We chose Florida and we hope you join us soon.