Moving to Clermont Florida: 5 Things You Must Know First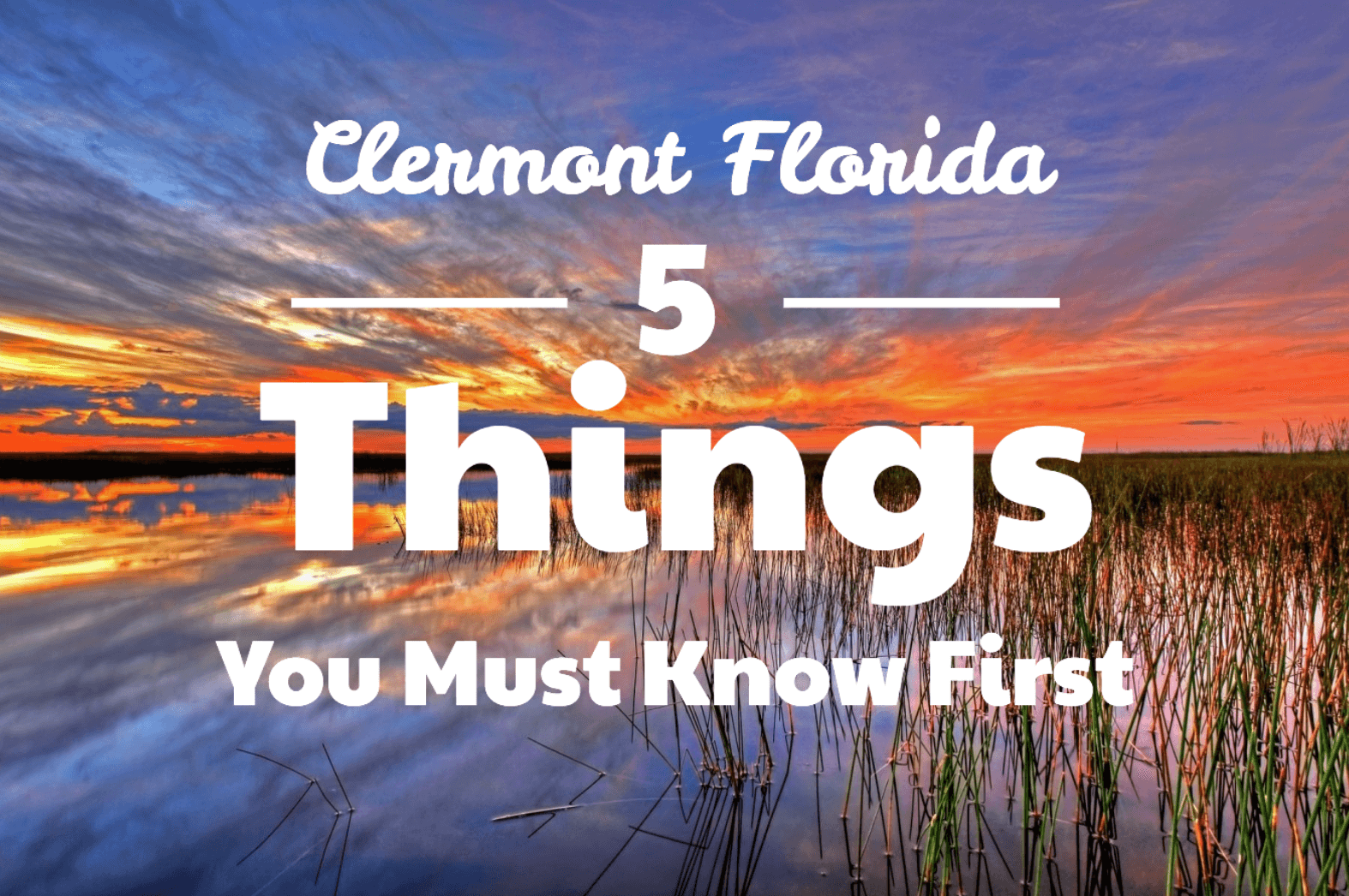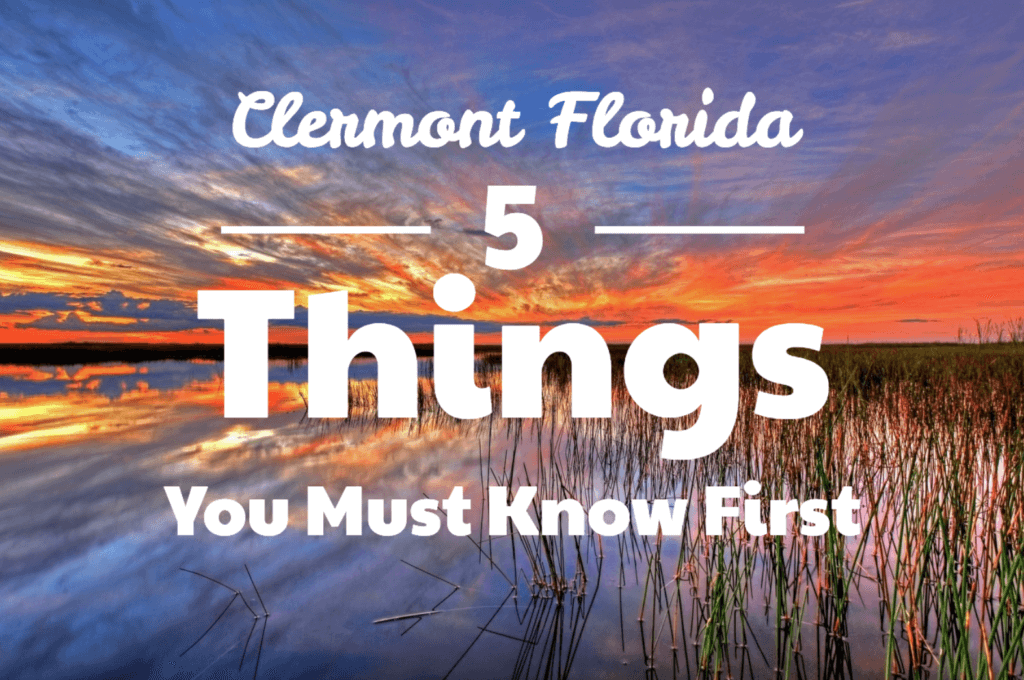 Clermont Florida Has a Rich History
If you are considering a move to Clermont, you've come to the right place. Let's dive in and talk about why Clermont is an awesome place to live.
Clermont Florida was founded in 1884 and has grown into a vibrant, active community where you'll find beautiful rolling hills unlike anywhere else in Florida. Yes, Florida has scenic rolling hills.
Clermont is large (15 square miles), has scenic lakeside views, and is accessible to the chain of lakes. What are the chain of lakes you ask? Imagine beautiful lakeside communities all connected by lakes at the center, sprinkled with restaurants, shops, and affordable homes.
You won't find anything like it in Florida.
The City's population is now 35,208, growing at a rate of 200% since 2000. Any city growing this fast must be special. We'd like to think it has something to do with the selection of retail shops, quaint downtown shopping area, cozy lodging, hill-top views, and delicious restaurants and bars.
More than great weather, Clermont is Florida's epicenter for health, wellness and fitness. The City is named the choice of champions because of the incredible Olympic Training that takes place in the area while being designated a bicycle-and-runner friendly community. If you are looking for an active, healthy, and vibrant community on the rise—Clermont is the place to be.
Clermont Has Amazing Year-Round Weather
Let's be honest, living in Clermont is awesome because of the weather. The winter months are phenomenal and the summers are warm and filled with activities.
December through February are the most pleasant months with an average high of 73 degrees and lows of 54 Degrees. Every so often you'll be able to pull out your favorite sweater, but most of the time you'll be pulling out your favorite shorts. December through February is paradise! We have so many active adults traveling from all over the world to take advantage of the sunshine and warmth.
I've noticed our 55 and older senior communities (55+) live much more active lifestyles than in other parts of the country. The secret is in the weather. The weather allows for year round activities like swimming, boating, golfing, walking, paddle boarding and so much more. It's like having your own slice of paradise.
Unlike most places, the winter is the best time of the year. You can go to a beach in January, which is only an hour drive, and enjoy the ocean, sand and sunshine. This is not only a popular tourist destination but our snowbirds invest in their second homes here so they can stay active and healthy.
I recently met an incredibly active gentleman in Clermont who was in his 90's. I was so impressed by his physical shape that I decided to stop and chat with him. He was so full of life and excited about his lifestyle. He attributes his youthfulness to year-round sunshine and the near-daily activities available in the community.
Many people claim that the summer's are too uncomfortable, but most of us here disagree. While summer temperatures will rise into the 90's, it never stops Floridians from playing outside and enjoying their social lives. You'll still see many people out and about doing all the same activities.
And what would a weather roundup be without mentioning our favorite weather feature in Clermont: The daily showers. Our daily showers last for an hour, drops our temperatures by 10 degrees, and everyone comes back out to play.
If your looking for an amazing year-round playground, Clermont, FL is your place.
Clermont Job Growth Is On The Rise
Jobs are expected to increase 40% over the next 10 years in the City of Clermont, a Western Suburb of Orlando in Central Florida. That's right—40%!!!
Why is Clermont adding so many jobs?
1.Clermont weather is unbelievable
Let's get the obvious out of the way first: weather. We already talked about this, we know. But…the fantastic weather plays a huge role (yes you can play Golf all year round). Warning: the weather from your office weather will always appear beautiful; proceed with caution.
2. The Clermont charm is real
More than weather, the beauty of the lake-filled rolling hills captivates everyone when they arrive to the area. The ambience of this beautiful city has certainly helped drive the Clermont's job and population increase over the past decade.
3. A youth movement is underway in Clermont
The City of Clermont has a higher income and far younger residents than the rest of Lake County. Its youthful vibe has added authentic character to the area. Clermont's year to year job growth of 2.38% is nearly double the national average of 1.59%, and its 4.4% unemployment rate is below the national average of 5.2%.
What are the hot industries?
Health
Education
Recreation
Retail
Construction
Orlando is adding a ton of jobs too.
We can't forget about Orlando. It's currently the fastest growing city in the country. THE F-A-S-T-E-S-T. Employers added $2.2 billion to their annual payroll in 2017. This is expected to add $3.4 billion to the gross regional product. And, last year alone nearly 50,000 jobs were added to the economy.
All of these benefits are available with a short commute (35 minutes) from Clermont.
Whether you are looking for a job in Clermont or Orlando, the growth is certainly in your favor.
Oh, and we almost forgot: there is NO STATE INCOME TAX (high fives all around). No matter where you live, your pay will go farther.
Clermont Is An Amazing Real Estate Investment
The median price in the area is $243,000. As a whole, home values have gone up 9% over the last year with expected rise within the next year. Comparing the growth to other areas, Clermont stays at the top of the list.
Growth in other areas were: Lake County 7.8%, Orange County 8.24% and Florida as a whole 6.8%. The median age of housing is 19 years old. There's still a lot of new construction going on which means there is a healthy market. Market analysts insist prices will go up again as we're not yet at the top of the market.
What's different about Clermont's market is the diversity it offers.
This Clermont market is like no other; you can buy single family, townhome or land. There are areas that are owner occupied with some long term rentals as well as large areas that investors absolutely love.
South Clermont—Amazing Investment
Since Clermont is close to the best entertainment in the world (30 Min to Disney) there's a special section—South Clermont—that investors love to scoop up. These homes come furnished with swimming pools and bring a daily, monthly or longer income to their owners. The homes look like your normal 3-4 bedroom homes (some are gated).
Some clients come down with their family once or twice a year for some fun in the sun and then rent out the remainder of the year to bring in extra income. Others may keep as their very own warm weather get away. No matter what the reason, these are a hot item and move fast. If this sounds overwhelming, no worries. We also have tons of management companies in the area that will help manage them for you. We can even help setting that up for you (we know people).
North Clermont—Unbelievable Living
On the other side of town, North Clermont has a mix of beautiful lakefront homes, 55+ communities, gated communities and beautiful neighborhoods.There is truly something for everyone here. Over the last six months there were 878 closing in all areas (investment and owner occupied).
Come And Join Us!
People love to live here not only because your close to so much entertainment and Orlando, but the life style draws you in. Once we moved to the Clermont area, we were captivated by the charm and the people. In fact, we made more friends in Florida in the first year of our move than the previous 20 years in our cold Chicago neighborhood. Maybe it's the sunshine, maybe it's the fun, but either way, people love living here.
Rolling hills, Chain of Lakes, outdoor recreation and strong job growth is a major draw to this area. If you're looking for an awesome place to call home, Clermont is your place.