North Florida vs South Florida: Where should you move?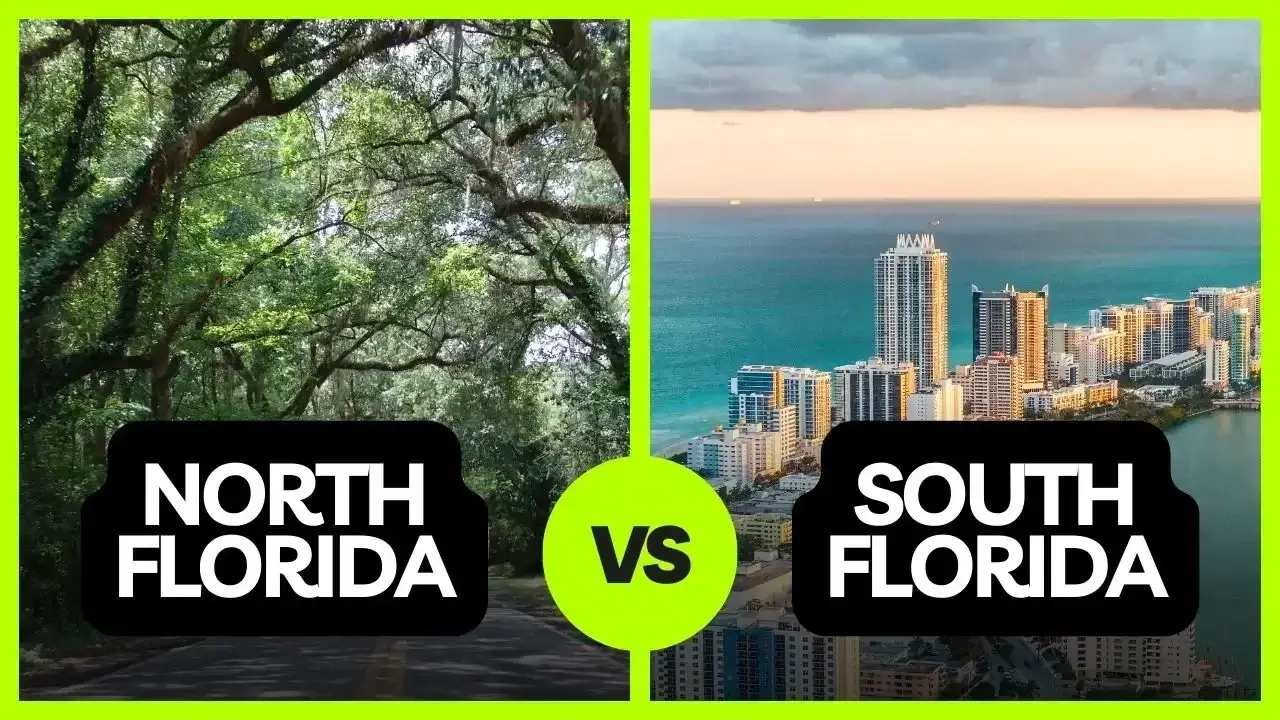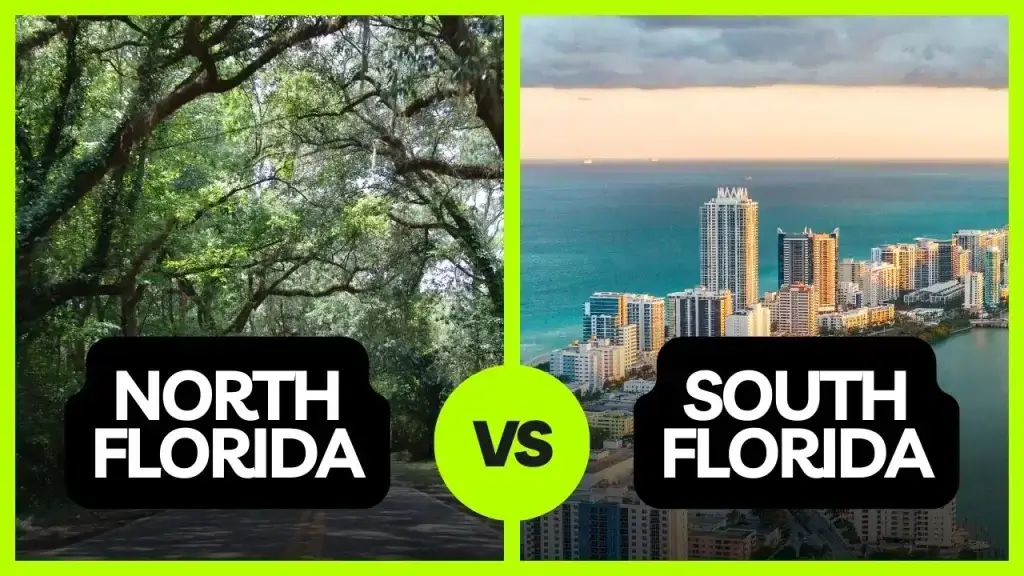 Considering a move within Florida but can't decide between the North or South Florida? We've been in your shoes.
In fact, it wasn't that long ago that we were sitting in our Chicago home trying to figure out what part of Florida was best for our family.
We've traveled around and lived in Florida long enough to know that picking the right spot in this sunny state can be tricky.
North Florida and South Florida are like two different worlds, each with its own set of perks and quirks.
In this guide, we'll share the details about both regions to help you figure out which one could be your new happy place. We'll talk about the lifestyle, the costs, the people, and everything in between.
Whether you're leaning towards the tranquil life up north or the gorgeous beaches of the south, this mover's guide has got something to help ease that big decision.
Let's dive into it!
What are the main differences between North and South Florida?
North and South Florida are two different regions in Florida, and though they are in the same state, they are quite different.
In fact, if you traveled from the Georgia-Florida border (North Florida) to the Florida Keys (South Florida), it would feel like you were in a different world all together.
Let's talk about the three biggest differences between North and South Florida.
The Climate
If you are moving from the Northern or Western U.S. and want a seasonal variation, then North Florida is your sport.
North Florida experiences a more temperate climate with cooler winters and less humidity during summer. Don't get us wrong, it's still Florida, and it's still hot, but it's "less hot".
And as far as the winters are concerned, Northern Florida will be quite a bit cooler. For example, while Florida almost never gets snow, the chances of it snowing in Florida are much greater in North Florida.
On the other hand, South Florida's weather is very different. If you are looking for the absolute most sunshine, warm weather all year long, and the mildest winters possible—Southern Florida is your spot.
South Florida will have hot weather throughout the year, with occasional cool weeks—but they are rare.
If you're tired of the harsh winters in the Northern or Western regions, find the cool weather of autumn unbearable, and long for the warmth of the sun, South Florida is the ideal destination for you.
Check out the weather data below from WeatherSpark on Miami in January—it's still really warm.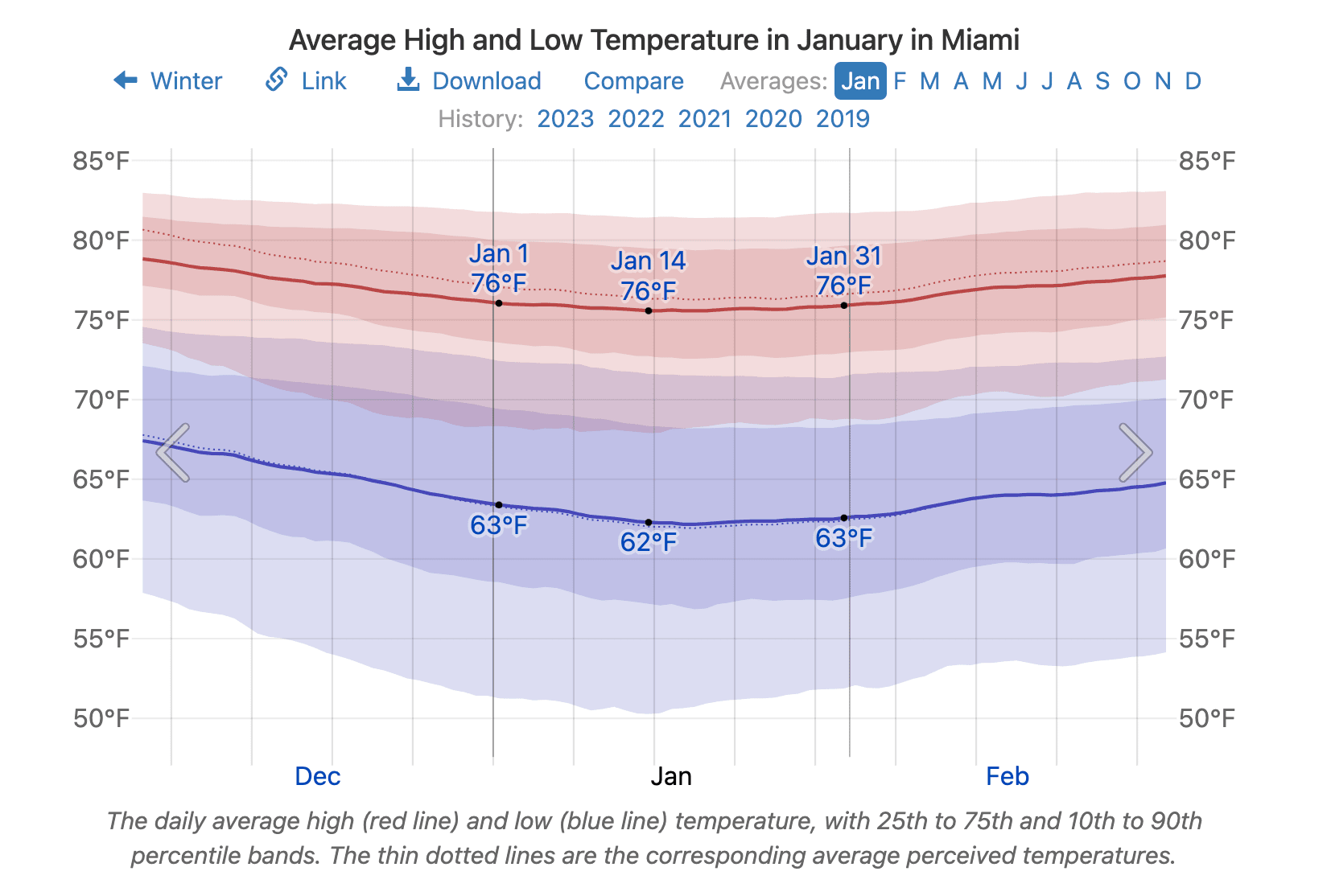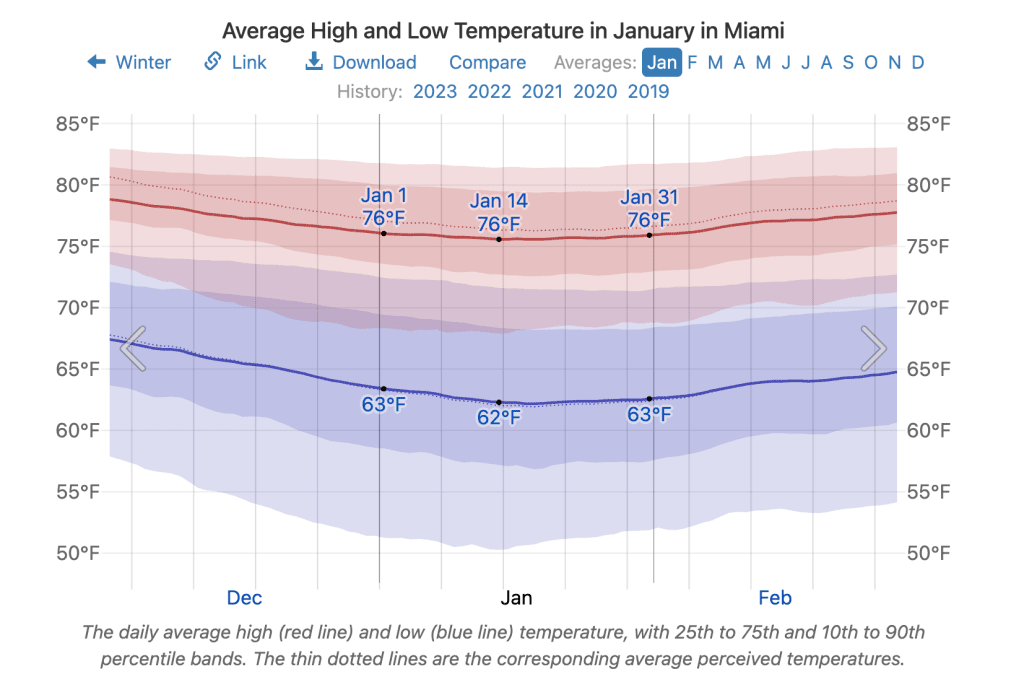 For a clear comparison, let's look at two North Florida cities and two South Florida cities:
Jacksonville and Tallahassee from North Florida, and Miami and Key West from South Florida.
Here's a seasonal table of high and low temperatures (Fahrenheit):
City
Winter (Dec – Feb)
Spring (Mar – May)
Summer (Jun – Aug)
Autumn (Sep – Nov)
Jacksonville
High: 65
Low: 42
High: 79
Low: 55
High: 91
Low: 72
High: 78
Low: 57
Tallahassee
High: 64
Low: 39
High: 81
Low: 53
High: 92
Low: 72
High: 78
Low: 52
Miami
High: 76
Low: 60
High: 83
Low: 68
High: 89
Low: 77
High: 84
Low: 72
Key West
High: 75
Low: 65
High: 81
Low: 72
High: 89
Low: 79
High: 84
Low: 75
North Florida vs South Florida Weather
The biggest climate differences between North Florida and South Florida is found in the winter months.
For example, December through January is on average 11 degrees cooler in Jacksonville than in Miami.
The difference between 76 degrees and 65 degrees is significant. The latter will actually feel like fall.
The bottom line on temperature: If you want sweater and hot cocoa weather a few months each year, then we suggest moving to North Florida. If you want sunshine, flip-flops, and ice-cold beverage weather—we – we suggest South Florida.
The Environment
North Florida
North Florida's landscape is more akin to the southeastern US, with rolling hills, pine forests, and freshwater springs.
We like to think of North Florida like Southern Georgia. There are towering pine trees and gorgeous oak-lined neighborhood streets.
The ocean along Northern Florida will be quite a bit colder than Southern Florida and the sand will be less powdery along the Northern Atlantic region.
But that's not all bad. We love the charm of the North Florida beach communities—especially the Palm Coast area; it's cute, charming, and a really fun day trip.
It is important to acknowledge that the beaches in North Florida are not all equal. Northern Florida beaches tend to get a bad rap compared to Southern Florida beaches, but there are some gorgeous beaches in the north.
In particular, the sand quality along the Northern Panhandle, such as in Destin and Pensacola, FL, is simply heavenly.
What about the elevation?
Far Northern Florida along the Georgia border has some of the biggest rolling hills and elevations in all Florida.
Britton Hill is a hill located in Northern Florida that rises over 350 feet.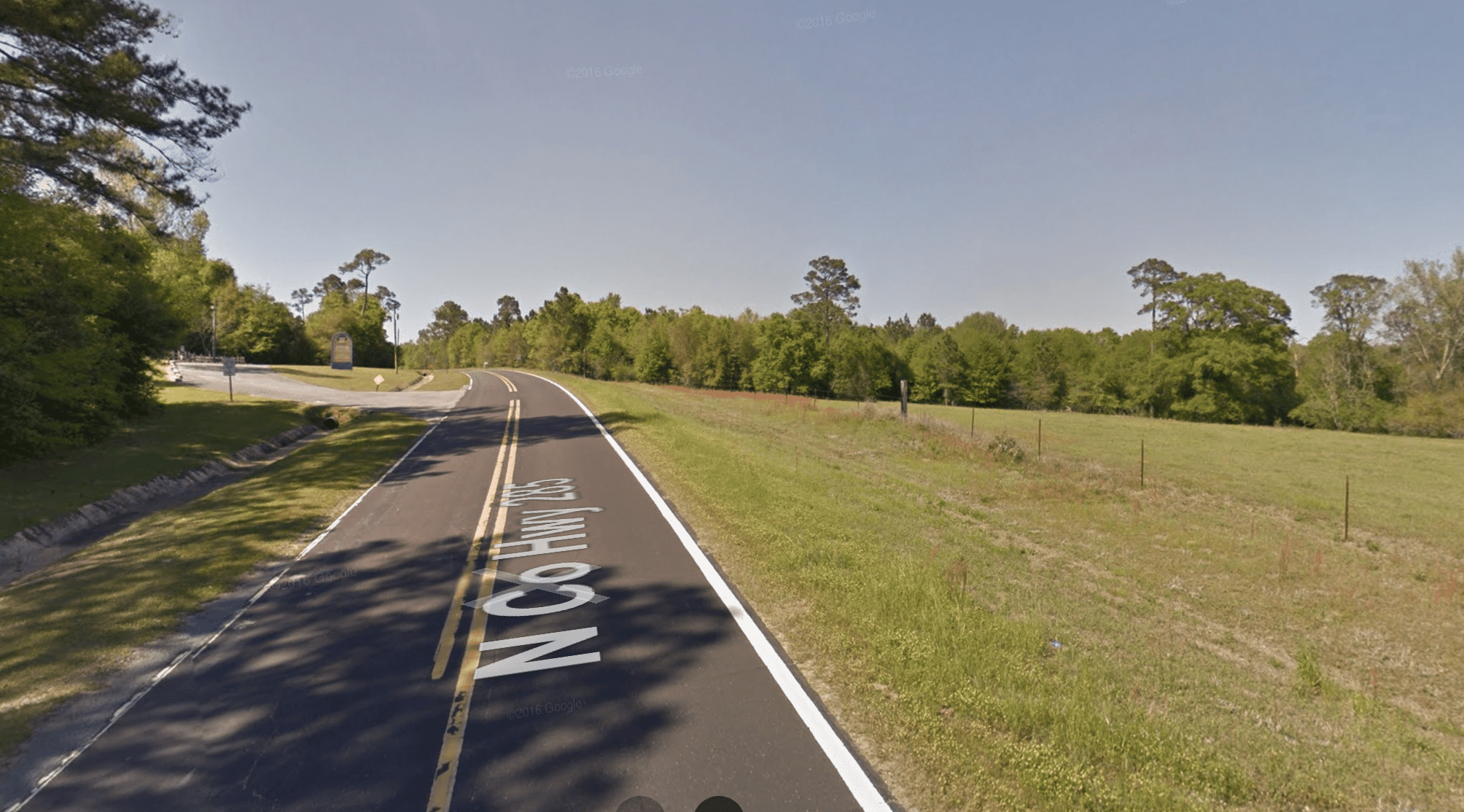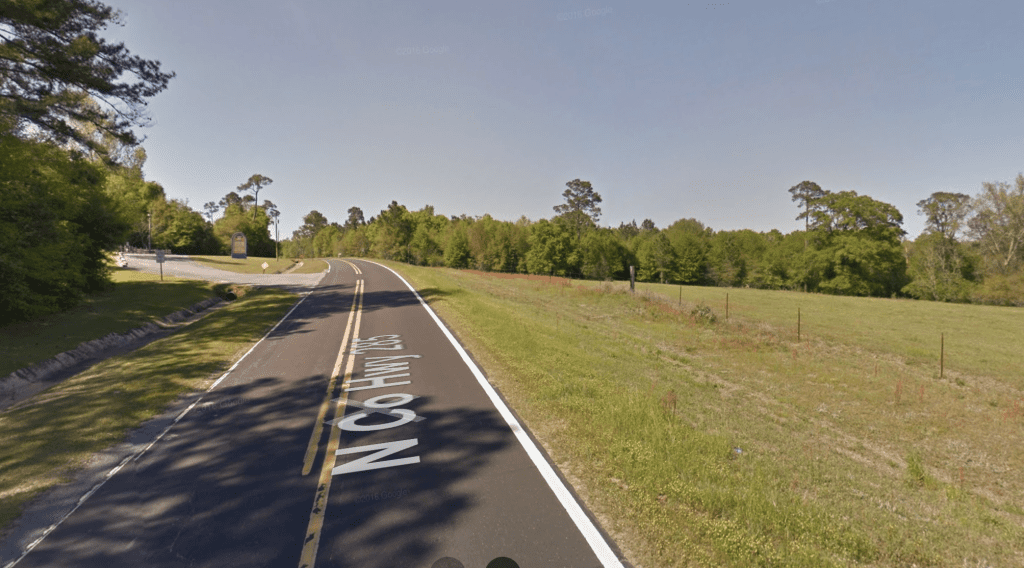 Check out our blog on Florida's elevated areas.
South Florida
Now, what about the topography of South Florida?
Southern Florida has a beautiful tropical landscape with mangroves, coral reefs, and the unique ecosystem of the Everglades.
If you close your eyes and imagine "tropical," South Florida is what you will see.
In South Florida, the tall pine and oak trees are replaced by beautiful palm trees and ferns.
The water in South Florida is heavenly most months of the year. It's not uncommon to be swimming in 85 or 90 degree water in South Beach, FL.
The sand in South Florida is gorgeous, especially in areas like Lovers Key State Park and Sanibel Island.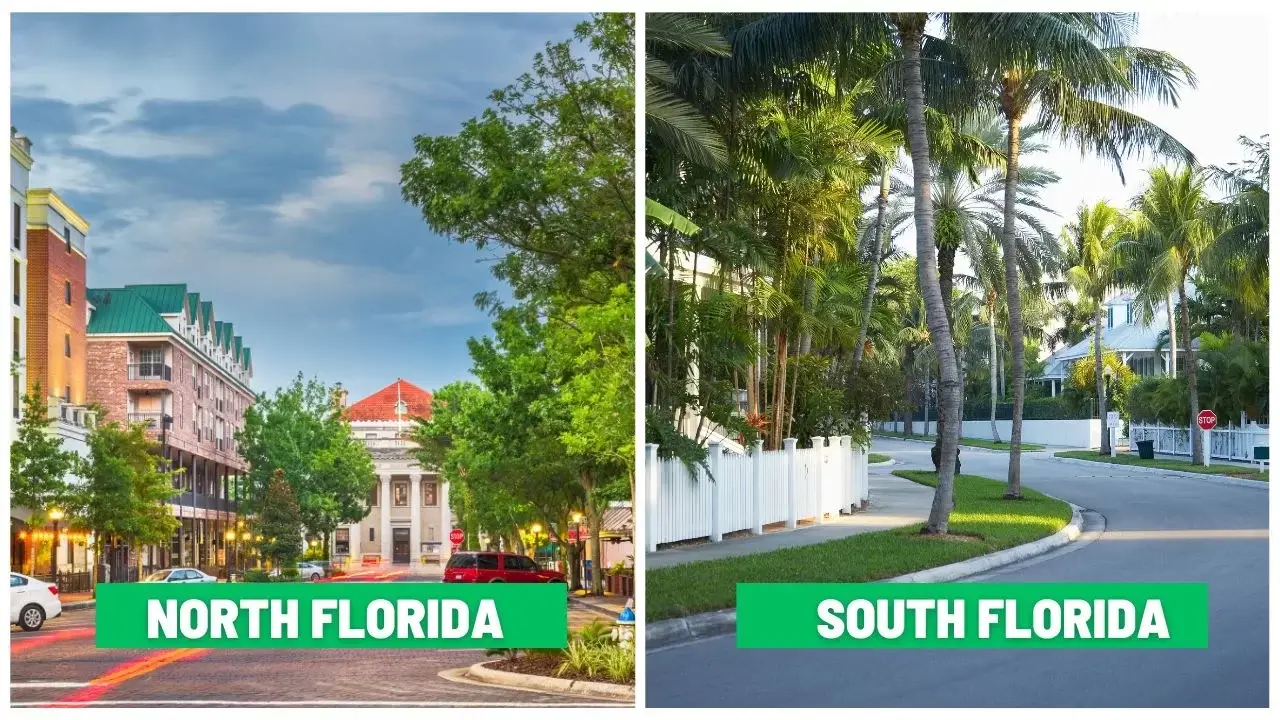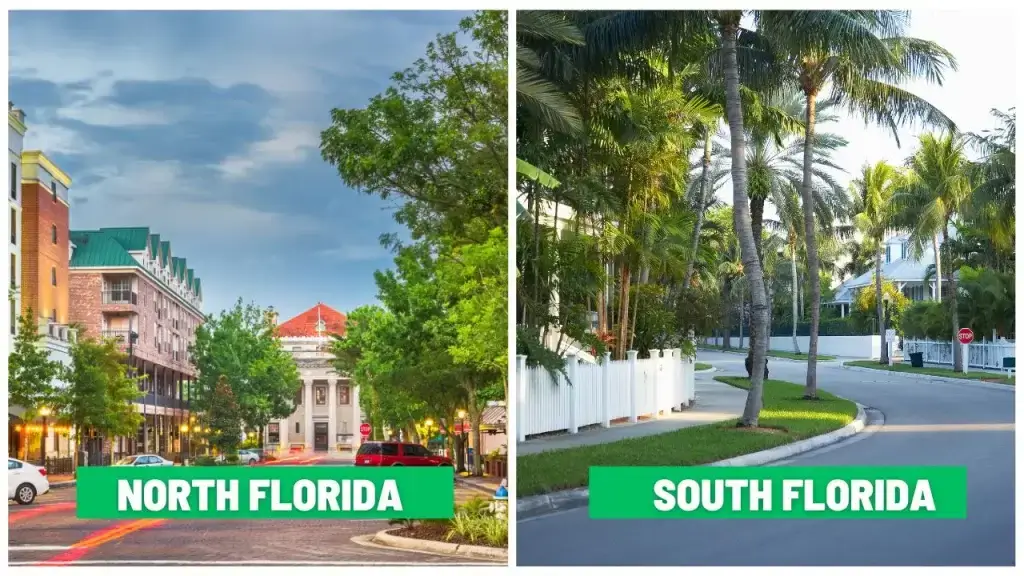 Here's a table showcasing notable environmental characteristics of North and South Florida:
| Characteristic | North Florida | South Florida |
| --- | --- | --- |
| Types of Trees | Pine, Oak, Magnolia | Palm, Mahogany, Mangrove |
| Types of Grass | Bermuda, Centipede | St. Augustine, Bermuda |
| Average Ocean Temperature (Year-Round) | 72°F | 78°F |
| Notable Natural Features | Freshwater springs, Rolling hills | Coral reefs, Everglades, Mangrove forests |
Landscape North vs South Florida
The Bottom Line in Environment: North Florida is going to look more like Georgia, South Carolina, and Alabama with tall beautiful trees, green grass, and higher elevation as you reach the Florida-Georgia border. South Florida will be relevatively flat land but it makes up for the lack of elevation with warm ocean water, gorgeous powdery sand, and towering palm trees.
The Cost
Living costs, including housing and daily expenses, tend to be higher in South Florida due to its popularity among tourists and retirees.
But here's the truth: Florida isn't as cheap as people think, especially near larger Florida cities.
With that being said, the more expensive cities tend to be in South Florida.
Let's look at U.S. Census data for cost of living indexes across three North Florida and three South Florida cities:
| | | |
| --- | --- | --- |
| City | Region | Cost of Living Index (US Census Data) |
| Miami | South Florida | 106.1 |
| Fort Lauderdale | South Florida | 115 |
| Fort Meyers | South Florida | 96 |
| Jacksonville | North Florida | 92.9 |
| Gainesville | North Florida | 99.8 |
| Panama City | North Florida | 99 |
Cost of living: North vs South Florida
North Florida, being less touristy, offers a more cost-effective lifestyle while still providing a slice of the sunshine state's charm.
For example, Jacksonville is the biggest city in the state and offers a cost of living (92.9) far lower than Miami (106.1).
And, we love Jacksonville. Our best friends live here, and the surrounding areas are very underrated.
For example, we love visiting the Palace Saloon—Florida's oldest bar—just north of Jacksonville near Amelia Island.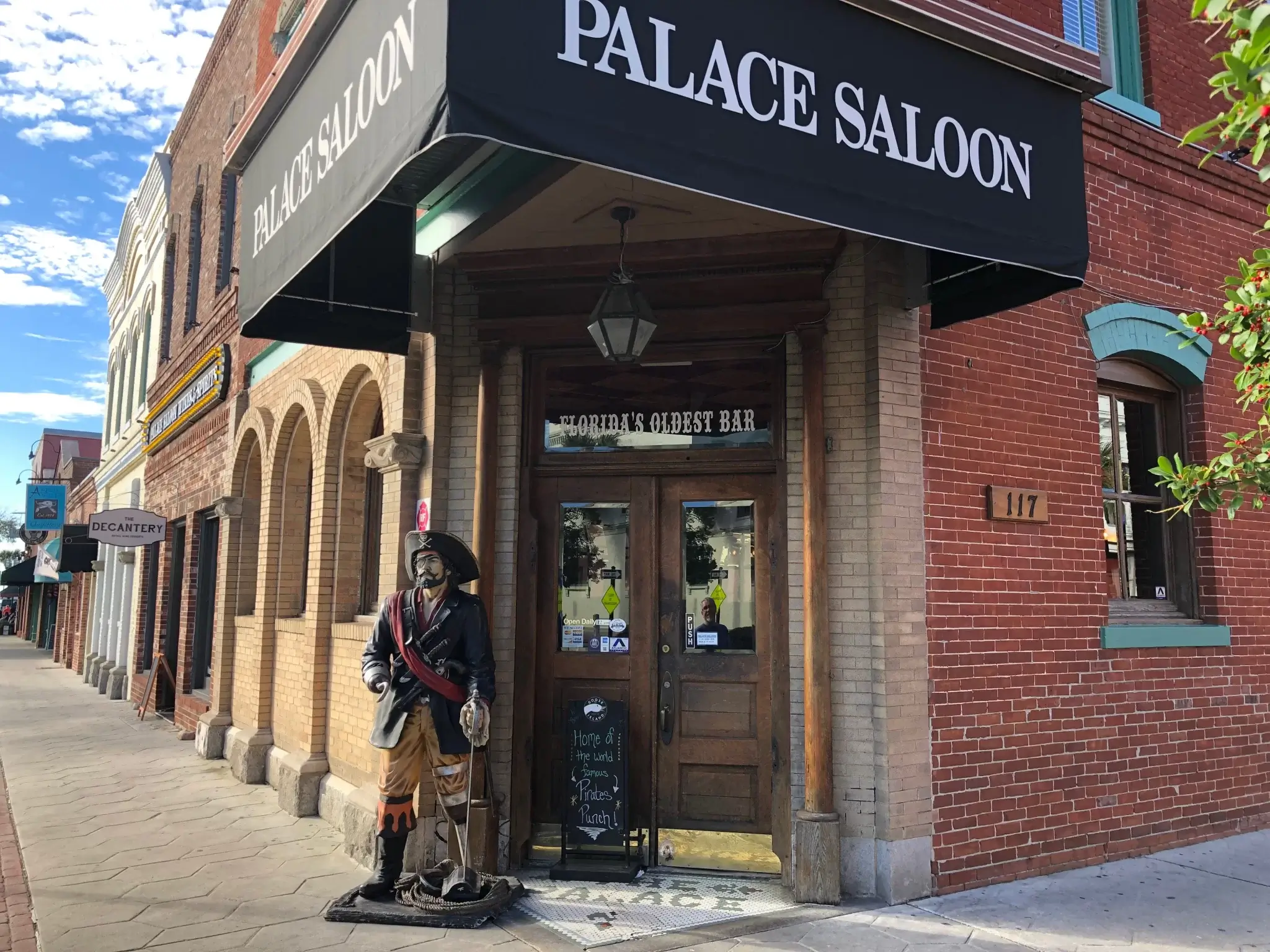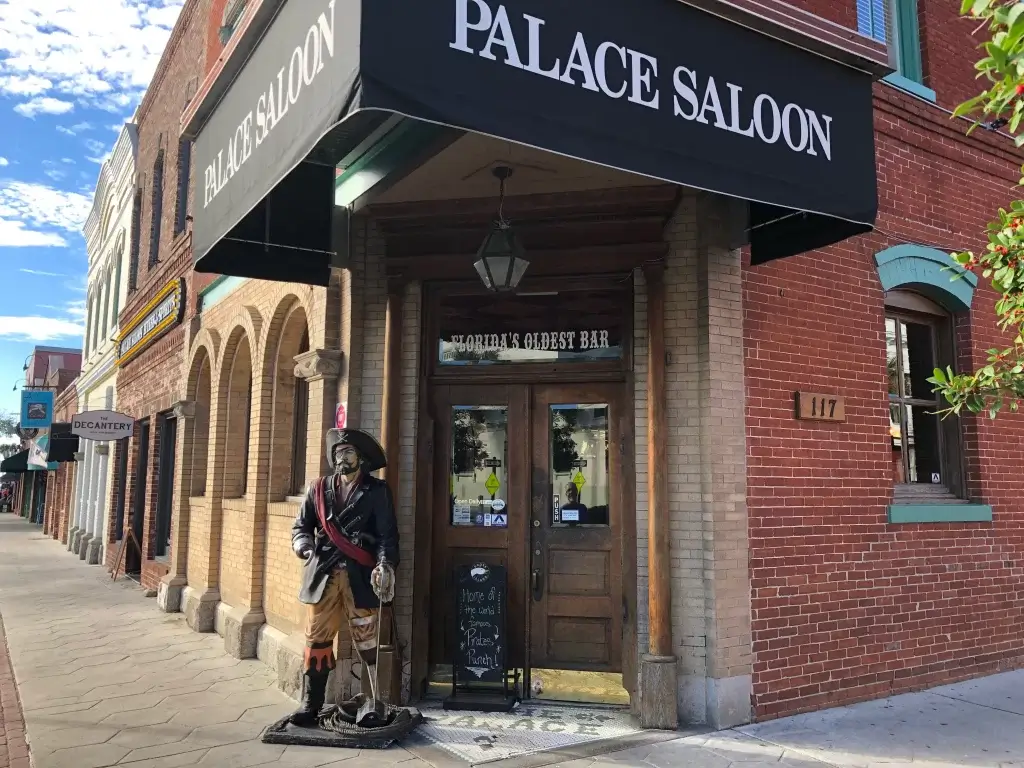 Real estate prices in Jacksonville vs Miami will be significantly different.
According to Zillow, as of August 2023, the median home price in Miami is around $561k, while in Jacksonville, it's considerably lower at approximately $295k.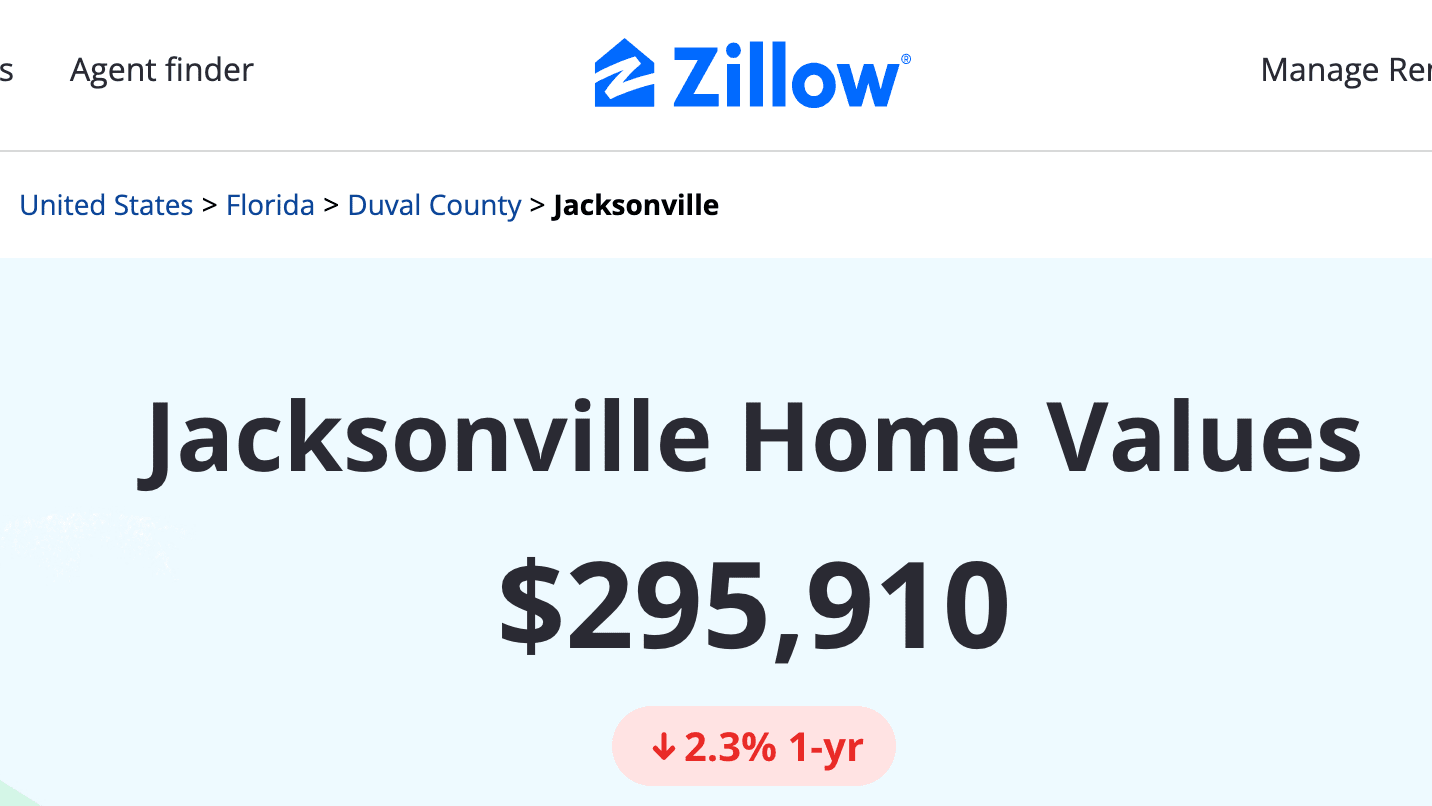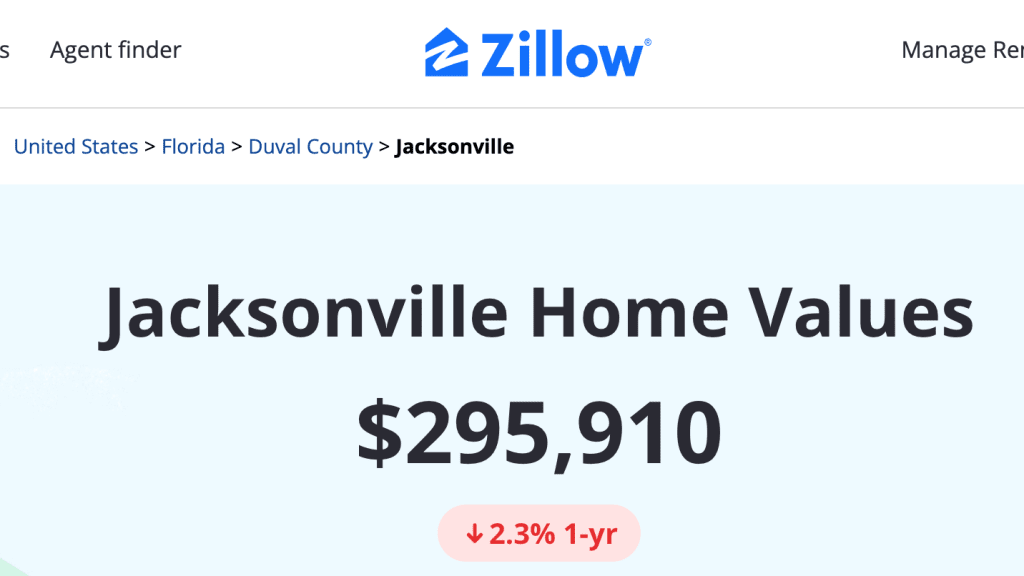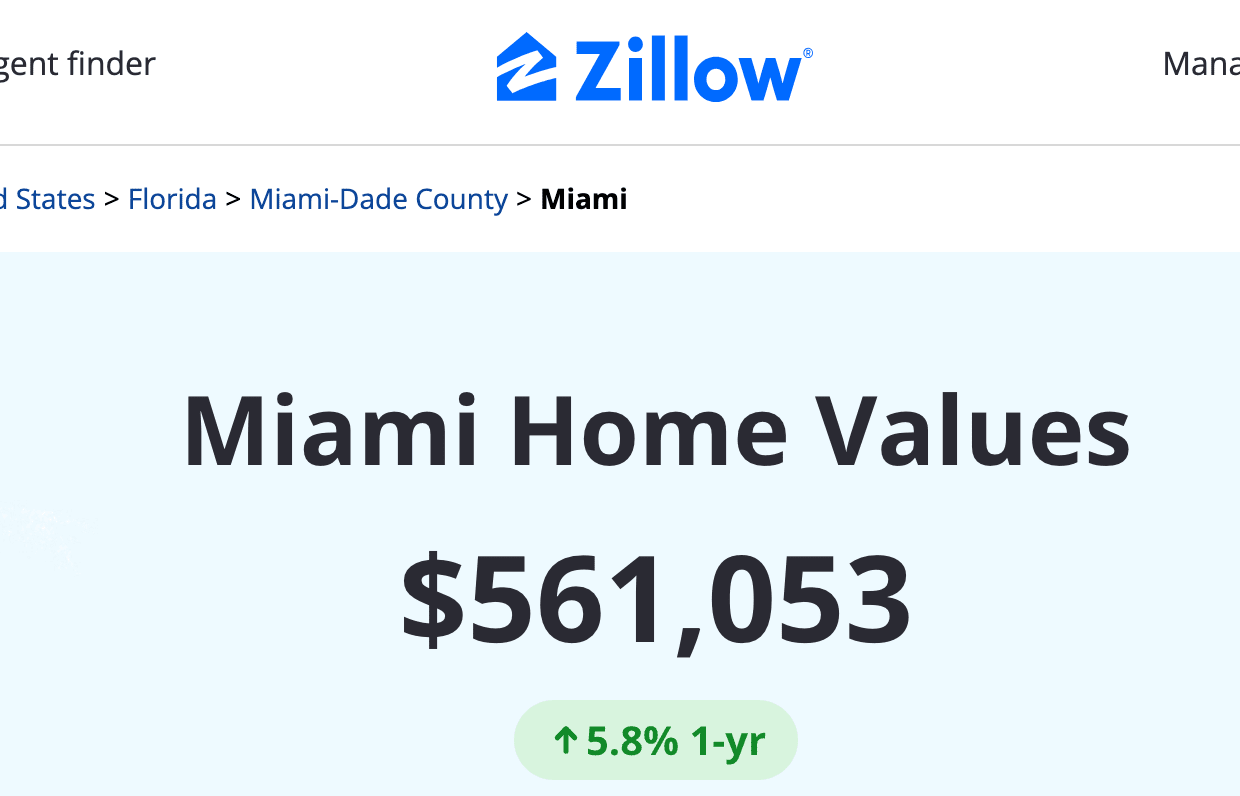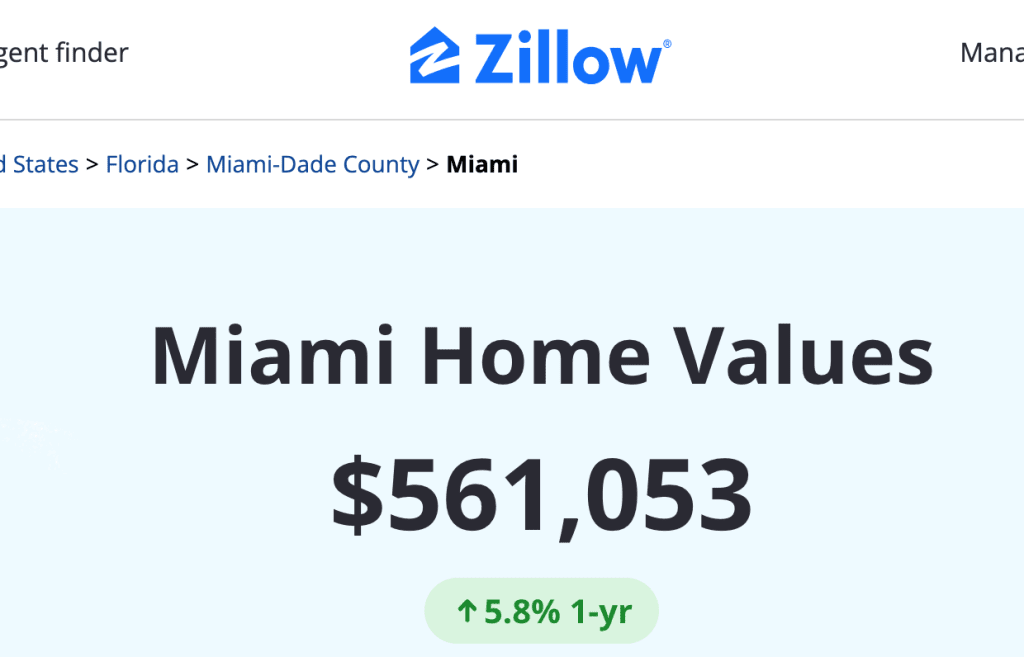 This stark difference in housing costs reflects the broader cost of living disparities between the two cities, with Miami being one of the more expensive cities in Florida, and Jacksonville being relatively more affordable.
Other costs like property taxes, homeowners insurance, and maintenance also tend to be higher in Miami compared to Jacksonville.
The bottom line on cost of living: Your dollar will stretch further in North Florida vs South Florida. When it comes to South Florida, you're not just paying for a place to live – you're investing in a vibrant lifestyle filled with endless sunshine, pristine beaches, and top-notch cultural offerings. So, it's no wonder that along with your home, you're also paying a "sunshine tax" for the privilege of enjoying year-round paradise. North Florida provides abundant job opportunities in spacious metropolitan areas at significantly lower costs, particularly for housing.
Frequently Asked Questions
Is North or South Florida hotter?
South Florida is much hotter than North Florida. Let's look at two different cities: Miami, FL (south) and Jacksonville, FL (north).
Miami is warmer throughout the year. For instance, in January, the high in Miami is 76°F while Jacksonville is 65°F; that is nearly a 10 degree swing.
The low in Miami is 63°F compared to Jacksonville's 46°F at the same time of year which is nearly a 20 degree swing at night and the early morning.
This trend continues across all months, with Miami always having higher temperatures.
The smallest difference is in July with Miami at 89°F and Jacksonville at 90°F for the high, and 78°F and 74°F for the low, respectively.
| Season | Location | Average High (°F) | Average Low (°F) |
| --- | --- | --- | --- |
| Winter | Jacksonville | 69 | 48 |
| | Miami | 77 | 64 |
| Spring | Jacksonville | 79 | 60 |
| | Miami | 82 | 70 |
| Summer | Jacksonville | 89 | 74 |
| | Miami | 89 | 78 |
| Fall | Jacksonville | 80 | 64 |
| | Miami | 84 | 74 |
Jacksonvilel vs Miami Weather
Why is South Florida so expensive?
South Florida's high cost is driven by its desirable coastal location, higher demand for real estate, and a larger population density.
In other words, it's really popular.
Far more celebrities call South Florida home than North Florida: Gloria Estefan, Dwayne "The Rock" Johnson, Enrique Iglesias, Serena and Venus Williams, and David Beckham are but a few of its residents.
Additionally, it's a hotspot for tourists and retirees, with cities like Miami and Fort Lauderdale being prime destinations. The influx of people raises prices on housing, goods, and services.
Why is North Florida more "southern"?
North Florida shares a closer cultural and historical affinity with the neighboring southern states, exhibiting a laid-back, traditional southern charm.
Think of it like this: North Florida has more "southern charm" because its border neighbors are traditional southern states such as Alabama, Tennessee, and Georgia.
Due to its proximity to Cuba, Puerto Rico, Mexico, and the Dominican Republic, South Florida experiences a significant cultural impact from Hispanic communities, making it truly vibrant and diverse, and less "southern" by definition.
In North Florida, it's not uncommon to find century-old oak trees draped with Spanish moss in North Florida, reminiscent of a classic southern scene in Savannah, Georgia or Charleston, South Carolina.
Does North or South Florida have worse traffic?
South Florida typically experiences worse traffic due to its higher population density and popularity as a tourist destination.
While Jacksonville and Tallahassee aren't exactly commuter friendly, it's less aggressive than Miami and Fort Lauderdale.
In a recent report, Miami was ranked as having the 5th worst traffic nationally and 9th worldwide, alongside major cities like New York and London, with the typical driver losing 105 hours last year to congestion according to INRIX, a Washington-based transportation data firm.
Yikes Miami! As bad as New York and London? Wow.
The slow crawl was particularly noted between Homestead and Doral, with the latter commute almost doubling during peak hours, and overall top speeds during peak hours dipped from 34 mph in 2021 to 25 mph in 2022.
Overall, North Florida is undoubtedly more accommodating in terms of traffic.