San Diego vs Florida: Should you make the big move?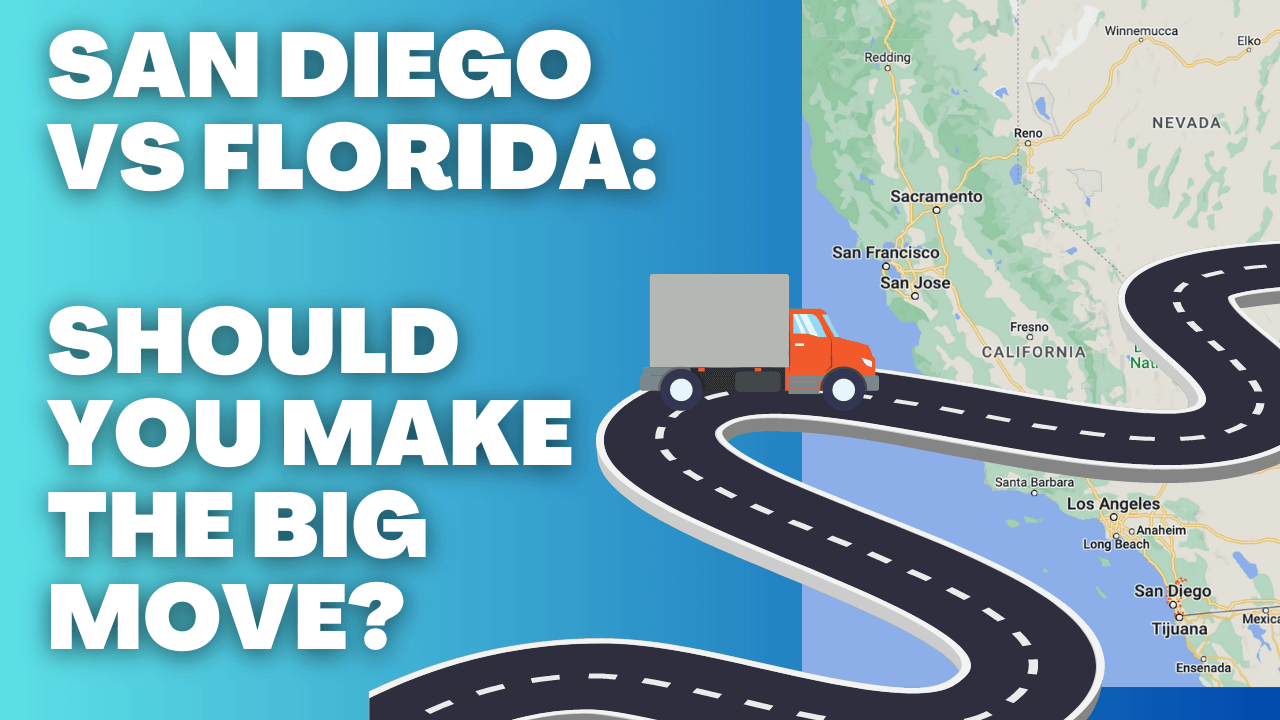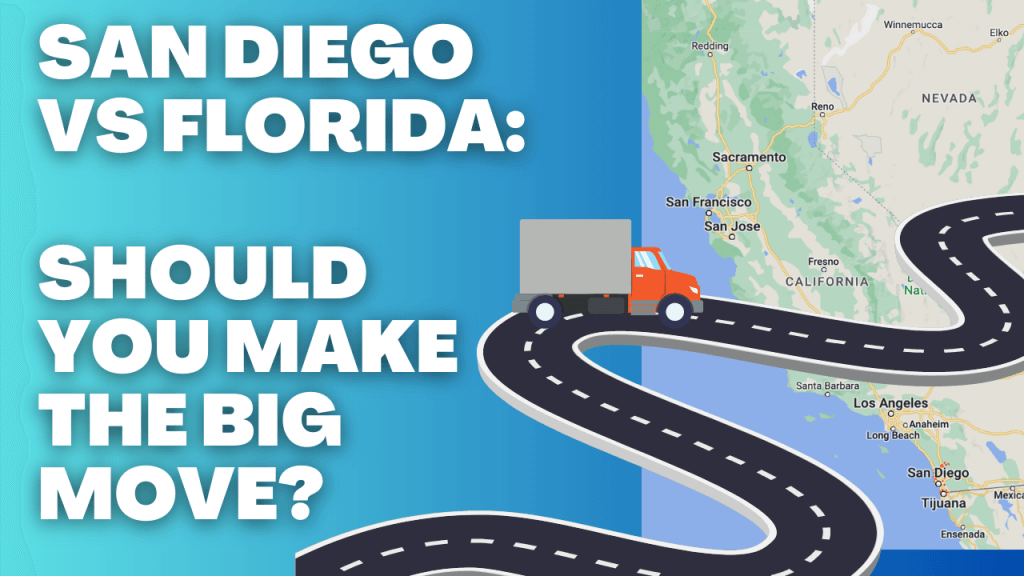 San Diego has arguably the best weather in the entire United States with a sprawling downtown and vibrant beach culture. But should you make the move from San Diego to Florida in hopes of a better life?
In a previous blog, we compared the state of California to the state of Florida when considering a move, but today we are going to get granular and compare San Diego to a few Florida cities like Miami and Tampa.
We will look at weather, housing, job opportunities, natural disaster risk, safety, and recreation.
San Diego vs Florida: Should you leave the West Coast for the East Coast?
Florida can provide a substantial upgrade in living compared to San Diego, California in a number of areas, however the grass isn't greener for everything.
Why you should move from San Diego to Florida
Unlike California, Florida's large cities provide more affordable housing, no state-income tax, and many of the fastest growing economies in the country—that means more jobs and opportunities than California. And like California, Florida provides warm weather every week, world-class beaches, and minimal risk for wildfires and earthquakes.
Why you shouldn't move from San Diego to Florida
San Diego has better weather than any city in Florida, a much lower risk for ocean storm damage such as hurricanes and storm surges, and an overall lower property tax rate for San Diego residents who have owned their homes for a long time.
Does San Diego or Florida have better weather?
San Diego has better weather. There is no denying that you are paying for amazing weather when living in San Diego.
But, there is a reason you are looking at Florida—both cities are warm weather cities. Let's dive into the weather differences a bit more.
Here's a weather comparison between San Diego and the Florida cities of Miami, Orlando, Tampa, and Jacksonville based on weatherspark.com data.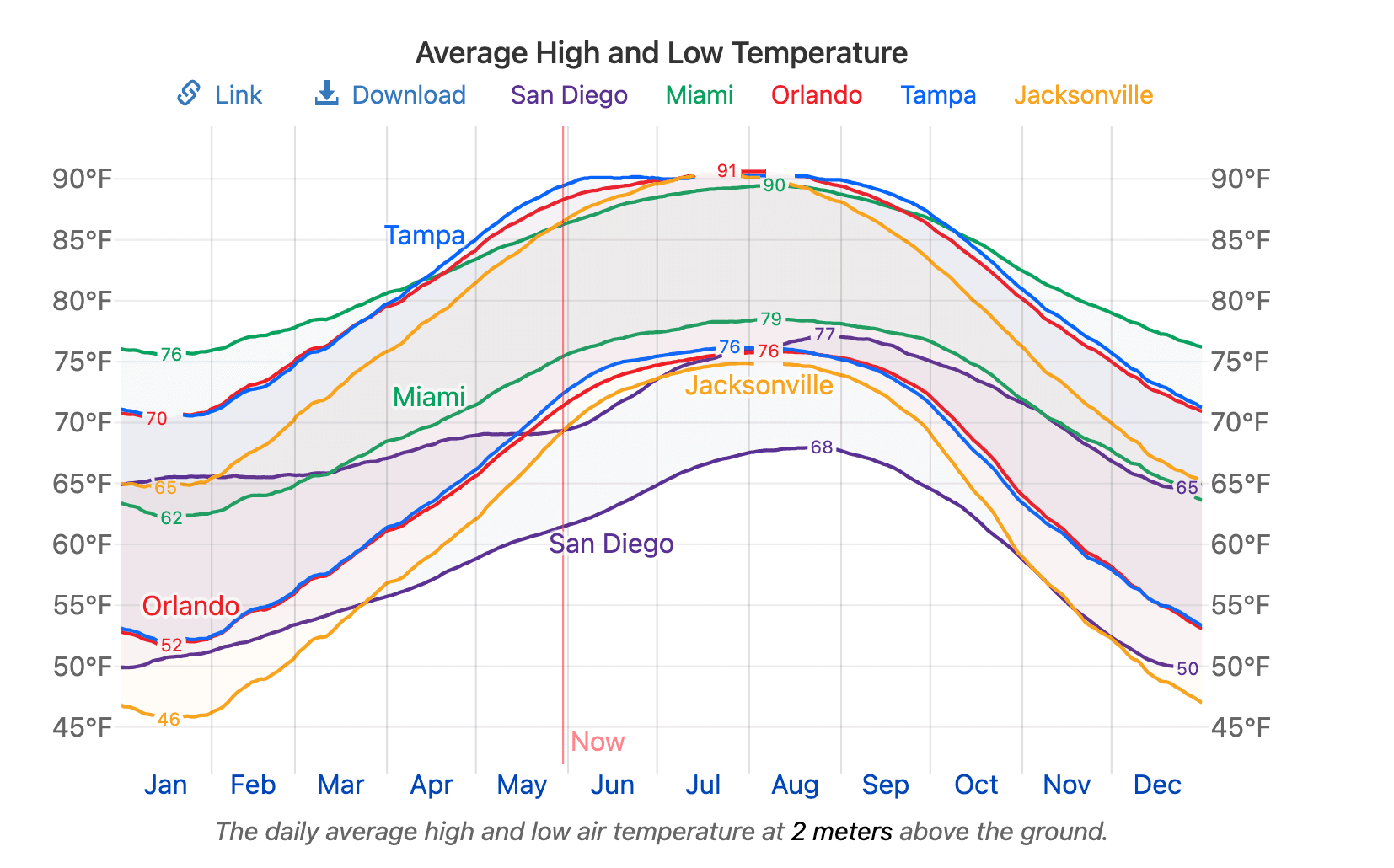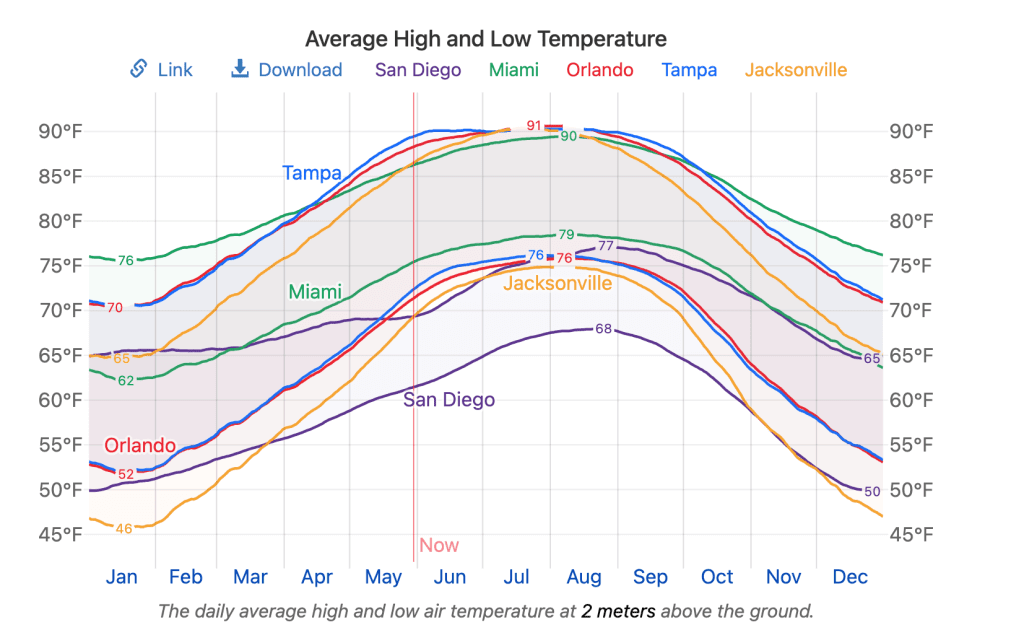 Temperature:

San Diego wins the temperature war with Florida because it's essentially paradise all year round. Who doesn't love highs ranging from 65°F to 77°F all year round?
Florida has something special too! If you love hot temperatures, then Florida has you covered. In Miami, Orlando, Tampa, and Jacksonville, temperatures can reach a pleasant 76°F to 90°F. Say hello to that year-round sunshine!

Seasonal Variation:

San Diego is amazing because the temperatures only vary about 12 degrees all year round. It's steady and consistent. From light sweaters to swim suits, San Diego is gorgeous.
Florida on the other hand is less "seasonal" and is mostly summer weather. There is a week here and there between December and February that might feel like autumn, but it's typically short lived. You can expect temperatures ranging from 82°F to a warm 90°F every day. We think it's tropical paradise every day, but it may be too warm for some.

Winter:

San Diego has mild winters, with temperatures ranging from 65°F to 69°F. It maintains a relatively comfortable climate during the winter months. You can wear sweaters in the evening and hang out at the beach during the day. It may even feel "cool" to Floridians during the winter.
Florida cities also have mild winters, but with slightly higher temperatures. Most Floridians consider winter time the best time. Miami has the warmest winters amongst the Florida cities, with highs reaching 77°F while Orlando, Tampa, and Jacksonville can regularly see lows below 70 degrees.

Summer:

San Diego has some on of the best summer climates in the United States. Temperatures generally range from 71°F to 77°F—talk about comfort at the beach!!!
Florida cities have hotter and more humid summers. If you don't like it hot and balmy, Florida will feel HOT. The temperatures during the summer season range from 82°F to 90°F. It's not uncommon to have 15 to 20 days in a row of 90 degree weather. There is very little temperature variation between Miami, Orlando, Tampa, and Jacksonville during the summer time.

Rainfall:

San Diego has a Mediterranean climate with a dry season in summer and a rainy season in winter. While it does receive at least 10 inches of rain, it sees much less precipitation overall than Florida.
Florida cities, including Miami, Orlando, Tampa, and Jacksonville receive the majority of their rain during the summer. If you love an afternoon shower, this is your state! You can expect annual rainfall in Florida to be 45 to 55 inches: nearly 5x as much as San Diego. Florida rain showers are typically short lived—under and hour.

Humidity:

San Diego has lower humidity levels when compared to nearly all the Florida cities. It benefits from a desert coastal climate.
Florida cities, due to their proximity to warm water bodies in a tropical zone, experience higher humidity levels throughout the year, especially during the summer months.
Does San Diego have better weather than Florida?
San Diego is much more pleasant than Florida during the summer months with a lower average temperature that is still suitable for shorts and t-shirts nearly every day.
If you love seasons, San Diego will provide more opportunities to wear different clothing such as short, sandals, sweaters, and light coats throughout the year. As a rule of thumb, you will see more sweater days in San Diego than Florida and more tank-top days in Florida than San Diego.
If you love warm weather and don't mind hot and humid climates, Florida will be a great move. Expect beautiful winter weather and a gorgeous rain-shower each afternoon in the summer.
Is San Diego more expensive than Florida?
San Diego is definitely more expensive than Florida in a number of areas. We will compare San Diego to Miami being that Miami is the most expensive large city in Florida.
Real Estate Costs
San Diego is one of the most expensive cities to live in the country and its real estate industry is not an exception.
According to Rocket Mortgage, the average home sale price in 2023 has been $850,321 in San Diego, CA.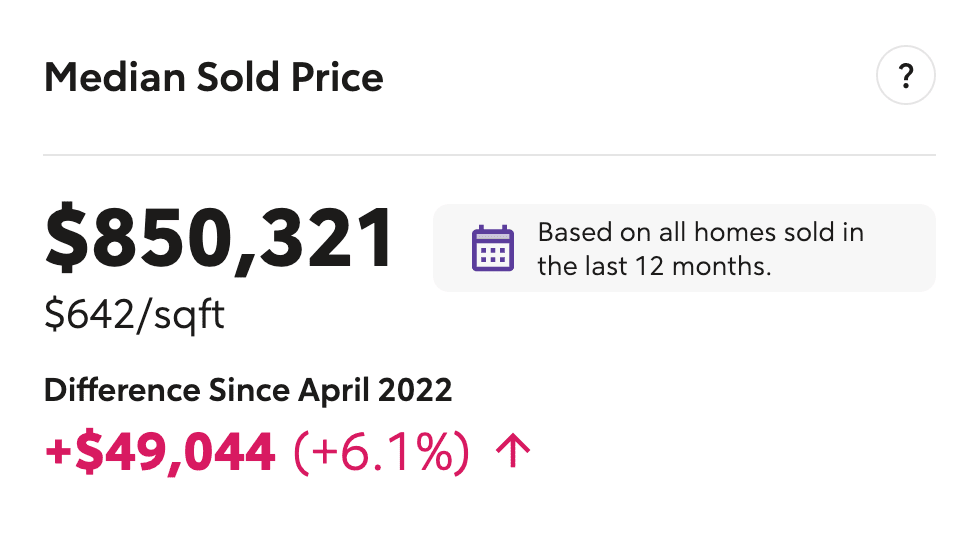 So how does that stack up against Miami, FL? If you were to move from San Diego, CA to Miami, FL you would experience a significant savings.
The average home sale in Miami in 2023 has been $508,690. That is nearly a $340k savings when moving to south Florida. CA-CHING!!!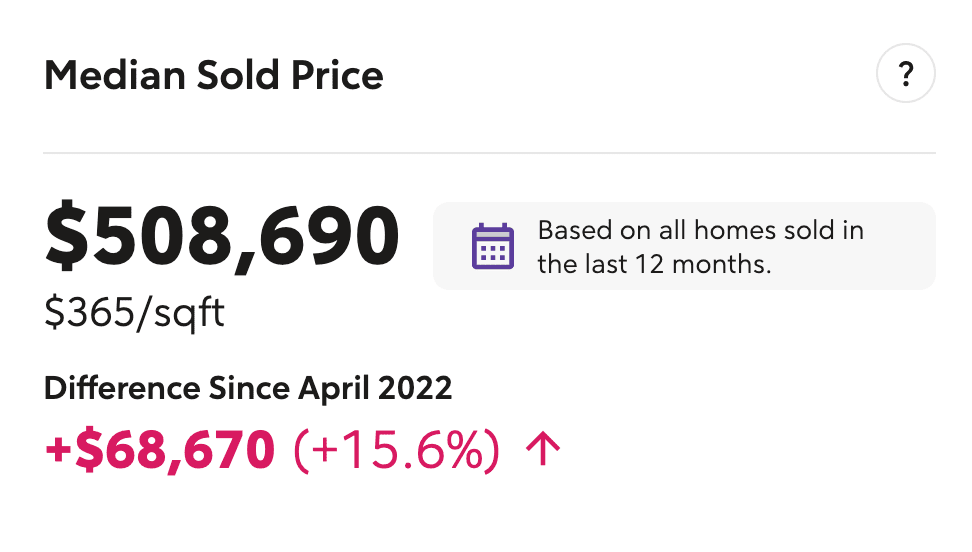 State Taxes
Florida doesn't have any state income taxes and California does. If you live in Florida, you will keep more of your paycheck.
California's state income tax rate is between 1% and 12.3% which depends on your income. In other words, the more money you make in California, the greater the percentage of your income will go to the tax man.
On the other hand, Florida doesn't penalize you for success the same way California does. If you make more money in Florida, you will keep more money—at least from state income taxes.
Property Taxes
When buying a home, property taxes can drastically increase the annual cost of home—especially in high property tax rate states. Interestingly, Florida has a higher average property tax rate than California.
Florida has an average property tax rate of .86% while California has an average property tax rate of .75%.
Wait what? We heard California taxes were sky high. Well, there are a few reasons California property taxes are lower than Florida:
In 1978, people in California voted for a law called Proposition 13. This law made it so that property taxes, which are taxes you pay on your house or land, couldn't go up by much. They were limited to 1% of how much the property was worth, and they could only go up a little bit each year, a maximum of 2%. It kept people from losing their home because of runaway property taxes.
In California, they don't reassess or change the value of your property very often—only when you buy a new property or build something new on your land. So if you've owned your house for a long time, the assessed value might be lower than how much it would sell for now.




So if I leave San Diego for Miami, will I save money on property taxes?
If you've owned a home for decades in California, you will likely save money on property taxes by staying in California because of Proposition 13. That's because you haven't been reassessed for a long time.
If you have purchased a southern California home in the last 10 years—especially in San Diego—you are more than likely paying the same or more property taxes as you would in Florida because the total value of your home is likely to be much higher on average.
But to be fair, let's compare apples to apples: Miami vs San Diego
If you purchase a home in San Diego, CA for $500,000 today, you'll pay $4,350 in property taxes at a .87% tax rate. We know, we know—good luck finding a home for $500,000—but it's just an example.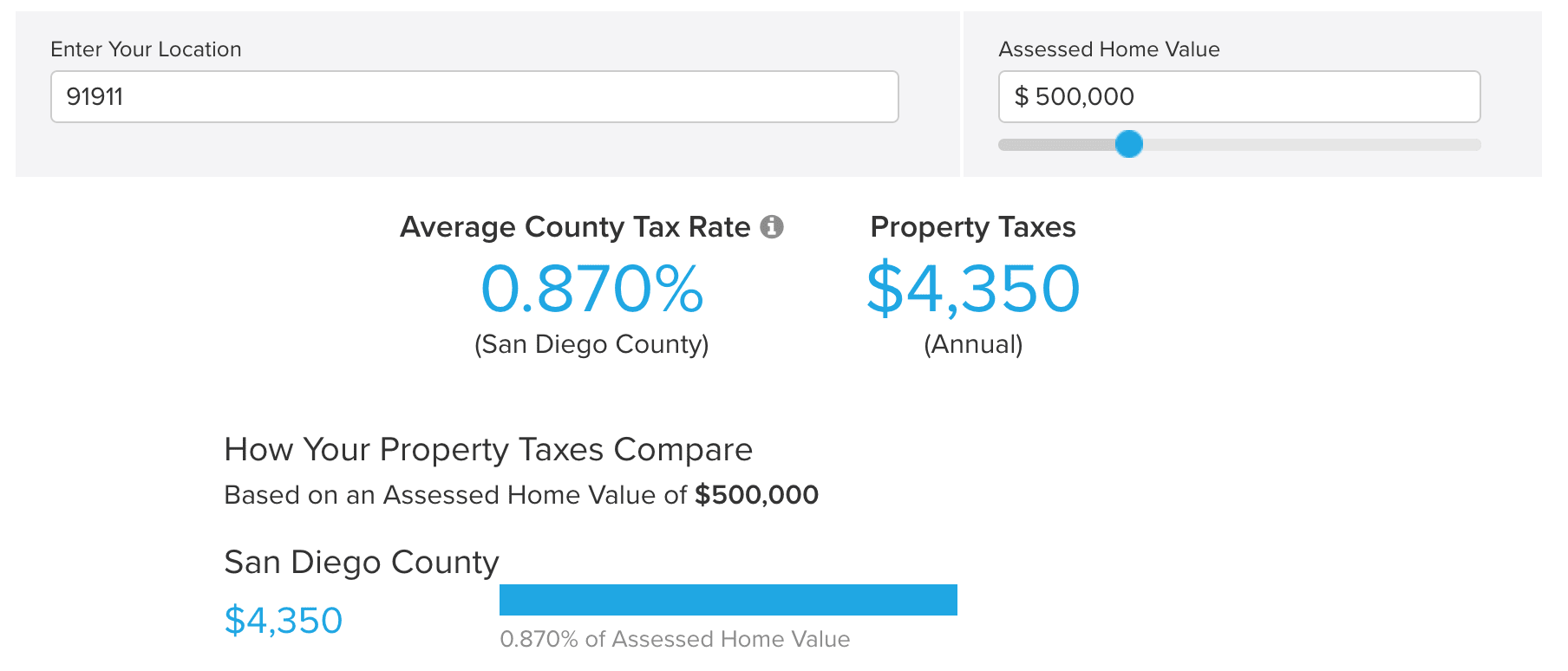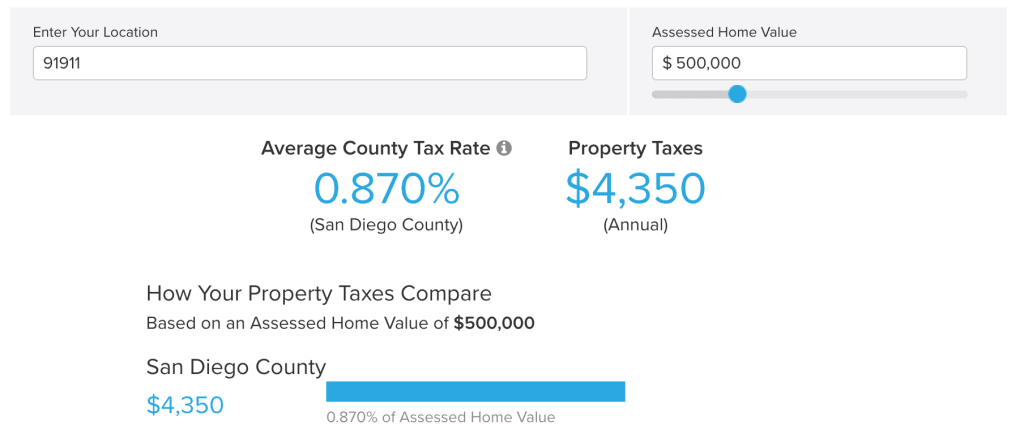 If you purchase a home in Miami, FL for $500,000 today, you'll pay $5,050 in property taxes at a 1.01% tax rate—or roughly $700 more than in San Diego, CA.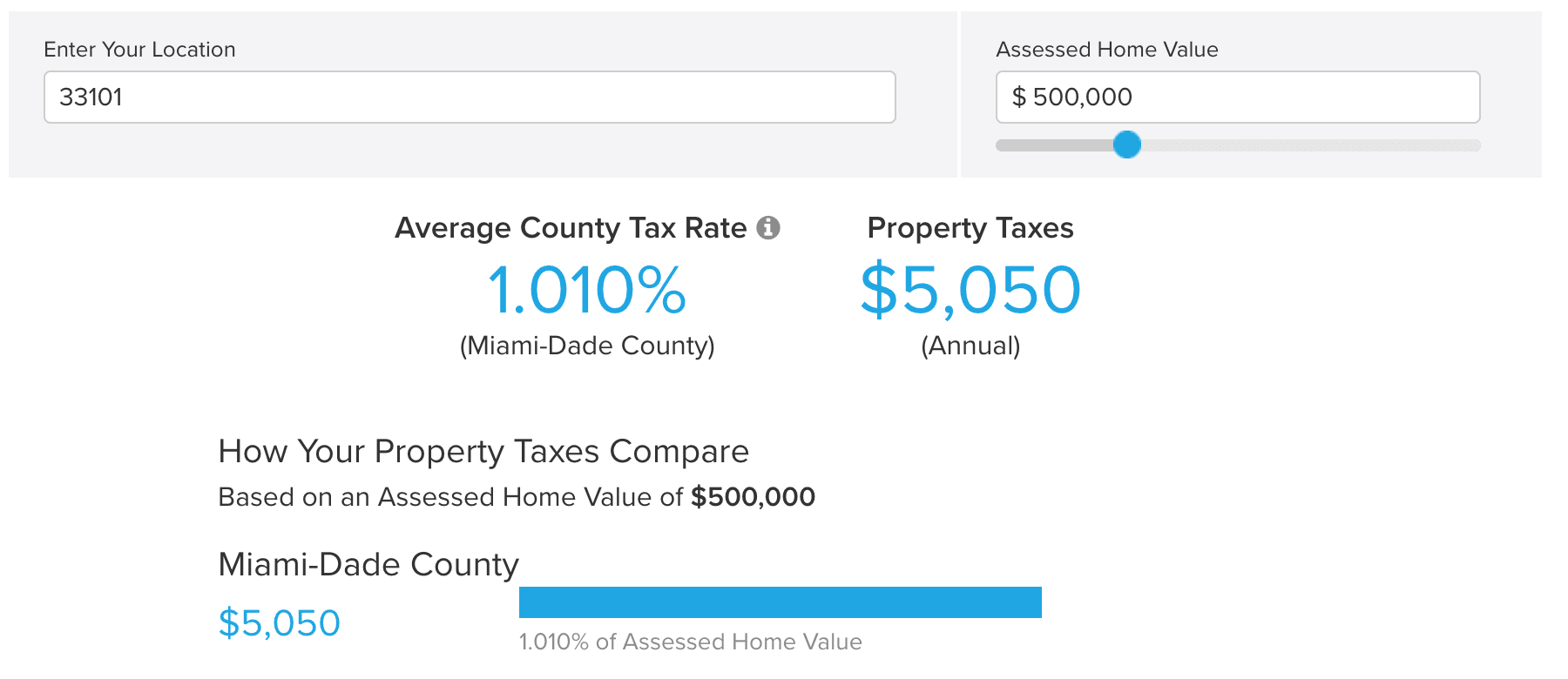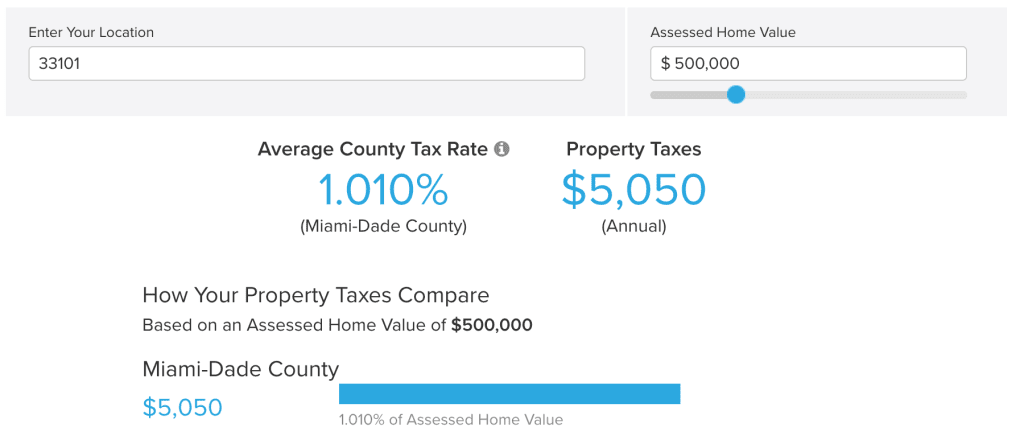 Now, how likely are you to find a great home in San Diego for $500,000? At this moment in 2023, not very likely.
There are exactly 4x as many homes for sale for $500,000 or under in Miami as there are in San Diego.
Cost of Living
According to U.S. News yearly ranking, Florida was last ranked #36 and California ranked #49 in cost of living. The rankings use factors from the Bureau of Economic Analysis to get a broad picture of how much living costs in each state.
On average, Florida has a MUCH lower cost of living than California.
California is a more expensive state overall. You'll pay more for groceries, gasoline, restaurants and more. It's no secret that California levies some of the highest taxes on businesses in the country and those taxes are passed down to the consumer.
According to TaxFoundation.com's analysis of the state income tax rate climate, Florida ranks #32 and California ranks #7 for highest corporate taxes.
The bottom line is moving to Florida from California will keep more money in your pocket when it comes to cost of living. If you choose a lower cost city in Florida like Orlando, Tampa, or Jacksonville—your savings will be exponential because of the affordable home prices and lower entertainment costs.
Does Florida or California have better job opportunities?
Both state are huge American states with tons of job opportunities. We believe that you can find great jobs in either state, however Florida has created more jobs as a percentage of year over year job growth.
Check out the latest headline from MoneyWise showing Florida's explosive job growth.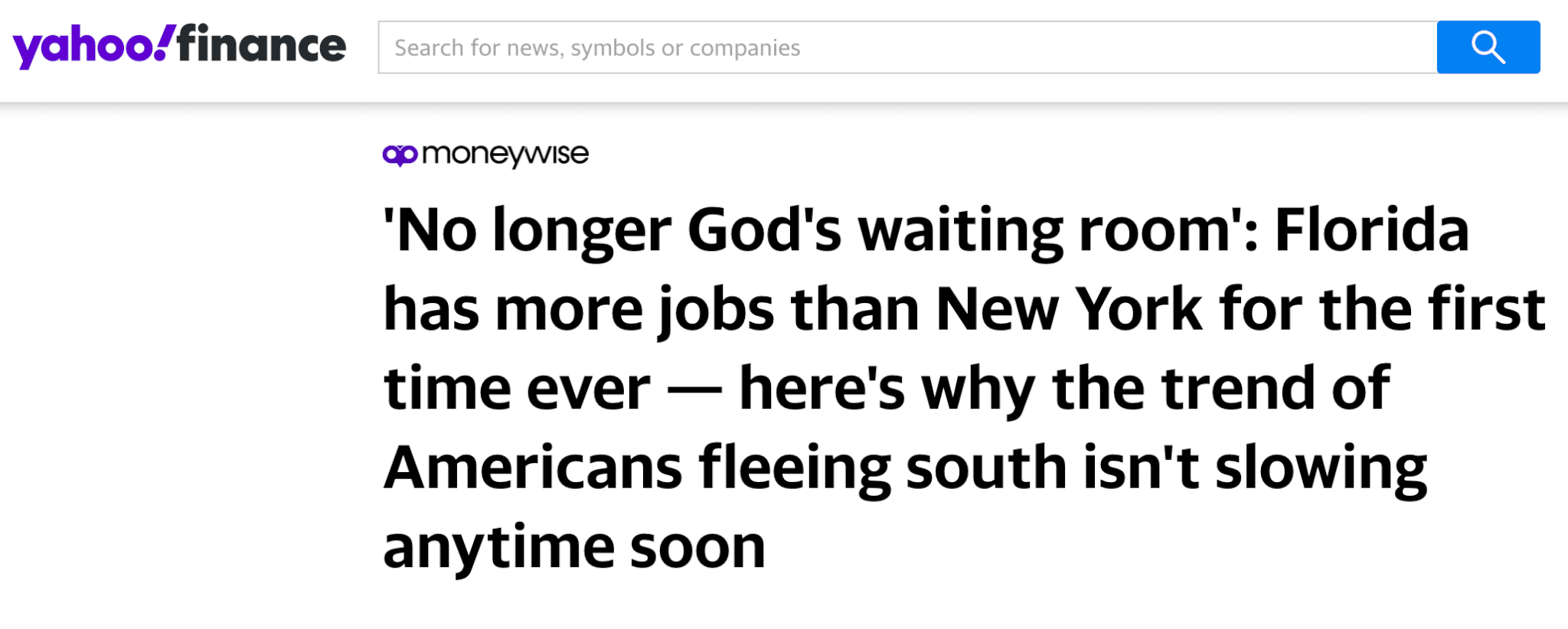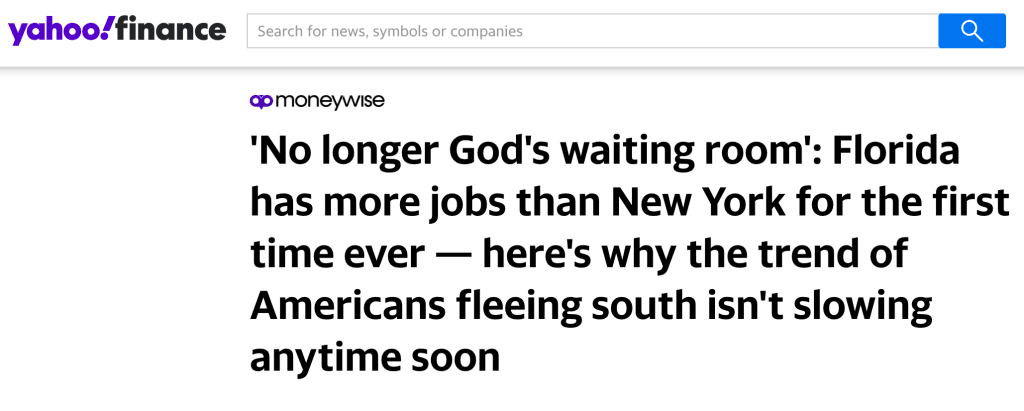 Let's look at some real world examples from the U.S. Bureau of Labor Statistics comparing California to Florida.
In March of 2023, California had 18,038,000 jobs, which is 426,000 more jobs compared to the same time in 2022. This means that California's job market has grown by about 2.4% in the past year.
Not bad California, you are growing!
On the other hand, Florida had 9,704,700 jobs in March, showing an increase of 363,400 jobs compared to last year. This indicates a growth rate of about 3.9% for Florida's job market in the past year which is 1.5% more job creation than California.
Using populational data, the number of jobs California added per capita would be approximately 1.1% compared to Florida's 1.7%—again with Florida edging out California.
| State | Jobs in March 2022 | Jobs in March 2023 | Job Growth | Growth Rate (%) | Job Growth per Capita (%) |
| --- | --- | --- | --- | --- | --- |
| California | 17,612,000 | 18,038,000 | 426,000 | 2.4% | 1.1% |
| Florida | 9,341,300 | 9,704,700 | 363,400 | 3.9% | 1.7% |
California vs Florida Job Growth March 2022 to 2023
These calculations suggest that Florida has seen a slightly higher rate of job growth per person compared to California in the past year.
Is Florida better than California for outdoor activities?
There are so many ways to enjoy the outdoors, so let's break down the nature experience in Florida and California.
Beach Experience
While both California and Florida have expansive coastlines (California with 840 miles and Florida with 1,350 mile), Florida has a far better coastline for the beach lover.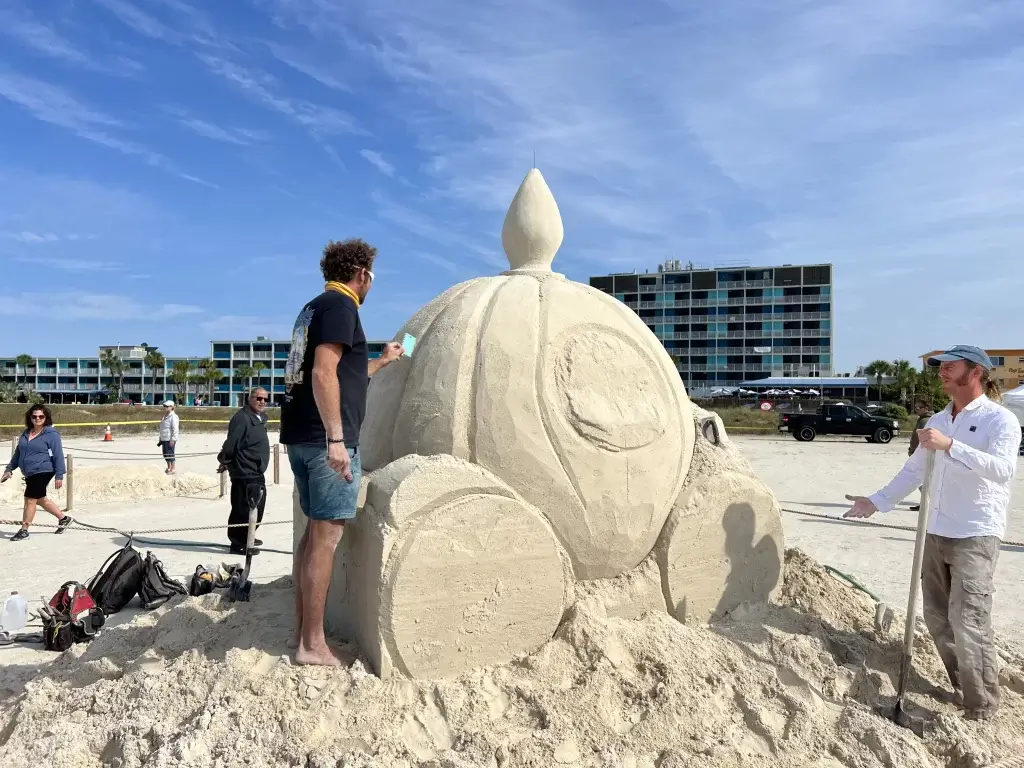 Florida's entire coastline is located in a southeastern tropical zone which provides much warmer beach waters compared to California beaches.
Sure, San Diego does have California's warmest waters, but they are much colder than Florida's average water temperature.
You also have much more elevation in California, which means large portions of the coast do not have beach access or present steep, rocky cliff-sides—good for pictures—not for swimming.
The coastline below is a good example of California's waterfront areas which aren't family friendly and void of sand.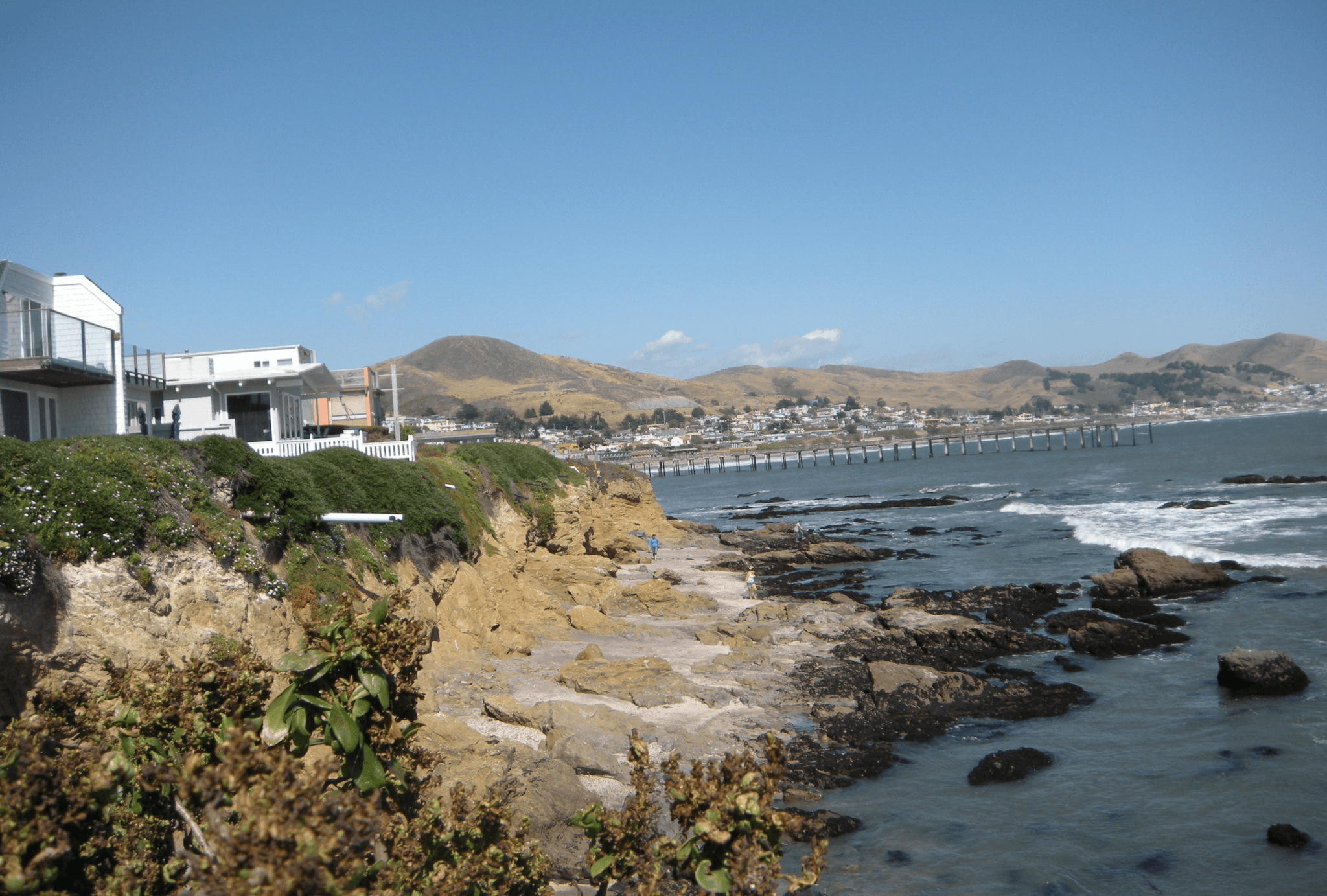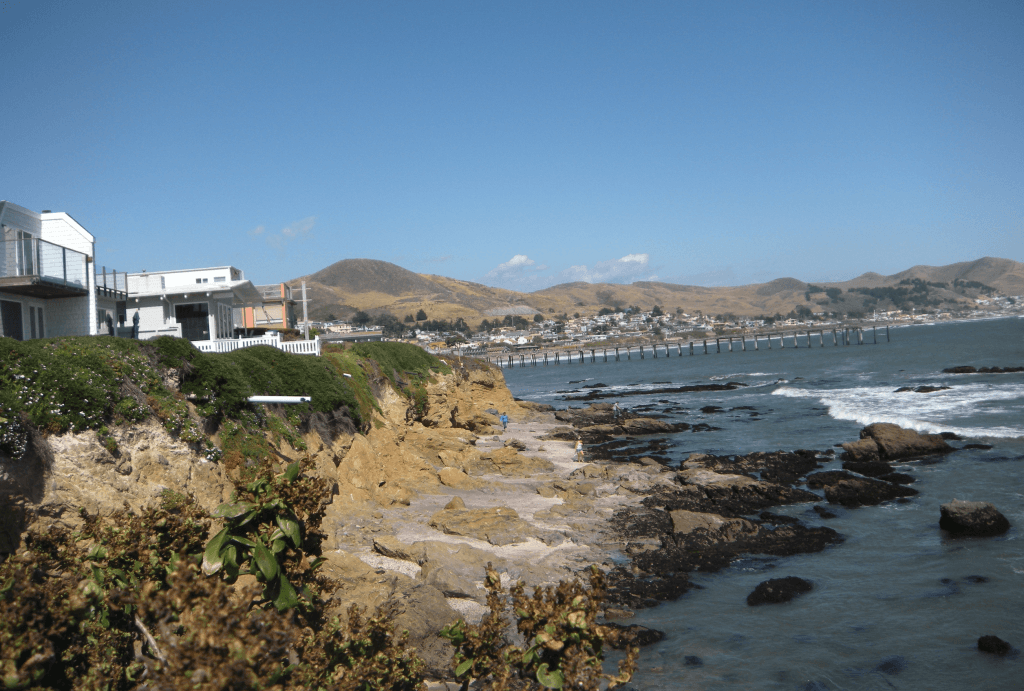 Think about it like this: The most northern border of Florida is still farther south than the most southern border in California. This is what makes Florida beaches magnificent, nearly all year long.
Warm water makes a beach experience magical.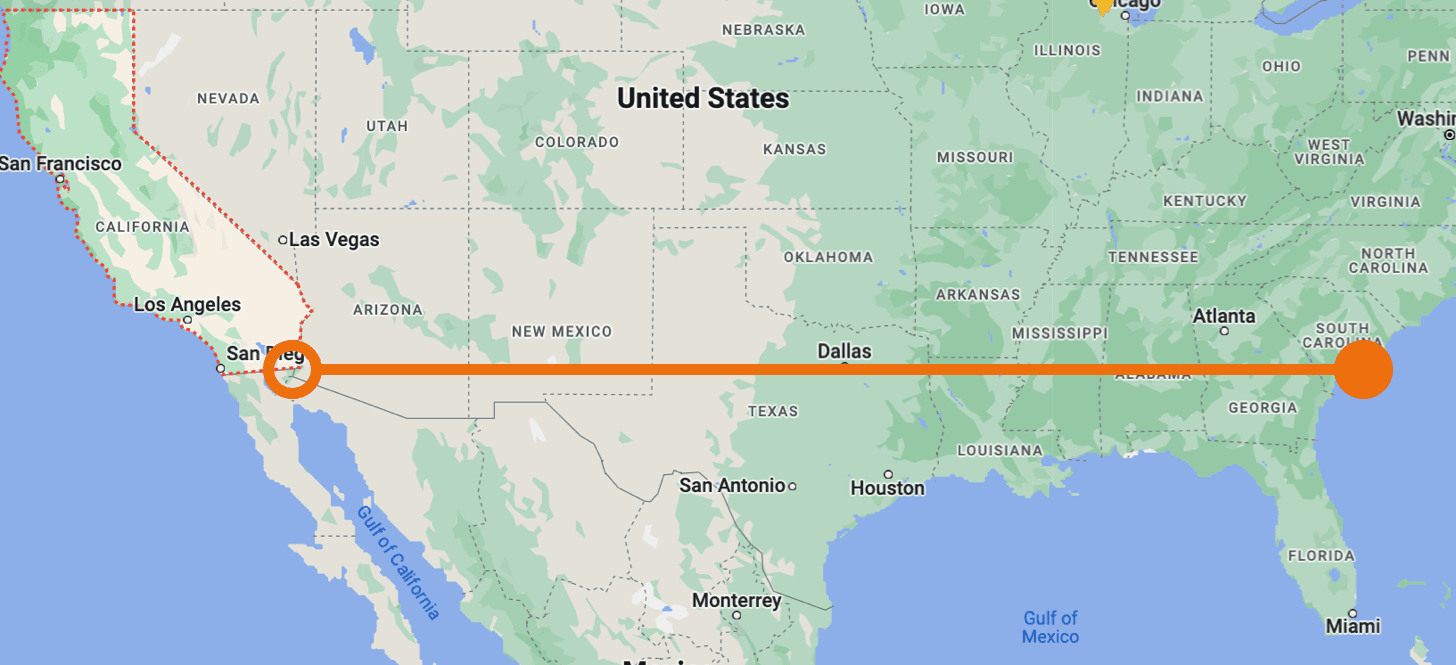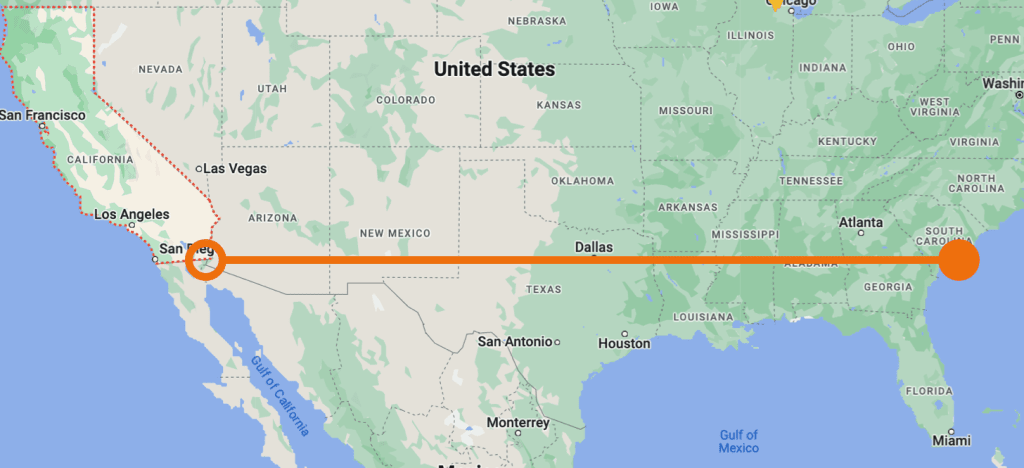 State and National Parks
When it comes to outdoor park opportunities, California outshines Florida by a landslide. California boasts an extensive network of state and national parks that leave Florida in the dust.
| | | |
| --- | --- | --- |
| OUTDOOR FEATURE | CALIFORNIA | FLORIDA |
| State Parks | 280 | 175 |
| National Parks | 9 | 3 |
| Total Parks | 289 | 178 |
| Miles of Coastline | 840 miles | 1,350 miles |
| Percent of Land Forested | 32% | 50% |
| Number of Mountains | 8,008 | 0 |
| Average Water Temperature | 64 °F | 80 °F |
Comparing California to Florida Outdoor Features
With a staggering 280 state parks and 9 national parks, California offers a diverse range of breathtaking landscapes and natural wonders. Some would say California is the prettiest in the United States.
From the towering giants of Sequoia National Park to the stunning coastline of Big Sur and the iconic Yosemite National Park, outdoor enthusiasts in California have an abundance of options to explore and immerse themselves.
San Diego has seven major National Parks or National Monuments within 5 hours. Pretty awesome.
In contrast, Florida's park system is wonderful, but pales in comparison. While Florida does have its fair share of natural beauty, it simply cannot compete with the sheer size and breadth of California's park offerings.
Florida is home to 175 state parks (nearly 100 less) and only 3 national parks (6 fewer), making it clear that the Sunshine State falls short when it comes to outdoor park access.
Although Florida boasts some notable destinations such as the Everglades National Park, Biscayne National Park, and the amazing Dry Tortugas National Park, the limited number of parks in the state restricts the variety and scale of outdoor experiences available to visitors.
In addition, Florida's National Parks are all located near on the southern tip of the state, so if you choose a northern Florida city to call home, you'll need to drive quite a ways.
Not to mention, Florida is flat and California's variety of soaring mountains, deserts, rain forests—makes it hard to compare California with any state in the country.
Hiking and Biking Trails
When it comes to hiking, California stands head and shoulders above the rest, boasting an impressive 18,467 total trail miles—the most in the nation.
This vast network of trails caters to all levels of hikers and offers an unparalleled diversity of landscapes to explore, from majestic mountains to picturesque coastlines.
On the other hand, while Florida offers a respectable 2,670 trail miles, it cannot compete with the sheer magnitude of California's hiking opportunities.
With its abundance of natural wonders and diverse terrains, California firmly solidifies its position as the ultimate haven for hikers, offering a wealth of unforgettable experiences that are unmatched by any other state in the nation.
Is Florida safer than San Diego?
Florida is going to have much more exposure to hurricanes and tropical storms than San Diego will. However, San Diego is at much greater risk of wildfire and drought risks.
Let's break down the numbers in terms of damage as measured by billions of dollars lost.
Florida Natural Disaster Risk
Below, you can see that Florida has experienced significant damage and this number often exceeds $40 million per year according to the National Centers for Environmental Information. In fact, in 2022 the state experienced catastrophic damage from tropical cyclones ($113 billion).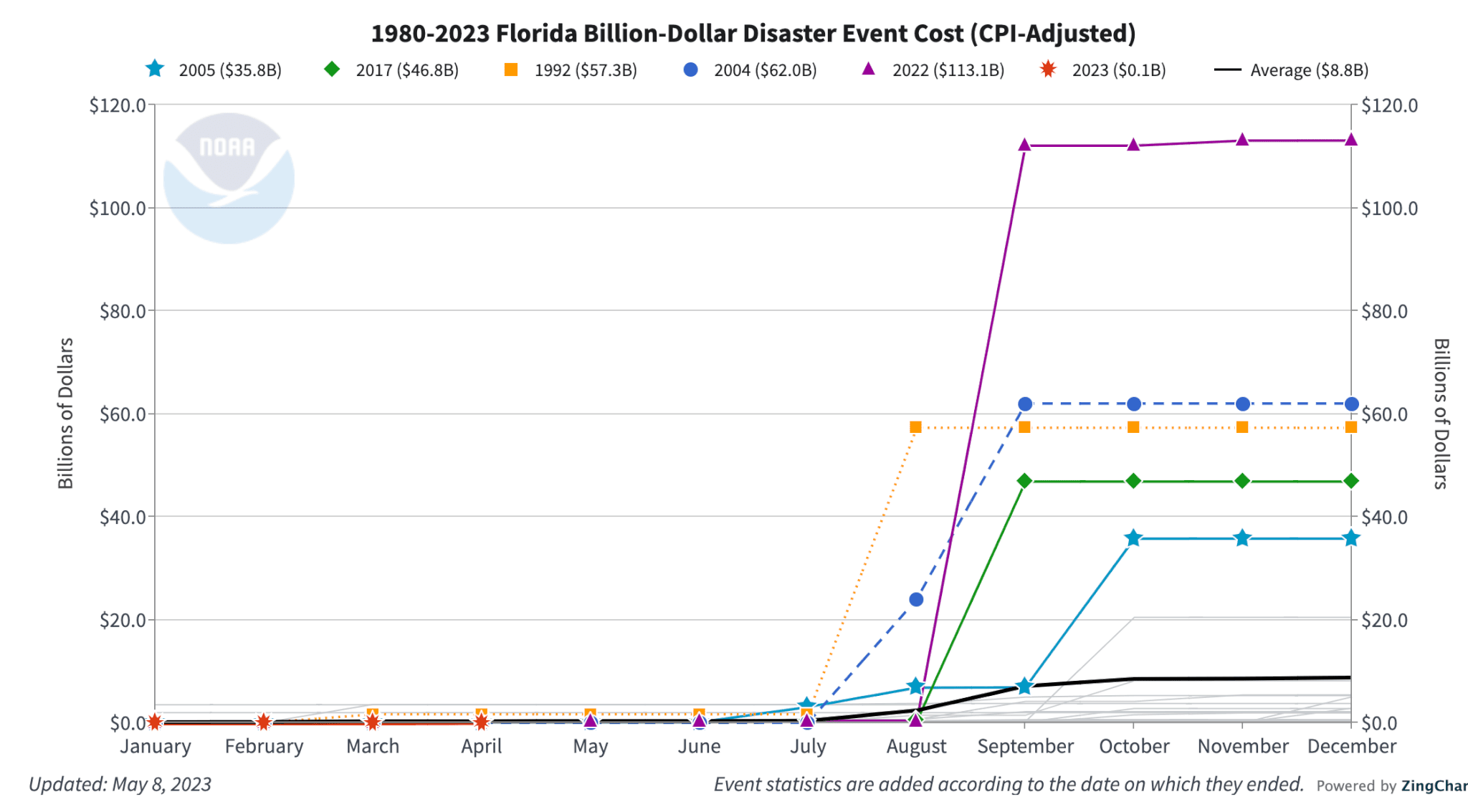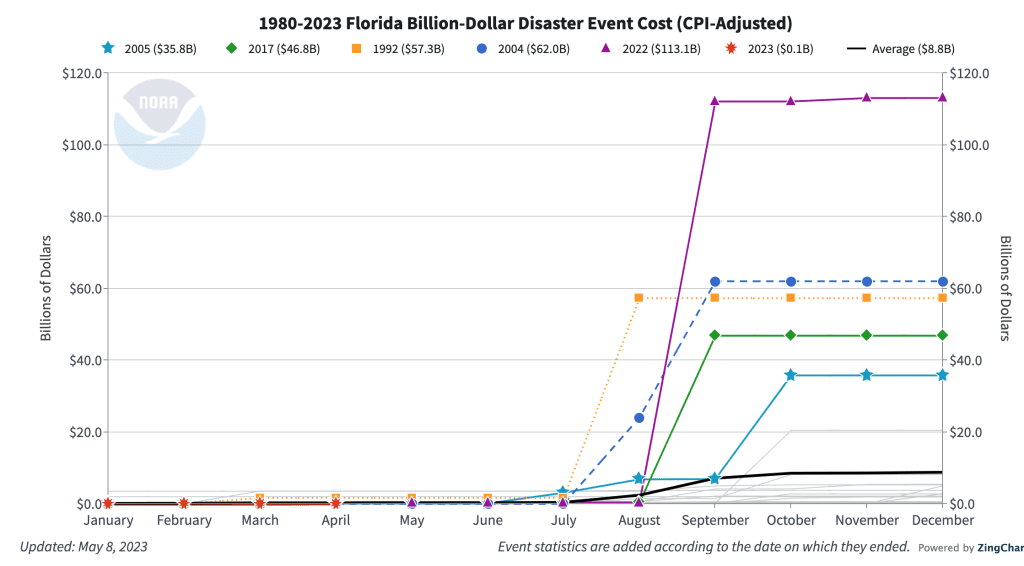 If you are moving from California to Florida, you will most likely encounter a hurricane or tropical storm threat nearly every year. In general, the closer to the coast you live, the more likely you will experience storm damage in a five year period.
California Natural Risk
California has a completely different environmental risks from Florida. While California is on the coastline, ocean storms represent a tiny fraction of damage to the state.
Instead, wildfire and droughts will make up the lions-share of damage created to homes and infrastructure. In the last 30 years, it is not uncommon for the state of California to experience $10 to $25 billion in damages from wildfires and droughts.
While California's damage sustained from mother nature is often less costly than Florida's hurricane frequency, wildfires are continuing to increase.
Crime Risk
It's important to consider crime when moving to a new area. If we compare San Diego, CA to a city of similar size like Tampa, FL—both just over 3 million people—you'll find that Tampa is a slightly safer area.



If you look at the statistics from NeighborhoodScout.com comparing crime in Tampa to San Diego per 1,000 residents, the crime is roughly the same with Tampa having more violent crime and San Diego having more property crime.
It's important to know that our crime data is based on urban city center areas which tend have more crime in general.
However, both Tampa and San Diego have very safe suburban cities which are some of the safest in the country such as Miramar near San Diego or Palm Harbor near Tampa.
In general, we've always felt safe walking around both metropolitan areas.
Frequently Asked Questions
Is Florida more humid than California?
Florida is often more humid than California, but that doesn't mean it's always uncomfortable. I've noticed since we moved to Florida that the mornings and evenings are really pleasant.
The climate in Florida is classified as humid subtropical, characterized by high humidity levels throughout the year. The state's proximity to large bodies of water, including the Atlantic Ocean and the Gulf of Mexico contributes to the humid conditions.
Even though it can get humid during the day, finding shade can make a big difference in staying comfortable. Plus, the ocean breezes in Florida help lower the humidity and make it feel more comfortable.
We've found that being near the ocean brings a great breeze to which makes the air much more comfortable.
So, while Florida may have higher humidity levels, there are ways to cope with it and still enjoy the outdoors.
Taking advantage of the pleasant mornings and evenings, seeking shade, and feeling the refreshing ocean breezes can make living in Florida quite comfortable despite the humidity.
Why are people leaving San Diego?
People are leaving San Diego and California in general. One reason is that living there can cost you an arm and a leg.
Everything from housing to groceries is much higher than in places like Florida.
We get it. We moved from a expensive cities like Seattle, Washington and Chicago, Illinois to Orlando, Florida, and we found some serious savings!
Now we can actually afford to splurge on food activities and fun with our friends without breaking the bank.
A second reason people are leaving is high taxes. California is one of the most taxed states in the country while areas of the country like Florida are have some of the lowest taxes. Less taxes equals more money in your pocket.
Lastly, many people are leaving California because they can have an equal quality of life in other places for a fraction of the cost. Take Florida for example with its amazing beaches, warm weather, and great activities and parks—you may not be missing much of anything.