When Is Spring in Florida? (Dates, Temperatures, and Places)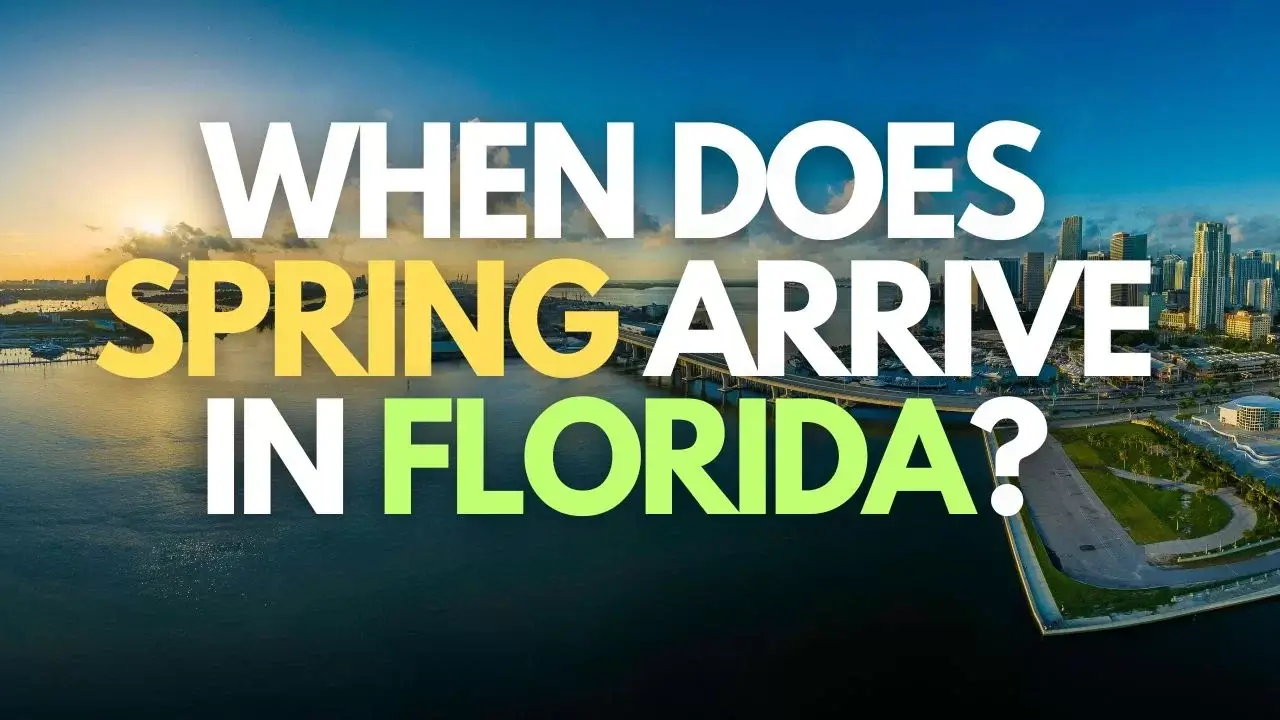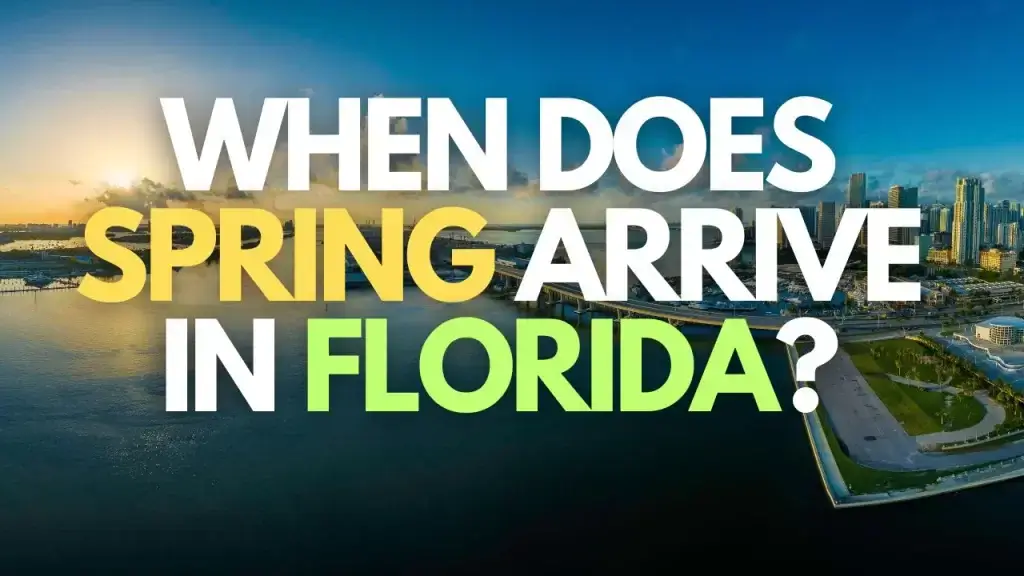 Spring time is an amazing time of year in Florida. The grass is green, the sun is out, and the oceans are beginning to heat up for summer fun.
But when is spring in Florida and how do we know when it's arrived?
We moved to Florida years ago, and we can tell you firsthand: we love spring in Florida!!!
But, spring in Florida is similar to fall in Florida—we aren't always sure when it's arrived.
There are many ways to determine spring arrival in Florida (technical spring and feel), so let's dig in and find the answers.
When is it spring in Florida? (Short Answer)
Spring in Florida officially begins on March 19th and ends on June 20th with the vernal equinox.
However, the sensation of spring varies across the state.
In North Florida, it starts in late March and lasts until June, while Central Florida experiences it from March to May. South Florida enjoys an early spring, beginning as early as December or January and ending in April or May.
In Florida, April is the month that feels most like spring. The temperature increases by almost 9 degrees Fahrenheit compared to February. However, an increase in rain is not a typical sign of spring's arrival. That usually happens in the summer.
June marks the transition to summer, accompanied by increased rainfall.
When is it "officially" spring time in Florida?
In Florida, spring officially begins on March 19th, 2024 and ends June 20th.
This marks the vernal equinox, the moment when the sun crosses the celestial equator and signals the start of spring in the Northern Hemisphere.
Essentially, the sun does something special on this day: it crosses an invisible line in the sky called the celestial equator.
It's like a sign that says, "Hey, it's springtime!" So, that's when we officially have spring in Florida.
Even Google confirms that today is officially the first day of spring in Florida.


Now, depending on where you are moving from, March 19th in Florida may or may not "feel" like spring.
And believe us, as Florida natives, Florida weather plays by its own rules.
For example, in the middle of January we are often in shorts and tank tops—even though it's "winter".
When does it feel like spring in Florida?
Florida plays by its own rules when it comes to spring.
Sure, the sun might be dancing in the sky with the celestial equator, but you won't have typical spring signs like up north.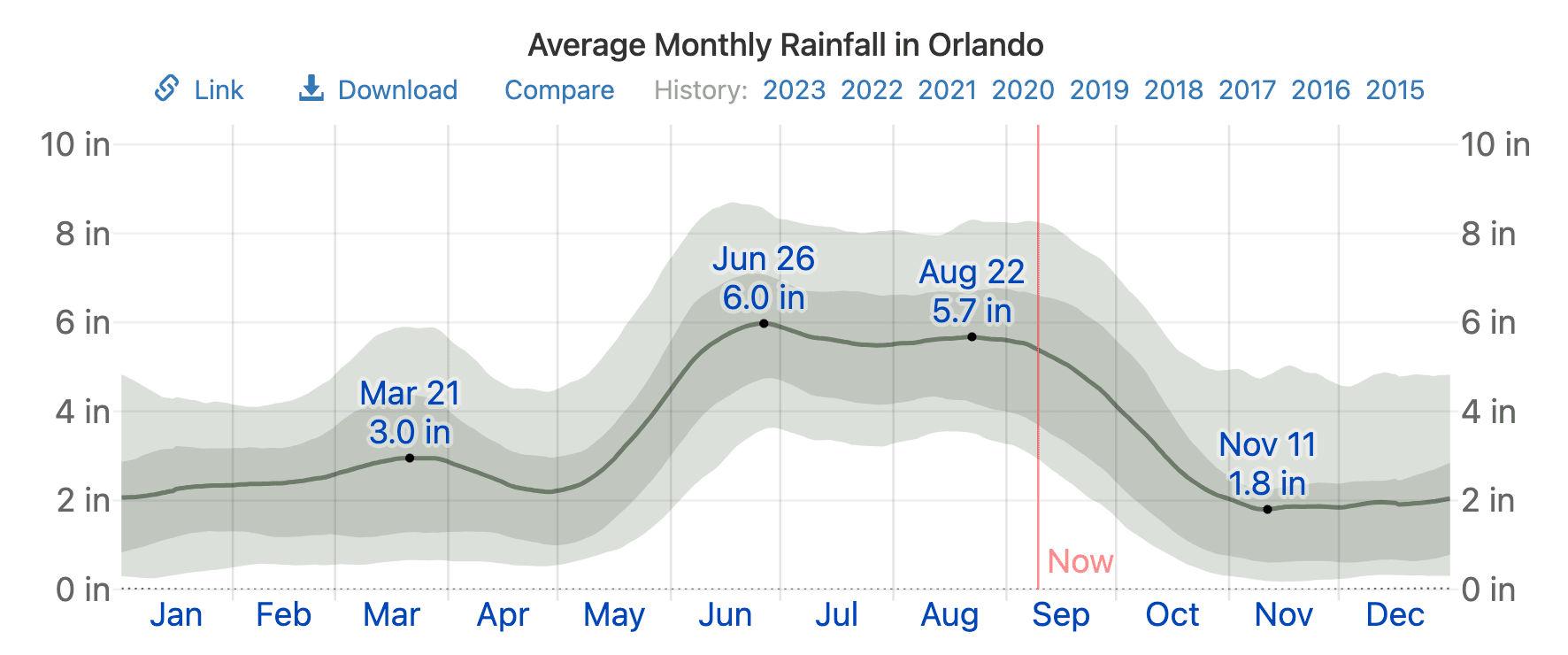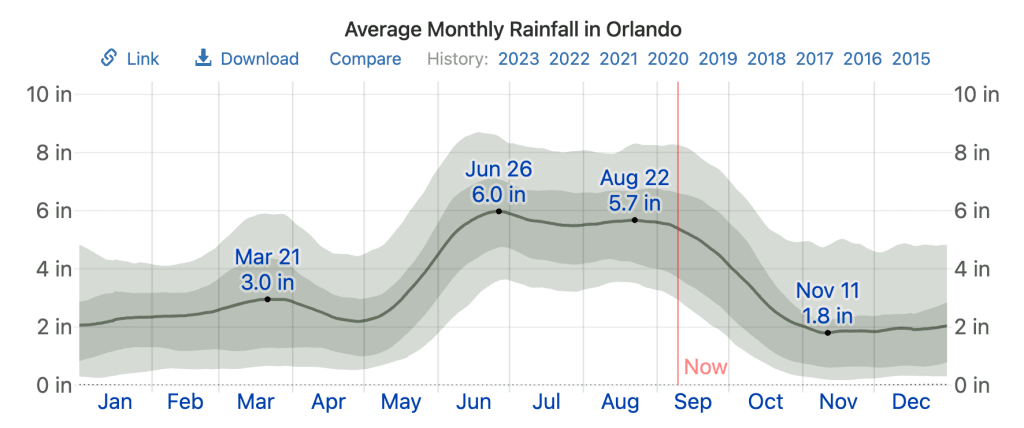 3 Things you won't see in a Florida spring:
There won't be any brown grass that turns green; it was always green.
The trees won't start growing leaves, because they never lost any in the first place.
It won't be excessively rainy, that's coming during summer.
In Florida, the transition from late winter to spring is very subtle. However, you will notice some changes if you look hard enough.
There will be noticeable changes in temperature and precipitation.
Orlando, FL Spring Time Temperatures and Precipitation (Rain)
| Month | Average High (°F) | Average Low (°F) | Days of Rain | % Change in Avg High (vs. Previous Month) | % Change in Days of Rain (vs. Previous Month) |
| --- | --- | --- | --- | --- | --- |
| February | 73°F | 63°F | 6.5 | N/A | N/A |
| March | 77°F | 59°F | 7.6 | 5.48% | 16.92% |
| April | 82°F | 63°F | 7.2 | 6.49% | -5.26% |
| June | 89°F | 74°F | 17.7 | 8.54% | 145.83% |
| July | 90°F | 75°F | 20.1 days | 1.12% | 13.56% |
Temperature and Rain in Orlando, FL during Spring
Temperature Changes in a Florida Spring
Comparing March and April, we observe a modest increase in average high temperatures, with March warming up by 5.48% compared to February, April warming up 6.5% compared to March, and June heating up nearly 9% compared to April.
Precipitation Changes in a Florida Spring
The number of rainy days also rises significantly by 16.92% in March compared to February and April will look very much like March in terms of precipitation.
However, a big difference is the precipitation in June, which jumps nearly 145% over April—representing the arrival of spring showers.
So when does it feel like spring in Florida?
Florida feels like spring when temperatures start rising, usually in April.
And, we love spring time. In fact, below is a picture of us out on a boat in shorts and sunglasses during a spring month.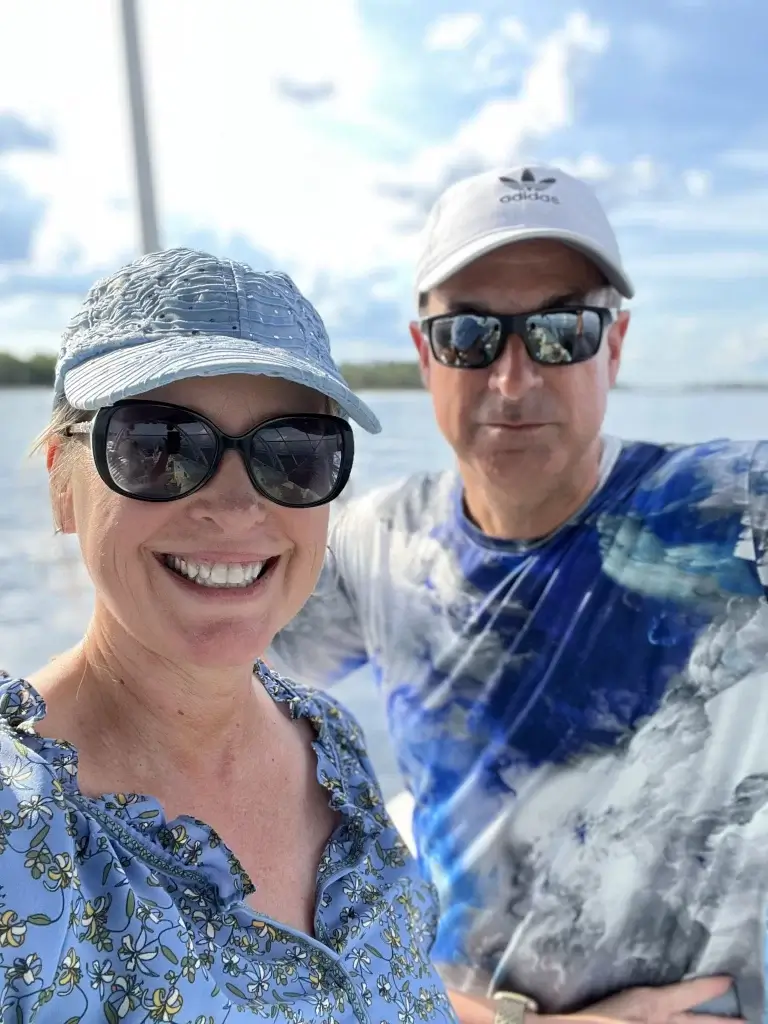 But a big question is: when does it "feel" like spring?
The average human can perceive a temperature change around 1 to 2 degrees; however because temperatures rise and fall all day, the human body will need a more drastic temperature swing each day to notice a difference.
The most drastic change in temperature will happen in April when it's nearly 9 degrees warmer than February (82 degrees vs 73 degrees) while also still feeling quite pleasant.
June on the other hand will feel like summer at this point as the average high will be nearly 90 degrees. The heat will sneak up on you, and you'll want to make sure you are prepared for a hot Florida summer by this point.
As far as precipitation goes, it will rain significantly more in June; however, Florida isn't a spring-rain type of state—it's a summer rain state.
Florida has a summer monsoon season that kicks off in June with a 145% increase in rain from May.
In a nutshell, April in Florida offers a taste of spring, without the scorching summer heat that reaches up to 89 degrees. With temperatures hovering around 82 degrees, it strikes a perfect balance.
And you will find tons of people out enjoying the beach, water, and sunshine.
Check out when we visited H20 Waterpark outside Orlando in April—people were having a great time and it was plenty warm.
While it may be slightly rainier compared to the winter months of January and February, it is nothing compared to the downpour of the summer monsoon season.
What's more, you'll enjoy an additional 2.5 hours of daylight in April compared to January, allowing you to fully embrace the longer days.
As for humidity, April provides a respite from the 20 days of high humidity you would experience in July, although it remains slightly more humid than January.
When is the growing season in Florida spring time?
In the sunshine state of Florida, the gardening journey is a year-round adventure, with each season offering its unique charm and opportunities.
And the springtime brings a real opportunity to get your green-thumb ready.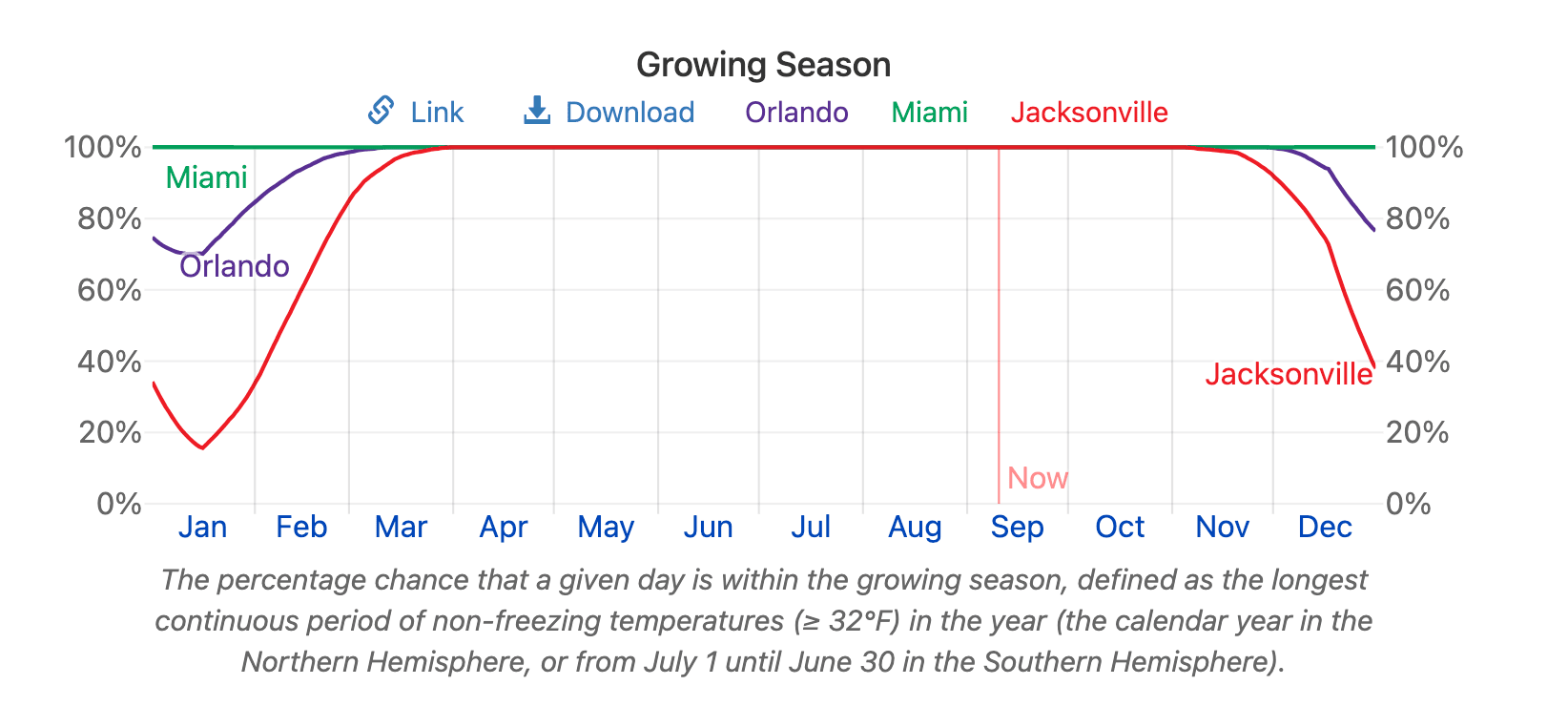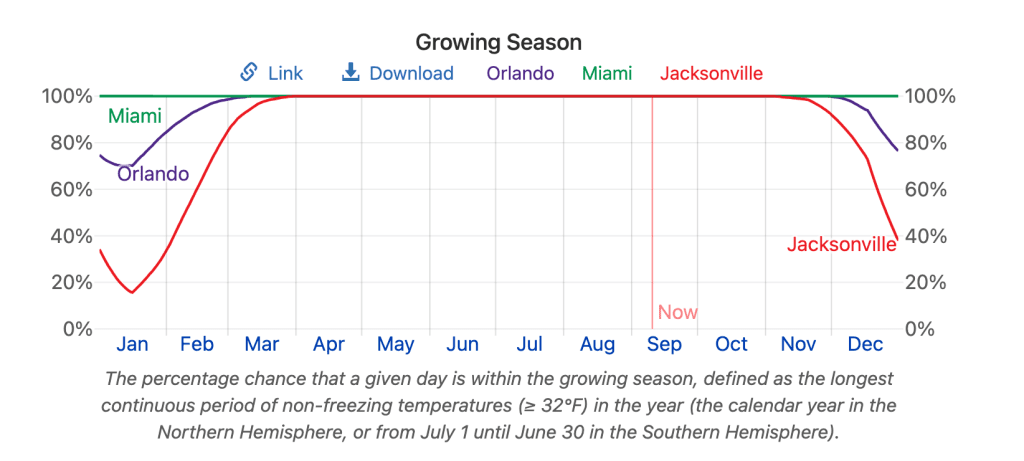 What you need to know about Florida's spring planting season:
Spring begins after the last frost, which is usually around April 15th in North Florida, as early as January in South Florida, and between those months in Central Florida.
Now is the perfect time to finish harvesting your leafy herbs and vegetables and begin planting fruiting plants that thrive in the spring time.
In spring, you can grow a wide variety of edible plants, from leafy greens to fruits.
Spring lasts from March (or the last frost date in your area) through May or early June—depending on your location in Florida.
Does spring start at different times in North, Central, and Southern Florida?
Yes, spring begins at slightly different times in North, Central, and Southern Florida.
The key marker for spring's arrival is the departure of the last frost.
In North Florida, this typically occurs around late March to June.
Central Florida witnesses its last frost in early to mid-March, while South Florida experiences its last frost as early as January, extending into April or May.
The variation is due to Florida's vast geographical expanse and diverse climate zones. Remember, Florida is a very long state.
The great part of living in Florida is that we can more or less grow something year round. We love this about living in Florida.
While the specific timing can differ, gardeners are encouraged to adapt their plans accordingly to make the most of this vibrant season.
Short Answer
North Florida's spring goes from late March to June, Central Florida's from March to May, and South Florida's from December/January to April/May.
Frequently asked questions
Does it rain a lot in a Florida spring?
No, Florida's rainy season begins in June as the summer monsoon season arrives.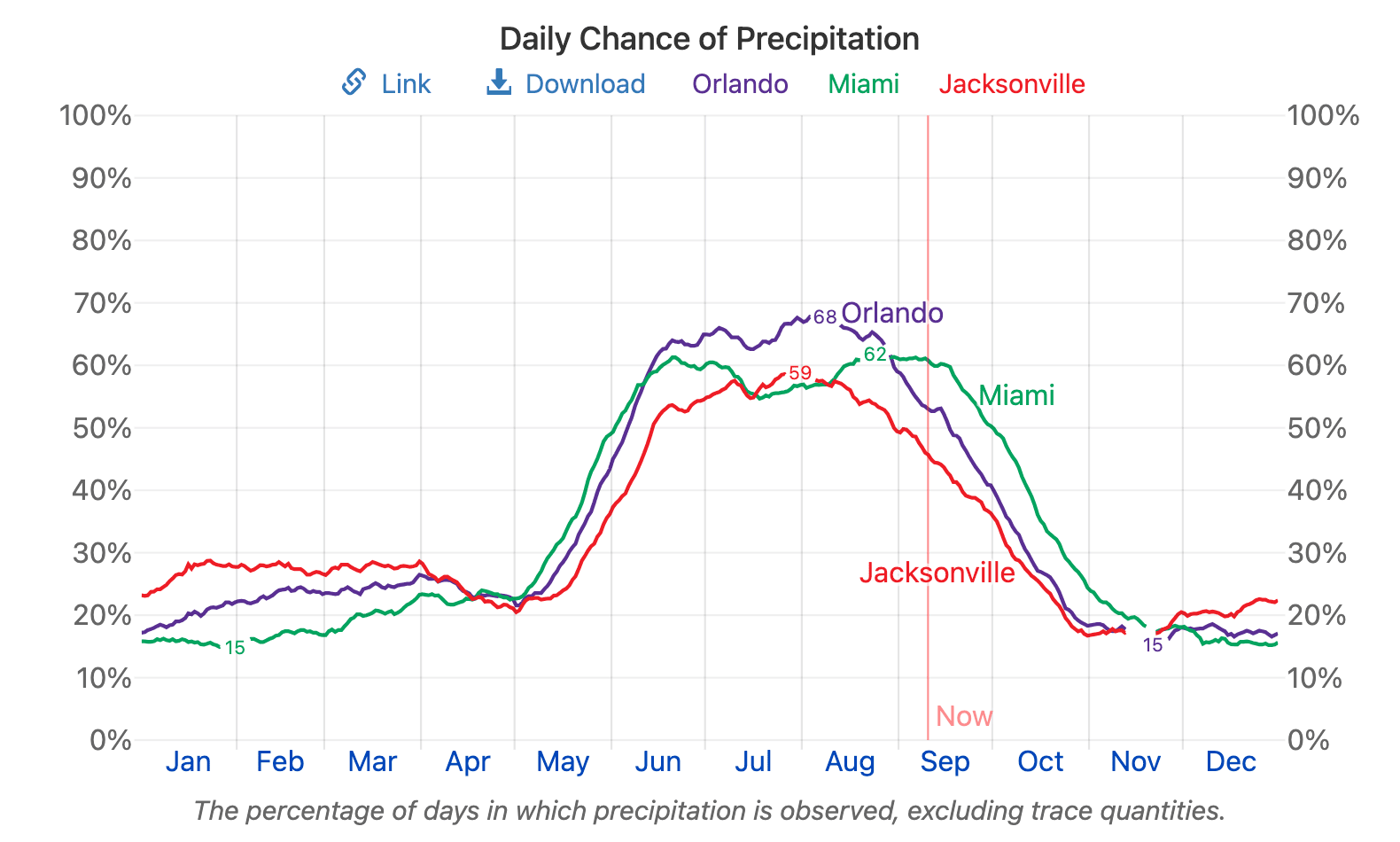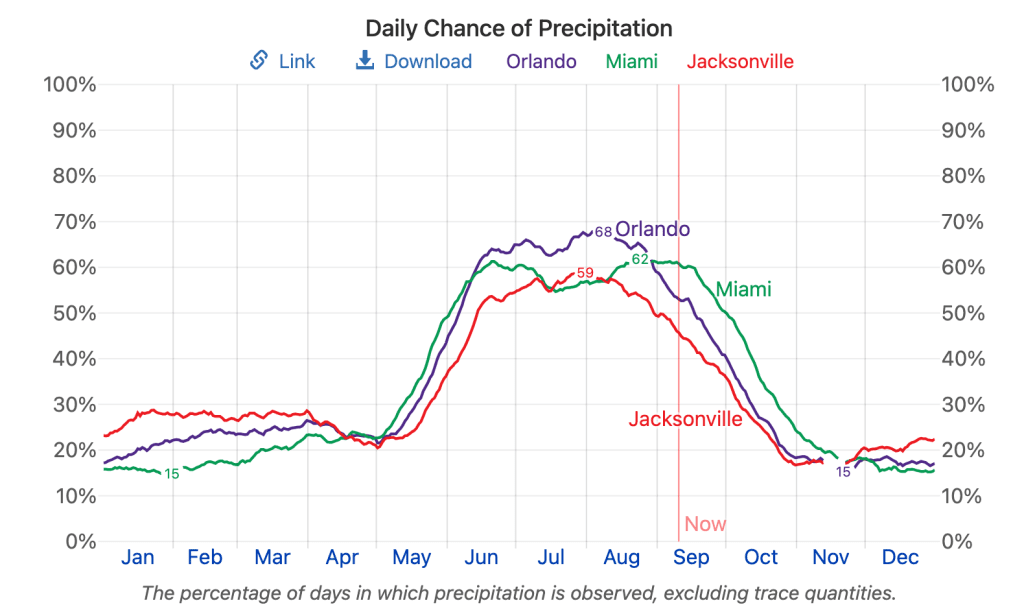 If you're considering relocating or traveling in the spring (March to May), there's no need to be concerned about dealing with a rainy season like those experienced in the northwest, northeast, and midwest.
In Florida, there is a 20% to 30% chance of rain from November to April—regardless of where you live.
Is spring in Florida shorts weather?
Yes, Florida is the perfect place to enjoy spring, especially in April, when the weather is perfect for wearing shorts. If you are planning a visit, you need to pack shorts.
With temperatures around 82°F and a pleasant atmosphere, it's a comfortable season for shorts.
However, as May and June approaches, the heat intensifies, making it feel more like summer.
In spring, we have longer days and less humidity compared to summer. But be ready, because it will start getting hotter as summer arrives.
Is it warm enough to go to the beach in April in Florida?
It depends on your tolerance for slightly cooler water.
Humans generally find ocean temperatures between 70°F and 78°F (21°C to 26°C) comfortable for swimming. But make no mistake: water under 80 degrees will feel "cool".
And during a spring month in Florida, such as April, some parts of Florida will be on the border or below of this comfort range.
Check three Florida cities in three different latitudes of Florida and their average ocean temperature in April
| City | Ocean Temperature in April (°F) |
| --- | --- |
| Miami (South Florida) | 77°F |
| Orlando (Central Florida) | 70°F |
| Jacksonville (North Florida) | 68°F |
Average Ocean Temperature in April (Florida South, Central, and North)
As you can see above, a North Florida city like Jacksonville will have much colder water than a South Florida city like Miami in April.
If you want to swim in comfortable water in April, choose a South Florida city like Miami, Naples, or the Florida Keys.