Why is Florida so cheap to live? (Our firsthand experience.)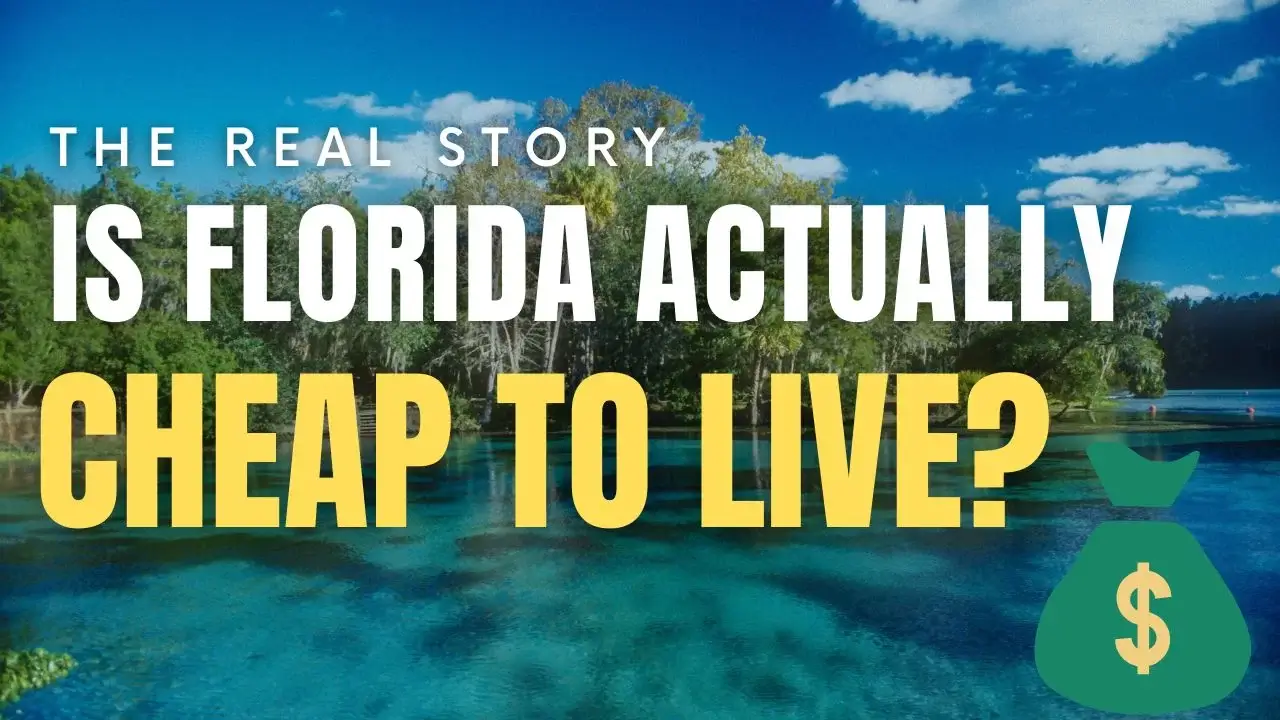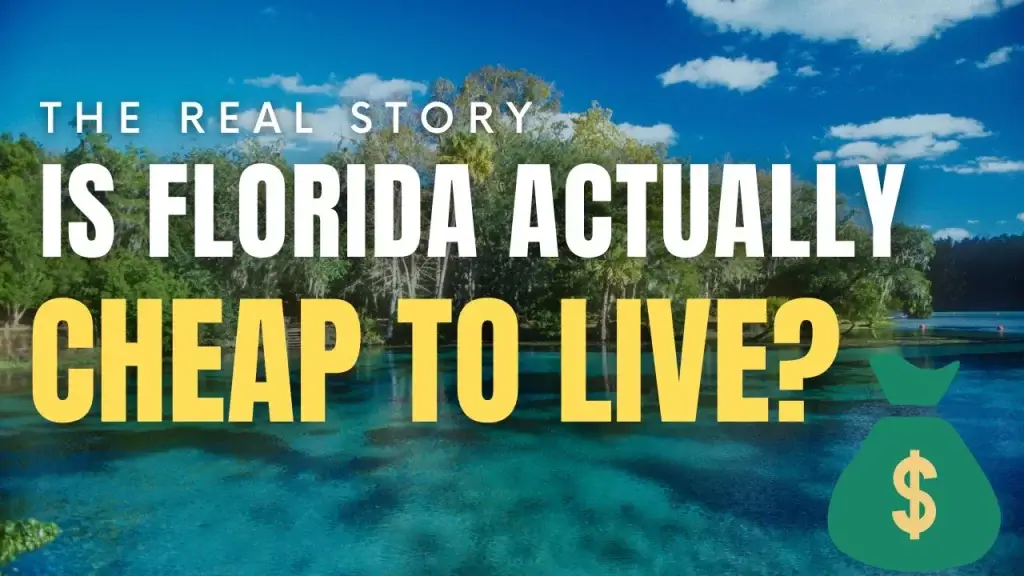 Moving to Florida can be a smart choice. Why? It won't always drain your wallet.
However, before you make the move, you need to understand that Florida isn't cheaper for everyone.
For example, there's no state income tax in Florida, so you get to hold onto more of what you earn. Other taxes like property (average rate 0.83%), corporate (5.5%), and sales taxes (7.01%) aren't sky-high either.
But before you start loading the moving truck, know this: Florida isn't the cheapest state in all areas.
The cost of homes can differ a lot and may be more expensive than what you are used to. Bigger places like Miami and Tampa might stretch your budget. Smaller towns like Palatka and Sebring are more pocket-friendly.
When it comes to monthly bills, expenses such as electricity (averaging at $126.75), internet (about $60.04) and water (around $40.18) are relatively higher compared to the rest of the 49 states.
Despite these costs, Florida has so much good to offer.
As current residents of Florida and previous residents in Louisiana, Washington State, Illinois, and New York—we have first-hand experience with deciding whether Florida is cheap compared to other areas.
Let's dive into each category and breakdown Florida's cost of living.
Is Florida Real Estate Really Cheap?
Florida is popular for a reason. The sun is always shining, white sand beaches line the coast, and you're surrounded by beautiful tropical waters.
Although Florida is known in the media for its generally low cost of living, the affordability of real estate can vary significantly throughout the state. In other words, it's not cheap everywhere in Florida.
For instance, you can find highly affordable properties in cities such as Palatka, Fort Pierce, and Sebring.
Let's look at a real market representation. Florida Housing Data Clearinghouse research reveals a stark comparison between the 20-year (2000 to 2020) average cost of a home in Putnam County and Miami-Dade County.
Putnam County is quite the deal.


The data above clearly shows that the average home sale price in Putnam County is not only over $100,000 less than in Miami, but it also falls below the overall average for Florida.
By delving deeper into Rocket Mortgage home sale data in Palatka, Florida, we can observe that this area in Florida has managed to resist the pricing surge that followed the Covid-19 pandemic.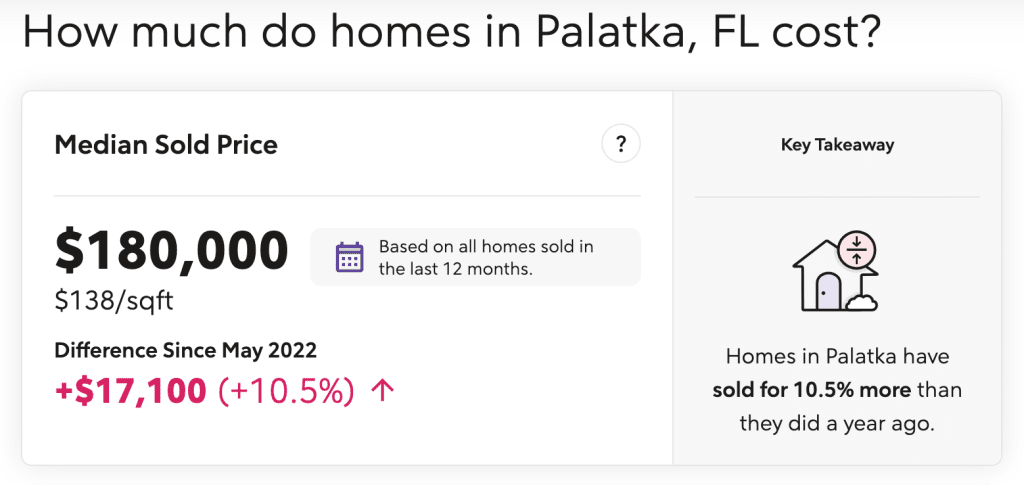 On the other end of the spectrum, cities like Miami, Tampa, and Orlando are known for their more expensive real estate markets.
These areas offer a vibrant nightlife, world-class dining, and plenty of job opportunities, but they come with a higher price tag.
The bigger the city in Florida or its proximity to the coast, the higher the price of housing is likely to be.
The price of real estate exists on a continuum of popularity in Florida. For example, living on the coast is more expensive than living inland.
However, which area you choose to live in coastal Florida will also vary in price.
Pensacola is a coastal city in the Florida Panhandle and much less expensive than Fort Lauderdale, which is located in the southern Peninsular Florida region.
In the same way, inland Florida also has a spectrum of pricing variations. Orlando is the biggest inland city and will have more expensive housing than Gainesville or Ocala.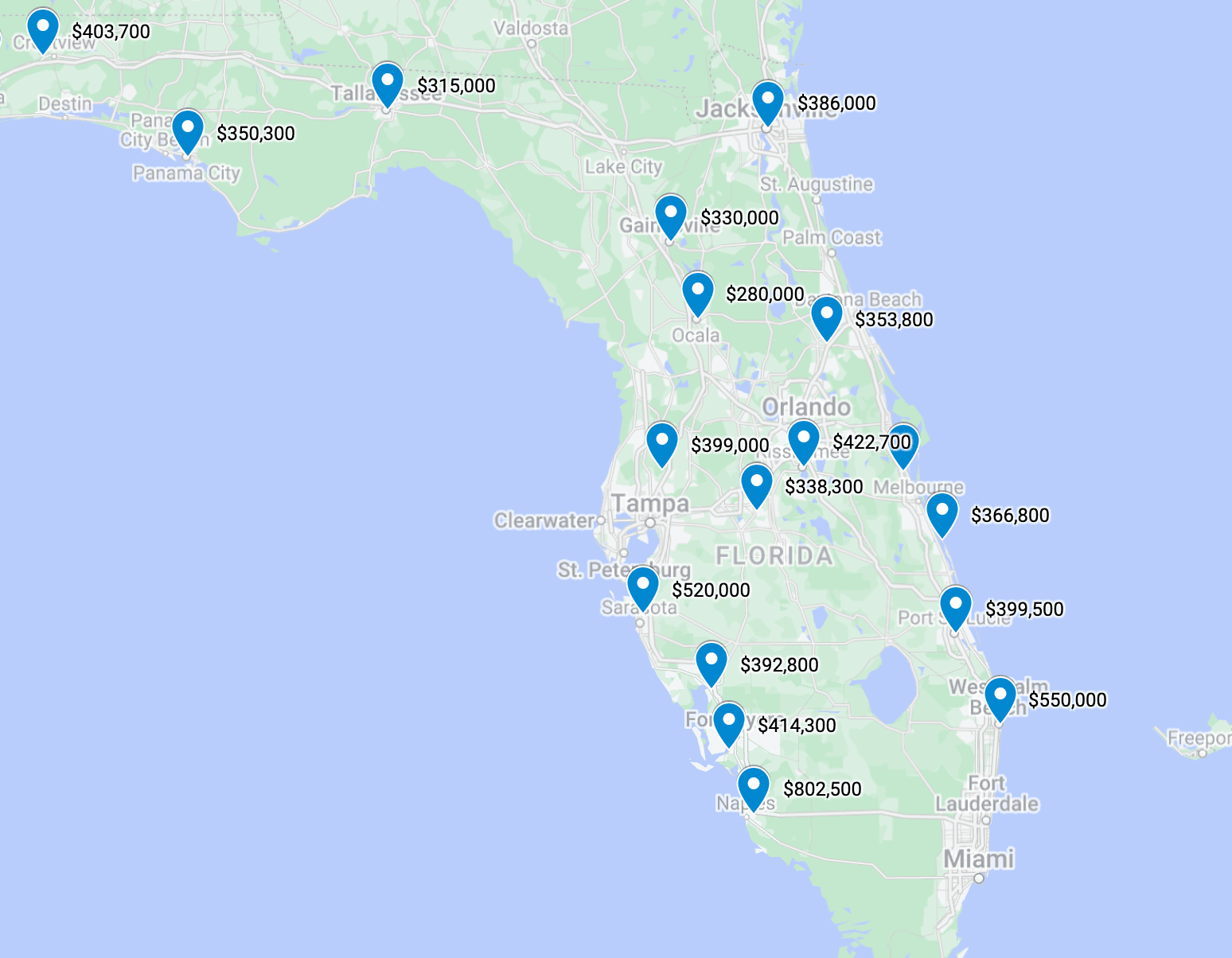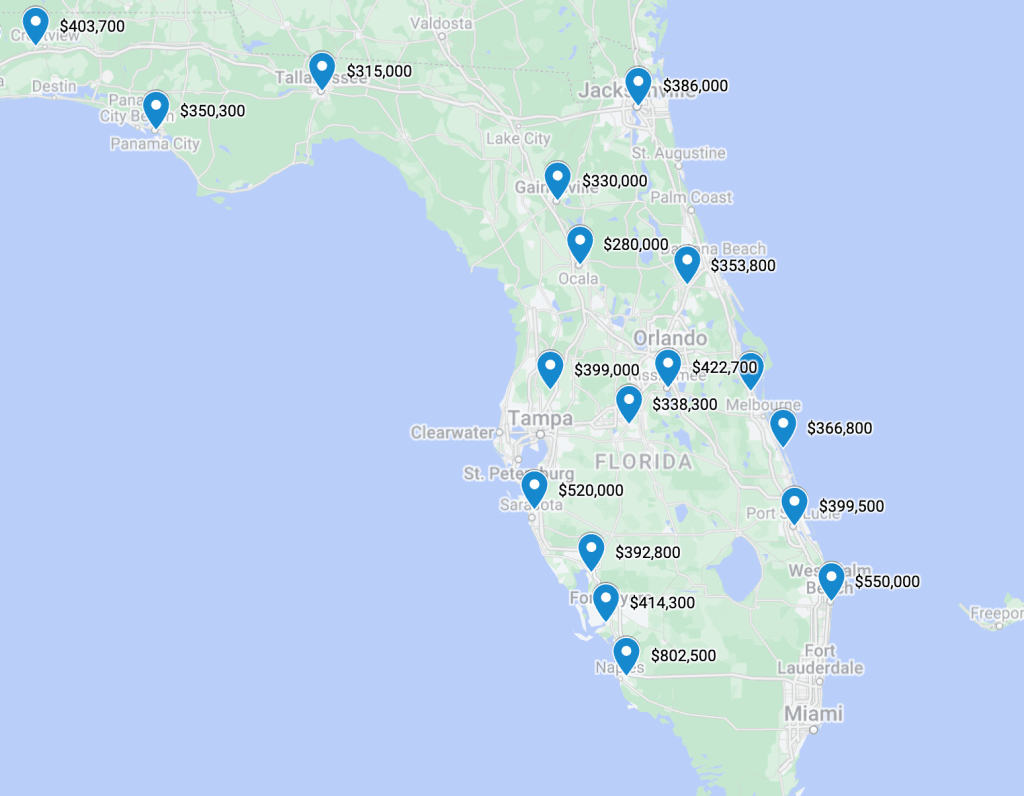 The Honest Truth: Florida Real Estate Has Increased Dramataically
If we look at housing price data in Florida from the Federal Reserve from the last 50 years, you'll see a trend that average home prices have surged since 2010.


The idea that Florida real estate is "cheap" is wrong. The truth is that Florida is getting more expensive because it's getting more popular.
Is Florida real estate cheaper than hyper-expensive places like New York City, San Francisco, Los Angeles, and Washington D.C.? Yes, but nearly every state in the country has more affordable living than those areas.
On the other hand, Florida isn't cheaper than low cost states like Alabama, Mississippi, South Carolina, Tennessee, Oklahoma, Indiana, Nevada, or Iowa.
So, it really depends on where you are moving from.
Where did we choose to live moving to Florida from Chicago?
When we moved to Florida, we weren't looking for real estate in the cheapest city nor could we afford the most expensive.
Our checklist for Florida real estate was as follows:
Crime Safety
Storm Safety
Amenity Rich
A Beach within 90 Minutes
Beautiful Aesthetics
Strong Sense of Community
A Suburban Vibe
A Downtown City Center
We found that Clermont, FL checked all of these boxes. It wasn't the cheapest suburb of Orlando, but it wasn't most expensive either.
The area boasted stunning lakes, picturesque rolling hills, affordable housing options, secure neighborhoods, a thriving downtown scene, and convenient proximity to beaches, theme parks, and even the bustling city of Orlando.
Are taxes really cheaper in Florida?
Unlike the myth around Florida real estate being dirt cheap, Florida is truly a low-tax state.
| Tax Type | Above National Average | National Average | Below National Average |
| --- | --- | --- | --- |
| State Income Tax | – | – | ✓ |
| Property Tax | – | ✓ | – |
| Sales Tax | – | – | ✓ |
| Corporate Tax | – | – | ✓ |
| Inheritance Tax | – | – | ✓ |
Florida Taxes VS National Average
State Income Taxes in Florida
One key feature of the state's tax system that bolsters affordability is the lack of a state income tax. In Florida, residents don't have to part with any portion of their earnings due to state taxes.
Unlike many other states, you get to keep all your earnings regardless of your income level. Florida's residents have the opportunity to save thousands of dollars every year, which can help increase their disposable income and savings rate.
Property Taxes in Florida
The Sunshine State doesn't have the lowest property taxes, but they're not crushingly high like California, Illinois, New York, or New Jersey.
The average property tax rate is.83% of the assessed value—which is about the national average.
Florida has the 24th ranked lowest property taxes, which means there are 26 states with more expensive property taxes on average than Florida.
Corporate Taxes in Florida
Business owners will also find Florida's tax environment particularly enticing. With a top marginal corporate tax rate of just 5.5%, business owners can retain more of their profits.
The savings achieved here can be reinvested back into the business or even passed on to employees.
Plus, the state has been ranked 4th in the country for its business-friendly environment, a testament to its efforts to encourage economic growth and entrepreneurship.
Sales Taxes
Lastly, Florida's state sales tax rate is comparatively lower than many states, ranked 23rd with a rate of 7.01%. While a percentage point or two might not seem significant, these savings can add up with every purchase.
By decreasing your taxes, you can enhance your purchasing power in the long run, allowing you to save more money.
The reasonable sales tax rate in Florida makes living in the Sunshine State even more attractive for residents, ultimately increasing its overall affordability.
Inheritance Taxes
Florida is one of the many states in the U.S. that does not impose an inheritance tax. Woohoo! Generational wealth here we come.
Florida's inheritance tax laws are favorable to both residents and non-residents who are inheriting from a decedent within or outside the state.
You won't have to worry about any inheritance tax obligations in Florida regardless of your relationship with the decedent.
Florida doesn't have an inheritance tax, so beneficiaries can receive their full inheritance without any tax burdens.
Our Thoughts on Florida Taxes
We have lived in New York, Louisiana, Washington State, and Illinois, and we can tell you that Florida's tax system is fair.
Although our property taxes may not be the lowest, we do save a significant amount by not having to pay state income taxes. This offers us a great sense of relief, and our taxes are either below or equal to the national average.
If you are thinking about moving to Florida and want to see how other states compare, read a few of our state to state breakdowns such as moving from California to Florida, Illinois to Florida, or Georgia to Florida.
Are Florida Utility and Monhtly Services Cheaper?
Florida is not a cheap state for residential utility services and monthly expenditures like streaming and internet.
Florida's utility costs do not stand out as particularly inexpensive when compared with those in other states. Using data from Forbes.com research gathered across a number of government databases, we can see that Florida has higher than average utility service fees.
In fact, across most categories, the state ranks in the bottom half of the national average, implying higher costs for residents.
| Utility | Florida Rank (Cheapest) |
| --- | --- |
| Energy Bill | 37th |
| Monthly Water Bill | 28th |
| Internet | 38th |
| Natural Gas | 37th |
| Streaming | 33th |
Florida Utility Costs Compared to U.S. States
For instance, Florida ranks 37th in energy and natural gas costs, which suggests that these utilities and 38th in internet costs.
Water costs in Florida are 28th, which is slightly above average while streaming services ranked 33rd—not exactly cheap.
Florida is not the most cost-effective state when it comes to monthly expenses related to utilities and entertainment connectivity.
Looking at the table below, you can see the ten lowest cost states for utilities and their savings compared to Florida.
| Rank | State | Total Utility Cost | Savings Compared to Florida |
| --- | --- | --- | --- |
| 1 | Utah | $345.62 | $112.78 |
| 2 | New Mexico | $362.81 | $95.59 |
| 3 | Nevada | $376.67 | $81.73 |
| 4 | Montana | $379.34 | $79.06 |
| 5 | Nebraska | $379.34 | $79.06 |
| 6 | Minnesota | $380.76 | $77.64 |
| 7 | North Dakota | $396.93 | $61.47 |
| 8 | Wisconsin | $395.68 | $62.72 |
| 9 | North Carolina | $400.43 | $57.97 |
| 10 | Arkansas | $404.19 | $54.21 |
| – | Florida | $458.40 | $0 |
Top Ten Cheapest Utility Costs by State VS Florida
So is Florida actually a cheap place to live?
Despite some costs, Florida has plenty to offer. It isn't a "cheap" state, but it's not crazy expensive either. Taxes are lower compared to many states, with no state income tax and reasonable rates for property (0.83%), corporate (5.5%), and sales taxes (7.01%). Plus, smaller towns offer more budget-friendly housing options.
On the flip side, larger cities like Miami and Tampa can stretch your budget. And monthly bills, such as electricity ($126.75), internet ($60.04), and water ($40.18), tend to be higher than in other states. So, when considering a move to Florida, it's important to consider all these factors to make the best decision for your finances.