7 Reasons Not to Move to the Florida Panhandle: Written by Florida Residents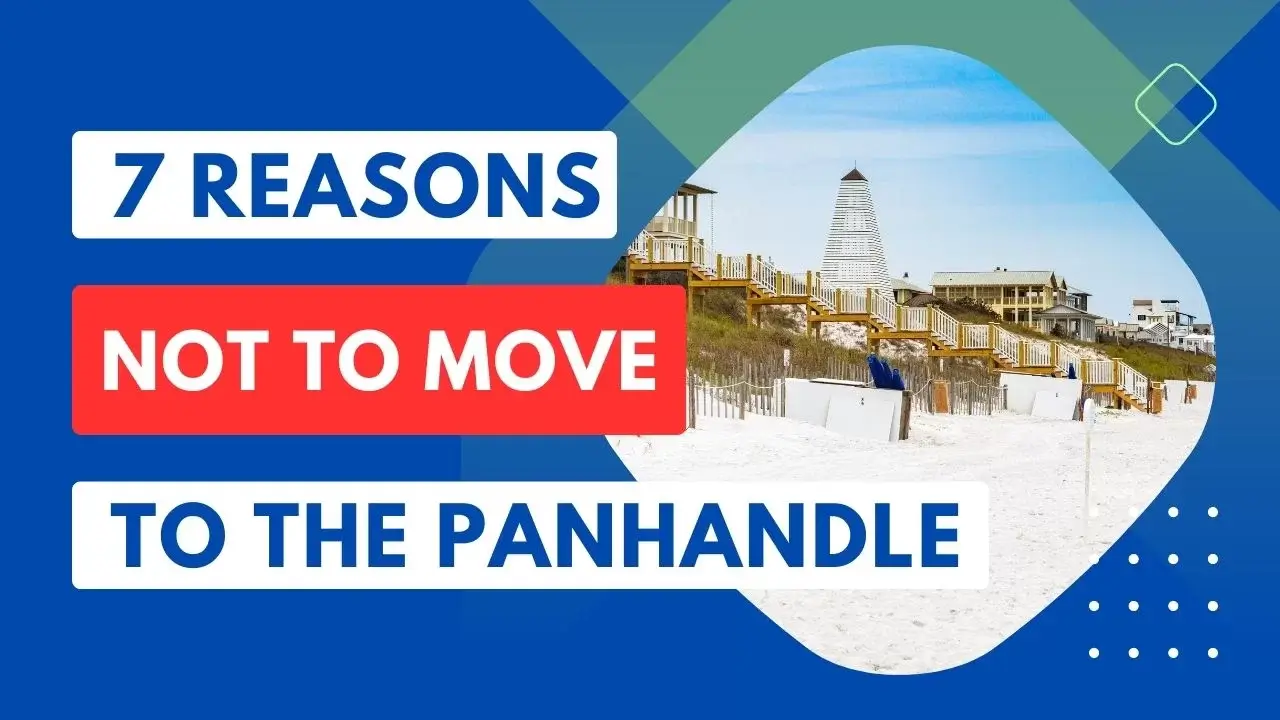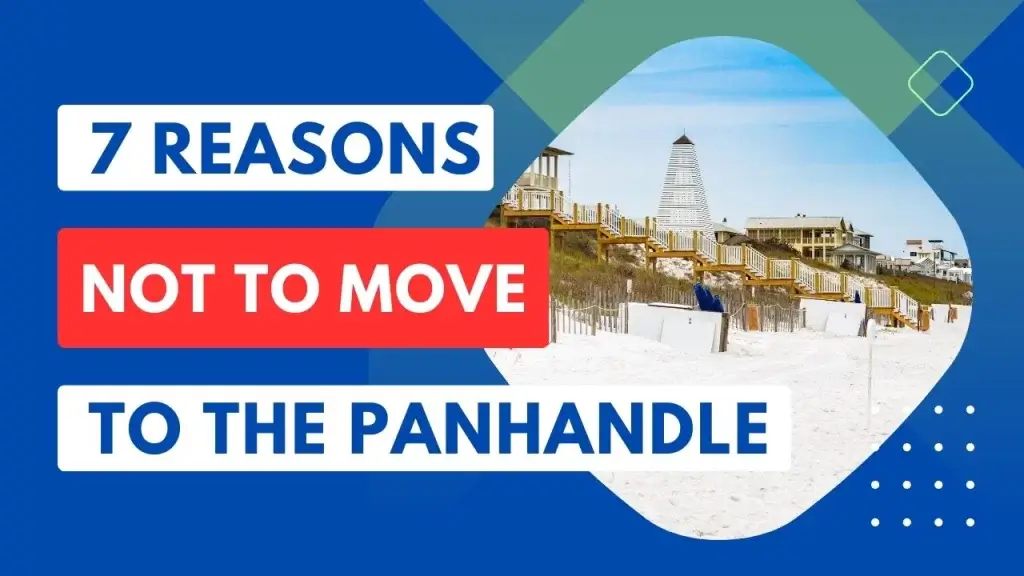 Are you considering a move to the Florida Panhandle? As Florida residents and realtors who specialize in relocations, we feel it necessary to share some insights that may cause you to reconsider, despite the charm of the Panhandle.
First, the Florida Panhandle is not known for having large metropolitan areas outside of Tallahassee, which can limit your lifestyle choices.
Secondly, the higher education and employment opportunities are less diverse and the medical services are limited.
Thirdly, the Panhandle is prone to extreme weather including hurricanes and tornadoes.
But wait, there's more. We've only just scratched the surface with these tidbits. There are even more reasons that might make you rethink making the Florida Panhandle your new home.
Buckle up as we take a deep dive into all 7 reasons in the article ahead.
1. The Florida Panhandle Doesn't Have Any True Big Cities
The Florida Panhandle is much less populated than peninsular Florida. Fewer people means there are going to be fewer big cities.
Don't get us wrong, not everyone wants to live in or near a big city. In fact, I was raised in a rural area of Mississippi, and so I understand the value of small towns.
However, big cities for new residents brings a few positives: better healthcare options, job stability, employment opportunities, amenities, and relationship building.
The Florida Panhandle has about 1.5 million people while Peninsular Florida has 20 million people—that's a big difference.
By examining the table below, it becomes apparent that out of the 20 most heavily populated regions in Florida, only one, which is Tallahassee ranked #7, is located in the Panhandle.
| Rank | City | Population (2021 estimate) | Region |
| --- | --- | --- | --- |
| 1 | Jacksonville | 928,441 | Peninsular Florida |
| 2 | Miami | 480,653 | Peninsular Florida |
| 3 | Tampa | 406,746 | Peninsular Florida |
| 4 | Orlando | 303,717 | Peninsular Florida |
| 5 | St. Petersburg | 266,635 | Peninsular Florida |
| 6 | Hialeah | 235,626 | Peninsular Florida |
| 7 | Tallahassee | 198,872 | Panhandle Florida |
| 8 | Port St. Lucie | 200,219 | Peninsular Florida |
| 9 | Fort Lauderdale | 184,625 | Peninsular Florida |
| 10 | Cape Coral | 195,252 | Peninsular Florida |
| 11 | Pembroke Pines | 177,286 | Peninsular Florida |
| 12 | Hollywood | 156,691 | Peninsular Florida |
| 13 | Miramar | 150,229 | Peninsular Florida |
| 14 | Gainesville | 135,136 | Peninsular Florida |
| 15 | Coral Springs | 132,040 | Peninsular Florida |
| 16 | Miami Gardens | 114,050 | Peninsular Florida |
| 17 | Clearwater | 112,794 | Peninsular Florida |
| 18 | Palm Bay | 113,607 | Peninsular Florida |
| 19 | Pompano Beach | 113,037 | Peninsular Florida |
| 20 | West Palm Beach | 112,161 | Peninsular Florida |
20 most heavily populated regions in Florida
Unless you reside in Tallahassee, living in the Florida Panhandle won't meet your needs if you desire to live in a big city or have access to larger city amenities.
2. Higher Education in the Florida Panhandle is limited
Florida is an amazing city for higher education, but college accessibility in Florida is completely determined by where you live.
Florida is 65,758 square miles—in other words—Florida is a huge state. And, it just so happens that the majority of universities and colleges are located in Peninsular Florida where the largest population bases are.
Check out the higher education institutions in Florida below. You see that Peninsular Florida has many more state, private, and technical schools.
It makes sense for colleges and universities to build schools near local residents in highly populated areas so that they can recruit local residents.
We've talked extensively about the benefits of the Florida higher education system in our Moving to Florida blog post.
3. Fewer Job Opportunities in the Florida Panhandle
Using the data set from Robert Manduca, PhD and longitudinal U.S. Census data, you can see that the majority of job opportunities are concentrated in Peninsular Florida around large cities like Tampa, Orlando, Tallahassee, and Miami.
The Panhandle has a few employment centers like Pensacola, Panama City, and Tallahassee, but they pale in comparison to Peninsular Florida.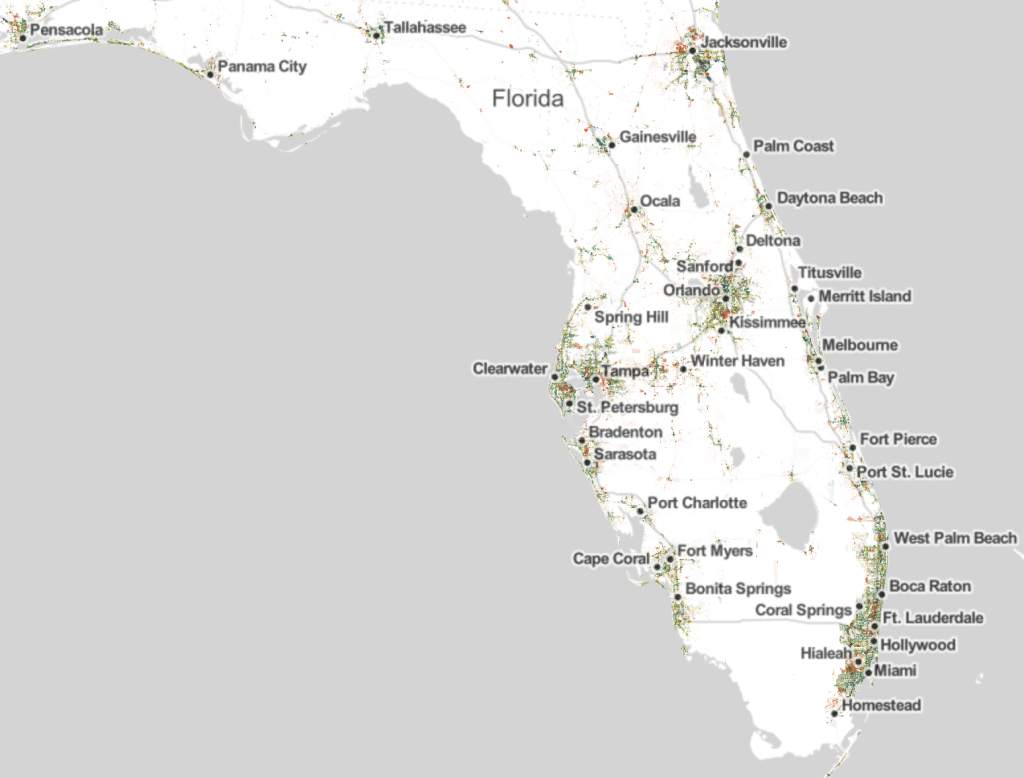 If you want to live in the Panhandle of Florida and are worried about employment opportunities, it would be best to live near Tallahassee as the Florida capital is likely to have the most robust employment opportunities.
Panama City and Pensacola have tourism-based economies with limited potential for growth and wage increases.
4. Climate and Extreme Weather in the Panhandle is Problematic
Florida is known for hurricane activity, however South Florida and the Panhandle have become hot-zones for serious storms.
The Florida Panhandle is prone to hurricanes and tropical storms due to its coastal location. This might lead to concerns about property damage, safety risks, and the need to evacuate during severe weather events.
According to National Oceanic and Atmospheric Administration (NOAA) data mapping below, you can see the hurricane activity in the Panhandle area.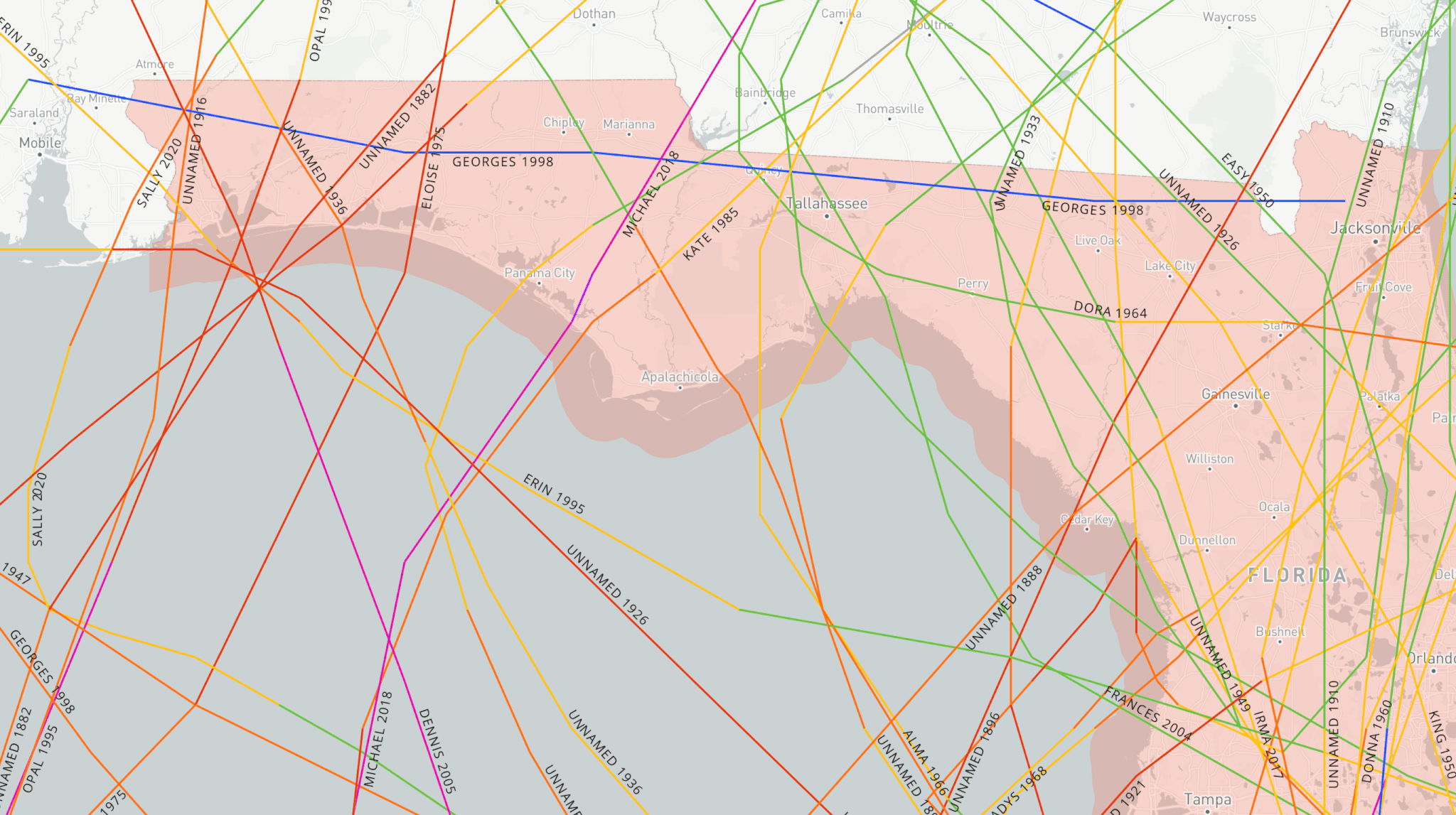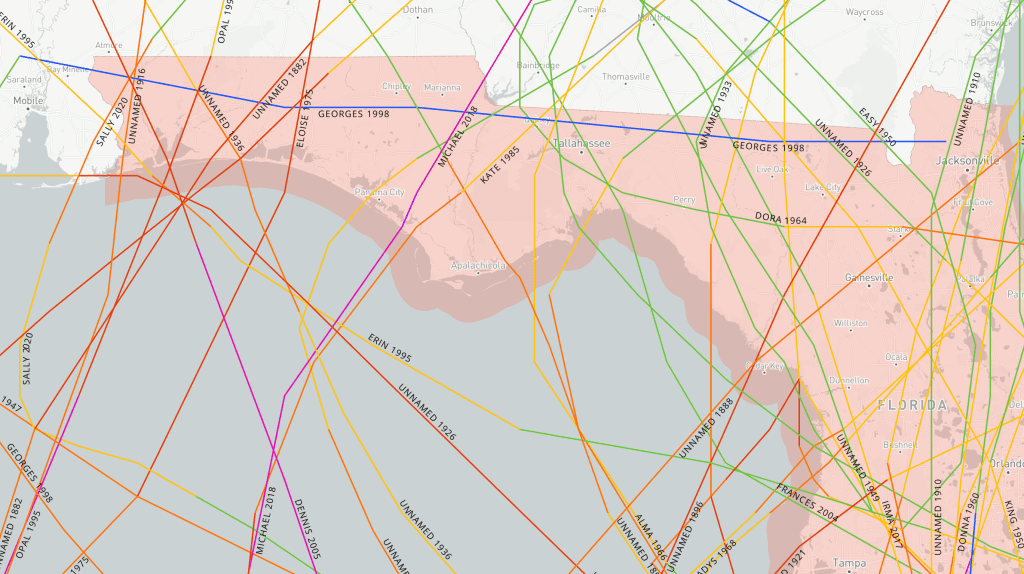 The Florida Panhandle, especially Pensacola, experienced more than 12 hurricanes in the last century. Some notable storms include Sally in 2020, Michael in 2018, and Dennis in 2005.
We have chosen to live in the Orlando suburb of Clermont for its beautiful rolling hills and lakes and most of all—safety from hurricanes. Check out our experience with Hurricane Ian in one of Florida's safest areas.
In addition to oceanic storms, the Panhandle will also get its fair share of tornadoes.
The map below from the National Oceanic and Atmospheric Administration shows F1 through F5 hurricanes that have been deadly in the Panhandle.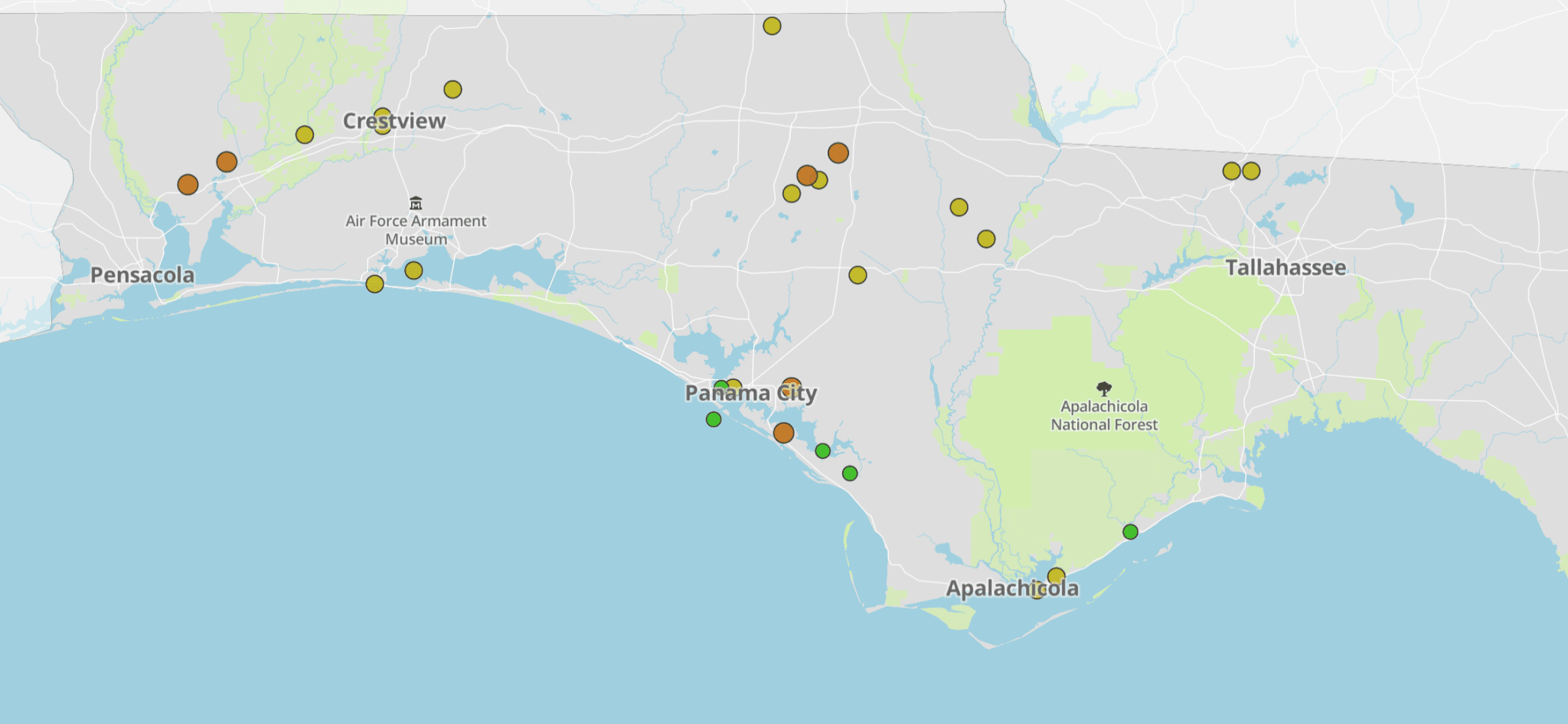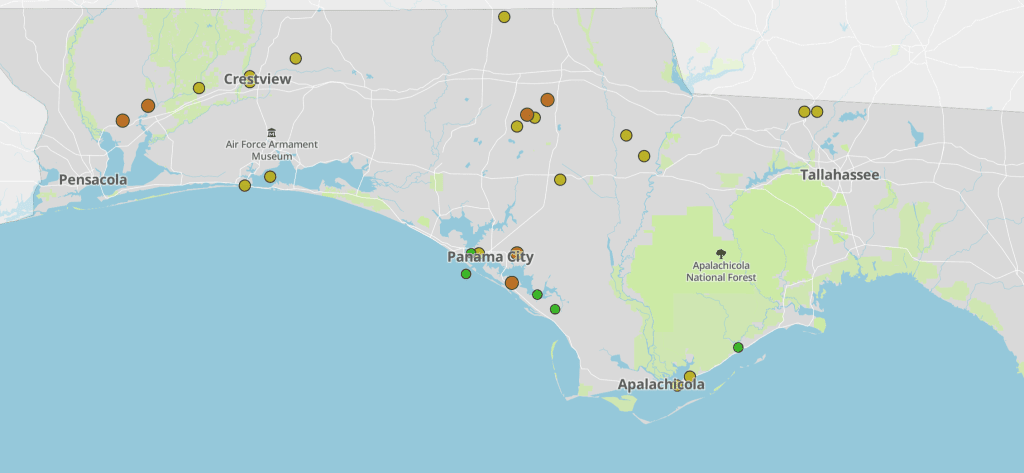 5. The Florida Panhandle Doesn't Have Much Public Transit
The Florida Panhandle is lacking in public transportation. While Florida is considered a commuter state, public transportation for many people is a vital component to daily life.
Let's break down the public transportation between Peninsular and Panhandle Florida areas.
Peninsular Florida, which includes cities such as Miami, Orlando, and Tampa offers a diverse range of public transportation options such as the Metrorail and Metromover in Miami. These train services provide convenient rail services that connect various neighborhoods and points of interest.
The city of Orlando benefits from the SunRail, a commuter rail system that connects it to the suburbs, in addition to the Lynx buses, which provide vast routes within the metropolitan area.
Tampa, on the other hand, boasts the TECO Line Streetcar as well as the HART bus system for connectivity within the city.
You can read about the great options for public transit in our head-to-head comparison of Tampa and Orlando in our recent blog.
On the other hand, the Florida Panhandle region has limited public transportation options. The Panhandle exclusively relies on bus services.
Although cities like Tallahassee and Pensacola possess bus systems, such as StarMetro in Tallahassee, they fall short in terms of connectivity when compared to the rail and bus systems in Peninsular Florida.
Let's not forget about national rail travel. Amtrak's Silver Service connects Miami to Orlando, Tampa, and other cities along the Eastern Seaboard. Unfortunately, intercity rail service is not available in the Panhandle.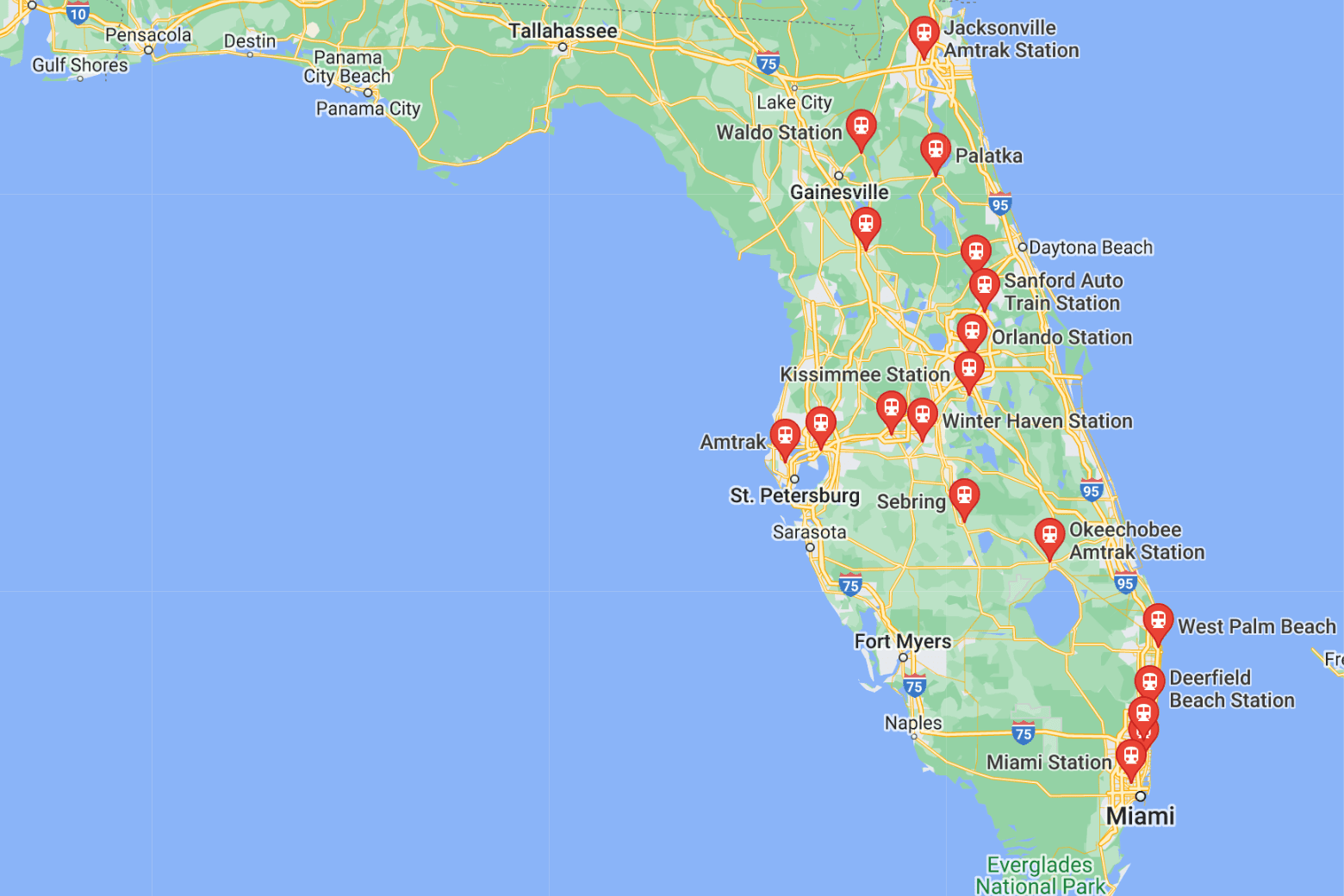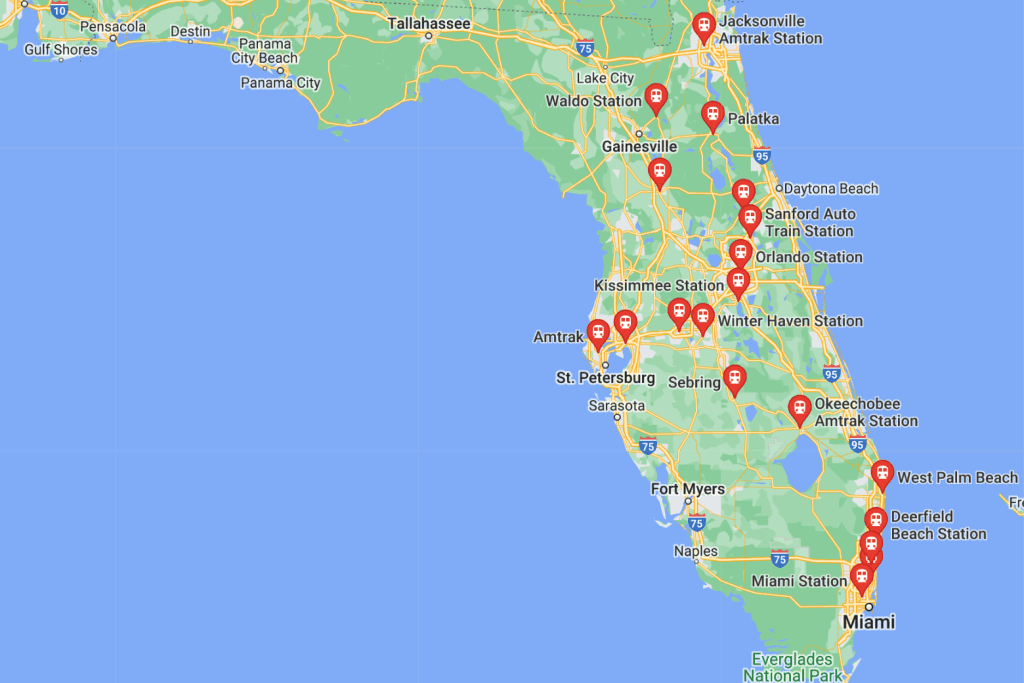 If public transportation is a key consideration for you, Peninsular Florida offers more comprehensive options, especially with the availability of both intra-city and inter-city train services.
Although the Panhandle is breathtaking, it heavily relies on cars and buses, which may not be suitable if you depend mostly on public transportation.
6. There are Cultural Gaps in the Florida Panhandle
While the demographics in both the Florida Panhandle and Peninsular Florida can vary greatly depending on the specific area, the following table provides a general overview of the ethnic demographics between these two regions.
It's important to note that these numbers are approximate and can change over time.
| Ethnic Group | Florida Panhandle (Approximate %) | Peninsular Florida (Approximate %) |
| --- | --- | --- |
| White (Non-Hispanic) | 65% | 45% |
| Hispanic or Latino | 10% | 25% |
| African American | 20% | 15% |
| Asian | 2% | 3% |
| Other | 3% | 12% |
The Florida Panhandle tends to have a higher percentage of White Non-Hispanic population compared to Peninsular Florida.
The population of Hispanic or Latino in the southern area of Peninsular Florida is considerably higher, mainly due to the proximity and cultural ties to Latin America.
The African American population is relatively higher in the Panhandle compared to Peninsular Florida.
7. The Florida Panhandle has limited access to medical services.
If you need robust medical-service access, the Panhandle doesn't have near as many options as Peninsualr Florida.
Peninsular Florida, particularly in its urban centers like Miami, Tampa, and Orlando boasts a plethora of medical facilities, ranging from renowned hospitals to specialized clinics.
Miami, for instance, is home to the University of Miami Health System, which is considered one of the leading healthcare providers in the state.
Moreover, Tampa boasts the world-renowned Moffitt Cancer Center, lauded for its cutting-edge cancer research and exceptional treatment. Meanwhile, Orlando is home to the renowned Orlando Health Orlando Regional Medical Center.
On the other hand, the Florida Panhandle has fewer medical facilities, and residents might have to travel greater distances for specialized care. While there are hospitals and clinics in the Panhandle, the range of services and specialties is not as extensive as in Peninsular Florida.
Check out our Google map below with hospital access in Florida. While every facility won't be displayed, this gives you an idea of major hospital system density in Florida.
So, if access to a robust and diverse array of medical services is a priority for you, Peninsular Florida would be a more favorable option.
With its extensive system of hospitals and specialized facilities, it is excellently prepared to meet a diverse array of health requirements, whereas the Panhandle, despite being picturesque and tranquil, does not quite measure up in terms of medical services availability.